How to Share Threads on Instagram Story
How to Download Threads from Instagram
The Threads application is one of the new members of Meta Company's family, which is getting more attention from users every day. All, Especially the business account owners, are waiting to be informed about the new updates of this platform as soon as possible and use them to expand their community to earn money from it. We share any information we get from this text-based platform with you on Twilinstok Online Magazine. In this article, without introduction, we want to learn how to share Threads on Instagram story. Stay with us.
You might have installed the Threads application, and you are eager to build or find your community on this platform as soon as possible. If you already have a business account on Instagram, you probably would like to keep up with your competitors and bring your customers to this platform. If you have a personal account, you like to read new content with your friends, share and laugh together.
As a result, it is essential for you to know how to share Threads on Instagram story. Well, there are a few ways to share your Threads account with others, two of which are more important than the rest:
One is to share the Threads profile link
and the other is to share several threads
Let's take a quick look at both methods and then delve into them further.
In the profile section of your Threads account, there is a section called "Share profile". When you tap on it, you will see the "copy to clipboard" option. Once you tap on it, your profile link will be easily copied. Once you have copied the link, go back to Instagram and follow the steps below. The following pictures show you step-by-step how to share Threads on Instagram story: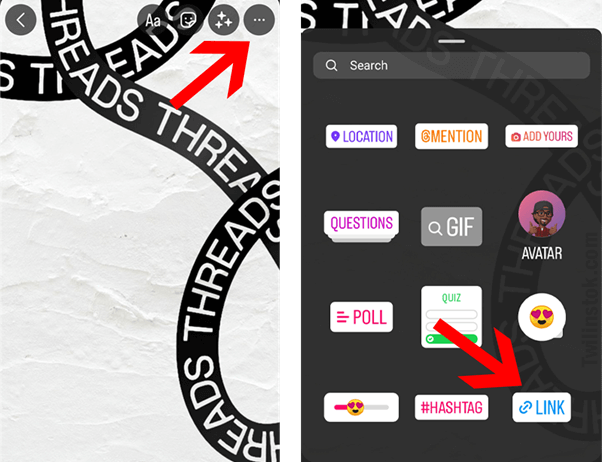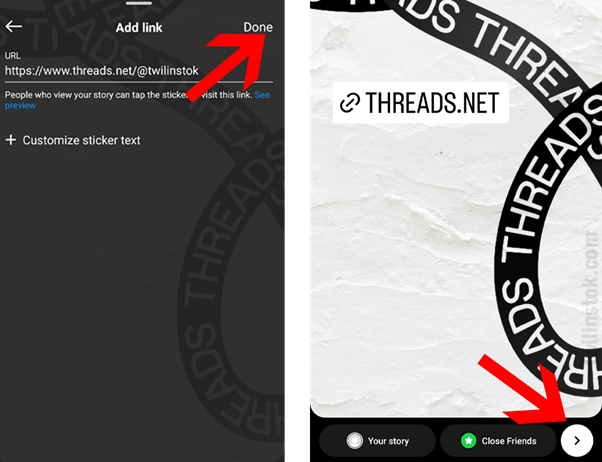 We said that another answer to the question of how to share Threads on Instagram story is to share a thread on an Instagram story. To do this, tap on the three dots next to your thread. Then select the "story" option. With this, you will automatically enter the Instagram story section. Now, you can add anything you like to your story content and publish it. When users click on your story, they will be directed to your Threads account through a link. In the pictures below, you will see how to share Threads on Instagram story: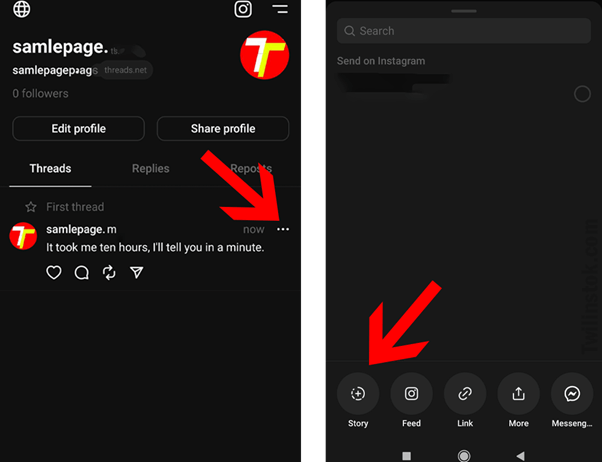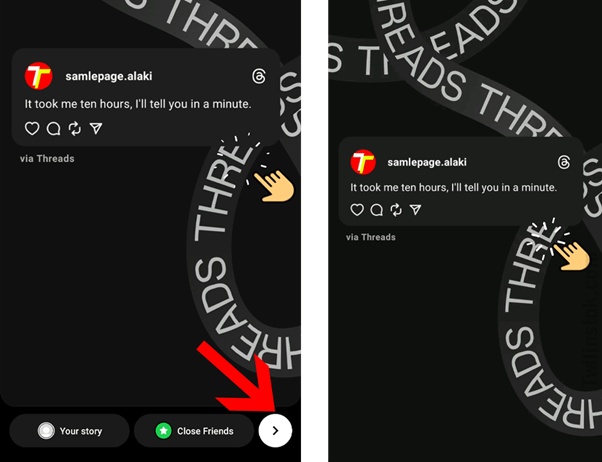 Learning how to share Threads on Instagram story is not difficult and complicated. We have explained the process in several steps. But the main issue is why we should put Threads in the Instagram story and what kind of content we should put in the story section.
First, let's see why we should or how to share Threads on Instagram story. The points we state below include both personal and business accounts:
The type of presentation of products and services on Instagram and Threads is different. The target group that you are appealing to may be different. In other words, there may be people who have even seen your Instagram account but have yet to like your marketing style. In other words, you have yet to be able to convince them to buy from you with your image and video posts. They didn't even like your tone of voice and simply skipped your content and didn't watch to the end. Yes! Users can indeed be a lot more impatient than you think.
Some introverted people may prefer to avoid going to your direct message and entering into a conversation to order goods and services. They prefer to directly click on the link to buy and buy from the site without entering into a conversation with another person. But there was no ability to put the link under Instagram posts. While on the Threads platform, it is possible to add links to posts.
In Instagram business accounts, the main issue is what your product and service is. It means that the goods and services you provide are more important than you or your personality being bold. While on the Threads platform and in general on most text-based platforms, people communicate with others by sharing what is going on in their thoughts and minds. Therefore, it is not far from the mind that they like the character more than just because they agree with someone's way of thinking; they desire to cooperate.
This last point applies more to personal accounts than to business accounts. You may not want to share your personal stories and photos. As a result, Instagram is like a search engine for you that you use to get news and information. While in the Threads application, you share thoughts and sentences that describe your mood in real-time.
Well, now that we understand why it is necessary to learn how to share Threads on Instagram story, let's see together how to post this story in a way that attracts more attention.
Write a short and valuable thread. A sentence or two is enough. Because if it's too long, it won't be noticed in the Instagram story as you expect.
Messages like "Friends, let's talk in Threads" that directly invite users to this application are repetitive and do not attract attention.
Write content that piques your audience's curiosity and indirectly encourages them to click on your Threads account link to participate in the discussion.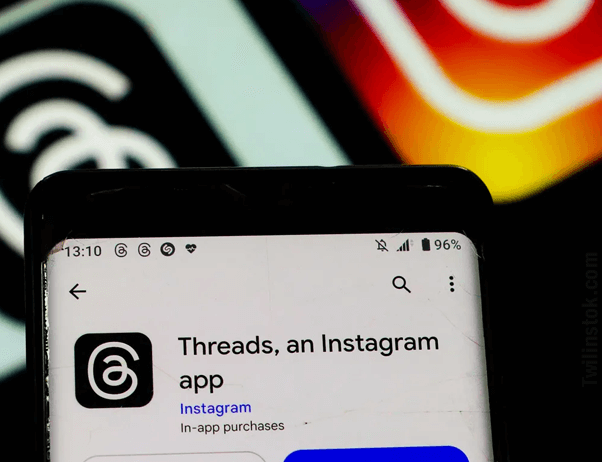 How to Repost a Thread on Instagram?
Reposting the content that other users have published helps to make that post more visible. In addition, it provides the opportunity to interact with other users. So, it is better to write your personal opinion about your favorite posts. Doing this is very simple.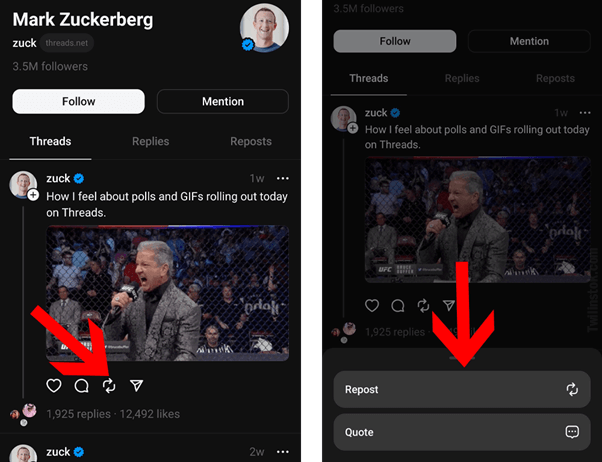 💡 When you tap on the two arrows sign under each thread, two options will be displayed for you. If you want to repost only that post, choose the first option, and if you want to write your own comment, tap on "Quote".
The Bottom Line
In this article, we discussed how to share Threads on Instagram story. If you want to build a large community on Threads, you need to interact with other users. Reposting other people's content will provide more interaction and encourage them to pay more attention to your content.
For more information about Instagram and the features of this social network, we suggest that you click on Free Instagram Tutorial [+]. Also, if you have any questions about Instagram, you can ask them in our Instagram support center [+] in the form of a topic and wait for the answer from our experts.
Please share your comments and give us 5 stars. We can use your valuable suggestions and criticisms.
FAQs
How can I interact more with others in the Threads app?
By reposting the content that other users share on this platform writing your own personal opinion about it and informing your friends and audience that you are also present on this platform.
How do I bring my Instagram followers to the Threads app?
When you join this platform, your account information is immediately synced with Threads. It is you who can encourage users who still need to join this platform to join with your creativity and publish interesting and new content.