How Does Instagram Threads Work?
How does threads social media work?
Threads is an amazing online social media and networking service operated by Meta Platforms. With Threads, you can easily post and share text, images, and videos and engage with other users through replies, reposts, and likes. The app is available in more than 31 languages and is used by people in the United States and about 100 other countries. It's a great way to stay connected with your friends and audiences. In this article from Twilinstok online magazine, we are going to discuss how does Instagram Threads work and what the point of using them is.
If you're looking for a fun and easy way to stay in touch with your Instagram network, Threads has got you covered. In general, to be successful in social media, you must have a good understanding of the expectations of that platform, its capabilities, and the performance of others on it. The same goes for Threads. It is better to know that this text-based platform gives you the opportunity to create text conversations. It doesn't matter whether your account is commercial and your goal is to expand your business or you have a personal account that you use for fun. You can create a text post with 500 characters and include links, photos, and videos.
💡 Do you remember that adding links in Instagram comments was impossible? Fortunately, there is no news of this limitation on Threads. 💡
Plus, this app suggests content from creators you'll love, so you'll always have something interesting to check out. Just keep in mind that you'll need an Instagram account to use Threads – but once you join, you'll be connected with your followers and friends like never before.
What is Instagram Threads and how does it work?
In the Threads platform, you can raise various topics in the form of text and participate in other people's discussions. Joining this platform is very simple and possible for anyone with an Instagram account.
Below, we have stated how does Instagram Threads work:
Download Threads
Setting up a user account
Complete your profile
Privacy protection
Follower selection
Personalization of ads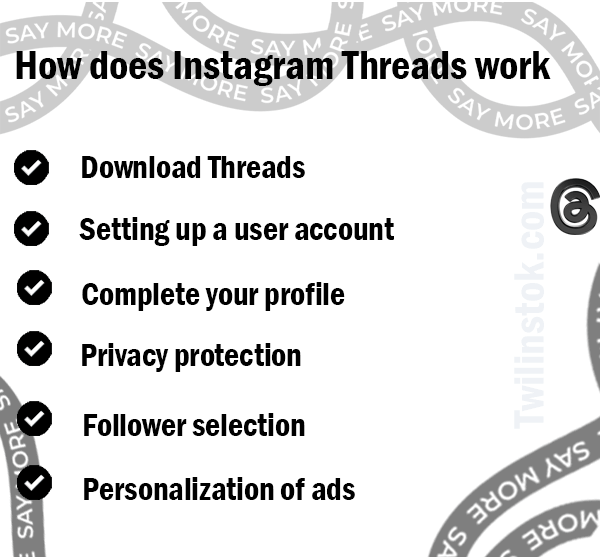 Download Threads
Downloading Threads, an Instagram app, is super easy! Simply head to the Google Play Store or Apple App Store and search for Threads then, download and install the app. And the best part? Threads is completely free to use!
Setting up a user account
To set up your user account in Threads, just tap on the three horizontal lines in the Instagram application and select the Threads option under the settings and privacy option. This is how easy it is to create your account. Don't forget that you have to do this separately for each individual account you have on Instagram.
Complete your profile
Now, like any other social media, you need to complete your profile. The more complete your profile is and the more information it provides to other users, such as a biography and photo, the better.
Privacy protection
The next step is privacy. When it comes to privacy settings, you have two options to choose from: Public profile and Private profile. If you go for a Public profile, anyone on Threads can see, share, and interact with your content. But if you prefer a Private profile, only your approved followers will be able to see and interact with your content.
Follower selection
Threads makes importing your Instagram followers so easy. Just click the "Follow all" button to instantly bring in your entire list of followers, or pick and choose specific users to follow. It's up to you!
Personalization of ads
On the last screen, you'll come across some pieces of information that you need to accept to get started with Threads. Instagram powers the Threads app, and this helps you personalize your ads as you like.
Now you know how does Instagram Threads work, and you can easily join it. But the question is, How is Threads different from Instagram?
How is Threads different from Instagram?
Threads app is part of the Facebook family (which includes Instagram and WhatsApp). It's a pretty cool platform that is similar to the X app – where you can post text, photos, and videos and have real-time conversations with your friends. Threads also have a similar look and feel to Instagram, and you can even share your Threads posts directly to your Instagram Stories. Now, you are thinking, if both Threads and Instagram allow you to share text and media-based posts, what makes them different? Should I use Instagram Threads?
Well, that's what we're here to find out! So, let's take a look at the most important Threads vs Instagram and see which one might be right for you. These features include:
Text and media
Development of customization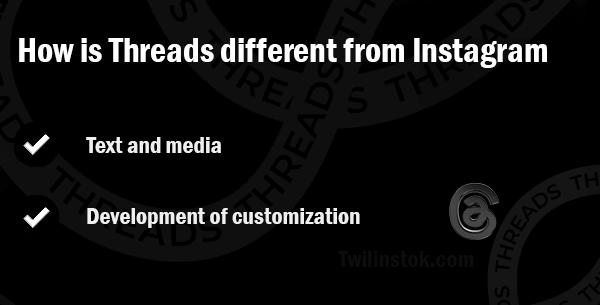 Text and media
These two social media apps have much more to offer than you might think. Although Threads is more focused on text-based content and Instagram on multimedia, they both have features that overlap. For instance, Instagram allows for more extended captions that can include lengthy thoughts, while Threads supports images and videos.
💡 To sum it up, Threads is great for text-based conversations with the option to add visual elements, while Instagram is perfect for getting a visual update from your friends and favorite accounts, with a bit of context provided by captions.💡
Development of customization
Instagram holds all the power when it comes to deciding who sees your posts and what posts you get to see. Instagram offers different viewing options, including the default feed, updates only from your followers, or posts from your designated favorites. However, sometimes, the default feed can feel a bit spammy.
On the other hand, Threads can be overwhelming with its constant bombardment of posts, especially if you're following a celebrity or two. Although it doesn't offer the same personalized touch as Instagram, Threads is expected to incorporate more Instagram-like features in the near future.
Note: We talked just about the main differences between Threads and Instagram. While there are many features like a search system, direct messaging, hashtags, and live stream, we focused on the two basic differences to see which is better: Instagram or Threads? Other issues may be solved with new updates.
which is better: Instagram or Threads?
There is no specific answer to the question, "Which is better: Instagram or Threads?" It really depends on your mood, purpose, and the type of your business.
💡 If you're good at communicating through text: then text-based platforms like Threads might be more suitable for you.
💡 If you're someone who can communicate your message visually: then image-based platforms like Instagram might be a better fit.
Why is everyone switching to Threads?
Despite having some issues like not being able to delete the app and requiring an Instagram account, the Threads platform is gaining popularity among users. Let's explore what makes it so attractive and Why is everyone switching to Threads? Advantages of using Threads:
Text-based platform
Rowing user base
Activitypub support
Data collection and privacy
Easy to join
Shortage of successful text-based platforms similar to X APP:
Threads is a great platform for those who are tired of all the negativity and changes happening on video-based platforms. Threads is more stable and predictable, making them easier to use and enjoy. You can connect with others and share your ideas in a friendly and familiar online environment.
Threads has a Growing User Base:
It's great to see that more and more people are using this platform. This means there are lots of opportunities to connect and engage with others. By joining Threads, you'll be able to expand your network and connect with a diverse community.
ActivityPub Support:
Meta has recently announced that it plans to make Threads compatible with ActivityPub, which is a decentralized protocol used by platforms like Mastodon and WordPress.
This means that you'll be able to interact with Threads content from other platforms and services that support ActivityPub!
By joining Threads, you can take advantage of this interoperability and connect with a wider network of users.
Data Collection and Privacy:
By using Threads, you can have peace of mind knowing that your personal information is more secure. Plus, Meta is currently working on making Threads compatible with other social networks that use a decentralized protocol, further increasing your privacy options. By joining Threads, you can even help support the development of more privacy-focused features.
Easy to Join:
Becoming a part of the Threads community is easy and fun! You can download the Threads app from either the Google Play Store or Apple App Store. If you already have an Instagram account, simply use your existing credentials to log in. During the onboarding process, you'll have the option to customize your Threads profile, choose privacy settings, and even import followers from Instagram. With these simple steps, you'll be able to join the Threads community in no time!
The bottom line
It can be tough to say how does Instagram Threads work in the future. There are still plenty of updates to come before it becomes everyone's go-to platform for messaging. But don't worry – for now, your focus should be on building your presence by posting regularly, interacting with your followers, and observing how they use the app. Once you get a feel for it, you can figure out how to make it work best for you!
For more information about Instagram and the features of this social network, we suggest that you click on Free Instagram Tutorial [+]. Also, if you have any questions about Instagram, you can ask them in our Instagram support center [+] in the form of a topic and wait for the answer from our experts.
Please share your comments and give us 5 stars. We can use your valuable suggestions and criticisms.
FAQs
Is it possible to join Threads without an Instagram account?
No, every user who wants to join and be active in Threads must have an Instagram account. It is unclear whether this will remain the same or change in the future. However, when you can bring all your followers and contacts with you, why not?
Does Threads automatically send follow-up requests?
Yes, it does, but it depends. As you scroll through the Threads feed, you might come across some other interesting accounts that you'd like to follow. Some of them could be public, while others might be private. If you want to follow a private account, you can simply send a follow request, just like you would on Instagram. Don't worry; if the account is public, you can follow it automatically without any hassle.
What is the point of Threads?
New platforms, especially those that come from successful companies, are noticed by the public, At least for a while, to pass their exam. If you have a business on social media that you want to introduce more, the Threads platform has given you an exceptional opportunity. From now on, determine your own strategy and try to use your creativity to raise interesting and controversial topics in the form of text. To make the content more interesting, add visual effects such as photos and videos and most importantly, links related to your business. The best benefit of this platform is to find like-minded people in your audience for your progress, especially your work progress.