How the Instagram Threads Algorithm Works
threads algorithm Instagram
If you haven't already, you can become familiar with the Threads platform. It's a platform that allows you to share your thoughts and ideas in text format. By being creative and attaching photos and videos to your posts, you can attract your audience's attention to the content you publish on this platform. What's great is that Threads seamlessly integrates with Instagram, so your followers can quickly join your Threads journey. Plus, you have more freedom to express yourself with longer posts compared to other text-based platforms. The best part? Threads use a unique algorithm that displays posts even from non-followed accounts. In this article from Twilinstok online magazine, we will learn how the Instagram Threads Algorithm Works.
Is there an algorithm for Threads?
Of course! Every social media platform has its own set of rules and algorithms. These algorithms help make social media content more visible and viral. If you want to create content that will attract more views and gain popularity over time, it's not enough to just express yourself. You need to be creative and post topics that are both interesting and meaningful. You don't have to use all 500 characters in your post, and it's important to have a strategy in mind.
💡 One effective approach is to brainstorm ideas that will spark conversations and encourage your audience to participate in the discussion. 💡
It's possible that the Instagram Threads algorithm will get better over time and become more tailored to individual users. But if you want to get more people to see your business or personal account, you can try creating content that's funny and engaging, and that matches the interests of your target audience. By doing this, your posts are more likely to be shared by people who don't already follow you, which means you could reach a wider audience.
If you want to make your social media posts stand out and get more traction,
it is crucial
to write them in a way that matches the platform you're using.
How does Instagram's Threads algorithm work?
Threads and Instagram are two different social media platforms that work differently. Instagram focuses more on the relevance of the images posted, while Threads is more about conversations and context. Discussions around controversial topics tend to be more valuable on the Threads app. This is because such discussions generate a lot of interest and engage users for a longer period of time. So, if you want to make your online platform more engaging, it's important to post content that raises issues and encourages users to participate in discussions. Remember, it's not just about posting daily and consistently, but also about creating content that sparks interest and encourages people to share their opinions.
Moreover, the Instagram Threads algorithm randomly displays posts from different users to create a more diverse and engaging experience.
Why am I seeing people I don't follow on Threads?
This program is still in its early stages and doesn't offer specialized feeds of users' interests yet. As a result, you might see a lot of posts from users you don't follow. However, this is not surprising at all. You don't have to read all these posts. Firstly, the Instagram Threads algorithm ensures that any account you've blocked on Instagram won't be displayed automatically in Threads. Secondly, you can use the notifications tab to mute and hide accounts that you don't like.
Instagram threads algorithm example
To create a thriving community on Threads, you need to implement a series of strategies, like any other social media platform, and regularly engage with your audience. You can achieve this by posting thought-provoking questions, conducting polls, sharing interesting stories about how your business came to be, and other engaging topics that foster intimacy and encourage user dialogue. We will delve deeper into these strategies to help you build a strong community on Threads.
Here are some ideas to generate your content and your business in order to Instagram Threads algorithm:
Share user-generated content (UGC).
Write a Thread every day.
Share your brand's stories.
Create educational content that is related to your brand.
Join conversations that are relevant to your interests or trending topics.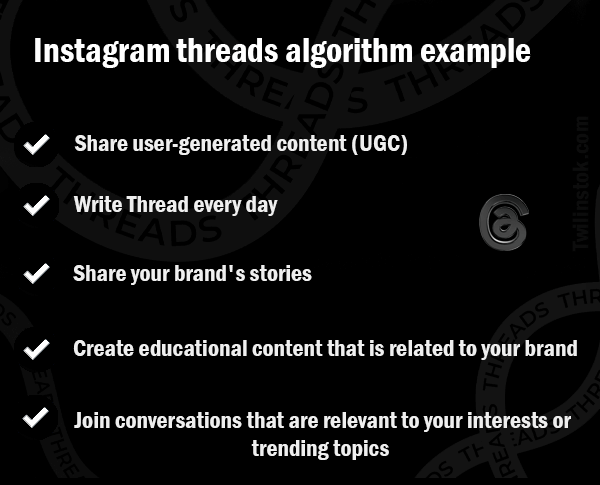 Now let's zoom in on each of the ideas above and learn deeper.
Share user-generated content (UGC):
One key benefit of using user-generated content is that it encourages users who have produced content related to your business to republish and create more content. This results in a greater volume of content being available. Additionally, when other users see such posts, they become more curious about your business, thereby increasing its visibility. Finally, republishing user-generated content enhances the credibility of your brand's online presence. By showcasing and acknowledging the content created by users about your brand, you demonstrate that you are the genuine owner of the brand and value the opinions of your users.
However, it's important to avoid creating fake or exaggerated content that misrepresents your brand. Instead, try to come up with interesting ideas that inspire your customers to create their own content. By doing so, you can build your brand's credibility and establish a loyal following of customers who love your products or services.
Write Thread every day:
Text Threads is a fancy way of saying you can share messages up to 500 characters long. It's like a mini social media platform within a messaging app! Your businesses can use it to keep your customers updated, share interesting news, or ask fun questions. You can add polls, memes, and Q&A sessions to your Threads. Polls are a great way to get to know your audience better and find out what they like. Q&A sessions are a way for you or your company to connect with your audiences and answer their questions. And if you want to show your brand's fun side, you can use memes too!
Share your brand's stories:
It's a great way to connect with your audience on a deeper level and build a stronger bond. Showcasing your journey can make your brand more relatable and approachable. It doesn't matter if your activity is related to fitness, beauty, travel, entertainment, or motivation; there must be an interesting and readable story behind your brand that will be interesting for the audience to know.
Create educational content that is related to your brand:
This means that your brand can share informative and helpful posts that teach your audience something new about your business or the industry you are in. By doing this, you can provide value to your followers and help them learn something new!
Join conversations that are relevant to your interests or trending topics:
Even if hashtags aren't functional on the Threads algorithm, you can still use the search functionality to find conversations to join. By participating in discussions on current events or popular culture, you can get your content in front of more people and even appear in other users' newsfeeds. So why not chime in on some celeb gossip or share your thoughts on a hot topic? It's a great way to get noticed and have some fun!
We can expect some exciting news from Meta soon about some new Instagram thread algorithms. This update will make it easier for you to get more views on your content. Currently, your posts appear randomly in other users' feeds, but with this new Threads algorithm, you will have a better chance of reaching a wider audience. This is a great opportunity to showcase your unique content and grow your business.
The bottom line
To achieve your goals, it is important to keep your content friendly and constructive on the Threads platform. Please avoid posting anything negative like nudity, spam, or violence. Instead, focus on creating meaningful content and engaging with your audience. Don't forget to stay up-to-date on the latest updates and Instagram Threads algorithm, as this will help you build a strong community and grow your brand or business. Try to make Threads a welcoming and friendly place to connect with your audiences.
For more information about Instagram and the features of this social network, we suggest that you click on Free Instagram Tutorial [+]. Also, if you have any questions about Instagram, you can ask them in our Instagram support center [+] in the form of a topic and wait for the answer from our experts.
Please share your comments and give us 5 stars. We can use your valuable suggestions and criticisms.
FAQs
Is it a good idea to create a Threads account for my business?
Setting up Threads is definitely recommended for your business. It is a fantastic way to expand your reach to a wider audience and also allows you to connect with your customers in a more interactive way through meaningful discussions.
What are some ways to become popular on Threads?
If you want to stand out in Threads, it's crucial to be strategic. To get people's attention, it's important to create content that is engaging and sparks interesting conversations. Social media experts recommend creating controversial content as it encourages users to engage with like-minded individuals and exposes them to opposing viewpoints, leading to deeper thinking. It's essential to allocate specific time each week to manage your account efficiently, which includes creating posts, responding to comments, and analyzing your performance on the platform. The amount of time spent on a social network is a crucial factor in the platform's and its users' future success.