Is Instagram Threads Safe to Use or Not? | Data Privacy & Security Concerns
Is Threads OK for kids?
Today, we are going to start with this issue: "Is Instagram Threads safe?", a topic that you hear a lot these days. Concerns about the privacy and security of users' information are not a new issue. From the time when the Internet was used for essential activities until it became available to everyone, security concerns have been raised.
In the last decade, social media has developed amazingly. People can easily share personal information such as their interests, jobs, photos, videos, contact numbers, banking information, and anything you can think of on these platforms. As the range of platforms' activity increases, hackers will use more equipped systems for cyber-attacks because they will get better and more critical information, they will make more extensive blackmails, and they will get more fame or money.
However, any new platform that joins the social media community will be under the scrutiny of users, especially if that application comes from a powerful and famous company like Meta. Therefore, it is not far from the mind of the discussion that is Instagram Threads safe? We will examine this issue together in this article from Twilinstok online magazine.
Is Instagram Threads safe? – The Importance of the Issue
In order to better understand why people are reluctant to disclose their information and protect their privacy on social media, ask, is Instagram Threads safe? We briefly look at the published news about hacking and information disclosure of some famous social media.
❌ "In 2014, Yahoo had the data of about one billion users exposed to theft".
❌ "In 2019, Facebook claimed that the information of its 500 million users was exposed."
❌ "In 2021, the big company LinkedIn stated that it has seen the information of 700 million users on the dark web".
Let's say one of the loudest disclosures of users' information about Snapchat in 2013, a hacking company published the phone numbers of more than 4 million users on a website!
We can name ten social media and reputable websites that have been attacked by cyber hackers at least once during the last decade.
Our purpose in stating these statistics and information was not to say that these platforms are unsafe or should not be used. We want to know where security concerns on Threads come from in the minds of users. Whether these numbers are completely correct or exaggerated, they look alarming to users. Especially when it comes to a new platform like Threads, the discussion of security concerns on Threads is raised. It is not surprising that users keep asking, is Instagram Threads safe? If it is safe, why was it not welcomed in the European Union? Was it the platform itself that decided not to offer services in the EU? Users are facing these concerns because they are still not sure whether this application is a threat or not.
Consequences of compromising the security of the Threads application
To be honest, all big companies are constantly exposed to these cyber-attacks. This is why they always use more secure servers and try to maintain the security of users' information by applying new updates. Teams trying to gain access to user data may have several goals:
Financial extortion from the company that created the platform.
Building a user base and selling it to illegal buyers of databases.
Informing the company that created the platform about their weaknesses and forcing them to take corrective measures.
Engaging companies with class action lawsuits and making them suffer.
When we ask is Instagram Threads safe, we know that none of the first cases is a problem that seriously involves users. But the last item can be a problem for them, personally. For this reason, it is necessary to set up your account according to the instructions of the Threads application set by the meta company.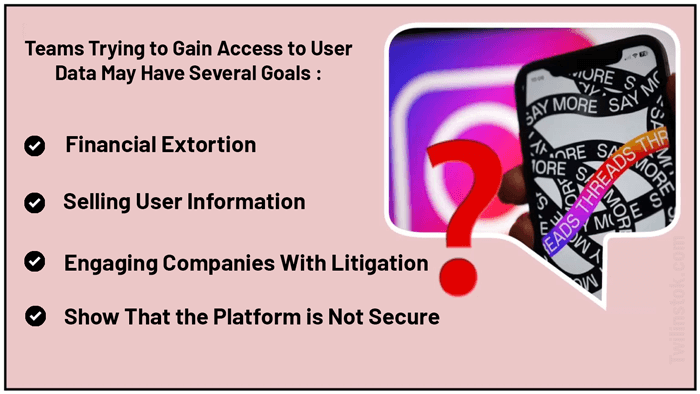 Is Instagram Threads Safe to Use? – Data Privacy & Security Concerns
The Threads app is as secure as the Instagram app, as both are under the supervision and support of one of the biggest tech giants, Meta. Therefore, there is no need for users to worry about the main structure of this platform. However, it is always possible to put our information at risk or fall into a trap by not complying with such things as:
Not creating strong passwords that include English uppercase and lowercase letters, numbers, and different characters.
Using guessable characters such as mobile number or name and surname as Instagram password.
Using duplicate passwords (maybe no one can directly enter your Instagram and Threads, but if you use the same password in another application that is less secure, the story is different.)
Entering Instagram username and password in third-party applications.
Write down the password and username in the phone's notepad.
Installing malware on the phone.
Not paying attention to the warnings that the application sends to the user when it feels dangerous.
Clicking on unsafe and spam links.
Participating in invalid surveys. (some surveys are published on the Internet and ask users' opinions about the characteristics of an ideal password!)
So, before we ask is Instagram Threads safe, we should ask ourselves if we have created a strong password for Instagram. Is it possible that we ourselves have opened a way for abusers to penetrate?
Is Instagram Threads safe to use?
There is no indication that the Threads application is not safe. If you follow all the points that we explained in relation to data privacy & security concerns, there is no reason to worry. The information that this app will have access to includes two categories of mandatory and optional information:
Mandatory information includes name, email, date of birth, phone number, and approximate location.
Optional information includes exact location, political and religious beliefs, contacts, sexual orientation, user payment information, purchase history, health information, and fitness information.
Even mandatory information is received so that you can defend your brand rights if you need to recover your account for any reason or if someone tries to misuse your name or brand. The creators of this platform also said that users might face the challenge of is Instagram Threads safe. Therefore, in the "Data safety" section, they have explained what the purpose of accessing this information is.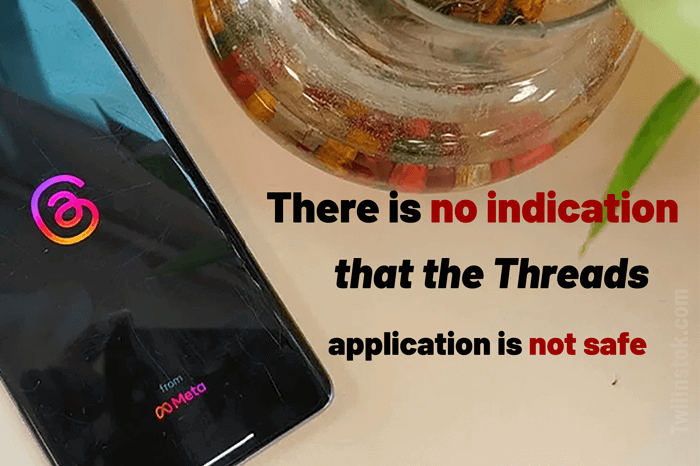 Suggested Articles to Read More:
The Bottom Line
In this article, we discussed the issue of is Instagram Threads safe. We know that everything on the Internet may be at risk. The Threads application was not made with the intention of abusing users' information, and its main goal is freedom of expression, sharing of thoughts, and hot discussions of the day. You can safely share photos, videos, and text on this platform. However, it is necessary to make sure that you have not exposed your Instagram password to others either intentionally or unintentionally. Accessing your Instagram account may lead to access to Threads.
For more information about Instagram and the features of this social network, we suggest that you click on Free Instagram Tutorial [+]. Also, if you have any questions about Instagram, you can ask them in our Instagram support center [+] in the form of a topic and wait for the answer from our experts.
Please share your comments and give us 5 stars. We can use your valuable suggestions and criticisms.
FAQs
Is Instagram Threads safe or not for iPhone?
Reputable companies that build platforms such as Instagram, to maintain their reputation and credibility, which has been obtained as a result of years of effort, billions of dollars, intelligence, and creativity, do their best to maintain the safety of users. It doesn't matter whether your phone's operating system is Android or iOS. However, in general, if you do not follow the points that we have mentioned in this article, you may expose your information to the abuse of profit-seeking people.
Is Threads OK for kids?
The answer to the question is Instagram Threads safe for kids is negative, not because of the security of the platform but because of the content that is shared on this platform and the discussions that may arise. Therefore, users must be at least 13 years old to use this app. Even teenagers between the ages of 13 and 18 should use the Supervision feature. In this way, the hours spent daily on social media are limited. In addition, the content that is displayed in their explorer passes through the filter of their parents' supervision. This feature will be automatically stopped after the user reaches the age of 18, but if a teenager decides to stop supervision before turning 18, an alert will be sent to their guardian.