Top 10 trending songs on Instagram Reels
trending songs on Instagram Reels
If you are wondering how to use reels trending music and boost your Instagram page, this article is truly yours. In this article from Twilinstok, we will get to know the top 10 trending songs on Instagram Reels and tell you how to use them to your advantage.
What are trending songs?
Before doing anything, we must know what a trending song is and when a song becomes trendy. Trending songs on reels refer to audio that is gaining popularity due to its catchiness. However, just because a sound has been used frequently does not imply that it is now trendy.
You can uncover music that has been in hundreds of thousands of reels but is no longer trending. The truth is that a sound should be popular and still be in use to become a trend.
Why should you use trending songs on Reels?
The reels algorithm will check whether the audio is trending by the number of reels that feature the audio. This demonstrates how using trending audio may significantly improve your reels' view count and engagement.
Using Instagram reels with trending songs and audio can increase your viewers' hearing engagement and carve your content into their minds. Moreover, studies on reels have revealed that people tend to watch ads that use trending music.
How to find Trending songs on Instagram Reels?
Finding trending songs on Instagram reels is an easy task. There are two methods to find them, and we will explain each one of them below: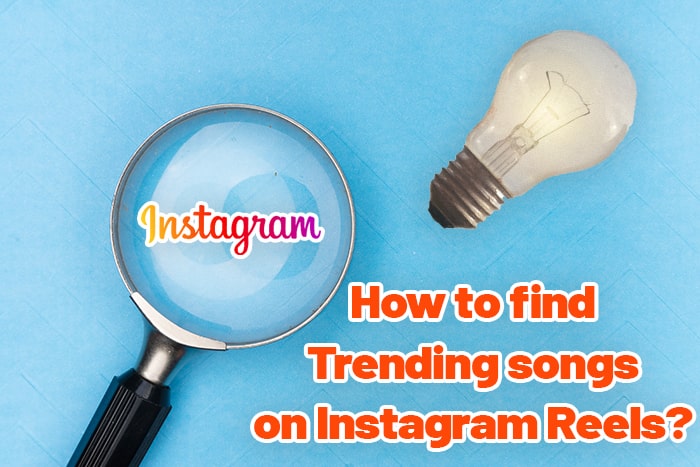 1st Method: Use Instagram Reels trend report
Don't want to watch reels for hours to find the trending song? Use the Instagram Reels Trend Report. Each report includes a recap of the previous week's trends which includes filters, sounds, music, hashtags, and challenges. However, using Trend Reports, of course, puts you at a disadvantage because you're a step behind everyone else. So now let's get one step ahead of others.
2nd Method: Listen to what TikTok has to say
At this point, it's essential to check TikTok trends to find Instagram Reels trending songs and audio firsthand. That's correct. Aside from generating original audio for Instagram and hoping it goes viral, your next best chance of starting a trend is to first see what's trending on TikTok.
TikTok's popular sounds usually find their way to Instagram Reels after a few days or weeks. So, listening to TikTok trends can help you to get ahead of other content creators in Instagram Reels.
What are the Top 10 Trending songs on Instagram Reels?
Finally, we are here. Now that we know the basic information about reels trending songs, it's time to check the songs that are trending right now. Using the songs below can blow up your entire reels.
In the end…
Instagram Reels can be your page's savior. Using Instagram reels can bring your Instagram account back to life. In this article, we tried to teach you everything you need to find trending songs on Instagram reels. Do you know any other ways to search for trending songs and music? We would be more than happy if you shared them with us.
Please give this article 5 stars if you wish. If you have any questions, ask us in the comments section.