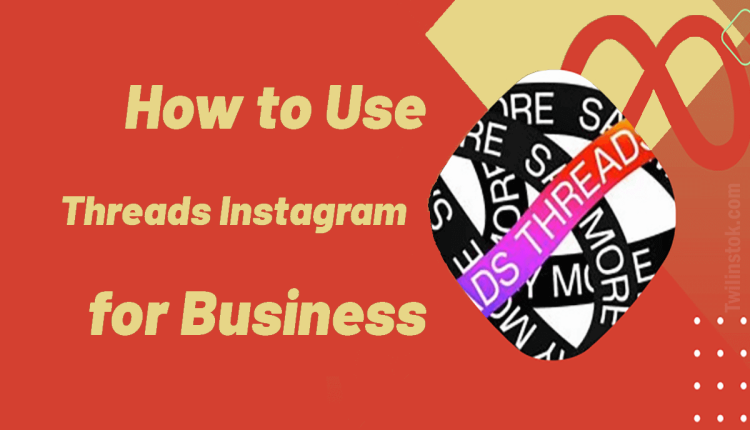 How to Use Threads Instagram for Business | Tested Strategies
How do I grow my business on Threads?
When Meta company introduced its new social media platform called Threads, people were very excited to try it out. Everyone wanted to sign up and see what the platform had to offer. Some people wanted to create fake profiles of famous brands just for fun, while others wanted to make new friends. Some even wanted to establish a presence on Threads before it became too popular. News outlets also joined the platform to compare it with other social media and to report on any news or rumors.
However, after joining Threads, many users encountered a bug they didn't even consider. Unfortunately, deleting Threads also deletes the user's Instagram account. So, users had to decide whether to keep using the platform and try to work around the issue or deactivate their accounts secretly. In this commotion, businesses need to find their place correctly. This article from Twilinstok online magazine will help you understand how to use Threads Instagram for business and what kind of businesses it suits.
How Do I Grow My Business on Threads?
The short answer:
Publish content regularly.
Write a text with a tone and structure that will be liked by your target group.
Think about the virality of your content on Threads Instagram.
In other social media, especially on Instagram, tell users what special activities and programs you have in Threads. To make them curious to engage with Threads.
💡 Note: Don't lie, if you don't offer different content. Wait until the end of this article about how to use Instagram Threads for business. Don't disappoint your current followers. Saying something baseless will make you lose your Instagram followers.
How to Use Threads to Grow Your Business?
Threads is a new social media platform from Meta, which owns Facebook, Instagram and WhatsApp. It is a platform where people can share their thoughts, daily lives, and social concerns. It's perfect for casual chatting and having fun. You can spend as much time on it as you want. However, if you're thinking about using Threads for business purposes, there are some things you should consider. First, you need to know if Threads can help you grow your business. If it can, you need to learn how to use Threads Instagram for business effectively.
How Do You Use Instagram Threads Effectively?
To use Instagram Threads effectively you should consider checking out these three tips:
Optimize your Instagram account.
Determine your business purpose in Threads.
Determine a list of content creation strategies.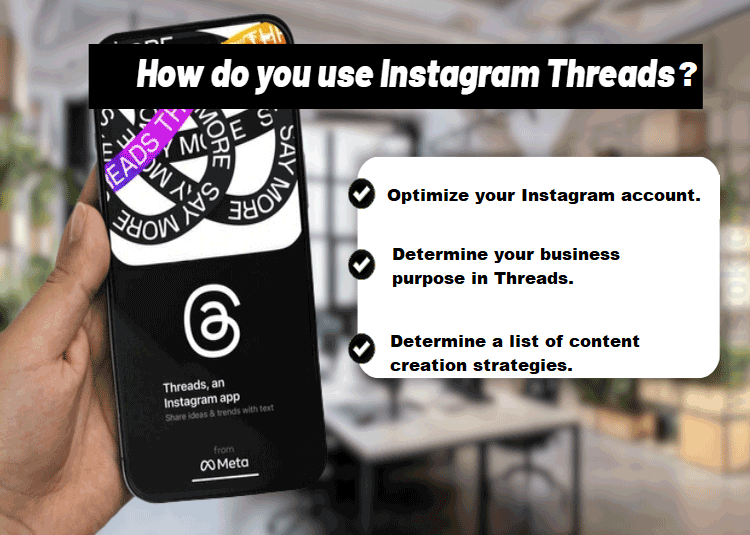 Let's talk about each tip in detail.
Make sure your Instagram account is optimized.
In the first step, make sure that your Instagram account is optimized. It means that you have connected a valid email or phone number to your Instagram account. After that, take a look at your Instagram profile picture and bio. Because the information on your Instagram profile is displayed precisely in the profile of your Threads account. If you need to modify or update your Instagram bio, get started as soon as possible.
Determine what your business goals will be achieved on the Threads platform.
All your business goals cannot be achieved in one social media. You may not be able to monetize the Threads platform directly. But you can undoubtedly give clues to users and direct them to your online store site.
Anyway, being on a new platform equals access to a new target group you didn't have access to before. Before you start working and continue on the same path as usual, you need to review your business goals. Then, focus on targets that perform better on text-based platforms.
When you have decided to learn how to use Instagram Threads for business, you must spend more time researching. Be sure that even if you have a successful business, you will still find new goals that have been neglected for some reason. Find them.
Make a list of content creation strategies in Threads for business accounts.
A user who joins the Threads platform for fun can type their first Thread with the enthusiasm of having conquered a mountain. Things like "Hurrah, I'm here too", "Hello, I'm here too", "How are you doing Threads" and simple and sincere things like that. But the story of Threads for business accounts is different.
As someone who wants to learn how to use Instagram Threads for business:
💡 You must have a strategy.
It is not right to post a thread today and stay silent for a few weeks. Be aware that the importance of first impressions also applies to your online presence. Don't worry; we will talk about how to use Threads to grow your business and what strategies you should use in detail.
💡 Note: It is true that your username and password transferred from Instagram to Threads automatically, but you can edit your profile. So, if you are eager to know how to use Threads Instagram for business, keep in mind that having a proper profile is one of the key points. Especially until the hashtags are activated, and people type words in the search section, be sure to write your business keyword in the profile section.
Threads Strategy for Business
You may know that you can share 500 characters of text, photos, videos, and links in Threads. It is true that Threads is a platform related to Instagram, but you should not repeat the same strategies that you had on Instagram. Why? Because when your Instagram followers see you in Threads, they expect to see a different side of your activities.
If businesses and users were to copy the same Instagram content on this platform, then what was the need to unveil it at all? Surely, the only goal of Threads creators was not to attract X app users. The main goal was to create a place to share thoughts and new ideas.
With this account, as a business owner, learn how to use Threads Instagram for business and it is strongly recommended that you take Threads strategy for business seriously. Here we have some experience-tested strategies on text-based platforms that we agree with.
Prioritize the text.
Find out when your audience spends the most time in Threads.
Thread every day.
Show a new side of your business or persona.
Write texts that your followers will get used to reading on the Threads platform.
Double-check every link you include in your content.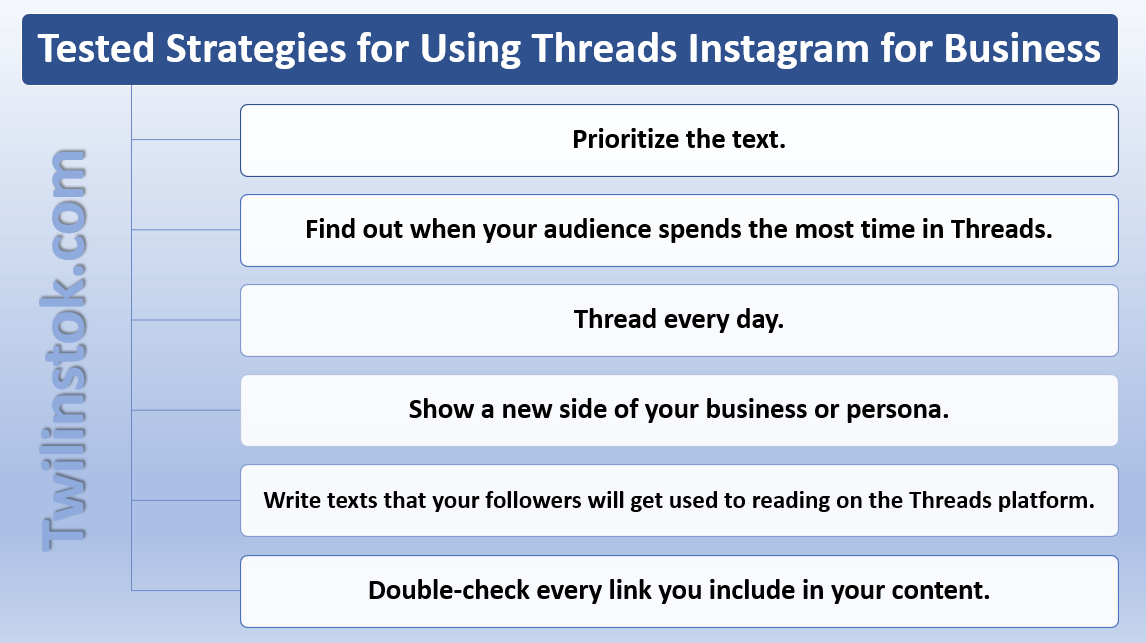 Now let's check each of these strategies in detail.
Prioritize the text.
First, think about the content you want to publish, and then use photos and videos to convey the message better. Waking up every morning and randomly taking pictures of yourself or your pet and posting a thread is not a good idea for business accounts.
Find out when your audience spends the most time in Threads.
You might have a great idea to start a conversation, but if you publish it at the wrong time, it won't work as expected because users aren't there to continue the conversation.
Thread every day.
Continuous and regular communication with the audience is the key to success and growing your community.
Show a new side of your business or persona.
Imagine someone in the ASMR genre who has been active on Instagram for a long time. Now, he has joined Threads, sits facing the camera, and continues to eat sandwiches. What is the point of it? Nothing. But imagine that same user showing another side of his thoughts and persona. This can be more attractive to users who know him. No?
Write texts that your followers will get used to reading on the Threads platform.
It might be interesting to know that users get used to checking social media. When your account has something new for them every day, a closeness between you and the users will be created unconsciously, as if they miss each other.
Double-check every link you include in your content.
Broken links and links that direct the user to the wrong address make users feel insecure.
💡 In the end, if your current business form does not fit very well with the Threads platform or you personally do not have anything special to say, create a character.  💡
Express the contents in the form of one character. Not statistics, but experience has shown that on text-based platforms, characters who are humorous and carefree, issues that some people hesitate to say due to work considerations, go viral faster.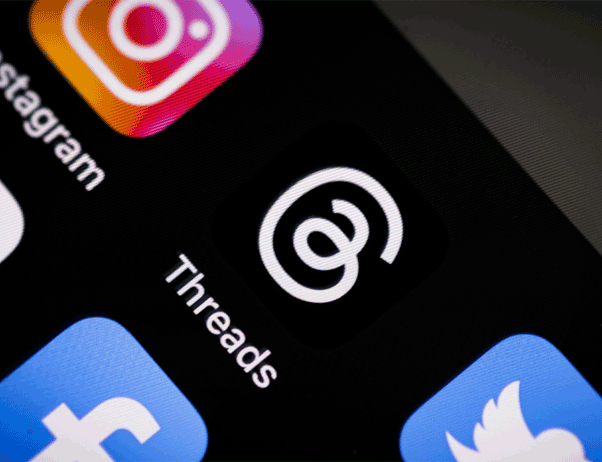 How to Use Threads for Your Small Business?
We do not intend to advertise for the Threads app. We don't want to exaggerate and say that this platform has come to save your business, and we don't want to fuel rumors and news about it. However, whenever necessary, we compare it to other text-based platforms such as the X app. But let the announcements keep the competition warm, and we will impartially discuss how to use Threads Instagram for business and especially how to use Threads for your small business.
💡 Using the Threads application is suitable for both large and small businesses. However, Threads' algorithms are more in favor of small business owners.
Because the content they produce is exposed to users without paying for advertising and promotion, if they don't use coherent and valuable strategies and don't build their community before it's too late, they may be marginalized by changes in algorithms and new updates of this application. In fact, brands on Instagram Threads bring their community of Instagram followers with them to the Threads platform. It is the small businesses that need to use this opportunity wisely.
Suggested Articles to Read More
The Bottom Line
In this article, we discussed how to use Threads Instagram for business. Threads is off to a strong start. A large number of celebrities, journalists, brands, and many other prominent accounts showed their presence on the platform in the early hours. The platform is very similar to the X app, with a feed of text-based posts along with various photos, videos, and links.
You may have more expectations from this platform that have not yet been fulfilled, but don't be disappointed. Count on the database of two billion Instagram users. No platform with such support has ever entered the social media arena.
When advertising, direct messaging, the ability to edit posts, and other updates are applied to it, it may become one of your best sources of income.
So, according to what was stated in this article, plan to expand your Threads community.
For more information about Instagram and the features of this social network, we suggest that you click on Free Instagram Tutorial [+]. Also, if you have any questions about Instagram, you can ask them in our Instagram support center [+] in the form of a topic and wait for the answer from our experts.
Please share your comments and give us 5 stars. We can use your valuable suggestions and criticisms.
FAQs
When should you not use Threads?
Do not enter the Threads app before optimizing the Instagram account. Because, in this case, users may not notice your online presence on this platform. Make sure contacts and followers can find your account so you have a great community from the beginning.
Should my business be on Threads?
The online presence of all businesses on popular social media helps to expand business and reach more audiences. The Threads platform is no exception to this rule. Also, if you are looking for common thoughts with your colleagues, an active presence on the Threads platform is recommended.
How to add the business account to Threads?
There is no difference between joining personal and business Instagram accounts on Threads. You can connect your Instagram business account to Threads in seconds. Necessary for all those who want to know how to use Threads Instagram for business: Make your business account public to expose your content to larger audiences.
Should I put my business on Threads?
Yes, but let us explain! Any business can be present on any social media. But believe it or not, every business can really shine on one or at least two platforms. We mean that it is very difficult for a business to be among the best on both Instagram and YouTube, for example. However, our more accurate answer to the question Should I put my business on Threads? Yes, but only if you go ahead with planning and strategy.