Twitter algorithm for artists
Twitter tips for artists
Today, social networks have become an integral part of our lives, and almost everyone has an account on these social networks. One of the popular social networks is Twitter, and many celebrities, companies, politicians, and artists have an account on this social network. In this article from Twilinstok, we will have a full review of the Twitter Algorithm for artists, and also teach you how to beat Twitter Algorithm as an Artist; Stay with us.
What you'll read (Table of content):
hide
Twitter Algorithm Factors.
Every social network has an algorithm that it utilizes to improve user experience and grow user numbers. Twitter also employs an algorithm to ascertain its users' interests and interactions with one another. The Twitter algorithm is the same for everyone, however, the means to beat it varies depending on the user. In general, the Twitter algorithm prioritizes the following factors:
Relevance
Recency
Engagement
Rich Media
Twitter Algorithm understands what kind of topics you are interested in and with which types of users you have interaction and engagement by checking the mentioned parameters. If you are an artist looking to expand your Twitter account, it is best to follow other artists as well as creative accounts (such as Galleries, Producers, Companies, and so on). This step informs Twitter's Algorithm that your account is an Artistic account.
Rich Media is another Twitter Algorithm factor; Rich Media refers to any form of Visual Content, such as photographs, videos, and GIFs. The more comparable visual content an artist shares on Twitter, the higher his or her Twitter rank. If you want to learn more about the Twitter Algorithm, we recommend reading the article "How the Twitter Algorithm Works?"
Now, let's find out how to beat Twitter Algorithm as an Artist.
Twitter Tips for Artists
As we mentioned earlier, in this part of the article we have some tips for you about how to beat the Twitter Algorithm as an artist; here are the tips:
Use your Photo or Logo as Profile Picture
Create fresh content
Increase your engagement
Increase your interactions
Add your location in Bio
Use Twitter Blue
Use analytics tools
Create your Hashtag
Use Proper Hashtags
Quote and Retweet related posts
Share your posts on different social network
Set a Twitter Schedule
Post tweets at the right time
Create Twitter Circle
Participate in related Trends
Pin your best Tweet
Now let's check these tips one by one.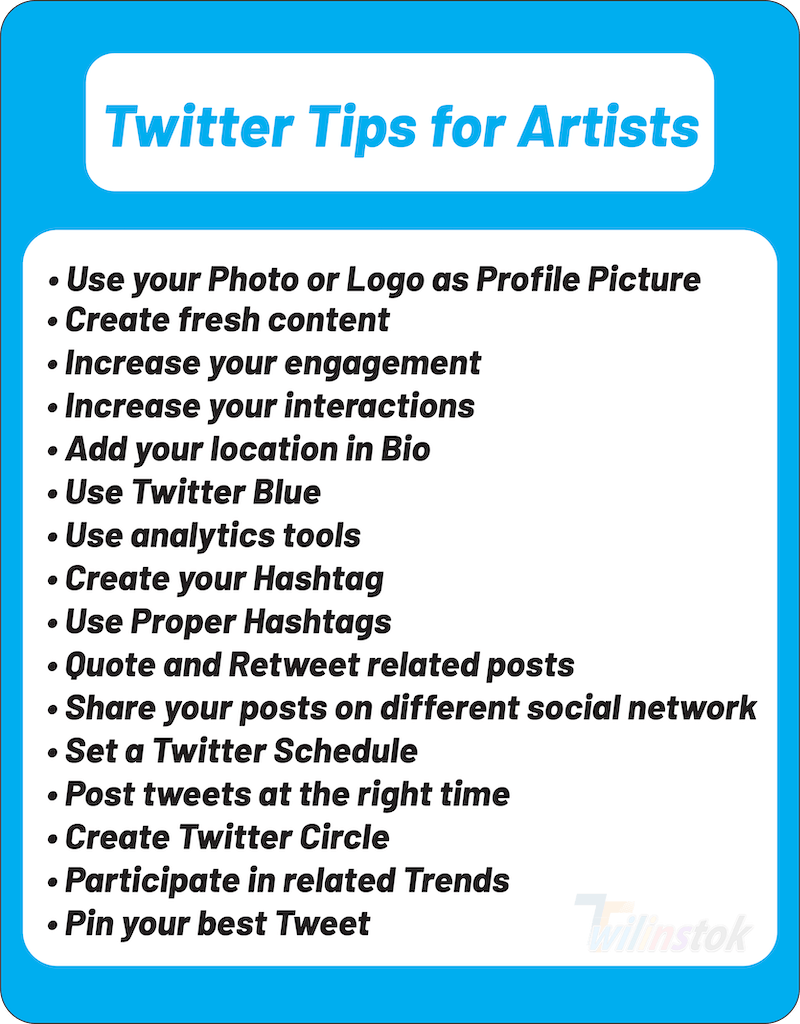 Use your Photo or Logo as Profile Picture
To help your Artist account flourish, put your photo or logo as your profile image. This activity makes other users trust and recognize you. People are interested in artists and their personal information; so, include some personal information in your Twitter biography section called Bio, such as where you live and your area of expertise; in other words, display your character to people so they can engage and connect with you. This type of information assists others in determining a connection between them, and it also has a beneficial impact on your social activities.
Create fresh content
As an artist, it is critical that you develop and publish new content to expand your account; if you replicate other people's stuff, the Twitter algorithm will flag your account as spam, which will have a negative impact on your account. So, if you want to outperform the Twitter algorithm and build your account, you should create new material and share it on Twitter.
Increase your engagement
Engagement, as previously said, is one of the Twitter Algorithm testing elements. The more you interact with other users (particularly similar people and accounts), the more engagement you will receive for your account. You may enhance your engagement by doing easy things like:
Start related and interesting conversations.
Participate in related conversations.
Use trends and related Hashtags.
Follow and Follow Back to users.
Answer the mentions and comments.
Retweet and Quote others' tweets.
Make users engage with you (like creating a poll).
Active on Twitter constantly.
Get help from influencers.
Interact and engage with verified accounts.
Verify your account (buy Twitter Blue).
Increase your interactions
Nowadays, Twitter Algorithm is more focused on user interactions and relations; in other words, the new Twitter Algorithm checks all your interactions and ranks your account and tweets by validating them; if you increase your interactions with related accounts and users, you will get a higher rank on Twitter Algorithm, which will increase the visibility of your account and tweets. But how can you improve the number of interactions?
Like engagement, you can increase your interactions through simple actions; like:
Leave a comment on related tweets.
Engage with other users.
Participate in related conversations.
Talk to other users.
Be friends with other users.
Mention related accounts in your tweets.
Participate in related Trends.
Publish related and fresh content.
Create your Twitter Circle.
Add your location in Bio
By adding your location, you may identify artists and similar businesses in your area, allowing you to interact with them and expand your account. Additionally, adding your location to your Twitter account allows local Twitter users to find you and communicate with you quickly.
It is worth noting that adding a location to your Twitter account causes the Twitter Algorithm to validate your account as a real one, rather than a fake one.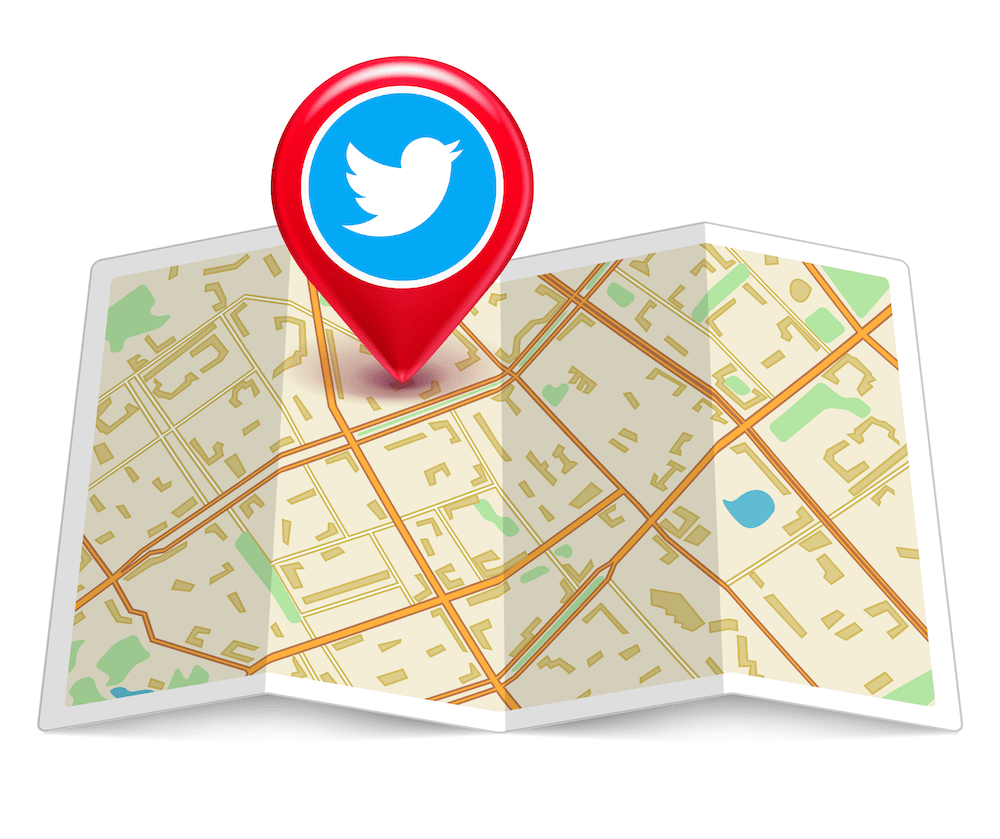 Use Twitter Blue
Twitter Blue is a premium feature released by Twitter for users who want to be active on Twitter professionally; users who purchase Twitter Blue receive Twitter Verification Tick as well as several extra features such as:
Tweet 4000 character
Post longer videos on Twitter
Post high-quality videos on Twitter
Advertise their account and tweets on Twitter
Edit published posts and tweets
If you are interested in Twitter Blue, we recommend you read the "What Is Twitter Blue? How To Get It?" article.
Use analytics tools
There are many analytics tools and websites available today that may help you examine your Twitter account activity and rank; these tools and websites can help you assess your social network activities and develop better tactics for growing your account. You can use analytics tools to determine the best time to publish your posts or which type of content is more engaging to your followers.
Create your Hashtag
Creating a Hashtag is another method for beating the Twitter Algorithm. Trending a Hashtag is a difficult process, but if you are successful, you will have a lot of engagement and conversations, which will help you build your account and validate it as a legitimate Artist account by the Twitter Algorithm. If you don't know how to Trend a Hashtag on Twitter, we recommend reading the article "How to Trend on Twitter Quickly?"
You should use relevant and Trend Hashtags in your tweets in addition to creating and Trending a Hashtag. Remember that hashtags serve as a bridge between users, and by searching for and using similar and trending hashtags, you can locate other people who share your interests. Using related Trend Hashtags can also help you enhance your interactions and engagements with other people by initiating or participating in conversations.
As previously said, the new Twitter Algorithm is focused on interactions and relationships; therefore, if you want to overcome this Algorithm, you need to improve your interactions and ties with other people. You can communicate with other users by citing or Retweeting relevant posts. Remember that Quoting is more effective than retweeting a post because when you Quote a post, you leave your opinion on that post, and most of the time the tweet owner comes and comments on your Quote or retweets it, which increases your interactions and engagements.
One of the other ways to increase your interactions and beat the Twitter Algorithm is by sharing your posts and tweets across different social networks. With this action, you can increase your audience and grow your Twitter Account; also share your Twitter posts on different social networks, which will help you improve your account rank on Twitter.
Set a Twitter Schedule
Some days maybe you don't have enough time to be active on Twitter, and we also know that to grow your account, you should be active constantly; in this situation, you can use Twitter Schedule. This new feature helps you publish your tweets and other content automatically at the right time. Twitter Schedule is a very useful and helpful feature that you should use to beat the Twitter Algorithm and grow your account on Twitter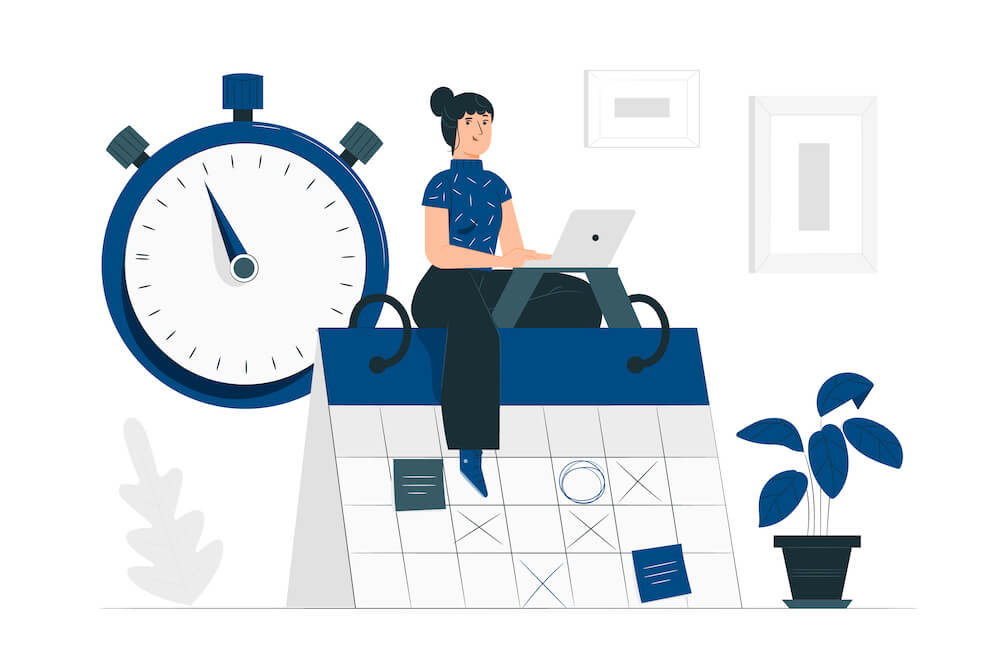 Post tweets at the right time
As mentioned earlier, you should know when is the best time to publish your tweet or Rich Media; by using Analytics tools, you can find out when most of your followers are active on Twitter and see your tweets. Remember, you must post your tweets at the right time so you can get maximum interaction and engagement.
Create Twitter Circle
Twitter Circle is another useful feature of Twitter; by creating a Twitter Circle, you can follow a group of users' activities on Twitter or publish your tweets for your Twitter Circle members.
By participating in related trends, you can increase your interactions and improve your engagement. You can participate in related Trends by using proper Hashtag or keywords; also remember that publishing related Rich Media has more positive effects than text content.
Pin your best Tweet
Always pin your best tweet, because the pinned tweet is the first thing that all users see in your account; you should utilize this feature because it increases the chance of people following you, being interested in your artwork, or going to your art website.
Suggested Articles to read more
Final Words
As an Artist, you should pay attention to your accounts on social networks, because nowadays social networks are the main way to interact with fans and other people; so be careful about your accounts.
In the end, we hope you enjoyed this article and gain helpful information. If you like this article, please give us 5 stars. Also if there are any questions about Twitter Algorithm for artists, mention them in the Comments.