Twitter algorithm change: All you should know about
Twitter New Algorithm
As we know, Twitter is one of the top social networks, and it's growing day by day. After 2006 (the first date Twitter was released), this social network started to use some algorithms for developing user experience; as years passed, Twitter developed its algorithm, and now, there are many factors and features in Twitter algorithms. In this article from Twilinstok, we want to show you the Twitter algorithm change and its new features. Stay with us.
Twitter Algorithm Changes through years
Twitter algorithm has been changed in passing years, and now there are many factors and features in this algorithm; in this year, Twitter algorithm to better user experience, focused on users relation and interactions. In other words, Twitter algorithms check every user's interactions, interests, post time, retweets, quotes, and liked posts to understand what type of topics and content are users' favorite.
Also, the new Twitter algorithm checks the content users post and its relevance to the favorite topics that users choose; it means if users want to grow their account, they should be careful about what topics they choose and what content they post on Twitter, if these to factor are relevant, their account will grow naturally.
It is worth mentioning that there is a new system for Twitter Timeline called Twitter Timeline Ranking Signal; this system determines which tweets show at the top and which tweets show later. Maybe you ask How the Twitter Timeline Ranking Signal works? Let' 's find the answer.
What are the Twitter Timeline's new features?
You will see new features in your timeline if you update your Twitter App (or go to the Twitter Webpage). There are two main categories in the Twitter Timeline system which are:
Now let's check them.

For you
In the "For you" category, the Twitter Timeline system shows the ranked tweets relevant to your favorite topics. It is worth mentioning that Twitter Timeline Ranking Signal System sorts these tweets.
Following
In this category, users can find their following Tweets in a complicated order, sorted by the Twitter Timeline Ranking Signal system.
In both categories, there are new Twitter Timeline algorithm, which consists of three main parts:
Ranked tweets
In case you missed it
Remaining tweets
Ranked Tweets
These tweets are the most popular and related tweets to you; in other words, Twitter algorithm checks your favorite topics and liked tweets, then sorts ranked tweets by your favorites and related topics and show them at the top of your timeline.
Tip: Twitter Timeline algorithm show tweets in Reverse Chronological order.
In case you missed it
This part contains the older tweets from users who engage with them time-to-time and have a high rank on Twitter Timeline algorithm. These types of tweets don't appear at the top of your timeline, and you can read them after Ranked Tweets. These tweets are also sorted by relevancy and time.
Remaining Tweets
Lat part of the new Twitter Timeline is Remaining Tweets; at this part of your Twitter timeline, you can find the other tweets from your followings and followers and related tweets from other users you don't follow.
As we mentioned, there is a new system called Twitter Timeline Raking Signal system that determines which tweets appear to you and which one doesn't. Now let's check this new system and see how it works.
How does Twitter Timeline Ranking Signal system work?
Now it's time to introduce you to Twitter Timeline Ranking Signal system; this system uses multiple factors for sorting and ordering your Timeline Tweets. These factors are:
Recency
Relevance
Engagement
Rich Media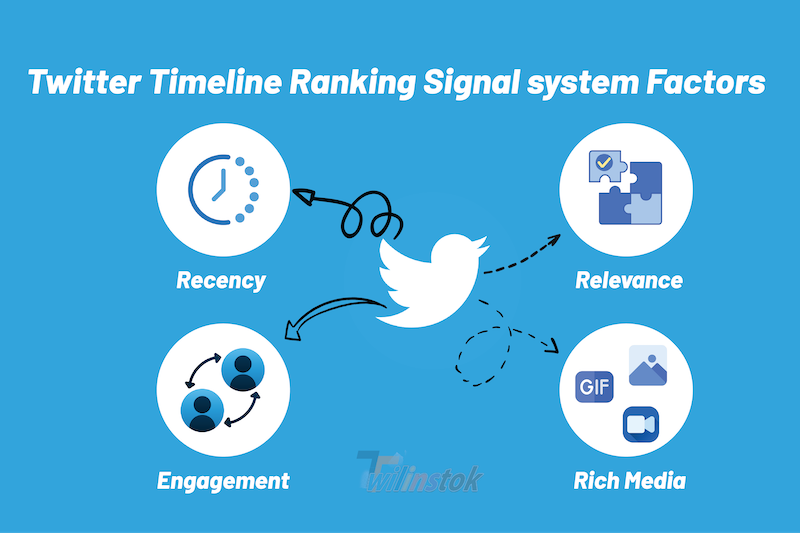 Recency
The first thing this system checks is the time of the post and how recently that tweet was published. In other words, the newer tweets will show earlier than the other ones. By the way, it's not just a matter of time; the trend topics also matter. The tweets that use trend topics and keywords and are newer than others get higher ranks in this new system.
Relevance
Relevancy is one of the other important factors in the Twitter Timeline Ranking Signal system. Briefly, the relevant tweets to your favorite topics get a higher rank than others. Twitter algorithm in this year checks all your tweets, retweets, quotes, interactions, favorite topics, and even your participated conversations to find your interest; after finding your interests, Twitter algorithm (Twitter Timeline Ranking Signal system) checks all the tweets from your followed account and related accounts, then sort them by relevancy and other factors mentioned earlier (such as Recency, Engagement, etc.).
Engagement
Twitter is all about engagement, relations, and interactions. Twitter algorithm checks your engagement with other users and sorts their tweets by your engagement with them. As you have more interactions and engagement with users, their tweets get a higher rank in your Timeline.
It is worth mentioning that the Engagement factor is divided into three parts:
Tweets
The Engagement factor checks all popular tweets from people you interact with them and sort these tweets by combining other factors.
Topics
Specific topics you engage with them more are getting a higher rank than other topics in your Twitter Timeline.
Trends
Relevant topics to your engagements are getting a higher rank by the Engagement factor.
Rich Media
Rich Media contains any sort of visual content, such as images, videos, and GIFs. In the past, users only could post text content, but by passing the time, Twitter added the Uploading Rich Media feature, which allows users to post any image, video, or GIF. Nowadays, the Twitter algorithm checks posted Rich Media and its relevance to favorite and trend topics; any tweets that get a higher score on this factor get a higher rank in your Twitter Timeline.
Don't forget that the Twitter Timeline Ranking Signal system for sorting and ordering the tweets in your Timeline uses all these factors and combines them together. Imagine each of these factors has a score, and any tweets that get a higher score at the end get a higher rank in your Twitter Timeline.
How to beat the Twitter algorithm?
By now, we have learned how the Twitter algorithm works; In this part of the article, we decided to teach you How to beat this algorithm. There are some tips for using and beating the new Twitter algorithm:
Be Active on Twitter
Attention to Your Post Time
Use proper Hashtags
Post Rich Media
Get Verification Tick
Increase your Engagement
Participate in relevant topics
Use analytics tools
If you want to know more about Twitter algorithm, we recommend you read "How the Twitter Algorithm Works?"; this article lets you know how to beat Twitter algorithm with Complete instructions.
Suggested articles to read more
Final Words
If you are using Twitter regularly and want to spend your time on Twitter, don't worry about Twitter algorithm; follow and like whatever topics you like. Still, if you want to be an influencer or grow your Business account, it's necessary to know What Twitter algorithm is and how it changes. Generally, Twitter algorithm in the new year focused on interactions and relations between users and checking their engagement; this new Twitter algorithm checks all the aspects of accounts by different factors (which mentioned them) and combines those factors to order and sort Tweets, Topics, and Trends. As we said, if you are an influencer or business owner and want to grow your Twitter Account, it's better to know the Twitter algorithms and learn how to beat them.
In the end, we hope you enjoyed this article and gained helpful information about Twitter algorithm change; if you like this article, please give us 5 stars; also, if there are any questions about Twitter algorithm, ask them in the Comments.