What is Twitter Blue? How to get it? + Price
What are features and benefits of Twitter Blue?
Nowadays, most social networks have some premium features; Twitter premium features are introduced as Twitter Blue. What is Twitter Blue? How to get Twitter Blue? What are Twitter Blue's benefits? In this article from Twilinstok Online Magazine, we want to introduce you to Twitter Blue completely; stay with us.
What is Twitter Blue?
As mentioned earlier, Twitter Blue is a premium version of Twitter, and anyone can purchase it. This premium feature is available by monthly purchase, and iPhone users can buy it on AppStore, and Android users and web users can buy it online on the Twitter website. Twitter Blue's price is 8$ per month or 84$ per year. Now let's find out what features are just available on Twitter Blue.
What features does Twitter Blue have?
If you buy Twitter Blue, you get some new features that aren't available in regular Twitter accounts. Some of these features are:
Blue tick
Edit tweets
Upload 1080p videos
Reader mode
More engagement
Write longer tweets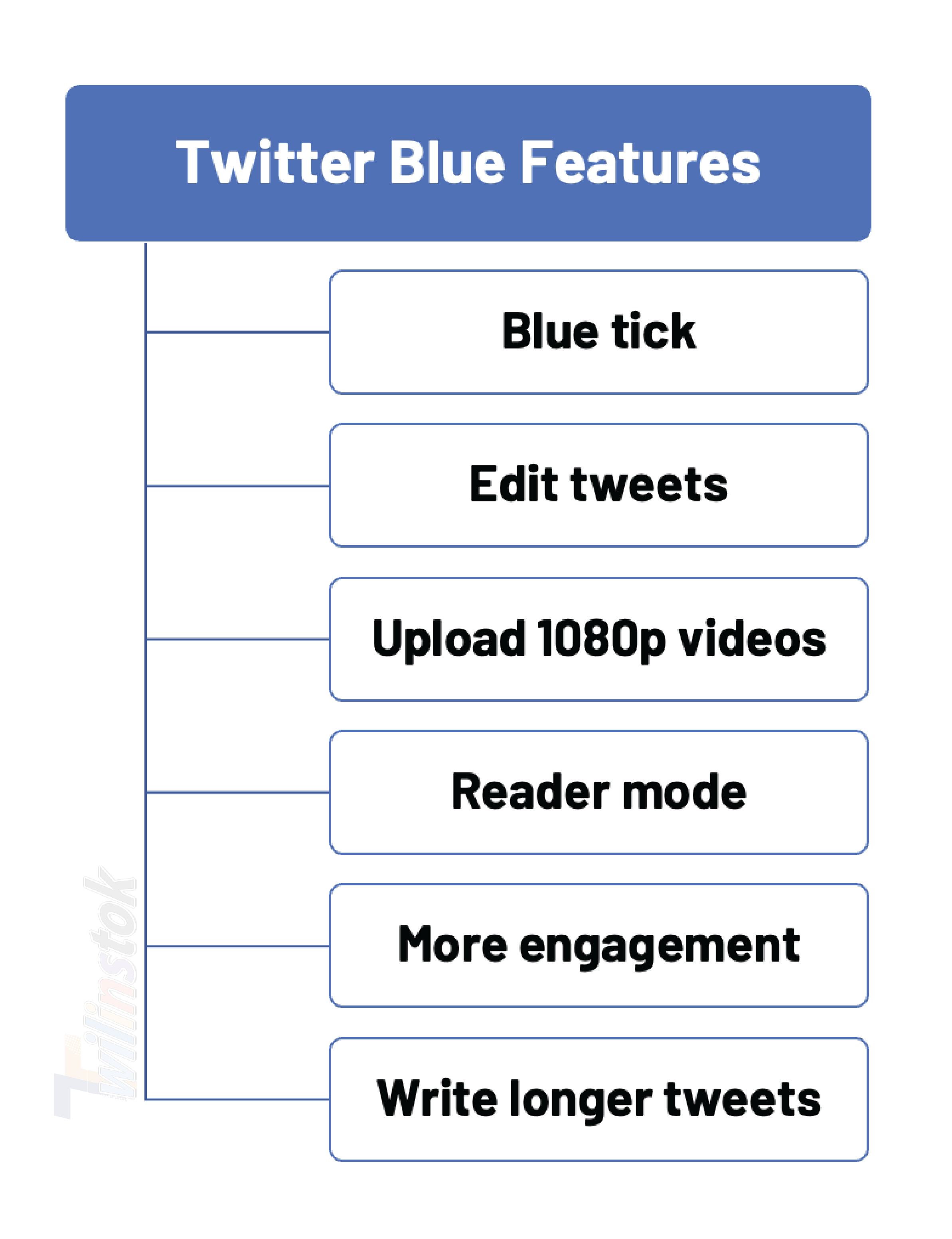 Now let's check these features one by one.
Blue tick
In the past, the Twitter Blue tick was only available to celebrities, organizations, companies, political faces, influencers, and popular users; but nowadays, anyone who buys Twitter Blue gets the Twitter Blue tick, and their account gets verified. At first, many users abused this feature and made celebrities fake accounts; later, Twitter changed its Blue tick policy for Twitter Blue users; now, if you buy Twitter premium, before getting the Blue tick, Twitter checks your background and identity on Twitter.
Edit tweets
One of the other Twitter Blue features is Edit Tweets; as we know, when you post a tweet, you can't edit it, and if there is any problem with your tweet, you should delete it and tweet again; but if you buy Twitter Blue, you can edit your tweets immediately without deleting it.
Upload 1080p videos
Regular Twitter accounts can't upload high-quality videos, but Twitter Blue users have this feature and can upload 1080p videos on Twitter. Also, Twitter Blue users can upload longer videos too.
Reader mode
As we mentioned earlier, there is another new feature on Twitter Blue called Reader Mode. By using this feature, keep up with long threads by turning them into the easy-to-read text; in other words, you can read all tweet threads as a tweet.
More engagement
One of the other features of Twitter Blue is getting more engagement; in other words, if you buy Twitter Blue, when other users search for keywords, your tweets and replies show higher positions in results than regular accounts.
Write longer tweets
We know that Twitter users can write 280-character tweets today, but Twitter Blue users can tweet 4000-character tweets; in other words, Twitter Blue users can tweet longer than regular Twitter users.
What are the conditions for using Twitter Blue?
There are some conditions and rules for using Twitter Blue and its features; some of these conditions and regulations are:
It must be past at least 90 days of your sign-up.
If, after buying Twitter Blue, you change your name, username, or profile picture, your Blue Tick will disappear, and after Twitter checks your new identity, you will get your Blue Tick again.
You should verify your phone number before getting Twitter Blue.
Final Words
If you want to be an influencer on Twitter, it's better to buy Twitter Blue; but if you wish to use Twitter casually, buying Twitter Blue is not necessary. In the end, we hope you enjoyed this article; if it was helpful, please give us 5 stars, and if there are any questions about Twitter Blue, comment it for us to answer you as soon as possible. Also, sharing this article on social media make our team happy.