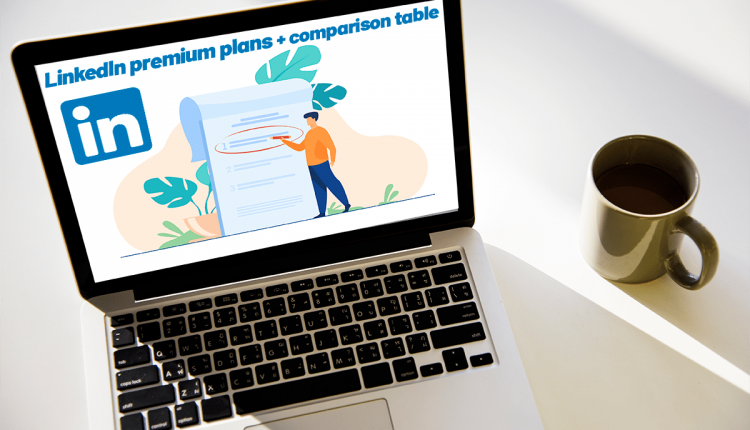 Best LinkedIn premium plans + comparison table
Which LinkedIn premium is best?
Everything around us is changing, and we have to adapt ourselves to stay in the business world. So, after a while, you should decide to improve your condition and walk faster on the progress track. In that case, you should benefit from new technology, like a social network. LinkedIn is one of the robust social networks for improving your skill, finding a job, or enhancing sales.
LinkedIn has two versions; free and premium. Indeed, these two plans are very different, and the LinkedIn premium plan has the best features to promote your financial status. And now, some questions may have raised in your mind:
What are the best LinkedIn premium features?
what features dose LinkedIn premium have?
To continue, we will describe the features of both basic and premium accounts, finally, you can compare all versions. Please stay with us until the end of this article from "Twilinstok"
What you'll read (Table of content):
hide
How many LinkedIn versions are there?
LinkedIn is a professional application that has several versions. These versions are designed to be convenient and special to use. In each version, you are faced with various programs that lead you to make plans easily and achieve your goals quickly. It is worth mentioning that you must pay for all subscriptions of LinkedIn premium. But basic LinkedIn is free. In addition, you should know about the best features of premium LinkedIn in each version, and opt for one that is coordinated with your business or career or maybe is useful in learning a new skill. Now, we are going to introduce all versions of LinkedIn.
LinkedIn free/basic
LinkedIn Learning
LinkedIn Premium Career plan
LinkedIn Sales Navigator
LinkedIn Premium Business
LinkedIn Recruiter
In the following, we describe all features of each LinkedIn version separately.
LinkedIn basic features (free)
If you are new on LinkedIn, you should use a basic account. LinkedIn free can assist you to do your work. We will list several features of LinkedIn free that can help your career and business. Are you familiar with LinkedIn? or have you initiated your trade and business recently? In the following, we will express some of the features of LinkedIn free.
You can find old friends and reconnect with old colleagues and classmates.
You can benefit from requests and given recommendations on the app
You can search for and view profiles of other LinkedIn members.
You can receive infinite InMail messages.
You can save three searches and set up weekly alerts on those searches.
You can utilize this version for free.
As we said, LinkedIn free is fit for those who are beginners. And if you want to extend your network, you should utilize this version.
LinkedIn Learning
As you can figure out from its name, it is a platform for learning all new skills and taking part in expert-led courses and holding online classes with various topics for every step of your career. Further, you benefit from instructors with real-world experience to hone your proficiency. LinkedIn Premium Learning is suitable for students and those who want to be professionals in their field. It has approximately 16000 courses available that update constantly and are the state of art in your field. If you want to know more about LinkedIn premium features for students and its price, Just Click here [+].
LinkedIn Premium Career is an excellent version of LinkedIn premium to access exclusive features and tools that can aid you in your job search. If you're tending to invest time and money, it definitely worth it. It would be best to use this app to find your favorite job or hone your professional life. According to one LinkedIn survey, job seekers with the LinkedIn premium for job seekers accounts get hired two times faster than those with a free LinkedIn account. Some of the more notable features include job application data, competitive intelligence on jobs, InMail credits, and LinkedIn Learning. If you want to know more about LinkedIn premium features for job seekers and its price, Just Click here [+].
LinkedIn Premium Business plan is a perfect tool for those who have recently started their business and business owners and companies that have planned to promote their positions in the trading world. With this kind of account on LinkedIn, you can extend your personal brand and connect with leads and potential business partners in your industry. More than 1 million users have active accounts on LinkedIn premium business, which means you face countless opportunities in your business field. If you want to know more about the features of the LinkedIn premium Business plan and its price, Just Click here [+].
LinkedIn sales navigator is one of the most common and proficient apps to manage your sales. Professional sales navigator LinkedIn is much more than a Premium LinkedIn profile. It's an automated sales tool that allows you to find the right leads and ideal prospects, and access your saved searches whenever you want. It's the best option for business owners and sales professionals who realize the power of LinkedIn and social selling.
LinkedIn Sales Navigator has three premium accounts: Core, Advanced, and Advance Plus. Furthermore, you can buy a team or an individual account. each of these three accounts has specific features that, besides these features, there are common features among them. If you want to know about the features of LinkedIn Sales Navigator, Just Click here [+].
LinkedIn Recruiter
The powerful app to hire the best candidates in small companies is the LinkedIn premium recruiter. When companies do not have enough money to invest in Human Resources (HR) and to promote staff, they can benefit from the LinkedIn premium recruiter. Accordingly, small businesses can use a cost-effective way to hire the best options among all candidates, but at a fraction of the price.
The LinkedIn premium recruiter has provided several filters to help business owners rapidly identify qualified candidates to fill vacancies.
LinkedIn premium recruiter has been designed with a vast database, network information, and a pared-down, more affordable version of LinkedIn Recruiter that still offers access to the same powerful recruiting features. If you want to know about the features of LinkedIn premium recruiter, Just Click here [+].
How to choose?
Hopefully, this article has helped you realize the difference between LinkedIn premium features and LinkedIn free.
 Now, with a deeper understanding of LinkedIn account types, it is time to make a final decision. But do not hurry, first answer the questions below so that you make an intelligent decision:
What is your final goal?
For which part of your business do you need LinkedIn help?
What do you want to do with LinkedIn?
Do you like to extend your Brand or Build a social network?
Do you want to attract potential clients?
Do you have plans to improve your company, and you must get the top talents?
Then, compare the features and purchase a subscription that is the best fit for you!
In the following, you can compare all versions of LinkedIn at glance. You should look at the table below and decide which one is suitable for you.
Table 1- comparative table between all versions of LinkedIn
LinkedIn Free
LinkedIn premium
Learning
Career
Business
Sales Navigator
Recruiter
Professional
Team
Enterprise
Recruiter Lite
Recruiter
InMail Credits
0
0
5
15
50
50 per person
Depends
30
150
Access to LinkedIn Learning
No
Yes
Yes
Yes
Yes
Yes
Yes
Yes
Yes
Private Browsing
No
No
Yes
Yes
Yes
Yes
Yes
Yes
Yes
Applicant Insights
No
No
Yes
Yes
Yes
Yes
Yes
Yes
Yes
Business Insights
No
No
No
Yes
Yes
Yes
Yes
Yes
Yes
Unlimited browsing
No
No
No
Yes
Yes
Yes
Yes
Yes
Yes
Advanced Search
No
No
No
No
Yes
Yes
Yes
Yes
Yes
Lead lists and Lead recommendations
No
No
No
No
Yes
Yes
Yes
No
No
Real-time alerts
No
No
No
No
Yes
Yes
Yes
No
No
Candidate tracking
No
No
No
No
No
No
No
Yes
Yes
Final word
LinkedIn has offered several versions of LinkedIn Premium. These versions have specific features. Also, each of them has been planned for particular targets. You should know about all of them, and after that, benefit from the best features on LinkedIn premium, without wasting your time and money. Also, we hope that this article was useful and can guide you to your goals. If you are satisfied with reading the article, please give it 5 stars and share it with your friends.
Recourses used in writing this article: