LinkedIn premium features for sellers – sales navigator plans
What are the features of LinkedIn sales navigator? & How to use them?
Nowadays, online shopping on social networks is prevalent, and LinkedIn has dedicated one of the premium versions to this work. LinkedIn premium sales navigator is a tool to help prompt your sales. This app uses Social Selling to boost your sales and discover potential clients to increase income. LinkedIn, the standard social platform for professional networks and relationships, has long been a popular and effective place to find sales leads.
LinkedIn sales navigator plans has offered sales systems that are more powerful to connect leads and manage their network. Next, we will describe everything about the LinkedIn premium sales navigator plan. Stay with us until the end of this article from "Twilinstok". We hope it will be helpful.
If your goal is the highest level of social selling or promoting your brand and services, pair your Sales Navigator with an automation tool to boost your sales actions. We recommend the LinkedIn premium sales navigator plan to those who want to manage sales and advertise brands. In addition, LinkedIn Sales Navigator is designed specifically for lead generation and sales prospecting on the LinkedIn platform. Sales Navigator is available in three different versions, each with varying features. Still, each version allows users to search for, connect with, and save leads within their LinkedIn accounts offers integration with different CRM programs so that you do not have any concerns about the several past apps you were using.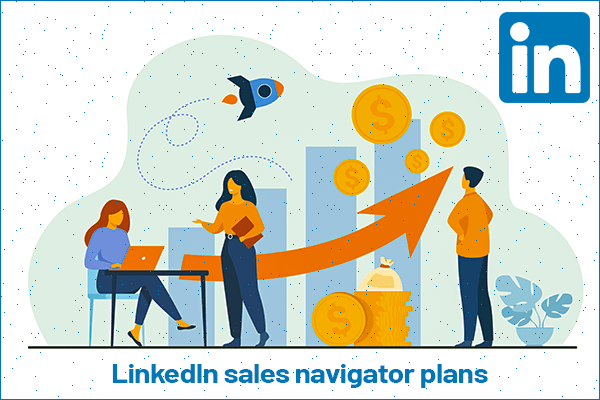 As we mentioned earlier, the LinkedIn sales navigator has three versions, each of which has impressive features. In the following, we will describe all three types of LinkedIn premium sales navigator plan and you can choose the best option for your work or business.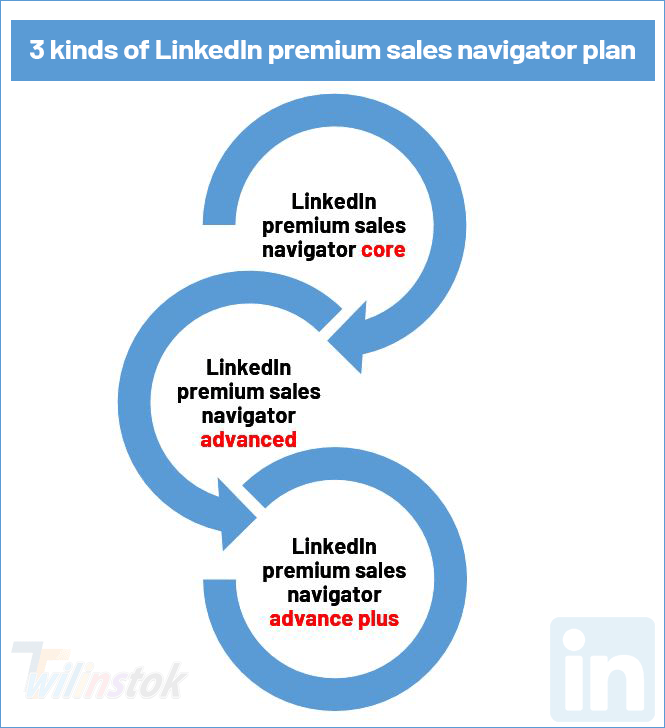 Receive 50 InMail credits every month to send messages to people who you have never connected with them.
You can see those people who visited your profile in the last 90 days, even if they used a private search.
Advanced search filters are available that let you to filter your leads based on their location, job title, seniority level, and everything you want.
When you have an account on LinkedIn premium sales navigator Core, also you have access to all Features of LinkedIn premium Learning and LinkedIn premium career.
Make custom lists to keep track of your leads on the LinkedIn premium sales navigator plan and as well as leads you want to save for later. (approximately 10000 leads)
LinkedIn premium sales navigator plan is free for only one month, and after that, you must pay to get an active account.
LinkedIn premium sales navigator has remarkably helped us customize our outreach to prospects and plan any strategies directed to a specific audience.
You receive real-time insights and alerts on the profiles and leads that interest you. A sales navigator account on LinkedIn lets you be the first to know when your prospect alters a company, posts a job advertisement, etc., so you do react right away.
The LinkedIn sales navigator Advanced plan involves everything under the Core plan, plus It has several redundant impressive features to extend your business.
TeamLink and TeamLink Extend
Team collaboration tools
Embedded profile integrations
Smart Links
The LinkedIn sales navigator Advanced plan gives users the availability to TeamLink and TeamLink Extend, integration with their workflows, collaboration functionality, for instance, sharing lists and searches, and Smart Links for tracking content engagement.
TeamLink lets reps view and searches their team's connections to identify who has first-level links with a prospect in the pipeline. Reps can then reach out to their team members for a warm introduction to the lead, giving them a more likely path to sales.
The LinkedIn sales navigator advanced plus plan has all the best features from the Core and Advanced plans, as well as:
CRM integrations: integrates with several popular sales apps and customer relationship management programs, including, Salesforce, HubSpot, G2, and Outreach. Import your Sales Navigator data into your preferred CRM and get to work!
Data validation: this is a set of capabilities that leverages the CRM Sync integration to validate the information in CRM against the data and information that is LinkedIn.
ROI reporting: Return on Investment ( ROI) is a rate to measure the success of business activities and advertising and how much investment return, that on LinkedIn sales navigator is accessible
The LinkedIn sales navigator Advanced Plus plans are designed for teams of 10 or more. Users can integrate with their CRM and measure their effects on income.
It's worth paying monthly for a subscription to the LinkedIn premium sales navigator plan if you want to grow your business and detect target leads.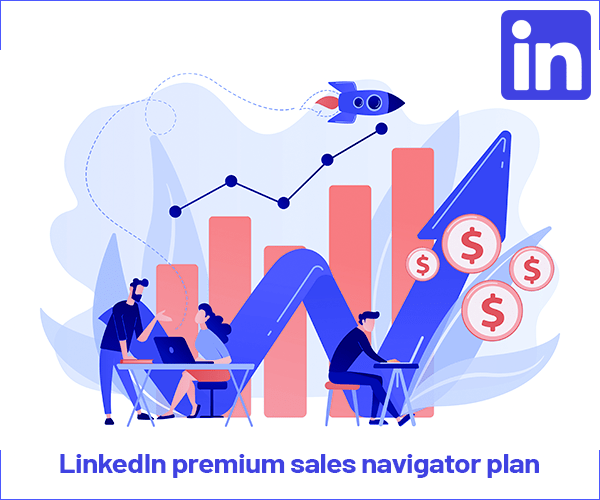 Final word
This specific tool is designed for sales organizations that want to build genuine client relationships to promote revenue. LinkedIn realizes your needs, and in one of the premium versions, make an effort to respond to your needs. In LinkedIn premium sales navigator, you can find your potential leads with your team and by yourself to take which level you have planned. In this article, we hope you find everything you want to know about the LinkedIn sales navigator. If it was useful to you, please share it with your friends and give us 5 stars.
Recourses used in writing this article: