YouTube Audio Library – All you must need about YT audio lib
What is YouTube music Library? + Untold tips to use it!
Would you like to know what you can do in YouTube Audio Library? or may you think about what is YT audio lib? and How does it work? As briefly, there are a few legal places to get free music for your videos, and YouTube music Library is one of these places. It means you can browse through YouTube Audio Library's free songs and sound effects selection. If you see something you like, you can download it immediately and add the track to your video without worrying about copyright strikes or losing income to copyright owners. In addition, you have been allowed to use them in your products and monetize.
In the following, we look at all you should know about YouTube Audio Library. In this article of Twilinstok, We attempted to hint at everything about YouTube Audio Library, so stay with us.
What is YouTube Audio Library?
YouTube music library (or YT Audio lib) launched for the first time in 2013 as a free built-in service. The target of making this app was to help content creators to find music quickly and easily for their videos. In other words, The YouTube Audio Library is a collection of audio tracks, such as Free Music and Sound Effects, that you can use in your videos. Also, you can use them without worrying about copyright strikes or demonetization.
We would like to ask you to please join us to take a look at What YouTube Music Audio Library is and whether it is a useful tool; we decide to discuss about all the features that were embedded in YouTube Music Audio Library.
Using the YouTube Audio Library
If you have an active account on YouTube, you can benefit from this feature. Just so you know, the direct address is YouTube Audio Library in the Creator Studio section of your YouTube account. In the sidebar of your Creator Studio, the YouTube Audio Library is where to find copyright-free music and sound effects. As you can see in Picture 1, 2 categories are provided: Music and Sound Effects. Now let's check this 2 categories on YouTube Audio Library.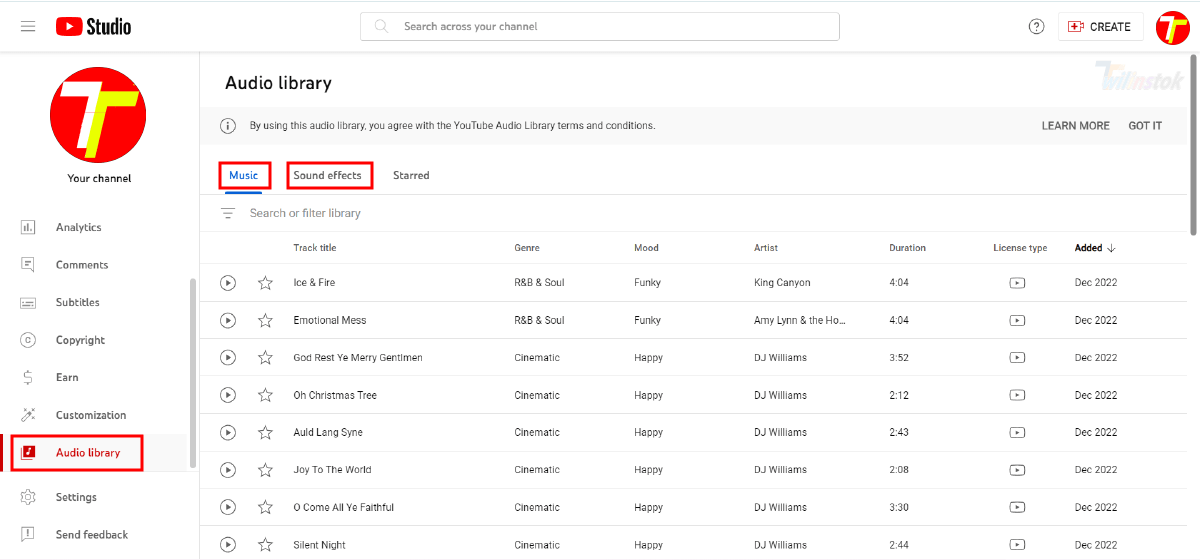 Music
In this simple user interface to utilize the YouTube Audio Library, first, you do one click the "play" icon to sample a track (about 30 seconds) and listen to it. After that, you can click the download icon to get a high-quality MP3 file from YouTube Audio library free download if you like what you hear in the sample. Although you can even check copyright policies for free music that isn't available.
Tip: if you cannot download music from YouTube Audio Library, you can click on the star and add this song to your favorites list. (by marking the star in your favorite music, you can find it easier and more conveniently later.)
Sound Effects
The next category in the YouTube Audio Library is the Sound Effects. In this part, you can find more than 80,000 tracks that you have permission to use. If you want to find a specific song, you can utilize filters. In addition, to find a certain sound effect, enter a track title or keyword in the search bar. You can also filter sound effects by category and duration. As shown in picture 2.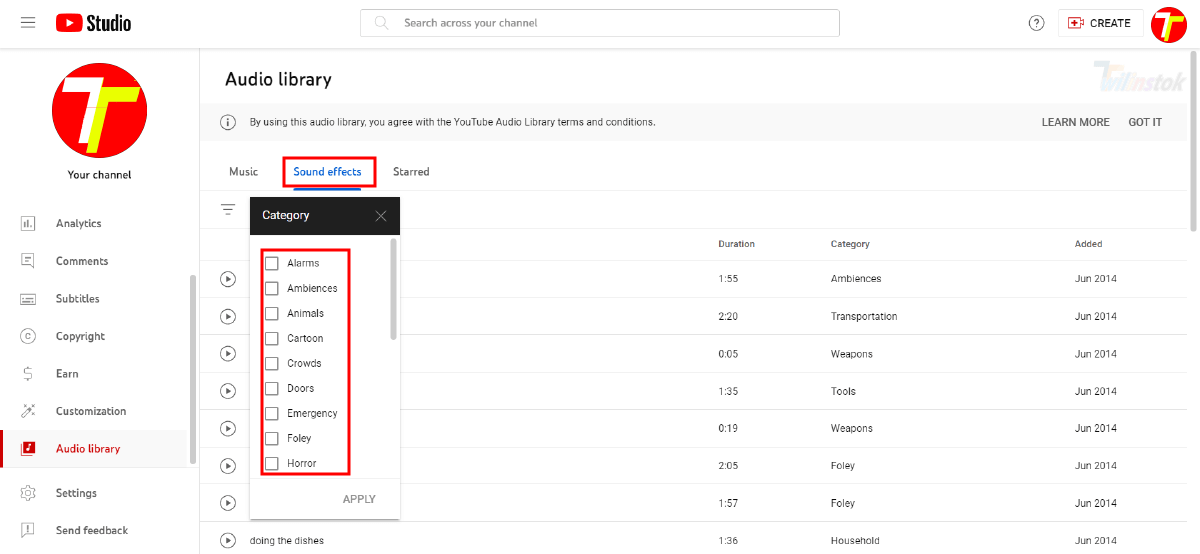 Using Free Music Category in YouTube Audio Library
There are 6 filters when you open the Free music to quickly find songs. It is appropriate to speak briefly about these classified groups on YouTube Audio Library. These 6 filters are:
Genre
Mood
Instruments
Duration
Artist Name
Attribution
Now, let's check these filters.
Genre
One of the high-level categorizations in the YouTube Audio Library is the Genre. It might start with something upbeat, like "Dance & Electronic".
Mood
The Mood category can provide broad options to choose from. For instance, either you just need background a song with the kind of vibe you want or might you just need a cheery and quick song to create your video. this filter that is embedded in YouTube Audio Library can offer you anything you want.
Instrument
 Using Instrument filtering in YT audio lib can help narrow things down. For instance, if you want a sleek, modern, "techie" sort of vibe, you should start with "Synth".
Duration
If your video's length is one of the essential factors, you can benefit from this filter to specify tracks that will accommodate it.
Artist Name
By choosing this filter, you can find Free Music by Specific Artist.
Attribution
A Creative Commons Attribution in YouTube Audio Library means that the artist who provided the song to the YouTube free audio library requires a mention in your video's description. In that case, you can simply filter out the tracks which require it if this is something you want to avoid for brand reasons.
Creative commons
You might have some questions in your mind when you read Creative Commons word: What is the Creative Commons? And what does it have to do with free music to use on YouTube? If you are working as a content creator of any kind, you should know about it.
Creative Commons is a nonprofit organization located in California and extended worldwide. The mission of this organization is to release copyright licenses, known as Creative Commons licenses, which are free to use. But there is just one condition when you want to use these products; you must mention the makers or writers in your products. Based on this, when you want to use this music you must write the composer's name.
Suggested articles to read more
Final Words
In this article, we attempted to introduce YouTube Audio Library. This new tool can be beneficial and valuable to those who are working as content creators. If you are a video explainer, you always need different songs and background music for your videos. By using this tool, you have access to one of the best sources for royalty-free music, the YT audio lib.
For more information about YouTube and the features of this social network, we suggest that you click on Free YouTube Tutorial [+]. Also, if you have any questions about YouTube, you can ask them in our YouTube help forum [+] in the form of a topic and wait for the answer of our experts.
We hope that the current article has been of interest to you and that you will find its information useful and use it. The goal of the research team of the Twilinstok website is to produce original content for you, dear readers. We hope we can satisfy you to some extent. Please support us on this path by sharing this article and our other articles. Give this article 5 stars if you like.
Recourses used in writing this article: