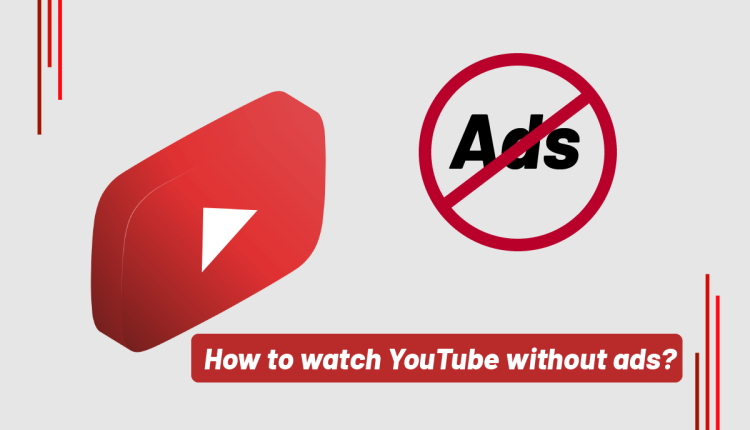 How to watch YouTube without ads? using 5 ways
introducing 5 ways to watch YouTube videos without intrusive ads!
Do you want to make a better version of yourself by using YouTube videos, or do you want to have a lot of funny time by using YouTube videos? But ads interrupt your concentration when you focus on a matter or watch a movie. Based on these reasons and numerous reasons, for hundred times, you have thought about How to watch YouTube without ads? All answers are here! You can find 5 ways to help you watch YouTube without annoying ads.
YouTube, in recent years, has been increasing the number of ads that viewers see in and between videos; by using these annoying ads, they attempt to get more people to subscribe to its YouTube Premium plan, which removes all ads for a monthly fee, amongst other benefits.
If you are a regular user of YouTube, paying a few dollars a month to enjoy an ad-free experience is probably worth it, mainly if you use the native YouTube app. Otherwise, there are other ways to reduce the deluge of ads you see that prevent you from signing up for another subscription service. And now, you are thinking about How to watch YouTube without ads? or How do I watch YouTube without ads? also, you want to know all ad-block ways in YouTube videos to choose the best that is more coordinated with your situation.
In this article from Twilinstok, we want to demonstrate 5 ways to watch YouTube without ads, and you can find a few practical examples for each so that you have an easier choice. Please stay with us until the end of this essay.
All kinds of ads in YouTube
Before we decide on choosing the specific ways that help you to get an ad-free YouTube experience, it is worth briefly clearing up how many types of ads you will encounter in YouTube content:
Skippable in-stream ads
Non-skippable in-stream ads
In-feed video ads
Bumper ads
Outstream ads
Masthead ads
Every type of ad-blocking solution will block a particular type of YouTube ad. Still, we are mainly concerned about those ads that you must skip manually or otherwise interrupt your watching.
When it comes to sponsored content with adverts inside the video (it means that the ad is a part of the video), no solution can do anything about that type of advertising.
Introducing 5 ways to watch YouTube without ads
Everyone loves to watch YouTube videos, but no one likes watching ads. If only there were a way to watch YouTube without ads!
The good news is that there are numerous ways to watch YouTube without ads, each with its pros and cons, and we are going to describe the 5 ways to watch YouTube without ads. Follow us.
Pay for YouTube Premium
Ad-blocking apps
Use an Adblocking web browsers
Use VPN to block ads
Use a YouTube Downloader app or website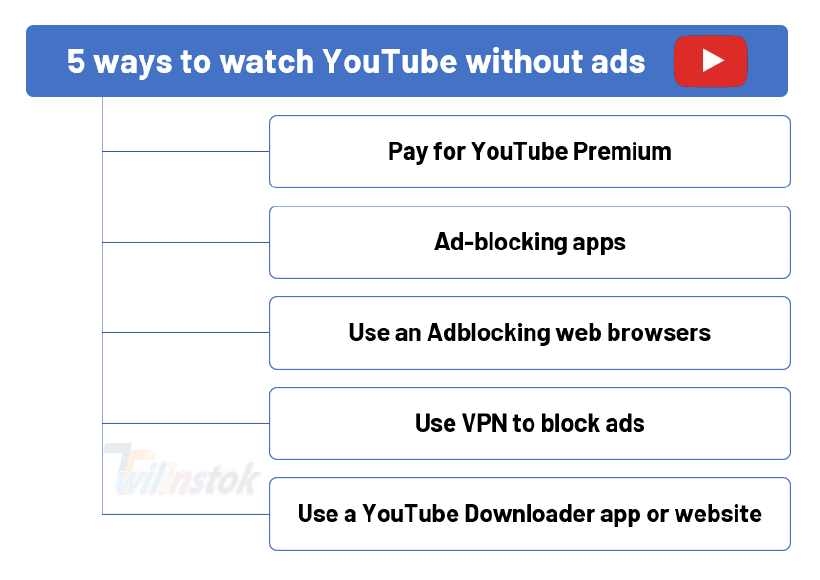 The easiest and most effective way to get rid of ads in YouTube videos is by paying to subscribe to the Premium Plan of YouTube. YouTube group has two Premium Plans: the first is for Individuals, and the second is for family members. It is worth noting with this subscription that you enjoy without ads YouTube videos unless creators embed those ads in the context of videos. It is the first way to watch YouTube without ads. In the following, several ways will be mentioned that you can experience the pleasure of watching YouTube without ads.
Ad-blocking apps
If you want to block ads on your smartphone, you should use an ad blocker app. These apps are highly-impressive ways to watch YouTube without ads. But, generally only available on Android as side-loaded apps. Unless you jailbreak (Modify smartphones to remove restrictions imposed by the manufacturer or operator to allow the installation of unauthorized software.) your iOS device, app sideloading is impossible.
It may sound so strange there are third-party applications to watch YouTube, but Google doesn't endorse this practice. In that case, you will not find them in the Play Store.
Among many apps, we introduce 2 apps that can block ads when you watch YouTube.
 SkyTube
You can use some of the features of this ad-blocker app that we mention in the following to watch YouTube without ads.
No need for a Gmail account
Show the "Original" YouTube
Delete all ads that have been added by YouTube
Save history or subscriptions to use later
Tip: This is an excellent solution for folks who use devices that are blacklisted from using Google's mobile services, such as Huawei phones.
 NewPipe
You can use some of the features of this ad-blocker app that we mention in the following to watch YouTube without ads.
Make blacklist or whitelist channels.
Block videos similar to those you didn't like to watch in the past.
Filter videos according to your language preferences.
Customize your YouTube experience
Tip: Like NewPipe, SkyTube doesn't rely on any Google APIs or code, so that you can use it without a Google account, and, of course, there are no ads at all.
Use an Adblocking web browsers
If you use a computer to watch YouTube and pesky web advertisements annoy you, we have a fantastic suggestion, you can benefit from an adblocker for the browser you are using. Now you just do one thing, install a specialized browser extension to block ads on YouTube. And from now on, experience the watch YouTube without ads. Such a great moment.
Tip: Most adblocker add-ons are customizable on a site-by-site basis, allowing you to set permissions for each website. This is handy for sites that refuse to open if you are using an ad blocker. Nevertheless, YouTube doesn't fall into this category yet.
Here are some of the more popular leading browser extensions for blocking YouTube ads:
Adblocker Plus
AdGuard
Ghostery
Use VPN to block ads
VPN (Virtual Private Network) services are a Kind of encrypted tunnel between your computer and a remote server. The primary target of using a VPN is to hide your actual location and ensure your ISP does not know what you're doing on the internet. Fortunately, it can be a way to block ads. It is worth saying if you are going to use it a lot from VPN, buy it. Because it is an expensive app if you use it just as an ad blocker. In that case, we hint at several options that you can utilize, such as protecting your privacy, concealing your IP address, preventing websites from tracking your online activity, and also hiding your spending habits. Besides all features mentioned, you can use them to shut down adverts altogether. It is another way to watch YouTube without ads.
In the following, we introduce 4 VPNs with good adblocking capabilities are:
NordVPN
Surfshark
ExpressVPN
CyberGhost
Use a YouTube Downloader app or website
One way to avoid YouTube ads is to not watch videos on YouTube in the first place. You can use some apps to save into local storage, and after that, see them at your leisure and never worry about any advertising. However, downloading YouTube videos like this is against the company's terms of service. This way is the last way to watch YouTube without ads.
Important tips for watching YouTube without ads!
Finally, we want to present some special tips on 5 ways to watch YouTube without ads. Please read tips in the below:
the easiest and most reliable way is to get a subscription to the YouTube Premium Plan.
If you want to protect your privacy and hide your actual location, besides these, eliminate ads on YouTube. The best and most affordable way is VPN.
If you are looking for a free alternative, ad blocker extensions or browser plugins are widely available as free and premium tools.
Suggested articles to read more
Final word
The goal of writing this current article was present ways to watch YouTube without ads. As you have read earlier, we mentioned 5 ways that you have the opportunity to compare them with each other, and after reading, you can select the best option to use.
For more information about YouTube and the features of this social network, we suggest that you click on Free YouTube Tutorial [+]. Also, if you have any questions about YouTube, you can ask them in our YouTube help forum [+] in the form of a topic and wait for the answer of our experts.
We hope that in the Twilinstok online magazine, we were able to help you to choose the best. If this article was helpful, please, share it with your friends and give us 5 stars. Thanks for your time.
Recourses used in writing this article: