Top 20 YouTubers in Hawaii
Famous YouTubers in Hawaii
If you are a fan of Hawaii, travel, news, vlogging, politics, nature, relaxing, and science, then we have some great news for you! In this article from Twilinstok online magazine, we have put together a list of Top 20 YouTubers in Hawaii that cover all of these topics and more. So sit back, relax, and let's dive into some amazing content!
Hawaii is such an amazing place with sandy beaches and warm sun that make it a traveler's paradise. You'll find something for everyone in this island paradise, from lush forests and beach hikes to cultural experiences. And let's not forget about the stunning coastline! Hawaii is home to some of the most spectacular beaches and water activities. You can take part in incredible water sports, like snorkeling, whale watching, and surfing, or just relax on the beach and enjoy the breathtaking ocean views.
What you'll read (Table of content):
hide
Top 20 YouTubers in Hawaii
Let's meet Top 20 YouTubers in Hawaii:
Ryan Higa
Michael Reeves
Bretman Rock
The Ohana Adventure
Kayla Kosuga
Q Shamar Stenline
Ava Jules
Ellen Fisher
FV Family
Klailea
Gabe Humphries
Onolicious Hawaii
Apau Hawaii Tours
Hawaii Mami
Doing Hawaii
Mysteries of Hawaii
Andy Bumatai
The Hawaii Vacation Guide
Hawaii John
Joanna Hope Lai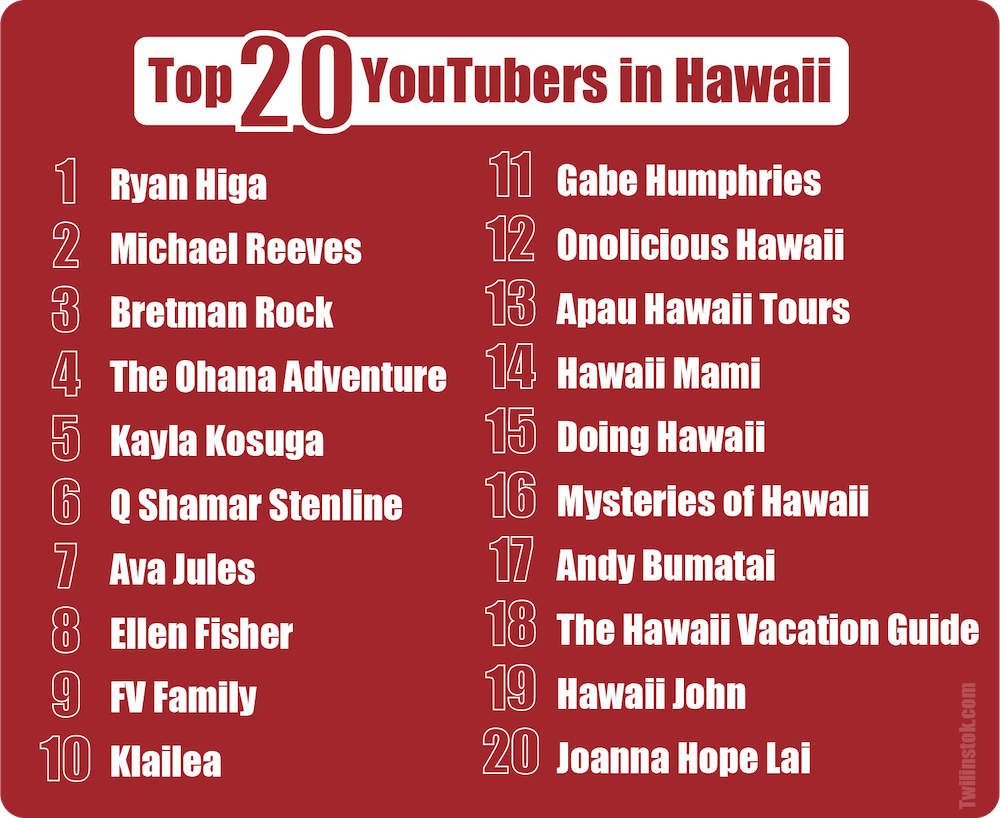 Now let's check some of these Top YouTubers in Hawaii.
1. Ryan Higa
Date of birth: June 6, 1990
Channel name: nigahiga & HigaTV
Date of joining YouTube: July 21, 2006
Number of subscribers: 22 million
Total views: 5 billion
Let's meet the first person in the list of top 20 YouTubers in Hawaii who has two channels. Ryan Higa is a talented comedian who was born on June 6, 1990, in Hilo, Hawaii. He is widely known for his hilarious videos on YouTube, which have captured the hearts of millions of viewers around the world. Ryan started creating YouTube videos way back in 2006 when the platform was not as popular as it is today. Despite the challenges he faced in the early days, he quickly became one of the most popular creators on the platform. Although some of his earlier videos were taken down due to copyright issues, Ryan continued to create amazing content that kept his fans entertained. He later moved to Las Vegas to study nuclear medicine at the University of Nevada.
He has been inactive on the Nigahiga channel since 2020. But on the HigaTV channel, he uploads new posts every week and has about 5 million subscribers. We have put the link to both of his channels here.
2. Michael Reeves
Date of birth: November 20, 1997
Channel name: Michael Reeves
Date of joining YouTube: April 15, 2016
Number of subscribers: 8 million
Total views: 400 million
Michael Reeves is one of the best native Hawaiian YouTubers who was born on November 20, 1997, in Maui. Michael was a university student when he started making awesome videos about robotics. He's always had a strong passion for modern science, which explains why his content is so fascinating. Michael is incredibly creative and loves experimenting to come up with something new and exciting. He specializes in creating science videos, particularly in the field of robotics. He showcases his unique robotic creations that will leave you awestruck.
3. Bretman Rock
Date of birth: July 31, 1998
Channel name: Bretman Rock
Date of joining YouTube: September 23, 2012
Number of subscribers: 9 million
Total views: 700 million
Bretman Rock Sacayanan Laforga, one of the top 20 YouTubers in Hawaii, was born on July 31, 1998. Bretman is a hilarious comedian, a creator of memes, and a fantastic beauty influencer! He's famous for his makeup tutorials and his funny take on life. Did you know that in September 2019, he attended his first New York Fashion Week and even collaborated with stylist Andrew Gelwicks? And here's something even more exciting – Rock recently made history by becoming the first openly gay man to feature on the cover of Playboy magazine in October 2021!
4. The Ohana Adventure
Channel name: The Ohana Adventure
Date of joining YouTube: December 23, 2015
Number of subscribers: 5 million
Total views: 2 billion
Rachel, Jase, Shae, Klai, Rykel, Wyatt, Evelin, and Cora are family-famous Hawaiian YouTubers who named their channel The Ohana Adventure. This awesome YouTube channel was created to share all sorts of fun content with you. Get ready for exciting vlogs, hilarious pranks, thrilling challenges, and entertaining storytime videos! This family is full of adventure, and they love to travel, so be sure to join them on their amazing journeys and watch their incredible vlogs.
5. Kayla Kosuga
Date of birth: March 24, 2001
Channel name: Kayla Kosuga
Date of joining YouTube: June 14, 2015
Number of subscribers: 2 million
Total views: 600 million
Kayla Kosuga is one of the famous Hawaiian YouTubers who currently lives in Jacksonville, Florida. She created her channel on June 14, 2015. She's amazing at making vlogs, fashion and makeup tutorials, and challenge videos! People love her for her awesome fashion routines, makeup tutorials, and lifestyle vlogs. Additionally, Kayla is a mom of two kids. She is so relatable and even makes interesting vlogs about the challenges of raising kids.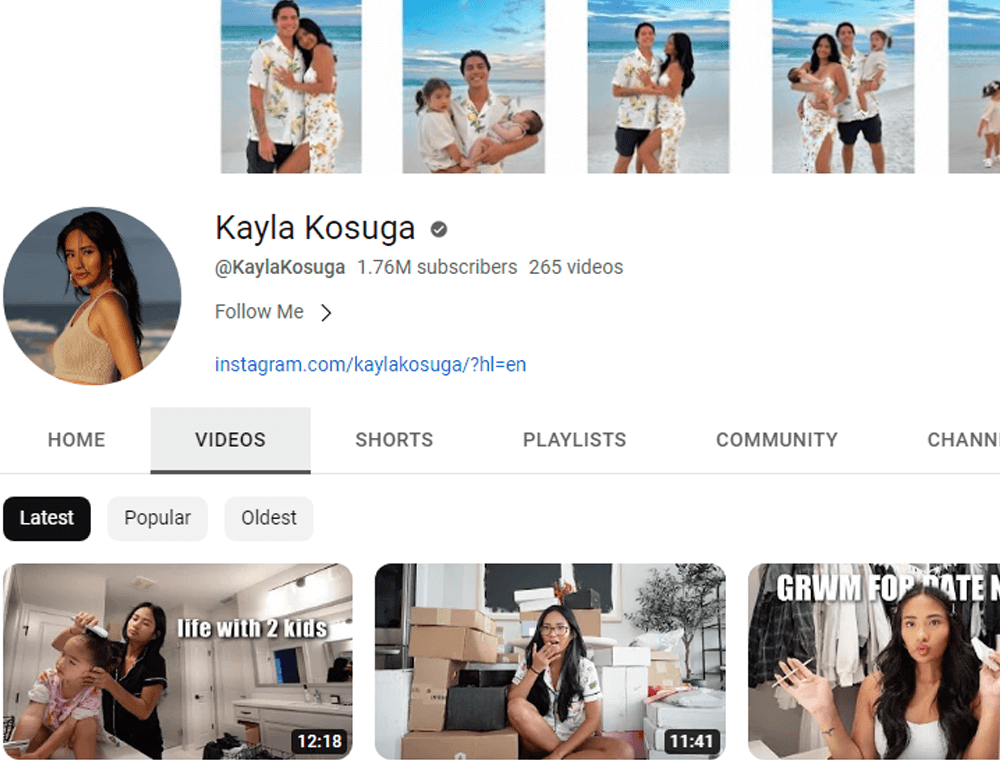 6. Q Shamar Stenline
Date of birth: on March 11, 1999
Channel name: SwagBoyQ
Date of joining YouTube: May 3, 2012
Number of subscribers: 2 million
Total views: 1 billion
Q Shamar Stenline is another one of the top 20 YouTubers in Hawaii. SwagBoyQ has a super fun YouTube channel filled with pranks, challenges, and hilarious comedy clips. He's all about spreading joy through entertainment and making people smile. He's a big nature lover and enjoys traveling to new places. Growing up in two different cities, Honolulu and Houston, has given him a unique perspective on the diverse aspects of his country. He can't wait to travel the world and meet all his amazing fans someday!
7. Ava Jules
Date of birth: November 11, 2000
Channel name: Ava Jules
Date of joining YouTube: December 24, 2013
Number of subscribers: 2 million
Total views: 200 million
Ava Jules's name shines in Hawaiian beauty YouTubers. Ava runs a self-titled YouTube channel where she shares all sorts of makeup tutorials, haul unboxings, product reviews, and personal vlogs. She's passionate about makeup and fashion, and she's helping women around the world learn about the basics of makeup and style through her one-of-a-kind, creative, and detailed tutorials, tricks, and hacks. Ava is straightforward, honest, and friendly, just like a friend you can count on. She's definitely worth following and an inspiration for many young girls.
8. Ellen Fisher
Date of birth: May 13, 1987
Channel name: Ellen Fisher
Date of joining YouTube: December 4, 2012
Number of subscribers: 1 million
Total views: 150 million
Let's meet another Hawaiian YouTube family with a healthy diet. Meet Ellen Fisher, a vegan mother of four kids, who shares her beautiful Hawaiʻi life with her family on their weekly videos. Not only does she provide mouth-watering vegan recipes and meal ideas, but she also takes you on a virtual tour of Hawaiʻi's stunning beaches. Despite the high cost of living on the islands, Ellen's channel features budgeting strategies, tips on how to save money by starting a home garden, and ways to reduce waste in your household. She's a true inspiration for anyone looking to live a sustainable and fulfilling life.
9. FV FAMILY
Channel name: FV FAMILY
Date of joining YouTube: July 20, 2018
Number of subscribers: 11 million
Total views: 10 billion
An exceptional channel of famous YouTubers that live in Hawaii! Yes, a family of six on the FV FAMILY channel makes unique vlogs for you every week from exploring the unique nature of Hawaii. They are not Hawaii food vloggers, but this family makes you familiar with the tastes of the Hawaiian islands, like Kona coffee beans or Hawaiian candy. This channel has reached 10 billion total watches!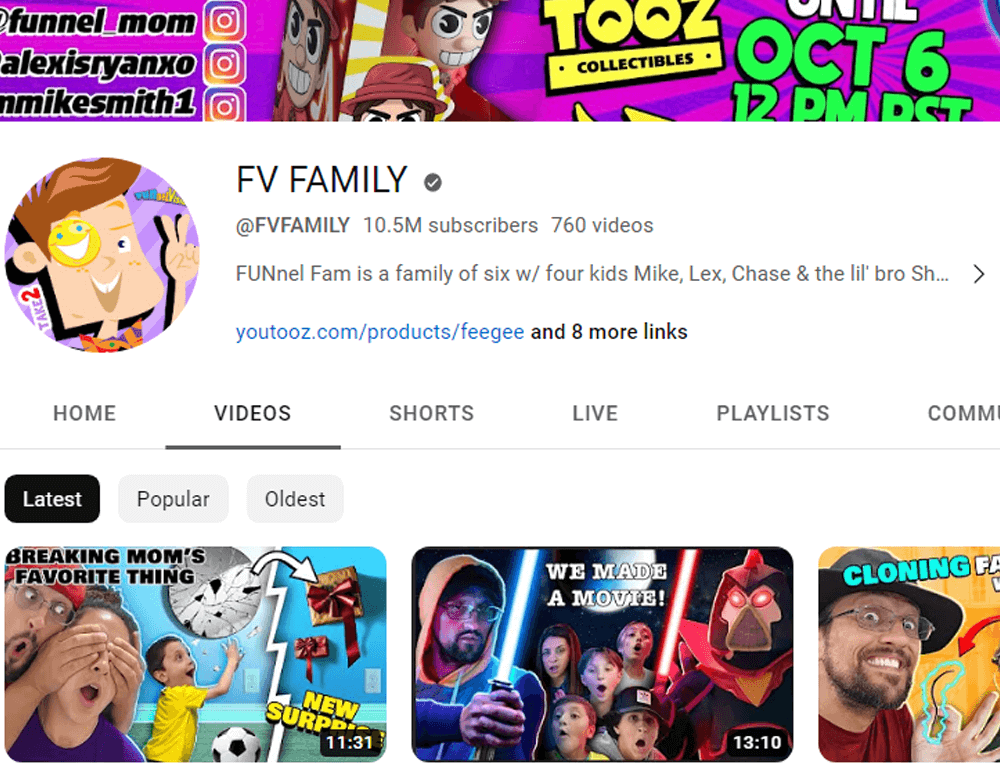 The list of Hawaii Food Vloggers and Other Native Hawaiian YouTubers
10. Klailea
11. Gabe Humphries
14. Hawaii Mami
15. Doing Hawaii
17. Andy Bumatai
19. Hawaii John
20. Joanna Hope Lai
The Bottom Line
Now that you know about some awesome famous YouTubers in Hawaii, why not share the love with your friends? Feel free to drop some recommendations in the comment section below! Can't wait to see what channels you're loving these days 🙂
For more information about YouTube and the features of this social network, we suggest that you click on Free YouTube Tutorial [+]. Also, if you have any questions about YouTube, you can ask them in our YouTube help forum [+] in the form of a topic and wait for the answers from our experts.
We hope that in the Twilinstok online magazine, we were able to help you to choose the best. If this article was helpful, please, share it with your friends and give us 5 stars. Best regards.