Money Magnets: How to Make More Money from YouTube's Treasure Trove?
Monetization Strategies for YouTubers
Wondering How to Make More Money from YouTube?
Did you know that YouTube ads and revenue generated from YouTube Premium subscribers are among the most popular ways to make money on the platform? But don't worry if you get demonetized from a Community Guidelines strike – plenty of other tactics you can use to generate revenue independently from YouTube. The best part is that you don't need formal qualifications to make money on YouTube! All you have to do is create or gather content. However, to succeed, you'll need to be creative and have the ability to communicate your charisma on camera. With so much competition online, you'll need to be particularly good at researching and creating new content and packaging it attractively to capture viewers. It definitely helps to have a flair for the dramatic and be willing to put yourself out there.
Check out this article from Twilinstok online magazine for helpful tips on "How to Make More Money from YouTube".
Monetization Strategies for YouTubers
To get started, you'll want to create your own YouTube channel and start earning money from it. We've covered all of the Monetization strategies for YouTubers: "Discovering Unique Ways to Monetize Your YouTube Channel." Additionally, we've shared tips for growing your channel organically in "Mastering Innovative Techniques for Organic YouTube Subscriber Growth." Keep up the excellent work!
After creating your channel and gaining an audience, you might want to learn "How to Make More Money from YouTube" There are several options available to you.
The YouTube Studio dashboard is an excellent place to start. Another option for earning income is Google AdSense. Additionally, promoting affiliate links can be a great way to make money, mainly if your channel provides in-depth tutorials or insightful product reviews. For instance, if you recommend a product and someone buys it through your link, you'll earn a commission. It's essential to be careful when posting affiliate links, though. Please don't add them to your content solely for financial gain. Your viewers will only trust these links if they trust you. So, make sure to use them responsibly!
How to Make More Money from YouTube : Step-by-Step
It sounds like you have already got your channel up and running! That's excellent news. You've figured out what you're passionate about and are creating original content in that genre. Plus, you've taken the necessary steps to monetization strategies for YouTubers. If you're looking to increase your earnings, here are a few steps you can take:
Set up Google Adsense and start earning money from ad revenue.
Promote your YouTube videos.
Increase your audience reach.
Enable channel memberships to maximize YouTube revenue.
Activate super chat and super stickers.
Enable viewers to show extra appreciation (super thanks).
Get to grips with your ad revenue analytics and keep tabs on them.
Start your own online store for increasing income from YouTube channel.
Now let's check these steps.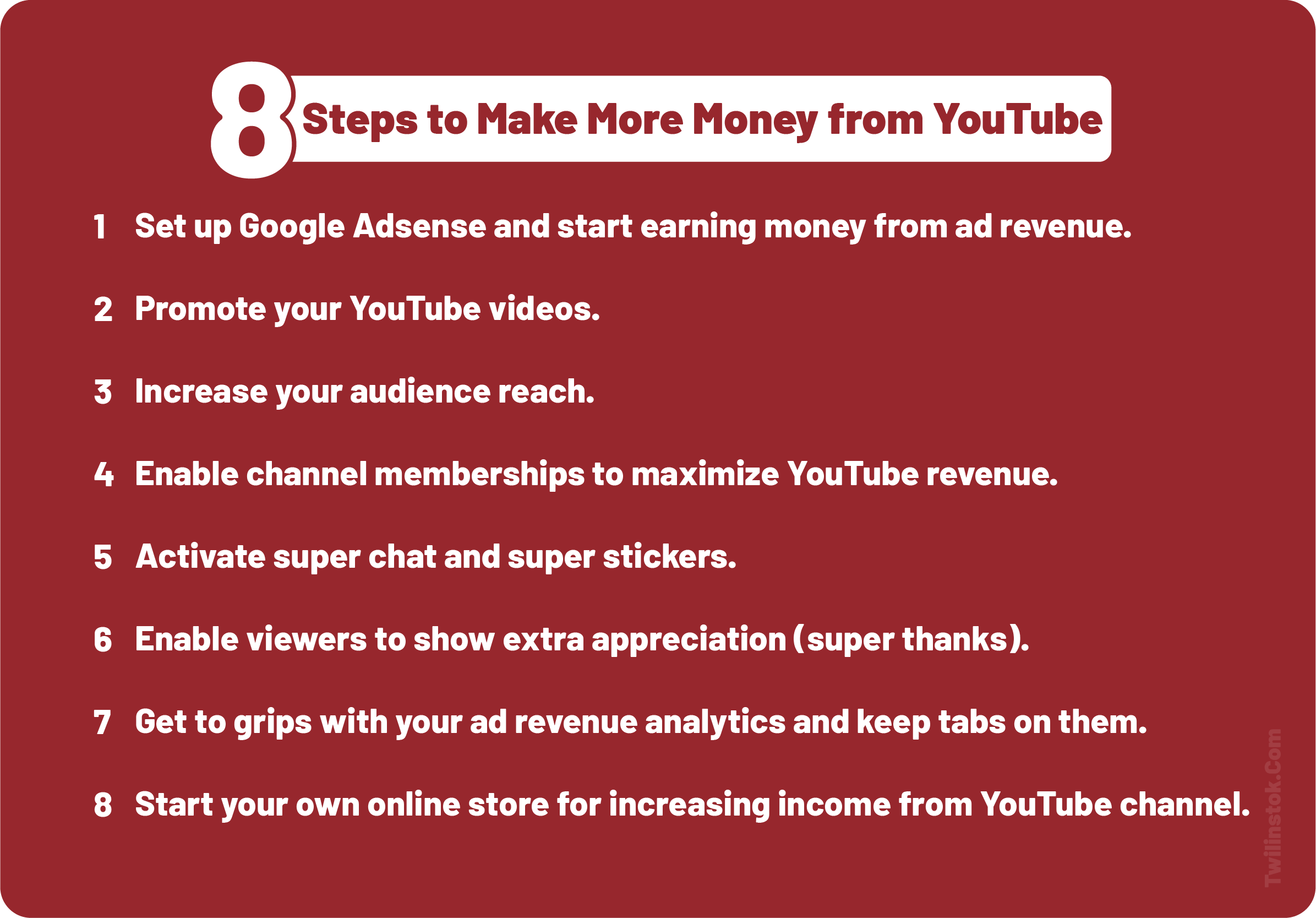 Set up Google AdSense and Start Earning Money from Ad Revenue.
For Boosting earnings on YouTube, setting up Google AdSense is a great way to do it! Luckily, creating an account is totally free and easy to do. Just head over to the AdSense website and click the Sign Up Now button. Keep in mind that you'll need to be at least 18 years old to create an account, but if you're younger, ask an adult to help you out.
To get started, you'll need a PayPal or bank account and a valid mailing address. AdSense will use this information to verify your identity and make sure that you get paid for your hard work. Remember, you'll earn money each time someone clicks on an ad, so it's essential to have a solid audience. To attract more viewers, focus on creating great content! For more tips on how to grow your audience, be sure to check out our helpful article: How To Make YouTube Videos Viral For Free: Tips, Tricks, And Strategies.
Promote Your YouTube Videos.
The key to "How to Make More Money from YouTube" is not just stick to YouTube! Why not try sharing them on your blog or website or even on other video or social media platforms? The more exposure your video gets, the better chance it has of getting noticed. So don't be shy about sharing that link or embedding that video!
Increase Your Audience Reach.
Growing your YouTube channel is all about building an audience. The more people who watch your ads, the more money you can make. The secret to getting more subscribers is to create unique content! Your fans will find you. Of course, there may be haters along the way. Just ignore them and keep your confidence high. Spread the word about your channel by using press releases or sharing your videos on social media. You can also interact with your subscribers by responding to their comments and making videos based on their questions. Remember, connecting with your community is vital to growing it. And don't forget the power of shoutouts! Keep uploading great content, and watch your channel grow.
Enable Channel Memberships to Maximize YouTube Revenue.
Getting a membership fee is another way to maximize YouTube revenue. You can offer special perks to your viewers through channel memberships. By joining your channel with recurring monthly payments, your viewers can get exclusive emojis, badges, perks, live chats, and more! This is an excellent way for your viewers to show their support beyond just ad revenue from your videos. Keep in mind that channel memberships are a new feature, so meeting the requirements doesn't guarantee access. But if you do have access, you'll find the option to start channel memberships on the Memberships page.
Activate Super Chat and Super Stickers.
If you're hosting a live event on YouTube, activating Super Chat and Super Stickers is really helpful for maximizing your revenue. It's definitely worth considering! During live chats, Super Chat and Super Stickers can really make Increasing income from the YouTube channel! When your audience uses one of these features, their message will be pinned to the top of the chat for a certain amount of time. This gives them a better chance of having their message read by everyone watching. Plus, the bigger the purchase they make, the longer their message will stay pinned.
To make sure everything stays respectful, you can moderate all Super Chats and Super Stickers. You can even create a list of blocked words to keep things friendly. And if you need to remove any messages, you can do so while still keeping your earnings. In order to use Super Chat and Super Stickers, your channel must be monetized, and you have to be located in an eligible CP location.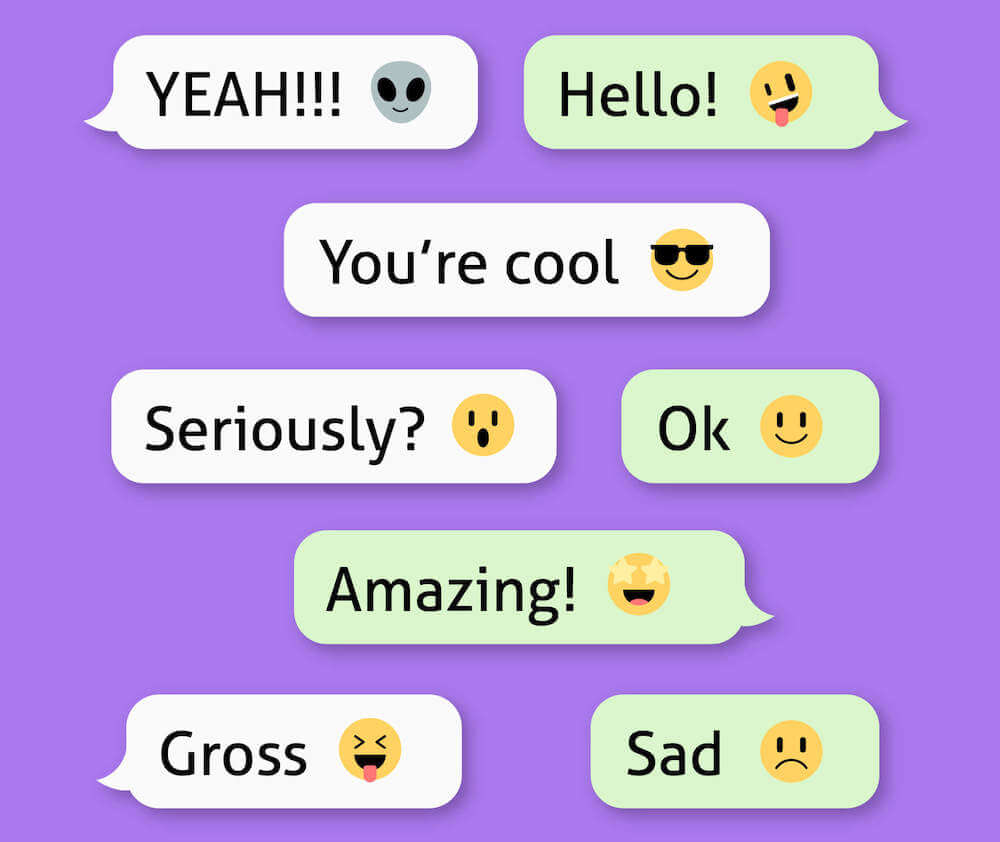 Enable Viewers to Show Extra Appreciation (Super Thanks).
With Super Thanks, you have the opportunity to earn more revenue from viewers who want to express their appreciation. It's a fantastic feature that was previously known as "Viewer applause". The best part is that viewers can choose their own price point for their Super Thanks. Once they purchase a Super Thanks, a vibrant animation will be displayed over the video for them. Additionally, they can post a unique and personalized comment in the video's comment section. This way, your viewers can stand out among others while showing you extra support.
Get to Grips with Your Ad Revenue Analytics and Keep Tabs on Them.
If you're interested in keeping track of your YouTube earnings and channel performance, you can easily do so with YouTube Analytics. To boost earnings on YouTube, it is necessary to grasp your YouTube ad revenue fully. Some of these concepts are based on the YouTube Help Center:
Revenue Per Mille (RPM)
It's a fancy term that simply means how much money you've earned per 1,000 video views. RPM takes into account a few different revenue sources like ads, channel memberships, YouTube Premium revenue, Super Chat, and Super Stickers. It's a great way to track your earnings and see how your content is performing financially.
Cost per 1,000 impressions (CPM)
It is a fundamental metric for advertisers on YouTube. In YouTube Analytics, you will see a few different kinds of CPM. The first one is simply the cost an advertiser pays for 1,000 ad impressions. An ad impression is counted every time an ad is shown. The second kind of CPM is called playback-based CPM, and it refers to the cost an advertiser pays for 1,000 video playbacks where an ad is displayed.
Estimated revenue
Your estimated revenue includes all revenue types, such as channel memberships, YouTube Premium revenue, and Super Chat. You can easily find this metric on the Revenue tab.
Estimated ad revenue
You can check out your estimated ad revenue in the revenue sources report. This metric shows how much revenue you're earning just from the ads on your videos.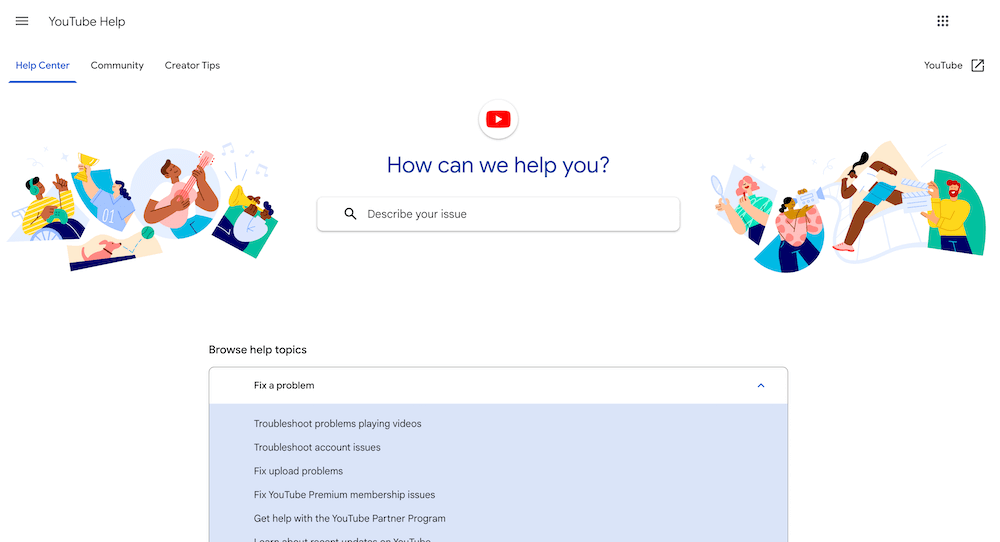 Start Your Own Online Store for Increasing Income from YouTube Channel.
If you're looking to boost your income beyond just clicking ads, consider selling for products and maximizing YouTube revenue. Consider setting up an online store where you can sell products related to your content. For example, if you create fashion and beauty content, you could sell cosmetics in your store. Or, if your content is focused on car options, you could set up an option online store and link it to your profile. It's definitely worth considering!
The Bottom Line
In this article, we have provided solutions on How to Make More Money from YouTube. In the end, we must say that it is essential to keep in mind that viewers who have the AdBlock extension won't be able to contribute to your earnings since it blocks ads. However, those who have YouTube Premium can still support you. Here is a heads up:
videos that are restricted to certain ages won't be eligible for monetization, which is why many YouTubers filter out mature content or profanity.
Copyright is also a big deal on YouTube, so make sure you have permission from the copyright holder before using their content since "fair use" doesn't apply when you're earning money.
For more information about YouTube and the features of this social network, we suggest that you click on Free YouTube Tutorial [+]. Also, if you have any questions about YouTube, you can ask them in our YouTube support forum [+] in the form of a topic and wait for the answers of our experts.
We hope that in the Twilinstok online magazine, we were able to help you to do the best. If this article was helpful, please, share it with your friends and give us 5 stars. Best regards.