50 Unique & Creative YouTube Content Ideas to Inspire You
Innovative YouTube Video Ideas
Tell stories, you're thinking about starting your own YouTube channel but need help figuring out where to begin? It's a common dilemma. Only some have the energy or desire to get all dolled up and put on a show for the camera every day. Whether you're the outgoing type who loves to be the center of attention or the more introverted, creative type, you've come to the right place! Check out this article from Twilinstok online magazine, where we've compiled 50 Unique and creative YouTube Content Ideas to inspire you. Stick with us, and we'll help you find something that's just right for your mood and personality.
We've put together some great ideas for YouTube content that you can check out. Take a look and pick the one that best suits your current mood and resources. We're here to help make your content creation process easier and more enjoyable!
Popular Video Themes on YouTube
We've got some awesome video concepts for YouTubers to try out, but we want to make sure you can use them easily. So, let's start by figuring out which category of ideas suits your spirit and the ones you want to bring to your YouTube channel. Pick the description that fits you best!
The First Category for YouTube Content Ideas
I'm not  interested in becoming famous. I want to make some money through YouTube by increasing the views on my videos. I'm not too keen on showing my face or using my voice in the videos, though – I prefer to let my work tools and equipment do the talking! I'm quite technically minded and good at fixing things. For me, my personal life is private, and I don't think my subscribers would be interested in it. However, I do have a great speaking voice and I can sing softly without any accompaniment. I'm also patient and can explain difficult concepts in simple terms. As a researcher, I enjoy discussing my findings with my subscribers, although I keep my personal life separate from my work.
I am looking for YouTube content ideas that I can easily locate on my own, without any assistance, and without having to reveal my identity. Therefore, the first 25 are more suitable for you.
The Second Category for YouTube Content Ideas
I love being around people and being social. One of my big dreams is to become a successful YouTuber and share my funny and entertaining videos with the world. I always try to make people laugh with my acts and I love coming up with new ideas to keep things interesting. I'm also a great leader, and I know how to motivate my team to create amazing content. For me, it's all about building my own personal brand and sharing my unique lifestyle with others. Social media platforms have given us such an amazing opportunity to connect with people and show them what we're all about. As for my YouTube aspirations, I definitely want to reach a level of fame where I can collaborate with brands and create some really cool content together. But at the end of the day, I'm just excited to be doing what I love and sharing it with the world!
I am looking for YouTube content ideas with which I can become famous and shine. Therefore, the second 25 is more suitable for you.
50 YouTube Content Ideas
Here are 50 YouTube content ideas:
Restoration
ASMR Cooking
Tell Stories
DIY (do-it-yourself)
How to
Animation/ Infographic Video
Voicing
Parody Video
Bloopers
Walkthrough Video
Time-Lapse
Make Top Lists
Funny Animal Videos
Technology News
Product Review
The Most in The World
How to Overcome a Problem/Challenge
Make Crafts
Satisfying Videos
Design the Interior Decoration of The House
Advantages and Disadvantages of Things/Situation
Teach Critical Thinking
Introduction of Applications
Whiteboard Video
Avatar Videos
Lifestyle
My Daily Routine
Explain a Topic, Idea, Product, or Service
Vlog
Travel & Adventure
Group Games
Introduction of Amusement Parks
Culture Videos
Workout Videos
Opinion Video
Reaction Video
Prank Video and Hidden Camera
Professional Cooking
Sampling Different Foods
Challenge Videos
Music Video
Make Highlight Reel
Makeup
Unboxing Videos
Tour Video
A Few Facts About
Webinar
Interview Some with Interesting Ideas
Q&A Sessions
Develop an Idea with The Help of a Crowd
Now let's check these unique ideas.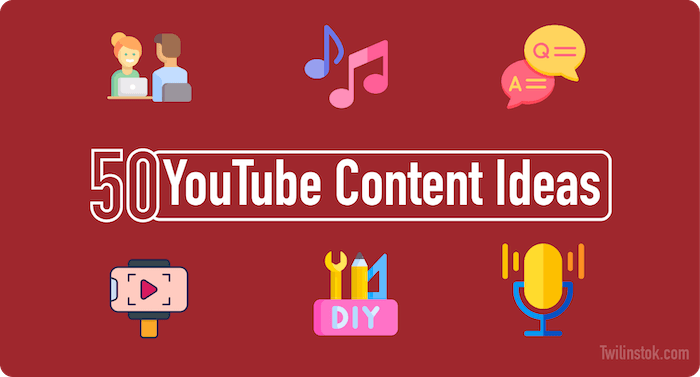 1. Restoration
If you're a handy person who likes fixing things like reading lights, heaters, and lampshades, consider making restoration videos as one of the good YouTube content ideas. It's a great way to showcase your skills without having to be on camera. Plus, there are plenty of people out there who love the soothing sounds of sanding and screwing. Let your tools do the talking for you!
YouTube restoration videos showcase the process of taking old, rusty mechanical equipment and bringing it back to life. The object is shown in its rough condition before it is dismantled, and each part is wire-brushed, scrubbed, sandblasted, de-rusted, stripped, filed, and sanded smooth. Painted and wooden parts are refinished or reproduced if needed, and screws are carefully trued up. Finally, everything is put back together with fresh grease in the gears.
2. ASMR Cooking
Yes, you heard it right: ASMR cooking is one of the innovative YouTube video ideas. With just a kitchen table, a nice microphone, a camera, and a mount that shoots from a flat angle, you can easily make cooking videos. Editing these videos is a breeze – add subtitles for the cooking steps and recipes. You don't need to worry about background music – the sound of chopping vegetables and the sizzle of food on the stove is enough to keep viewers engaged. Many YouTube users love this kind of content!
3. Tell Stories
Have you ever considered starting a podcast as one of the YouTube content ideas? It's a fantastic way to connect with people through the magic of storytelling. If you have a friendly tone and a great voice, why not give it a try? To really make it a success, it's important to choose a specific genre that your listeners will love. Remember, they're subscribing because of the topic of your stories, not just because of your voice. Some of the most popular genres are true crime, biographies, and literature from around the world. Of course, there are a few challenges you'll have to overcome. For one thing, language can be a barrier if your stories are limited to a specific audience. And to keep your audience engaged, it's important to mix in some related images to your video. Finally, there's always competition to contend with, but with dedication and hard work, you can make your podcast stand out.
4. DIY (Do-It-Yourself)
Do you enjoy fixing things around the house or getting crafty with your hands? Why not share your latest DIY project with others and teach them how to create it step by step? DIY is a unique video concept for YouTubers because people love sharing their unique tips and techniques with others through videos, which often receive lots of feedback and comments. It's exciting to see so many people inspired to share their creative ideas!
5. How to
Have you noticed that how-to videos are crazy popular on YouTube? They're especially big with tech and beauty YouTubers, but really, you can make a how-to video about anything! From teaching people how to play their favorite song on guitar to showing them how to feel more confident, if you know how to do it, there's definitely someone out there who wants to learn from you!
6. Animation/ Infographic Video
Did you know that infographics can make learning about facts and statistics fun and entertaining? They use visuals to help us better understand information that might otherwise be boring or tough to comprehend. Even if you know little about infographics, it is worth trying your luck with this model of creative video content concepts.
7. Voicing
It's an interesting thing to voice-over videos of cute animals, famous faces, etc. Of course, these popular video themes on YouTube are limited to a certain language, and if you don't use funny voices, it might only be noticed by your fellow speakers.
8. Parody Video
Why not make a hilarious parody video of a well-known movie, song, or video? You can really add your own unique touch to it!
9. Bloopers
If you've been working on YouTube content ideas for a while, you've had your fair share of bloopers. One fun way to share these moments with your viewers is to edit them together into a blooper reel. Trust us; your audience will love it!
10. Walkthrough Video
YouTube gamers love watching video game walkthrough videos, especially when they need some assistance. When making videos in this style, there's no need to appear on camera. You can showcase your laptop or TV screen while sharing helpful tips and tricks.
11. Time-Lapse
Have you ever seen those amazing videos where time seems to move in a completely different way? That's called time-lapse! It's a technique where the frames of the video are captured at a much slower speed than usual, and the result is often mesmerizing. You can capture so many different things with time-lapse – traffic, clouds, and even the night sky. But why not take it a step further and capture subjects from nature, animals, or even the emotional behavior of humans? Once you have your footage, you can edit the video to make it completely unique. It's a really fun and creative way to capture the world around us!
12. Make Top Lists
Lists are a popular way to keep us entertained on the internet. We love to see what's at the top and if our favorites are included. Why not make your own top 10 list of your favorite movies, books, songs, cars, and other things?
13. Funny Animal Videos
It's no surprise that cute and funny animal videos are a hit on YouTube. People seem to enjoy watching adorable puppies, kittens, and baby elephants more than they do videos of human babies.
14. Technology News
Getting to know new technologies and comparing them with each other, such as comparing mobile phones, headphones, and car options, is an interesting and inspiration content for YouTube channels.
15. Product Review
Did you know that product reviews are some of the engaging content topics for YouTube? People love to get information about products before they buy them! You can find reviews on tech gadgets, beauty products, and so much more. If you're making a review video, you can choose to show your face or not – it's up to you!
16. The Most in The World
It's always fun to learn about fascinating topics like the most optioned car in the world, the fastest motorcycle, the most watched movie, and even the coldest place on the planet! And the great thing is you don't have to show your face on these YouTube content ideas. Just capture images of what you're talking about and add subtitles. It's an easy and entertaining way to share your knowledge with others.
17. How to Overcome a Problem/Challenge
Do you have any tips or tricks for dealing with common challenges? Share your solutions with others, whether it's tackling stubborn stains or managing your time more efficiently. Let's help each other out!
18. Make Crafts
If you're looking to create a video where you only show your hands, making some fun crafts with popsicle sticks and paper or building a kite could be one of the great YouTube content ideas! Just make sure to use lots of bright colors and fun designs to really catch people's eye.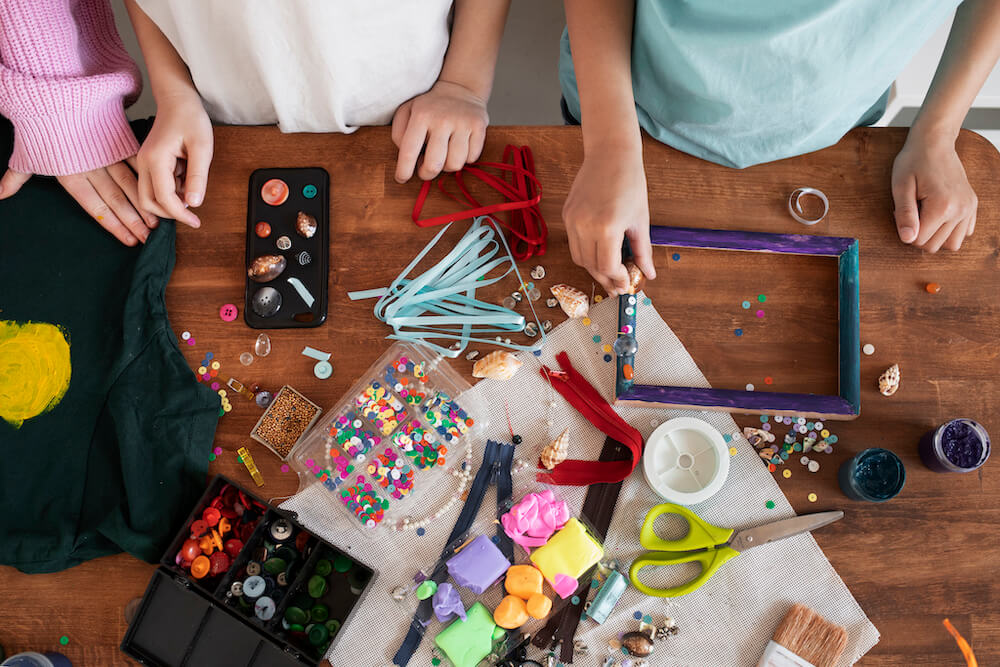 19. Satisfying Videos
Believe it or not, washing dirty carpets, popping plastic bubbles, and playing with slime are some of the most popular trends on YouTube.
20. Design the Interior Decoration of The House
Creating a video for YouTube on how to arrange sofas, organize food in the fridge, and keep things tidy on your desk can be really helpful for those dealing with OCD. To make sure your video stands out, it's important to keep everything in order and use a consistent font for your thumbnail. This way, you can attract the attention of people who are looking for some helpful tips and tricks.
21. Advantages and Disadvantages of Things/Situation
Sometimes, we are faced with tough decisions. Whether picking out a sauce at the grocery store or navigating a complex emotional relationship, we always weigh our options and make comparisons. If you want to create a YouTube channel, why not use it to help people untangle their thoughts by exploring different scenarios? It could be a great way to connect with others and positively impact their lives.
22. Teach Critical Thinking
It might be helpful to encourage critical thinking rather than promoting misinformation. If you're knowledgeable in this area, consider sharing your expertise to help others scrutinize important issues. You don't have to be a public speaker to make a difference – even sharing short videos that capture everyday moments can encourage viewers to think more deeply.
23. Introduction of Applications
Introducing new applications that are widely used but little known can be unique video concepts for YouTubers. Many people have trouble finding partners in other languages or finding complete music using a part of it. Introduce useful and practical applications in your channel.
24. Whiteboard Video
Have you ever heard of whiteboard videos? They're a cool way to teach people about different topics! Basically, they use hand-drawn or animated illustrations to explain things in a fun and engaging way. Plus, because they're short and to the point, they're really effective in getting the message across. And at the end of the video, a strong message usually encourages viewers to take action. Overall, whiteboard videos are an awesome tool for educating and entertaining your audience.
25. Avatar Videos
As we wrap up this section, it's worth mentioning that you can use artificial intelligence to create a cool avatar of yourself. With your avatar, you can show up on camera and share your thoughts and ideas. It's a great way to make yourself stand out and be remembered by others. So, go ahead, design your unique avatar, and let your creativity shine!
Note: Perhaps you haven't discovered the perfect content for your YouTube channel yet, but don't worry! There are still 25 more items in the second category that might inspire you. Stick around to check them out.
26. Lifestyle
YouTube influencers have a big role to play in the lifestyle domain, as they can greatly influence consumer choices. This category encompasses many topics and can even overlap with other categories.
27. My Daily Routine
You might have watched My daily routine video on YouTube. It's a fun way to see what someone's typical day looks like. You could even make your own! Just hit record when you wake up and take your viewers along for the ride.
At first glance, this idea might seem a bit silly – why would anyone want to see what someone else's day looks like? But surprisingly, there are actually quite a few people who find this kind of thing really interesting.
28. Explain a Topic, Idea, Product, or Service
Explainer videos are a great way to quickly introduce people to your product, service, company, or app. If you have one, consider uploading it to YouTube. It's an awesome platform that can give your video a ton of exposure!
29. Vlog
Vlogging is one of the unique video concepts for YouTubers to share their thoughts, interests, and ideas with others. Whether you want to educate, entertain, or express yourself, vlogging is a great way to reach out to your audience. It doesn't matter if you're a business or an individual; vlogging can help you connect with your viewers and grow your following. So why not give it a try and see where it takes you?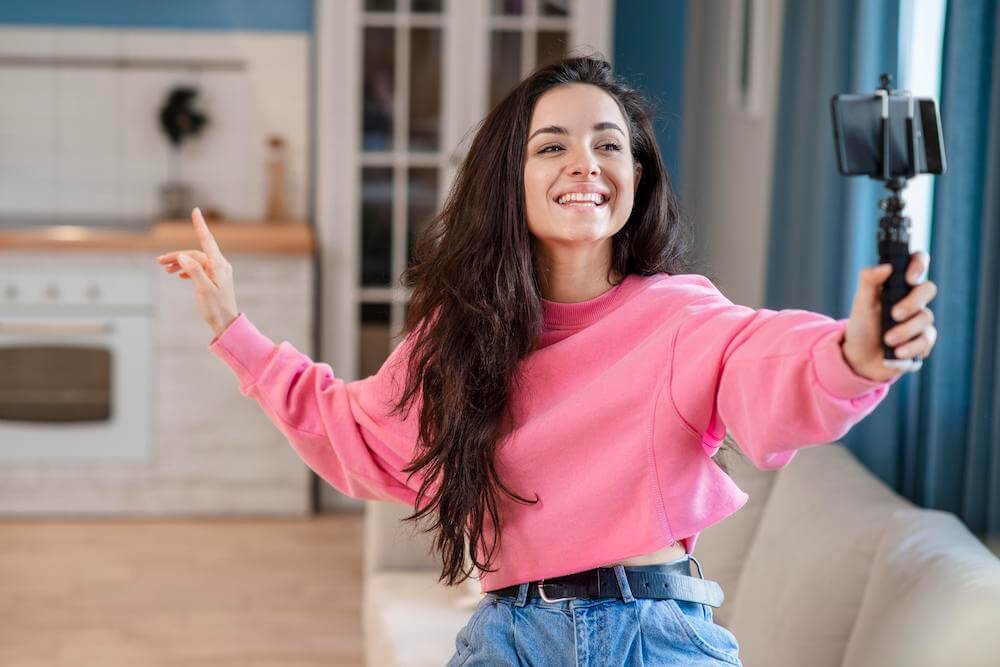 30. Travel & Adventure
Are you interested in traveling and adventure? It's an incredibly popular topic on YouTube these days! If you decide to pursue this type of content, it's important to keep in mind that you'll have lots of competition. However, you can still attract a great audience with a little effort. Typically, it's best to work with a team of people to create high-quality videos. Plus, filming with friends is always more fun!
31. Group Games
If you enjoy entertaining others with simple things like balls, paper, and cups at family gatherings, why not share your talents with the world by recording a video for YouTube? People of all ages love games and entertainment, so your videos will surely be a hit. All you need are a camera and a microphone. And if you can rope in a few friends to join in the fun, even better!
32. Introduction of Amusement Parks
One interesting topic that YouTubers may want to explore is amusement parks. It's a great opportunity to have fun and try out different attractions while creating engaging content. Even if you don't get recognized by a particular brand, making exciting videos can catch the attention of newly established amusement parks who might invite you to showcase their latest equipment. So why not give it a try and see where it takes you?
33. Culture Videos
Culture is all about the traditions and beliefs of a certain group of people. It includes things like language, religion, food, music, art, and social habits. When people share these common elements, they're said to share a culture. Some examples of cultures include Western, youth, counterculture, and high culture. If you're into traveling and have some extra cash, you might enjoy creating videos about different cultures on YouTube!
34. Workout Videos
Lots of folks go to YouTube when they want to get their sweat on. They've got tons of videos on how to do different exercises and full workout programs. Whether you're into yoga, circuit training, stretching, or want to make sure your form is correct, you can find all sorts of helpful videos on there. It's great to see a fit body in these types of videos, but it's also really motivating to see people with normal bodies exercising and working towards their goals. It shows that anyone can achieve their fitness aspirations, regardless of their shape or size.
35. Opinion Video
Feel free to express your thoughts on anything that interests you! Many YouTubers use opinion videos to discuss engaging content topics for YouTube, including politics, current events, entertainment, celebrity news, and movies. However, it's important to avoid spreading rumors and falsehoods in order to maintain the trust of your audience. By staying honest and credible, you can continue to build a loyal following and share your opinions with the world.
36. Reaction Video
Here is some insight into the difference between reaction and response videos. You see, a reaction video isn't in response to another video but rather a reaction to news or an event. Seeing other bloggers' reactions and having a good laugh can be pretty entertaining. However, it's important to remember that making fun of someone's behavior because it's different from our own culture isn't cool. But, if you're looking to poke fun at those who believe everything they see on social media, then that's a different story and can be valuable.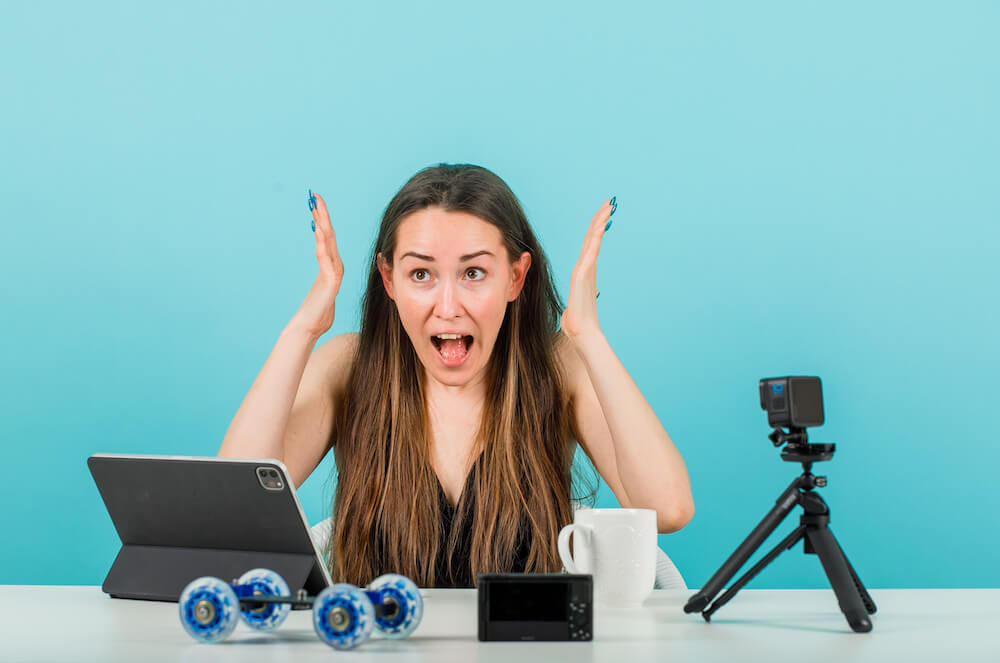 If you're looking for YouTube content ideas to entertain your viewers, recording and sharing a harmless prank on your channel can be a great idea. Just remember to keep it safe and not hurtful to anyone involved. Have fun!
38. Professional Cooking
If your channel is all about lifestyle, it can be fun to cook while going about your daily tasks, even if you're not a pro. However, if your channel is focused on cooking, it's important to take it seriously and do it professionally. Make sure to take care of hygiene and cleanliness by wearing special clothes, cutting your nails, or using sanitary latex gloves. It takes a lot of experience and knowledge to know how to smell chicken and meat and use various spices. And remember to provide subtitles for your videos, especially if you're explaining yourself.
39. Sampling Different Foods
Becoming a food blogger on YouTube is more than trying different dishes. To be successful, you need to share helpful tips on how to make each dish even better. Share what ingredients are used in the recipe and what flavors work best without giving away the whole recipe.
40. Challenge Videos
It's always a great YouTube content idea to try out fun and exciting challenges that don't harm anyone and have been planned ahead with a few buddies. These types of videos get a lot of attention on YouTube because they're not limited to a specific language and can be enjoyed by people from all around the globe.
41. Music Video
If you're a musician, creating a music video can be a great way to showcase your talent. You can go all out with an elaborate production or keep things simple and stripped-down. The most important thing is to make sure your song is one-of-a-kind. Your work could catch the attention of some awesome companies!
42. Make Highlight Reel
Are you an athlete searching for ways to showcase your skills? Well, YouTube is the perfect platform to share your talent with the world! The action sports community is bustling with activity, and individuals who participate in skateboarding, snowboarding/skiing, and surfing frequently post videos of their tricks. Athletes and sports teams also compile highlight reels of their best plays to get noticed by scouts or sponsors, and to entertain their audience.
43. Make Up
YouTube is an awesome platform for all things beauty and fashion. You can find helpful how-to guides, tutorials, and even watch shopping sprees or hauls! If you have a passion for makeup artistry and some basic equipment like a camera, ring light, and cosmetics, you can easily create your own videos on face and hair makeup.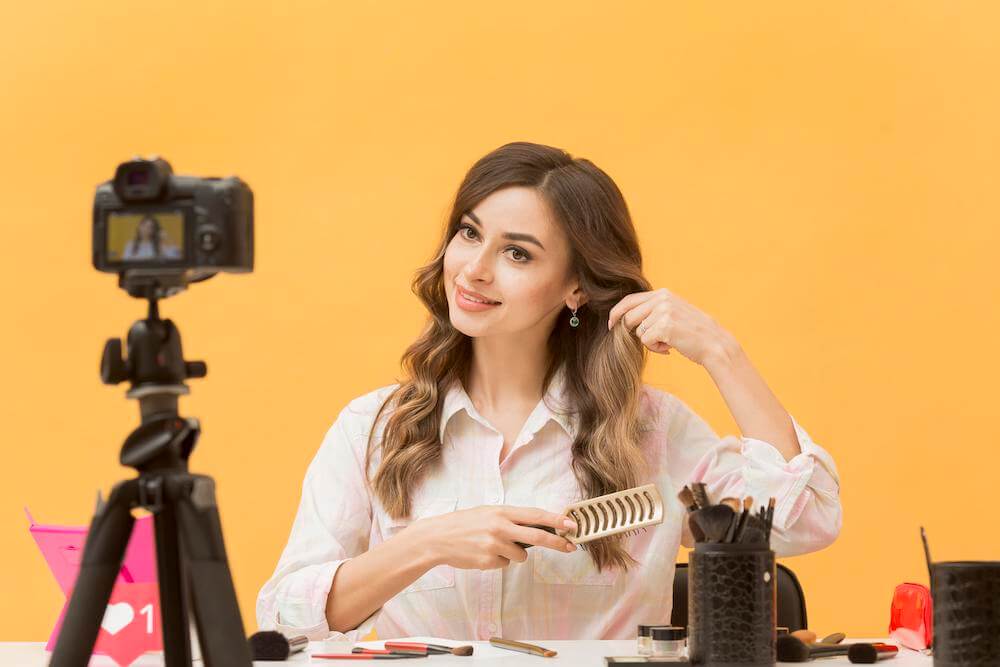 44. Unboxing Videos
Unboxing video is one of the popular YouTube content ideas these days! So next time you receive a new product, why not share the excitement and film yourself unboxing it too? This is especially helpful if you do a lot of online shopping. Just remember, your unique personality and style will make your unboxing video stand out from the rest!
45. Tour Video
If you want to showcase your business or company on YouTube, Tour videos are the way to go! They're a popular format that lets viewers take a sneak peek behind the scenes. You can show off your favorite places like your room, home, office, or neighborhood. Tour videos are a great way to make your business more visible and attract more attention.
46. A Few Facts About
This type of video would be great for those who love doing research and finding fascinating tidbits from their studies.
47. Webinar
If you hosted an educational webinar or presentation, why not make it available on YouTube? That way, anyone who couldn't attend can still watch it at a later time. It's a great way to help spread your knowledge and reach more people.
48. Interview Some with Interesting Ideas
Consider interviewing fellow content creators or influential figures within your industry! This can bring new and exciting content to your current followers, while also attracting the interviewee's audience to your platform. It's a win-win situation for everyone involved!
49. Q&A Sessions
Why not have a fun Q&A session with your viewers? You can invite them to ask you anything in the comments or on social media, and then you can compile all their questions into a video. You could focus on a specific topic or make it an AMA (Ask Me Anything) style video. Just remember, this should be something other than the main focus of your YouTube channel – for that, you'll need to invite some special guests.
50. Develop an Idea with The Help of a Crowd
It's always a good idea to create content that your fans will enjoy. Why not ask your viewers what kind of videos they'd love to see? Their suggestions could inspire some great new content ideas that will keep them coming back for more.
YouTube is a free platform where you can share anything except sexual and porn content. As you have seen, we introduced innovative YouTube video ideas to you in this article. We think your presence on this popular social media should bring happiness and entertainment and increase the information of others. Attracting others' attention and earning money is not worth it at any cost.
Suggested Articles To Read More:
The  Bottom Line
Most of the YouTube content ideas fall under Beauty and fashion, Health and fitness, Food and drink, Education, Entertainment, Gaming, Tech, Lifestyle, and Generic categories. In this article, we have categorized these topics based on compatibility with your personality and interests. Hope this article was useful for you.
For more information about YouTube and the features of this social network, we suggest that you click on Free YouTube Tutorial [+]. Also, if you have any questions about YouTube, you can ask them in our YouTube support forum [+] in the form of a topic and wait for the answer of our experts.
We hope that in the Twilinstok online magazine, we were able to help you to do the bests. If this article was helpful, please, share it with your friends and give us 5 stars. Best regards.