30 Most Famous YouTubers in New Mexico
New Mexican YouTubers
As you may know, New Mexico is the fifth largest state in the US in terms of area. We thought it would be fun to explore the interests and activities of some of the famous YouTubers in NM. We've got some great channels to recommend, and we'll even take you on a virtual tour of some of the most fantastic cities in New Mexico – like Santa Fe, the capital, Albuquerque, Las Cruces, and Taos – which are all perfect spots for creating amazing content for YouTube. So, in this article from Twilinstok online magazine, come along for the ride to famous YouTubers in New Mexico.
What you'll read (Table of content):
hide
Top 10 YouTubers in New Mexico
We want to share some awesome, famous YouTubers in New Mexico with you. Just a heads up, this isn't a ranking or based on any algorithm. We've gathered a variety of creators who make content about New Mexican food, music, art, and entertainment. Some of them have millions of subscribers, while others have just a few thousand. Our goal is to introduce you to some of the best creators from the Land of Enchantment! Here are the Top 10 Famous YouTubers in New Mexico:
Demi Lovato
Mike Reynolds
Lorenzo Antonio
Grupo SPARX
Simplynessa15
IMAV3RIQ
Bobby Mares
KOAT
Margaret's Kitchen NM
Red or Green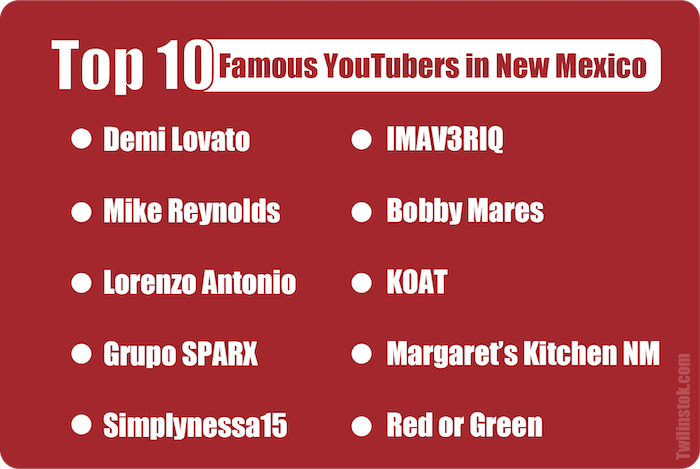 Now let's check each of them.
Demi Lovato
Demetria Devonne, born on August 20, 1992. She is not just one of the top 10 YouTubers in New Mexico but also an amazing American singer, songwriter, and actress. She originally comes from Albuquerque, New Mexico, but grew up in Dallas, Texas. Demi has accomplished so much in her career, selling over 24 million records in the United States and winning numerous awards, including an MTV Video Music Award, 14 Teen Choice Awards, and five People's Choice Awards. She's even broken a Guinness World Record! In 2017, she was honored by being included on the Time 100 annual list. Her YouTube channel has 18 million subscribers and has gained 7 billion views since it was created on January 30, 2008. Amazing, right?
Here is the link to her channel:
Mike Reynolds
Did you know that Michael E. Reynolds, an American architect based in New Mexico, has designed and built "earthship" passive solar houses? These houses are an amazing example of "radically sustainable living." Michael is truly passionate about using unconventional building materials from waste streams, like automobile tires, to create his designs. He even wrote five books on the subject!
Michael's epiphany came when he realized that any object could be utilized, like old tires that can be filled with soil to create a powerful and durable thermal mass or pop bottles that can be used for insulation. The packed soil stores and releases heat from the earth and sun, making these earthship homes incredibly energy-efficient.
If you're interested in learning more about Michael's ideas and designs, check out the channel of one of the New Mexican YouTubers named Earthship Biotecture. It has gained over 100k subscribers and 10 million total views since July 8, 2006.
Lorenzo Antonio
Lorenzo Antonio, the celebrated American Latin music singer-songwriter, was born into a musical family in Albuquerque, New Mexico, on October 3, 1969. Music was in his blood from the very beginning, and he was already showing a keen interest in it by the age of 5. Lorenzo's father taught him how to sing "La Bamba" while playing the guitar, and it wasn't long before he was enrolled in private classical guitar lessons, which he continued to take throughout his childhood and teenage years.
Fast forward to June 1982, when Lorenzo Antonio was just 12 years old, and his career began to take off. Lorenzo Antonio, one of the most famous YouTubers in New Mexico and one of the best musicians, joined YouTube on September 14, 2010. Since then, his channel has gained over 500k subscribers and 500 million total views!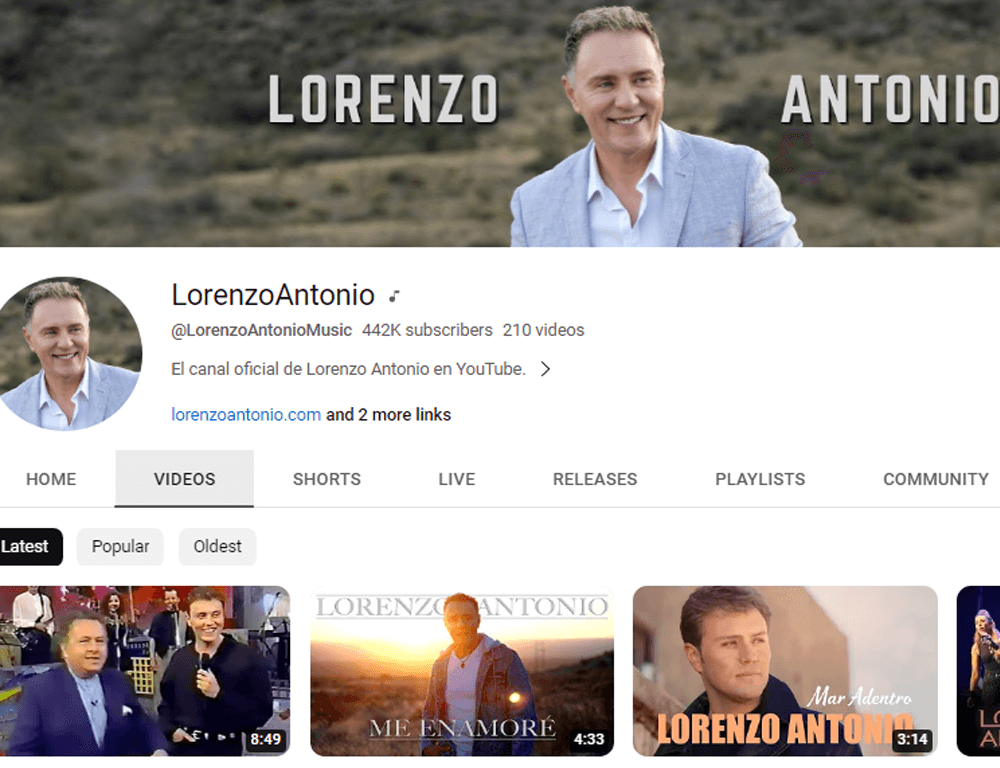 Do you enjoy New Mexico songs? Follow his channel:
Grupo SPARX
Have you heard of the amazing band called Sparx? It's made up of four talented sisters – Verónica, Rosamaria, Kristyna, and Carolina Sanchez. They're known for their incredible range of music, from catchy pop songs to classic Latin tunes like corridos, cumbias, ballads, and boleros. In the 90s, they were the talk of the town and had everyone dancing to their beats. Even today, they're still making waves with their music. In fact, they have a huge following on YouTube, with over 500,000 subscribers and 500 million views! Their old and new songs alike are loved by fans all over the world.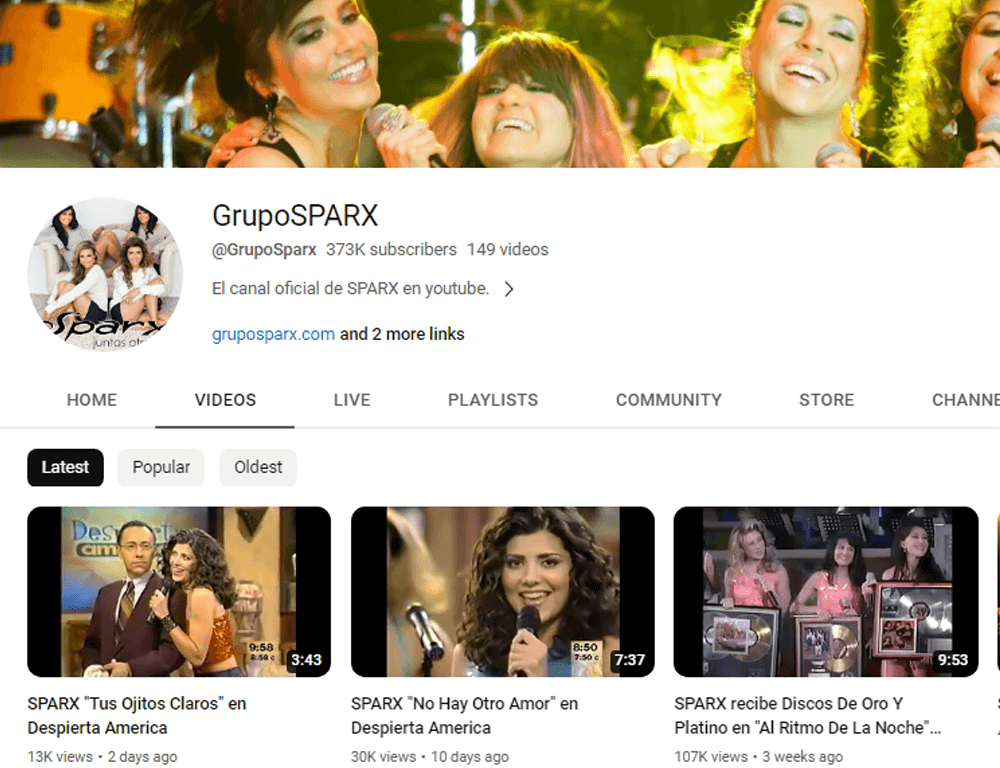 Remember Lorenzo Antonio, who we featured as one of New Mexico's most famous YouTubers and musicians? He is the brother of these four exceptional sisters.
Simplynessa15
One of the New Mexican YouTubers is Vanessa Martinez, born November 21, 1996. She shares personal stories, fashion tips, product endorsements, makeup, self-care, and hair on her YouTube channel named Simplynessa15.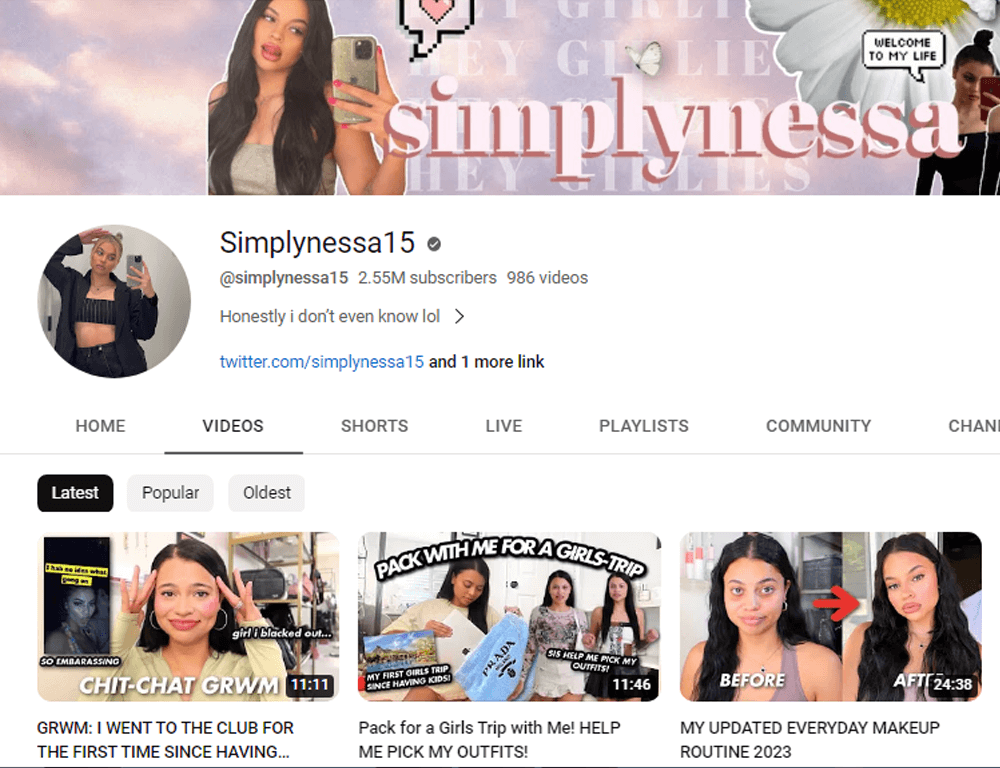 Simplynessa15 channel was created on June 12, 2012, and has already gained 3 million subscribers and 300 million total views.
IMAV3RIQ
IMAV3RIQ channel belongs to one of the most famous YouTubers in New Mexico. The owner of IMAV3RIQ is a professional gamer. This channel was created on October 6, 2011, and gained 1.5 subscribers and about 600 million total watches.
You can check out his channel through this link:
Bobby Mares
Bobby Mares shines between YouTubers that live in New Mexico. He was born on November 15, 1987. Bobby is an entertaining guy who loves to do challenges and collaborate with famous stars. He's also really talented and writes his own music! Bobby joined YouTube on December 19, 2008, and has since gained over a million subscribers and over 200 million total views. That's pretty impressive, don't you think?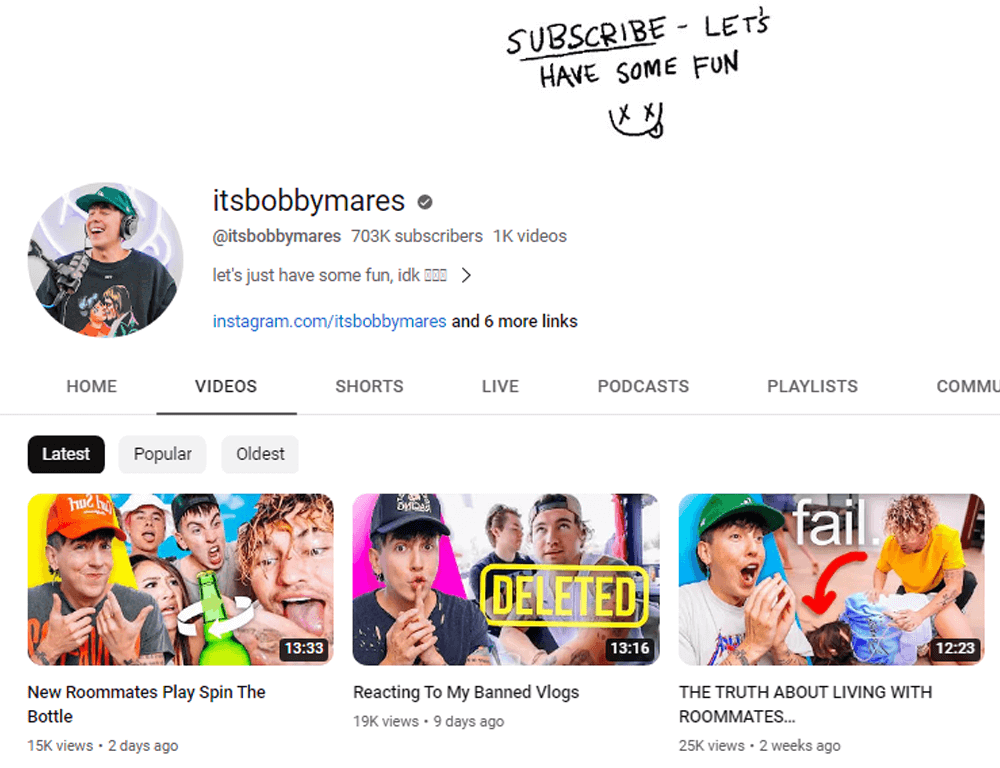 You can check out his channel through this link:
KOAT
KOAT is a fantastic news, weather, and sports channel based in New Mexico! They've been on YouTube since May 3rd, 2007 and have already gained a whopping 120K subscribers and 120 million total views! Isn't that amazing?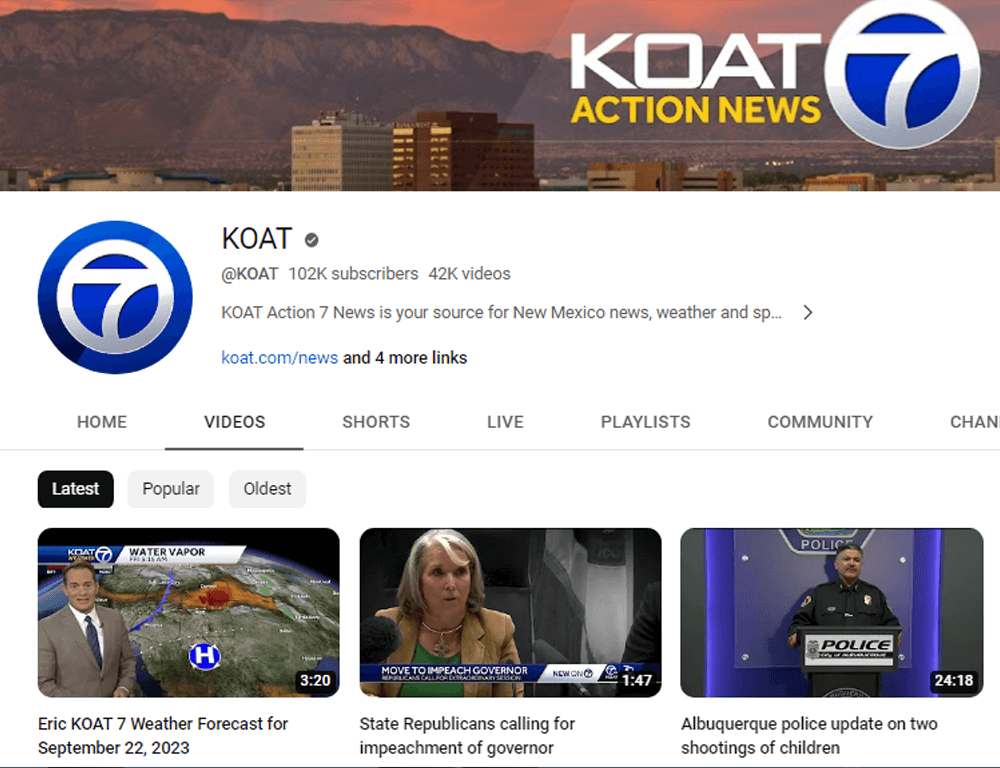 KOAT channel has new news for you every day:
Are you ready to meet two women famous YouTubers in New Mexico who are active in this state's authentic cooking and are little known?
Margaret's Kitchen NM
Maria Margarita Martinez-Baca is one of the women famous YouTubers in New Mexico from Albuquerque who makes the most delicious authentic Mexican food. She learned all her recipes from her grandma and has been sharing them with the world since 2013. With over 5 thousand subscribers, her channel has the potential to grow even more. You should definitely check out her videos and learn how to make some yummy Mexican dishes yourself!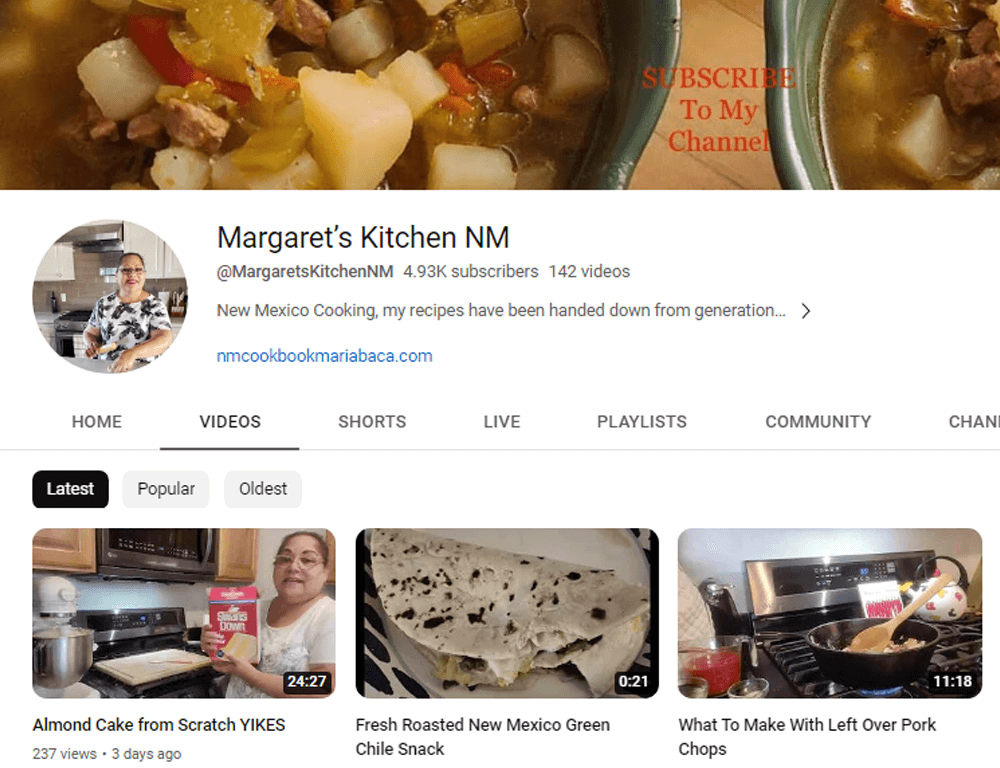 If you're interested in checking out Margaret's channel, you can find the link below. Just a heads up, her dishes are known to be quite spicy, so be sure to have some water nearby and enjoy the tasty heat!
You should definitely check out her personal website! She's got some fantastic recipes for delicious Mexican dishes that you won't want to miss."
Red or Green
Are you looking for delicious and comforting New Mexican meals that are easy to cook? You're in luck! You can learn some amazing techniques passed down from generation to generation by a family that really knows their stuff. They've even created a channel just for you, with simple recipes that you can manage easily. And the best part? They've already gained 10k subscribers and 1 million total views, so you know they're definitely doing something right!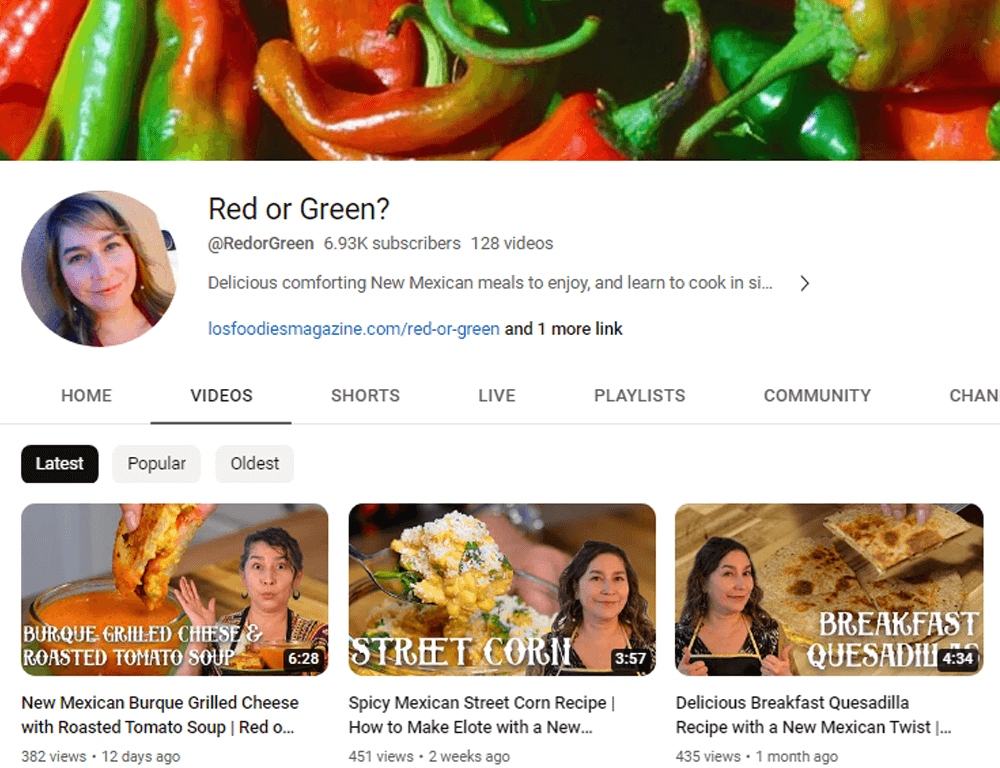 We do not know the exact name and biography of the person behind this channel. But due to her persistence and precision in cooking and the details he provides about the recipes, she can be one of the most famous YouTubers from New Mexico in the field of cooking in the future.
20 Best New Mexico YouTube Channels
Here are the 20 Best New Mexico YouTube Channels. Some of these channels have attracted many subscribers. Others are still early adopters but have done very well so far.
Here, we share with you the link to some of the coolest vlogs that are made during vloggers' trips to New Mexico. Check them out!
Frequently Asked Question
Who has the most followers on YouTube in New Mexico?
According to the research we did to write this article, Lorenzo Antonio and the four SPARX siblings are not only famous YouTubers in NM but also one of the New Mexico music phenomena of all time. However, answering the question, who has the most followers on YouTube in New Mexico? Not easy. Because the people behind the YouTube channels may decide to abandon their channel, or a newcomer may get a lot of support and subscribers in a short period of time.
 The Bottom Line
In this article, we talked about YouTubers that live in New Mexico or YouTubers who were born in the state and later traveled to another state to continue their work and career. If you know famous people, share them with us in the comments section.
For more information about YouTube and the features of this social network, we suggest that you click on Free YouTube Tutorial [+]. Also, if you have any questions about YouTube, you can ask them in our YouTube help forum [+] in the form of a topic and wait for the answers from our experts.
We hope that in the Twilinstok online magazine, we were able to help you to choose the best. If this article was helpful, please, share it with your friends and give us 5 stars. Best regards.