Top 100 YouTubers in Los Angeles
Famous YouTubers in Los Angeles California
Did you know that each state and city in the US has its own unique charm and appeal when it comes to filming and video recording? Well, it's true! And if you're a fan of YouTube, you'll be excited to hear that we've got the inside scoop on the "Top 100 YouTubers in Los Angeles." In this article from Twilinstok Online Magazine, we'll introduce you to some amazing content creators and give you a sneak peek into their channels. So come along with us, and let's discover the top YouTubers in Los Angeles together!
Famous YouTubers in Los Angeles California
Here are top 10 YouTubers in Los Angeles California:
Tyler Oakley
Lilly Singh
RiceGum
LARRAY
Brandon Rogers
David Dobrik
Doug DeMuro
Dang Matt Smith
Leah Ashe
Bryce Hall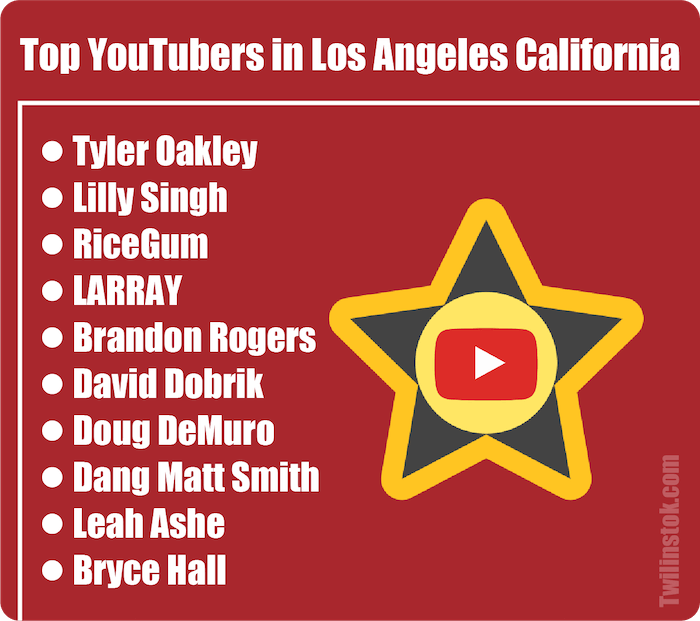 Now let's check each of these top YouTubers in Los Angeles California.
Tyler Oakley
Mathew Tyler Oakley, one of the best YouTubers in Los Angeles, born March 22, 1989, in Michigan, is an American YouTuber, actor, activist, and author. Oakley has dedicated a significant portion of his activism efforts towards advocating for the rights of LGBT youth, as well as addressing various social issues such as healthcare, education, and suicide prevention. He frequently shares content on a wide range of topics, including pop culture and humor. He joined YouTube on September 19, 2007, and over these years, has gained 7 million subscribers. He currently streams actively on Twitch and rarely uploads content to YouTube. However, he is one of the most famous YouTubers living in Los Angeles.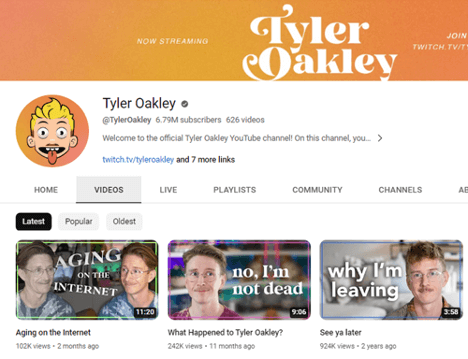 Looking for some great LGBTQ+ content? Check out Tyler Oakley's channel! You'll find a variety of entertaining videos, including Q&As, fun challenges, and collaborations with other YouTubers and celebrities. Don't miss out on the fun!
Lilly Singh
Lilly Saini Singh is one of the YouTubers in Los Angeles female. She is a talented Indian-Canadian YouTuber, television host, comedian, writer, and actress. Lilly started creating amazing YouTube videos back on October 29, 2010. She was born and raised in the lovely Scarborough district of Toronto, Ontario, Canada. In December 2015, she decided to chase her dreams and moved to Los Angeles to further her career. How cool is that? She even launched her own production company called Unicorn Island Productions, which is based in LA, California. Do you know what's even cooler? Her YouTube channel has 15 million subscribers and 5 billion views! Wow, she's definitely one to watch!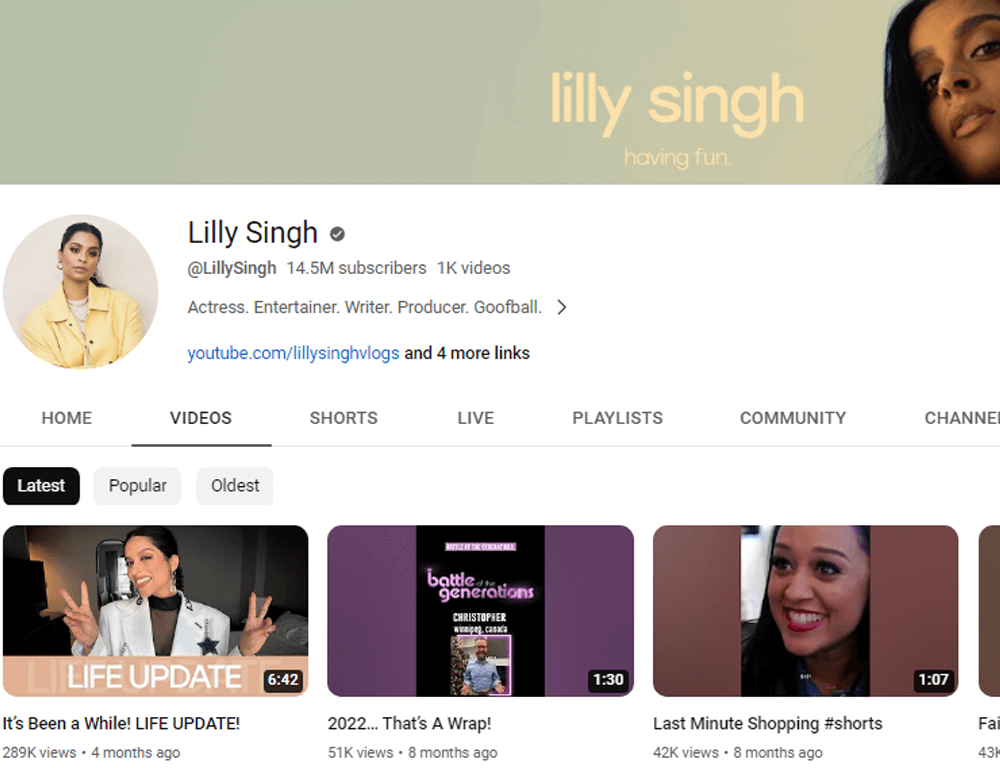 If you're looking for some fun, entertaining, and beautifully edited content featuring fashion and beauty, you sould check out this amazing actress! Click on the link to see for yourself!
RiceGum
One of the top YouTubers in LA is Bryan Quang Le, who was born November 19, 1996, to Vietnamese and Chinese parents. He created his YouTube channel on September 25, 2012, and now, with 11 million subscribers, he has gained about 2.5 billion views. He is known for some of his diss tracks and online feuds with other YouTube personalities. He has spent most of his life in Las Vegas, but he also has a house in Los Angeles and has made very interesting vlogs about life in LA. In his vlogs, he has compared the cost of living in Los Angeles and Las Vegas. For example, in one of his vlogs, he goes to a barbershop and a store and compares the costs he pays for goods and services in these two cities.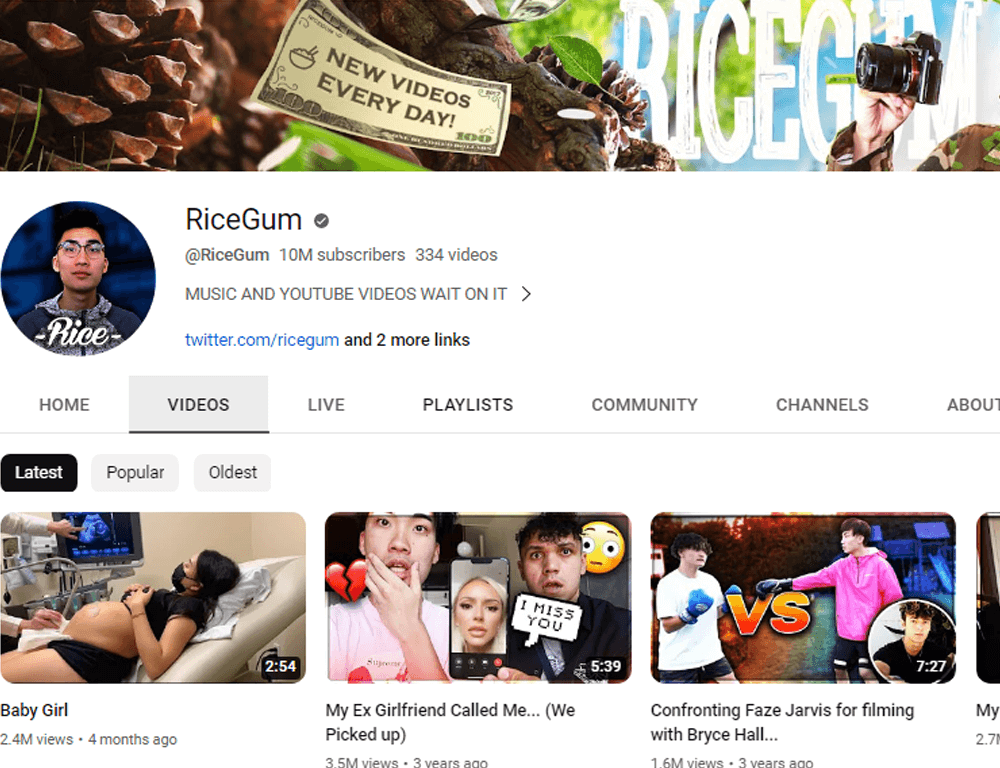 Check out this awesome link to see his amazing vlogs, catchy songs, and exciting adventures. You're sure to love it!
LARRAY
Larray, whose real name is Larri Merritt, was born on July 22, 1998. He's a super talented American YouTuber and social media influencer who creates hilarious content on his channel. Larray has been on YouTube since August 19, 2011 and has gained over 10 million subscribers and 2 billion views! In his videos, Larray introduces himself as a straight American guy and he always starts off by saying "Hi girlies".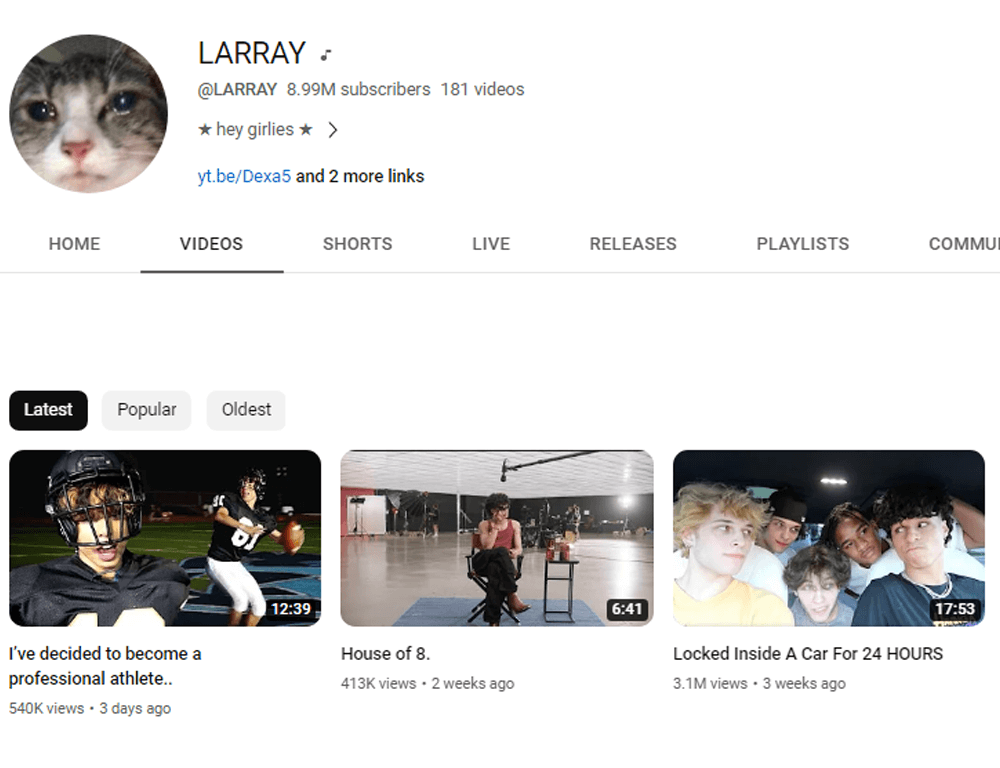 It is quite puzzling that a YouTuber with great creativity and talent who puts so much effort into editing videos to a professional standard does not have appealing backgrounds or thumbnails for the profile. If you're interested, there's a link below where you can find some fantastic reality shows, comedy, and sports videos.
Brandon Rogers
Have you heard of Brandon George Rogers? He's an amazing YouTuber, actor, and comedian from Los Angeles. He was born in August 1988, in Livermore, California. On his YouTube channel, he brings to life many incredible characters that are sure to make you laugh. Did you know that he also co-wrote the adult animated web series Helluva Boss, where he even voices the main character Blitzø?
It's fascinating to know that Rogers' career started by creating videos for a personal-injury law firm in LA, where he made documentaries that were used in court. He had the fantastic idea to make humorous versions of these documentaries with his friend Gabriel Gonzales. His YouTube channel was created on January 7, 2006, and since then, he has gained over 7 million subscribers and more than 1.5 billion views. How cool is that?
"Check out his awesome makeup videos in the link below and enjoy his stunning looks in every video!"
David Dobrik
Let us tell you about Dávid Julián Dobrík, one of the top YouTubers in Los Angeles. He's known for his energetic and hilarious videos that feature pranks, cute animals, and famous celebrities. In fact, Dobrik's vlogs often include his close group of friends, collectively known as "The Vlog Squad".
Dobrik grew up in Vernon Hills, Illinois, and attended high school there, where he played tennis and even won third place in the doubles tournament at the 2014 Boys Tennis State Tournament. After graduating, he moved to LA to pursue his Vine career, which eventually led to his successful YouTube channel.
If you're not familiar with "The Vlog Squad", it's a group of Dobrik's closest friends who make regular appearances in his vlogs. The cast is amorphous and always changing, but some of the more well-known members include Jason Nash, Heath Hussar, Mariah Amato, Natalie Mariduena, Josh Peck, Zane Hijazi, Scotty Sire, Ilya Fedorovich, Nick Antonyan, and even Dobrik's siblings, Vardan and Suzy. Other members include Matt King, Toddy Smith, Corinna Kopf, Jeff Wittek, Joe Vulpis, Carly Incontro, and Erin Gilfoy.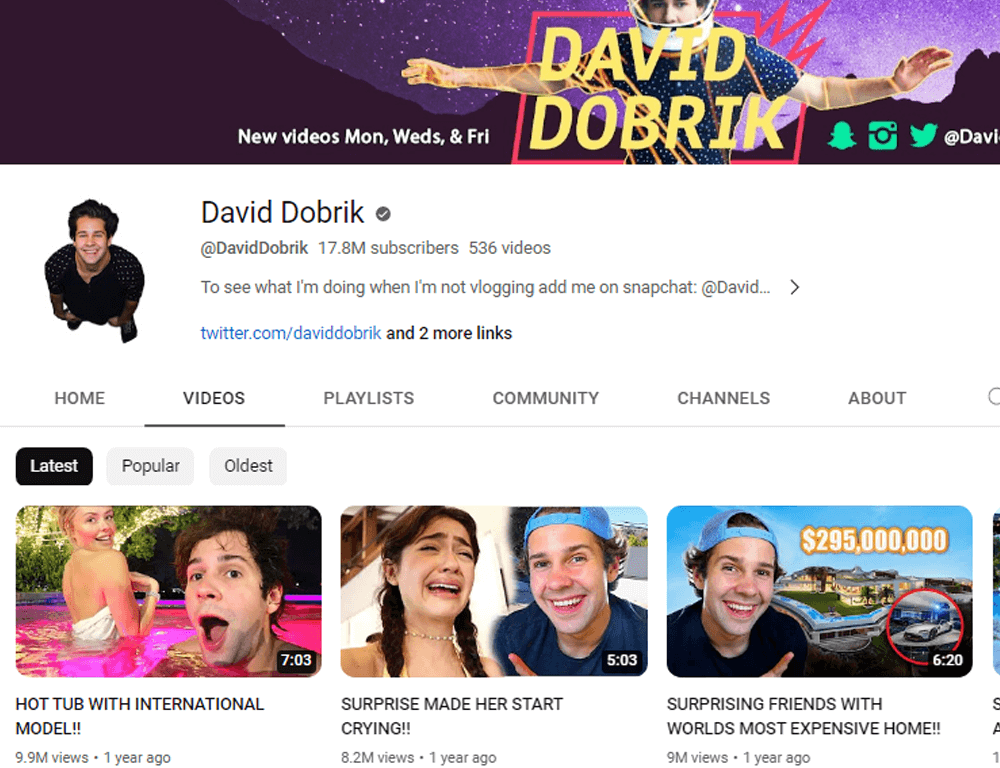 he started his channel back in December 2014 Since then, he's gained an incredible 8 billion views and has nearly 19 million subscribers! You should definitely check out his channel, it's amazing!"
Doug DeMuro
Douglas DeMuro? He's an awesome American YouTuber, author, writer, columnist, and internet entrepreneur who lives in sunny San Diego, California. He writes about cars, but he really hit his stride in September 2013 when he joined YouTube and started making awesome car review videos. In each video, he talks about the "quirks and features" of the car's exterior and interior, takes it for a spin, and then gives it a "DougScore" based on ten categories related to usability and fun. What's cool is that most of the cars he reviews are owned by dealerships and individuals, not press cars. He even partnered with Turo for a while and rented cars as he traveled, based on a budget given to him by Turo.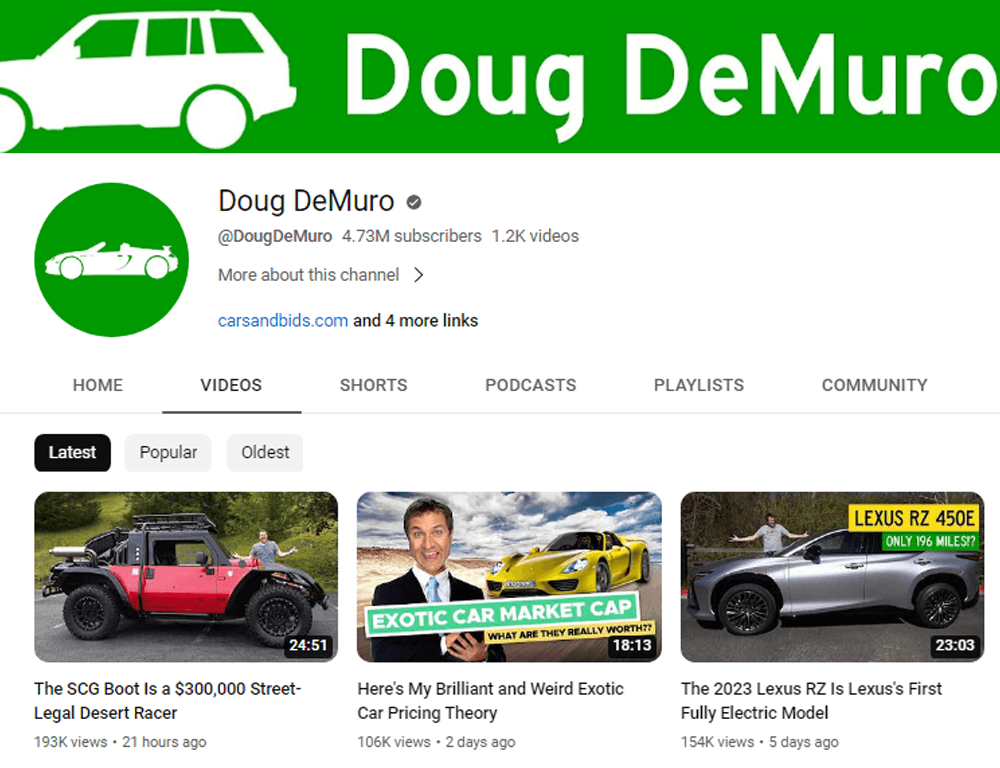 If you're really into cars, I highly recommend checking out Douglas DeMuro's videos. He's got over 5 million subscribers and his main YouTube channel has been viewed more than 2 billion times. You're sure to find something you'll love!
Check out this awesome YouTuber from LA and his second channel. He focuses more on answering questions from his viewers there.
Dang Matt Smith
Have you heard of Matt Smith, one of the top YouTubers in Los Angeles? He's a YouTuber who started his channel on August 18, 2011. He creates videos about gaming, interesting reactions, reviews, and scary photos. With 15 million subscribers, his videos have received an incredible 4 billion views! Did you know that he was born on June 7, 1999? It's amazing how much success he's achieved at such a young age.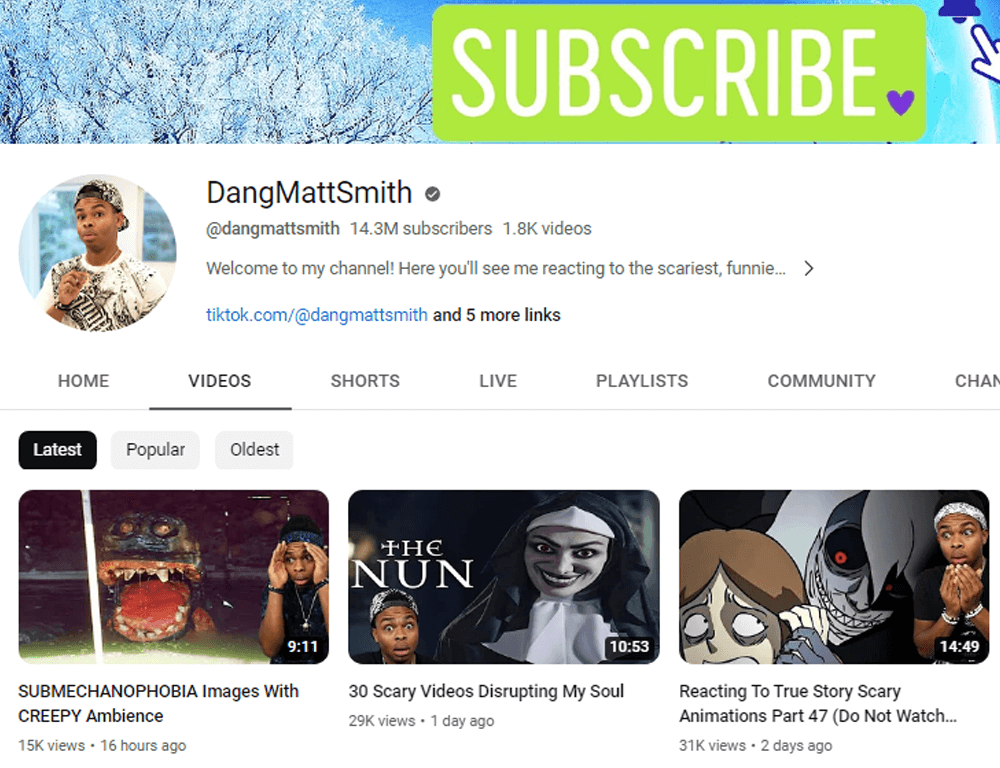 If you're looking for some interesting and spooky videos, feel free to check out the link below!"
Leah Ashe
Have you heard of Leah Ashe, one of the other YouTubers Los Angeles female? She's an awesome gaming and vlogging YouTuber from the US, born on September 2, 1993. Leah's channel is all about Roblox roleplays, Royale High, Adopt Me!, Transformation Makeovers, and more. She joined YouTube on May 3, 2016, and now has over 6 million subscribers and 2 billion total views. That's amazing, isn't it?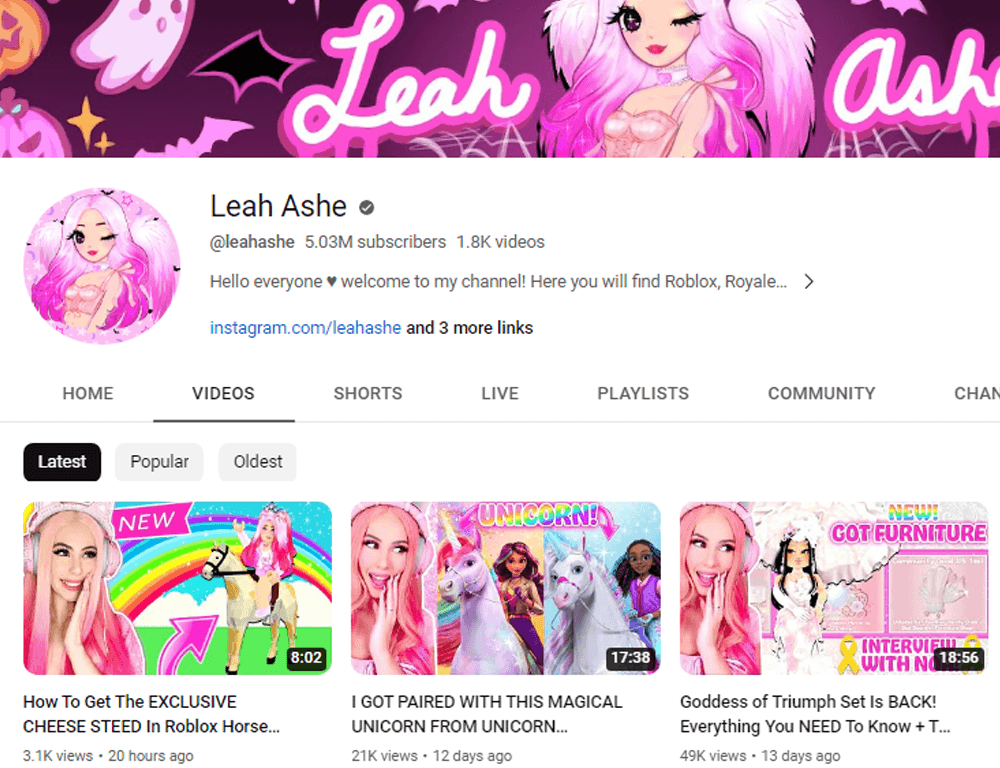 If you want to explore the magical and colorful world of a talented female YouTuber from LA, just click on the link below. You'll love it!
Bryce Hall
One of the famous YouTubers in Los Angeles, Bryce Michael Hall is a super likable American social media personality who was born and raised in Ellicott City, Maryland. Bryce joined YouTube back in February 2015 and has since moved to sunny Los Angeles, California. His vlogs are really relatable and cover everything from his personal life to his hobbies and pastimes. With 4 million subscribers and a whopping 400 million views, it's safe to say that Bryce has made quite a name for himself on the platform.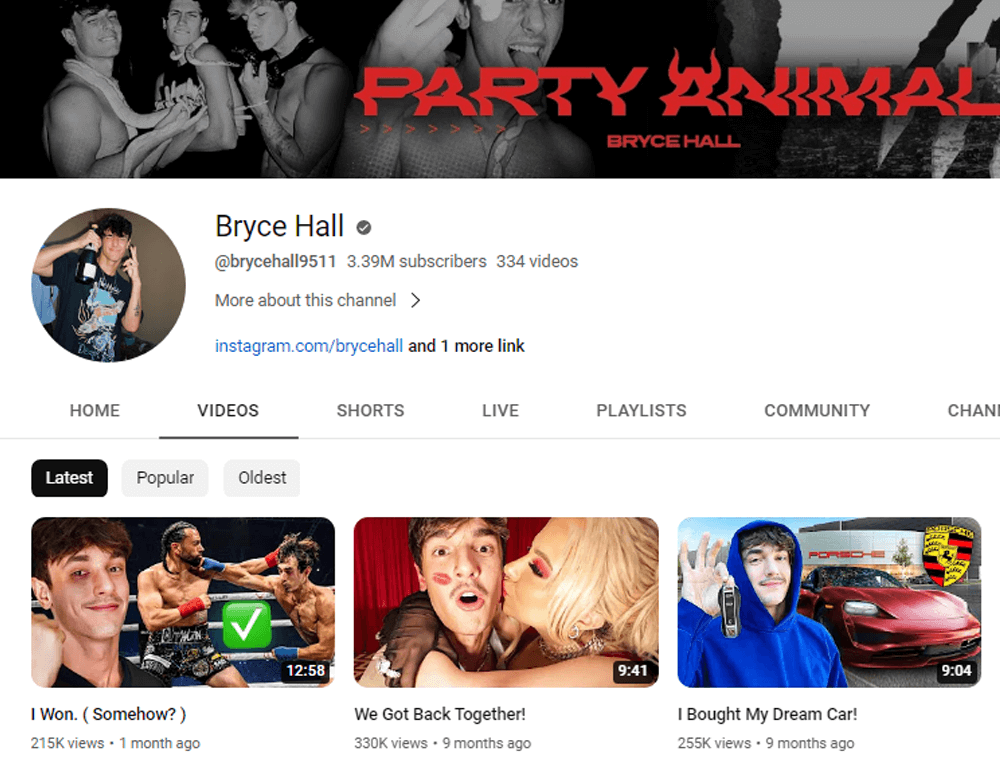 Check out Bryce Hall's awesome channel in the link below!
The best YouTubers in Los Angeles
In the next part of our article, "Top 100 YouTubers in Los Angeles", we want to introduce you to some more amazing famous YouTubers in LA. These incredible people could be born in Los Angeles or may have moved here from other states to pursue their dreams. Some of them even create awesome vlogs about their adventures in LA! We've made sure to check out each of their channels to ensure they're still active on YouTube and have posted at least one or two videos in the last year. The best thing about this list is that it's not based on the number of subscribers, and we've gathered channels from different genres such as comedy, gaming, entertainment, lifestyle, modeling, makeup, and beauty. We really hope you enjoy it!
Let's also say that the names below may not be the real names of the people. Rather, it is their nickname or channel name.
1- Markiplier
2- Collins Key
4- Brawadis
6- ZHC
7- Capron Funk
8- Corey Funk
10- David Lopez
11- Tanner Fox
12- GamingWithKev
13- Claire RockSmith
14- Technoblade
15- Grace Helbig
16- Sona Gasparian
17- My Life As Eva
18- Amber Scholl
19- Manny Mua
20- Twaimz
21- MissTiffanyMa
22- Blake Gray
23- Bruce Greene
24- Eddy Burback
25- Tatiana Ringsby
28- Los Angeles College of Music (LACM)
30- Reiki Energy Healing Los Angeles
31- The Real Andy of Beverly Hills
32- START YOUR FASHION BUSINESS
33- Katie
34- Anna Akana
25- aryy
36- Olivia O'Brien
37- Tk Randell
38- Roke
39- Brennen Taylor
40- Berleezy
41- JonTronShow
42- Jakob Magnus
43- Sarah Baska
44- Sherman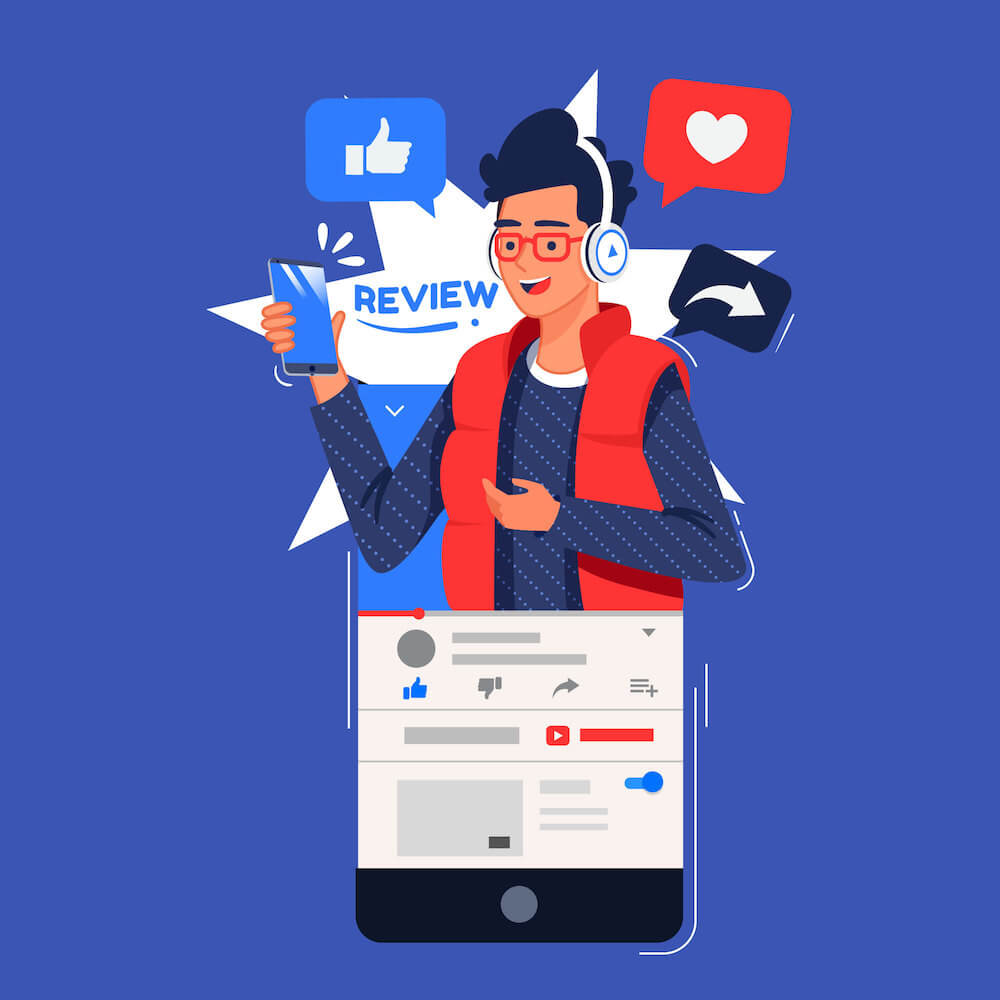 45- The Fishfam
46- AlishaMarie
47- Hallmark Channel
48- CashNasty
49- Julien Dolomite
50- Marlin
51- Drew Monson
52- The LaBrant Fam
53- Neptune
54- Alexa Losey
55- Scotty Sire
56- Jacob Ballinger
57- C&C Life
58- Ashley Nichole
59- Jake Angeles
60- Nicole Skyes
61- Nikki Phillippi
62- Bethany Mota
63- Steve Cook
64- Robby
65- The Aguilars
66- Katy
67- Daily Bumps
68- Patrick Minor
69- Sky Williams
70- Mackenzie Marie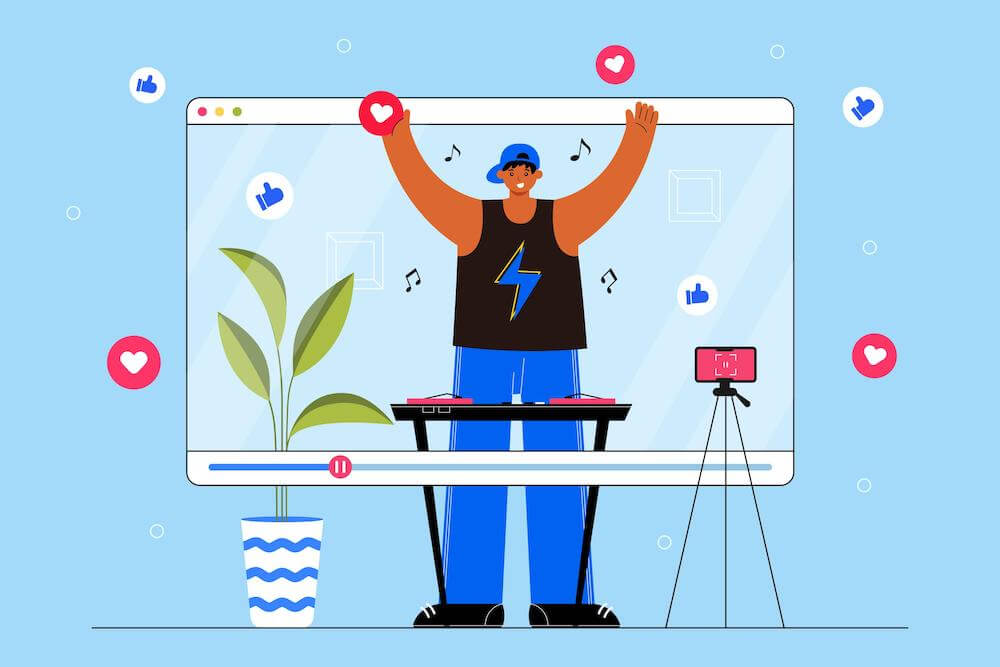 71- Nina Ann Nelson
72- Weylie Hoang
73- Kylie Cantrall
74- Johnnie Guilbert
75- Dude it's David
76- H3 Podcast
77- Jesser
78- KatieAngel
79- Christian Leave
80- Olivia Jade
81- Lexy Panterra
83- Channon Rose
84- DigitalNex
85- Sierra Dallas
86- Hair Jordan
87- McNasty
88- Edward Avila
89- Chris Ballinger
90- AprilAthena7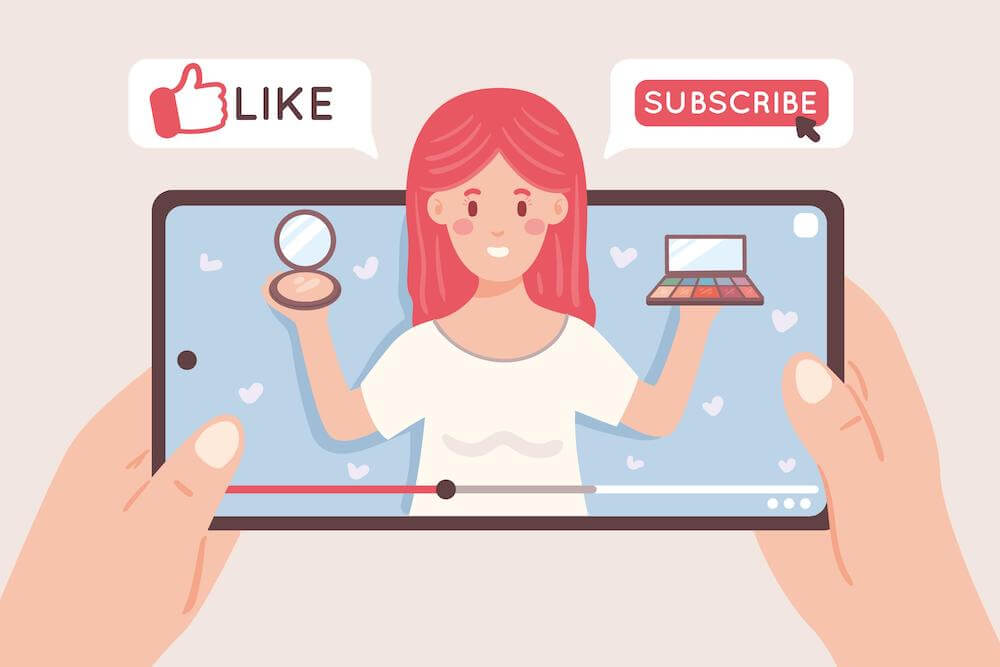 FAQ
What YouTubers live in Los Angeles, California?
Did you know that YouTube is the most popular video streaming platform in the world, with over 2 billion monthly viewers? It's true! And the best part is that there's something for everyone on the platform, no matter what your interests are. If you're on the lookout for great content, you're in the right place. Also, Los Angeles is a great city that provides ample opportunities for people to showcase their potential, which is why you'll find so many talented YouTubers there.
The Bottom Line
We just wrapped up an article about the most famos YouTubers in Los Angeles. We'd love to hear from you if you know of any other awesome channels that we might have missed. Just drop a comment below and let us know!
For more information about YouTube and the features of this social network, we suggest that you click on Free YouTube Tutorial [+]. Also, if you have any questions about YouTube, you can ask them in our YouTube help forum [+] in the form of a topic and wait for the answers of our experts.
We hope that in the Twilinstok online magazine, we were able to help you to choose the best. If this article was helpful, please, share it with your friends and give us 5 stars. Best regards.