Instagram algorithm to grow followers 2023
Golden tips about the Instagram algorithm 2023 to improve your algorithmic ranking and reach new audiences
Today, many people wonder about the question how Instagram algorithm works? We see a lot of people justifying their strange actions and mistakes with the name of Instagram algorithm and when you ask them why did you do that, they say this is how Instagram algorithm works. Of course, some people also make money from the name of Instagram algorithms. You should be happy because in this article you are going to learn everything about Instagram algorithm for free to increase the number of your followers.
Everyone has been confused since Instagram abandoned the way posts are displayed based on the release date. Previously, at least your followers would see your posts based on when they logged in to Instagram. But now the real question is, how have Instagram algorithms affected the visibility of your posts?
In this article from Twilinstok website, we look at how Instagram algorithm works for publishing posts, stories, explore pages, live and Reel. In addition, here we give you some important tips to break Instagram algorithm which help you increase your brand or business engagement rate.
Instagram algorithm to grow followers 2023
If you have spent a certain amount of time on Instagram, you must have noticed that the Instagram algorithm can behave in a mysterious way. But once you understand exactly how these smart algorithms work, you can adapt your content strategy to it. This is exactly what we are talking about in this article.
What is the Instagram algorithm?
The Instagram algorithm is a set of rules in the programming part of the Instagram platform that detects the user's behavior and reactions to the content he/she sees, and according to its rules, hides some content from him/her and exposes others to his/her display.
User behavior can be measured by the amount of time they spend viewing a post, liking, commenting, saving and sharing content. Of course, people who have an Instagram business account have access to Instagram Insight. Instagram Insight is a tool that helps you identify how a user is behaving and performing. This tool has complete and comprehensive data of user behavior towards your content.
How does the Instagram algorithm work for displaying users' posts in 2023?
According to a report by the famous IT news agency on Instagram, there are 6 key factors that affect Instagram's algorithm for displaying posts:
Interest
Relationship
Timeliness
Frequency
Followings
The amount of data usage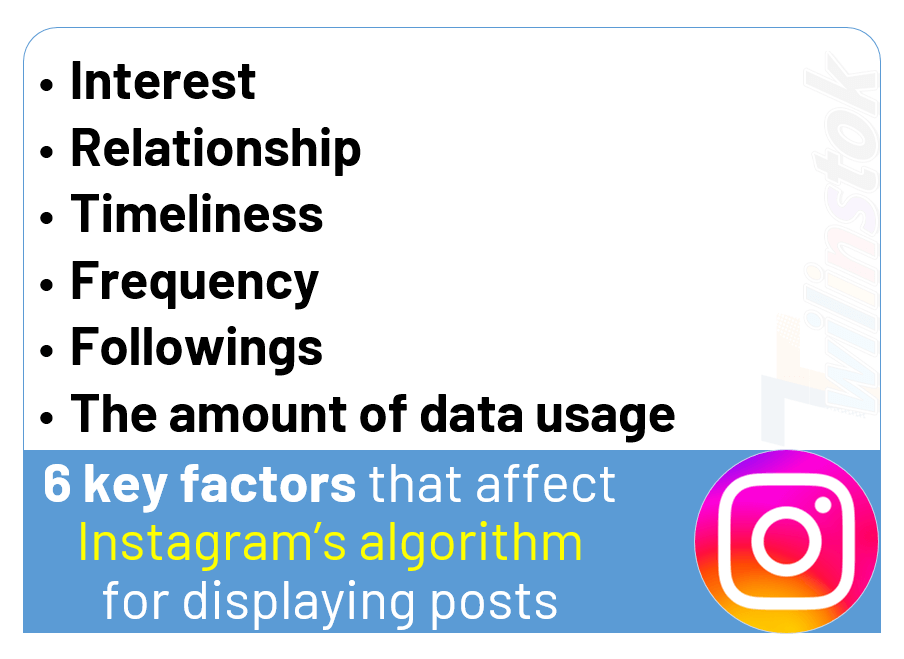 The 1st factor of the Instagram algorithm 2023: Interest
The Instagram feed (the Instagram home page where you see your followings' posts) is not just based on the people you follow, but also on the accounts and the type of posts you usually like. For example, you have probably noticed that when you check the Instagram story of an account or its profile, every time you log in to the Instagram application, it automatically reaches the beginning of the stories section? This is a sign of the Instagram algorithm that has noticed your interests.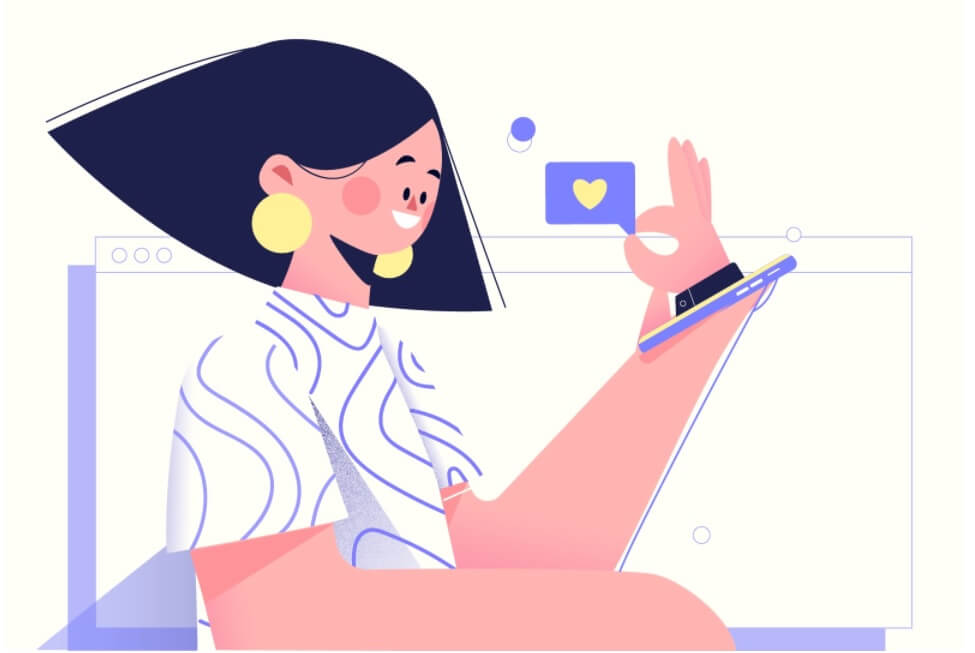 Now that Instagram has provided the option to like stories, this algorithm works smarter and tougher than before. So, remember that if you like the content of the Instagram page, be sure to like its story so that the rest of the stories in that account will be displayed to you.
The more the Instagram algorithm thinks that you are more interested in a particular topic, the posts related to that topic will be displayed on the main page higher than the other posts. Basically, what you see on your Instagram homepage is a combination of all the behaviors you display on Instagram. The accounts you interact with the most, the ones you tagged in your photos, and, of course, the type of posts you like and comment on, all affect your Instagram feed.
That's why it's so important to be present and show yourself on Instagram all the time. You should always and consistently take content production on Instagram seriously. This sends a positive signal to the Instagram algorithm and gives your audience more opportunity to interact with your content. The more the audience interacts with your content, the better the Instagram algorithm will treat you!
You need a content calendar to consistently generate content on Instagram. Content Calendar helps you to have a pre-determined and regular amount of content for all your days.
Which Instagram interaction is the most important for the Instagram algorithm 2023?
When it comes to Instagram feed performance, we know that the Instagram algorithm prioritizes content that gets the most interaction from users. But what four factors affect engagement on Instagram? According to information published by Instagram, the most important user interactions in terms of the Instagram algorithm for ranking content in 2023 are comments, likes, sharing and video views. Knowing this can be very helpful when planning your content and captions.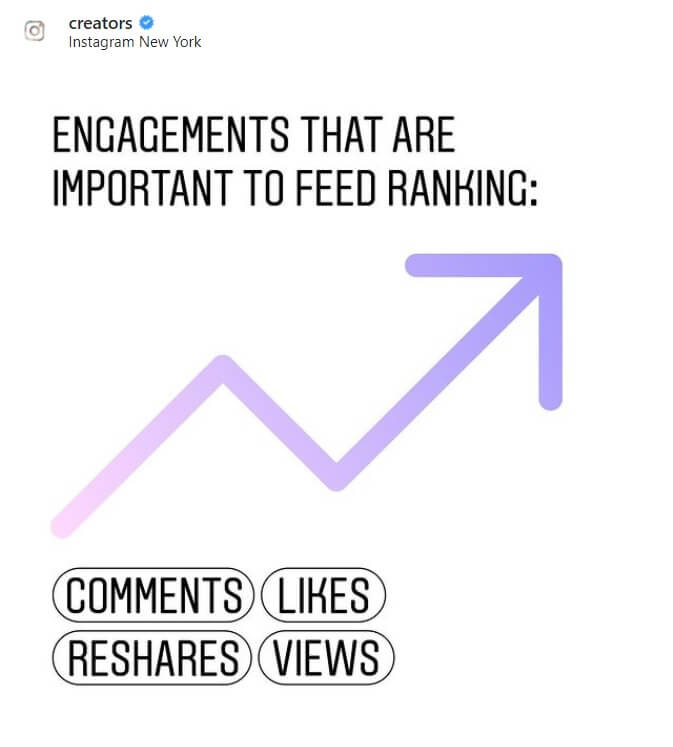 Although the benchmarking of posts is not currently considered a key indicator of engagement, it can be valuable to consider and optimize your content based on this, given that Instagram does not show likes in many countries.
The 2nd factor of the Instagram algorithm 2023: Relationship
The Instagram algorithm 2023 wants to prioritize posts based on friends, family and accounts you care about. So, to show what you really like and want, the algorithm uses what you do on Instagram and your interactions to find out who is closest to you.
Thomas Dimson, a software engineer at Instagram, showed how Instagram finds out who you care about most based on how you use the Instagram application:
Those whose content you like. (Probably includes Instagram story and live.)
The people you message on Instagram.
The people you search for on Instagram.
People you know in real life.
Instagram tries to identify the type of relationship (and the level of interest you have in the person) as soon as you follow someone, and does so by showing you that person's content and examining how you relate to that content.
The 3rd factor of the Instagram algorithm 2023: Timeliness
The Instagram algorithm today 2023 not only pays attention to the amount of interaction that your posts get, but also pays special attention to when that post was published. These days, many people have the question: how can I break the Instagram algorithm 2023? To do so, you must know that the current Instagram algorithm cares about the date and time your content was posted, because it wants to show users the latest and most interesting posts. Thus, by knowing the best time to share a post and story on your Instagram page, you can become a friend of Instagram and make him work in your favor. To get more likes and followers. To see when is the best time to post, all you have to do is log in to Instagram and find the hours and days of the week when your followers spend the most time on Instagram and plan for it.
Remember that if you post when your followers are online and active, you have a better chance of getting more likes and comments.
The 4th factor of the Instagram algorithm 2023: Frequency
How often do you open the Instagram application? If you spend a lot of time on Instagram, your homepage feed looks more organized based on time, as Instagram tries to show you the best posts since you last visited.
If you check Instagram less, your homepage feed will be sorted based on what Instagram thinks you like, rather than the last post.
The 5th factor of the Instagram algorithm 2023: Followings
How many people do you follow on Instagram? If you have followed a lot of people, then Instagram has more options to choose from, and as a result you will probably not see the posts of all accounts. In other words, Instagram starts deleting inactive followers or ghosts automatically. This is very important for users. But for those of you who want to always be in the eyes of your users, this makes it very difficult. You have to make every effort to make your content as attractive as possible.
If a high percentage of the people you follow are inactive, this can do a lot of damage to your account's algorithmic ranking in Instagram algorithm 2023. Also, make sure that you never give in to Instagram bots to attract more followers. That means buying fake Instagram followers is the most toxic thing you can do for your business account.
The 6th factor of the Instagram algorithm 2023: The amount of data usage
If you spend a lot of time on Instagram, you will naturally see more posts. If you spend enough time on Instagram, then the new posts you can see may even run out. When this happens, the algorithm will recommend posts from new accounts based on your previous interactions.
However, if you do not spend more than a few minutes a day on Instagram, then you will receive exactly the best and most attractive posts of each day from the Instagram algorithm.
Now that you know how the Instagram algorithm displays feed posts, it's a good idea to log in to Instagram and see the statistics for your users' busiest hours to generate the best content.
How does the Instagram story viewing algorithm work in 2023?
Usually, the stories that appear at the top of your feed are from the accounts with which you have the highest interaction rate, which can include likes (recently added), comments, viewing stories, your reactions to them, and direct messages.
The Instagram algorithm also has great focus on timeliness, because it wants to make sure it always shows you the latest stories from your favorite accounts. If you are in regular contact with an account, their new stories will be displayed at the top of your feed every time they are posted, even if you watched all of their stories the day before. With that in mind, it's a good idea to post stories on Instagram on a regular basis.
Because in this case, the more stories you post, the more people will check your stories when they check their stories, and as a result, you have a better chance of getting a visit, and the more visits you get, the better ranking you will get.
How to get on the Instagram Explore Page 2023?
Explore means the search section (Magnifier or Search) of Instagram, which shows the content of accounts that you did not follow. The Instagram Explore page and the main page algorithm are very similar. Both of them show you content that Instagram thinks you like the most based on your interactions. If you want to know how to get posts onto people's Explore page, read the rest of this article.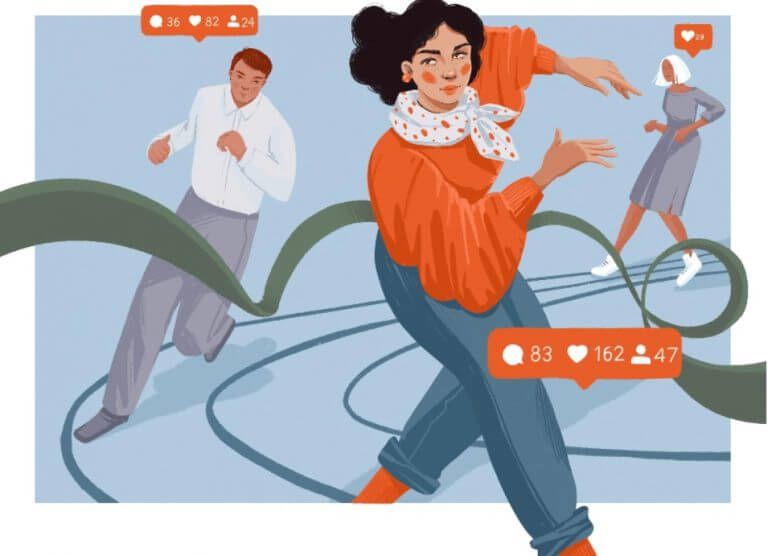 However, your homepage feed consists of the content of the accounts you have already followed, while the Explore page generally contains the contents of new and anonymous accounts. The Explore page is constantly evolving with new categories and more advanced search methods.
For example, you can use keywords and hashtags to search and discover related content. Don't forget to use Instagram hashtags in your posts. If you look at the Insight of your posts, you will notice the entry of some accounts through hashtags. Consider a related hashtag for each post and story. If the caption you are writing is in English, keep in mind that the Instagram Explore page algorithm 2023 takes into account more than the hashtags of your post, and also uses real visual content and the words in the captions.
Of course, remember that sending your posts to the Instagram Explore page will not be as difficult as you think. If you put all your priorities on producing content in the interests of users, you will soon go to Explorer. The Explore page constantly strives to provide the best and most relevant content for people. So, by constantly sharing good content with strong captions and related hashtags, you can move up to the Explore page rank.
For hashtag search results, Instagram prioritizes top posts. These posts are set by an algorithm based on a person's old interactions. In the Recent Searches section, hashtag-based search results are the same for all users and represent a list that sorts user searches by time.
Tip: If you are a brand that wants to get to the Instagram Explore page, it is very important to focus on specific topics and use hashtags to categorize your posts. Sometimes it's the hashtags that work wonders!
How does the Instagram algorithm 2023 work for Reels?
For Reels and long videos, the Instagram algorithm links content based on the accounts you interact with the most, just like the posts of the accounts you usually interact with the most. Beyond the main page, Instagram offers long videos and Reel on the Explore page. This process is based on what you like, and Instagram does this with the help of the machine-learning model. So, you might ask: how do I get my reels to get more views? And how do you make a reel video go viral?
The key is to help your audience as much as possible. For long videos, you can share a 15-second preview on your Instagram feed. This gives the algorithm a positive signal and increases the chances of watching the video by exposure. Now, the more engaging and intriguing this teaser-like preview is, the more likely it is that your audience will welcome it. For Reels, always share them in the homepage feed and use multiple hashtags to increase their traffic.
7 tips for working with the Instagram algorithm 2023 to improve your algorithmic ranking and reach new audiences
If you want to increase your ranking with the help of the Instagram algorithm, the best thing you can do is to interact as much as possible (likes, comments, direct messages, save and share) with your audience. By motivating your current audience community, you will soon see your content exposed to new audiences. Here are 7 tips to improve your algorithm-based ranking and attract new audiences:
Use the top new Instagram updates and latest Instagram features in 2023
Encourage your audience to engage with you on Instagram using story stickers
Increase engagement by writing interesting Instagram captions and comments
Use hashtags on your Instagram posts and take them seriously!
Upgrade your Instagram content
Encourage your audience on Instagram to message directly
Use the Instagram Insight tool to analyze the results of your Instagram business page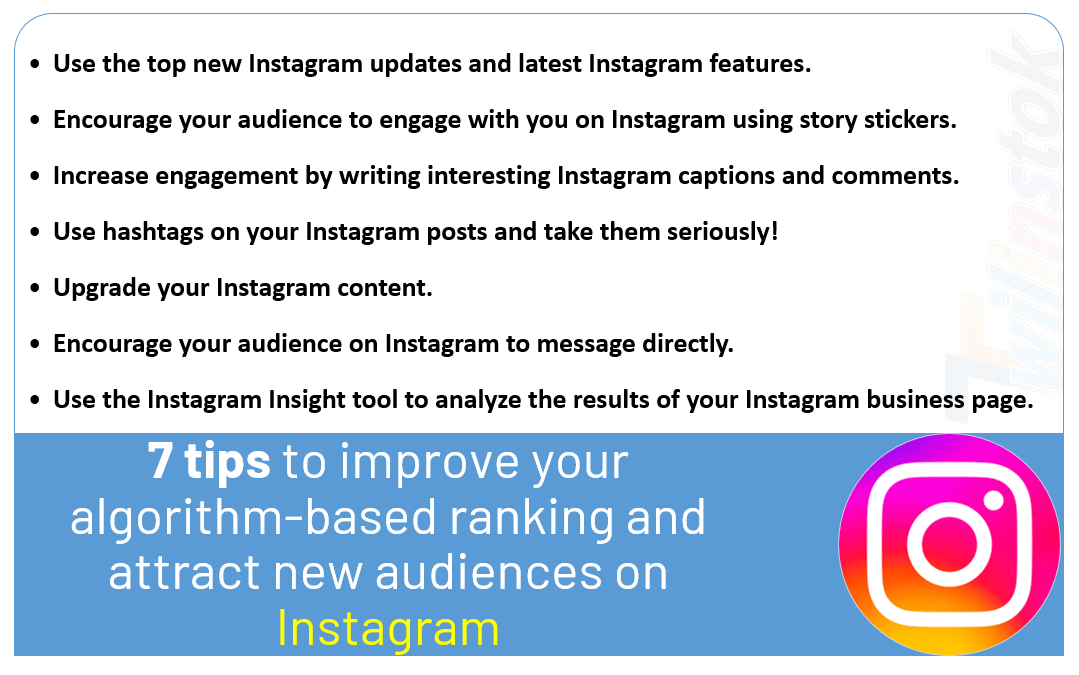 Use the top new Instagram updates and latest Instagram features in 2023.
Are you looking for a quick technique to break the Instagram algorithm in 2023? I can ask the same question: how do you trick algorithms on Instagram? The answer is that satisfying the Instagram algorithm is the same as satisfying your users. Users are always on the move for trending news and posts!
Use the latest Instagram features! Instagram always helps its latest features to be seen, so riding this wave and taking advantage of this feature can be a good idea. Of course, we do not recommend using different Instagram stickers that make you more visible in an irrelevant way! This destroys the audience's trust in your brand.
Encourage your audience to engage with you on Instagram using story stickers.
Instagram story stickers are a great way to encourage your audience to engage, and the higher the engagement you get, the higher rank you get from the Instagram algorithm. There are many stickers in the story, but the best ones for audience engagement are poll stickers, question stickers and emoji sliders.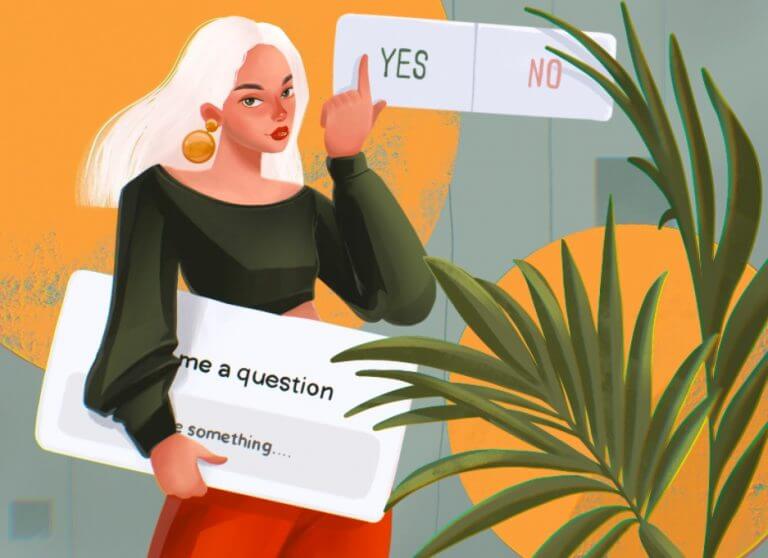 These stickers are an easy and fast way to get engagement, and are effective for any business or brand. Question stickers may not be a quick way to get engagement, but they can do a good job of getting engagement from the audience, which is why they are so important to the Instagram algorithm 2023. The closer you get to people through these stickers and other ways to communicate with people, the more likely you are to be seen and gain the trust of your users.
Instagram has confirmed that comments are especially important for getting high ratings in the feed, so encouraging your audience to comment is a good idea. One of the best ways to do this is to write good captions and create interaction. Write an interesting caption and see the result.
As Alice Dharma points out, making a call-to-action on Instagram can be very effective in getting engagement and comments. Of course, you can use CTA in many of your other content. Sometimes, users just need a small request to do something such as like and comment. This can be as simple as asking a question or encouraging the audience to share thoughts and feelings, liking your posts if they agree, or tagging a friend.
Adding hashtags to your posts can be an effective way to reach more people on Instagram, which in itself means getting more views and higher ratings, and with a good hashtag strategy, you will not only attract more people, but you also attract people who are more relevant to your business and more likely to relate to your content.
For example, if your business is related to leather bags and shoes and you have the hashtag #brown_leather_shoes, you will probably notice the presence of many users who need to visit your product.
Upgrade your Instagram content.
If you are looking for an easy and fast way to get interaction and increase your ranking in the Instagram algorithm 2023, sharing your previous content again is a good way to achieve this goal. As Instagram has grown, so have content sharing methods, and you can post content from a variety of channels, including posts, stories, feature videos, and Reels.
Thanks to these different channels, you can use them strategically to bring your different audiences to your latest content. This can be as simple as posting a preview of a long video on the main page feed, or even putting your post in the story and putting a "Tap Here" gif on it. The choice is yours!
Encourage your audience on Instagram to message directly.
Engagements such as likes and comments, direct messages are a strong criterion for getting interaction for the Instagram algorithm. But keep in mind that these are not easy to obtain. You need to give your users a reason to interact.
You may have noticed that the accounts you send an Instagram Direct message to them appear more often in your stories. In this way, Instagram tries to show you content that it thinks you are interested in. Now imagine that your users interact with you directly on Instagram and your stories and posts are better seen by them.
One of the things you can do is encourage your audience to post questions or comments directly. Avoid things like not putting a price on the captions! It only takes away from your users the power to compare your brand with other brands, and you will most likely fail to compete with other partner businesses!
Note: By setting up Quick Answers, you can respond to the most common direct requests in the shortest time. For example, if you provide a service and the cost of that service changes each time and the amount is frequently asked in Direct, you can prepare a message in advance in Quick Replies and send it to people.
Use the Instagram Insight tool to analyze the results of your Instagram business page.
Tracking and monitoring how your content works on Instagram is one of the surest ways to behave according to the Instagram algorithm 2023. Knowing which methods work for you and which ones doesn't will help you find your marketing plan and save you time and effort in the long run.
But using the Instagram Insight tool is more than just figuring out which post or story worked best. Understanding exactly how your content works is critical to knowing what helps your rankings, and this happens by tracking key metrics over time.
Suggested articles to read more!
Final Words
Focus on any tactic you want to improve your ranking in the Instagram algorithm 2023, but the most important thing is to engage your audience at the heart of your strategy. Creating a real relationship with your followers is the most powerful way to build a friendship with the Instagram algorithm 2023, and most importantly, it will work wonders for your brand.
If you have read this article by now, you have probably realized that understanding the Instagram algorithm 2023 and producing content based on it is not a difficult task at all! It isn't a herculean task. Once you understand your audience and produce content based on what they want, you will succeed. It is recommended that you only pursue people's interests and analyze your page in such a way that people have a good experience interacting with your posts and stories etc.
For more information about Instagram and the features of this social network, we suggest that you click on Free Instagram Tutorial [+]. Also, if you have any questions about Instagram, you can ask them in our Instagram support center [+] in the form of a topic and wait for the answer of our experts.
We hope that by reading this article, we have been able to help you to increase your followers on Instagram. Please give this article 5 stars if you wish. If you have any questions, ask us in the comments section.
Recourses used in writing this article: