How to get more comments on Instagram, fast & free?
How to get more comments on Instagram posts, fast & free?
Get numerous comments on Instagram for free! Has it ever occurred that you are so busy that you do not have time to visit Instagram at all for a few days? Well, if something like this has happened to you, I have a question for you: Didn't you notice anything special when you opened Instagram a few days later and looked at posts that others have shared during that time?
If you paid attention, in the past, if you checked Instagram after a few days, the posts would be shown to you in the order in which they were published. Do you remember? But what difference has been made now that posts are not displayed based on when they were published? That is, if you go to Instagram after a few days, some of the posts you see are from a few days ago and some are from a few hours ago. There is no longer a specific time order when the posts will be shown to you, and this can be a bit strange but interesting.
What has happened to the Instagram algorithm? Is Instagram changing its algorithm? Do you think this prioritization in showing posts on Instagram has anything to do with the number of comments? If relevant, what should we do to get more comments on Instagram posts and get our posts in the Instagram Feed section higher than the rest of the posts and show them to our audience sooner than the rest of the posts? If you do not know the answers to these questions, do not worry at all. Follow us to the end of this article from Twilinstok because we are going to teach you a lot about the new Instagram algorithm as well as some interesting tricks to increase the number of comments on your Instagram posts.
What is the new Instagram algorithm?
It was in June 2016 that Instagram announced that it was going to change the mechanism of its smart algorithm. Of course, this was initially just a suggestion that Instagram designers wanted to look at to see if it could be implemented, or whether the algorithm was useful at all. But after Facebook released a new update in 2018, unveiling a new algorithm and stating that from now on it pays more attention to content than ever before, Instagram also implemented the idea.
As mentioned above, until a few years ago, posts were displayed based on when they were published, and many people were accustomed to this. But for some time now, Instagram has been making some interesting changes. In fact, Instagram has given an update and said that from now on, it wants to pay more attention to the content than the time when the post is published. So, at the moment, the content that the pages publish is more important than the time they are posted. It can be said that after this change, the work has become a little harder for the pages that want to be seen.
You may ask why these pages have to work harder. Haven't they produced good content so far that they are worried about this change? Well, let me explain in detail how the new Instagram algorithm works and open the topic for you.
Previously, anyone who posted something, it was undoubtedly shown to all his followers, but now, according to the new Instagram algorithm, this is no longer the case. Posts are no longer displayed for everyone these days. What does this Instagram algorithm update mean? Suppose you have just published a post on your Instagram page and you are happy to wait for your followers to like it and leave a comment below it. But you see, for example, two hours have passed since you left the post, and yet many people have not seen your post at all. Then you decide to let everyone know that you have posted on your Instagram. So, you pick up the phone, text a few of your friends, and ask them why they didn't like your post. The new answer you get is even more interesting. Your friends will probably say, "Post? Which post? I did not see your post at all!" Of course, they are not lying.
According to the new Instagram algorithm, the post you publish on your page is initially shown to only 10% of your followers, and if the number of likes and comments reaches the quorum, Instagram will show that post to other followers as well. So now the content comes first. Because followers like good content, not meaningless content.
Well, it can be said that the updated Instagram algorithm, based on the number of likes and comments you get, determines whether your content is relevant and interesting to the audience or not, and then, if the interaction is high, it may even allow that post to go to the Instagram Explorer.
Before we get into the fantastic strategies that can get you more comments, let me point out a few important things to keep in mind:
First tip to increase engagement on Instagram: Make your Instagram page public
One of the first things you need to do to increase the number of comments on your Instagram posts is to make your page public. In fact, you should give your new audience the opportunity to surf on your page and like the posts that are interesting to them, and if they like, they can comment below them. If your page is personal, how do new audiences get to know you or your business and see if they like it or not? If your page is personal and you want to make it public, like the image below, go to the Settings section and in the Privacy section, deactivate the Private account check box.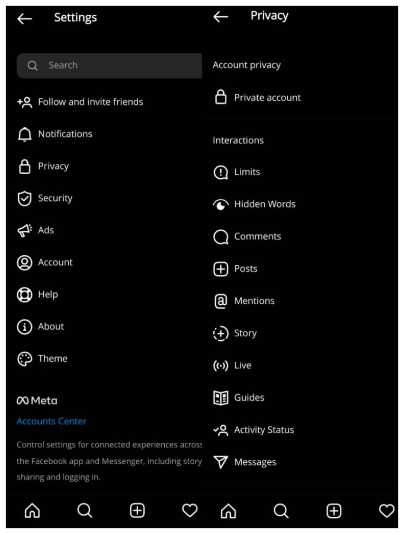 Second tip to increase engagement on Instagram: Enable your Instagram notifications
Like the image below, activate the notification of your Instagram app so that as soon as someone comments on your posts, you will be notified. This is how you can respond to comments more quickly to make the audience feel good. This will increase the number of comments and the amount of interaction/engagement on your Instagram page.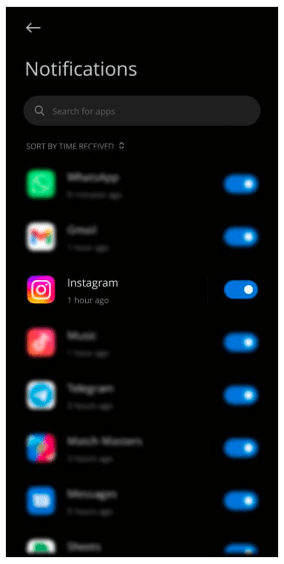 To do this, go to the Settings section of your mobile phone, in the Options section, click on the Notification option or Apps Notification and select them and finally activate it.
Third tip to increase engagement on Instagram: Create controversial and interesting content
The posts you make on your page should be interesting and controversial so that everyone who sees them will be tempted to comment and share his/her opinion about them. So, if you want to get more comments on your Instagram posts, you have to choose interesting topics for your posts, because no one comments on boring subjects, but everyone likes to comment on things that have become a trend recently and everyone is talking about.
Fourth tip to increase engagement on Instagram: Create and schedule a specific timeline for posting your content
From the moment you decide to start a business page, you need to create a calendar for yourself and post your content according to a pre-determined time so that there is not too much delay between your posts. Of course, you should not post very quickly. Because in this case, some posts may be lost in the middle of all these posts and your audience will not see them at all. It is better to post once a day at a specific time so that it is not too much and also your audience does not forget you and, at the top of the hour, visit your page to see the post you are going to publish.
To be able to post at any given time of the day, you need to plan for it. This is usually done in the marketing world by creating a content calendar. A content calendar is a calendar in which you plan your produced content in it and decide how to publish it.
So, what do you think about learning a few practical techniques for commenting on Instagram?
9 techniques to get more comments on Instagram
There are many ways that can help increase engagement on your Instagram page and encourage your followers to comment below your posts. Here are some of these techniques.
1st technique to increase comments: Hold interesting Instagram contests on your page
One of the ways that helps a lot to attract the audience and increase the number of comments is Instagram contests. Of course, as long as you know the way. If you have never held a contest on your page and you do not know exactly how to launch an incredible contest on Instagram that can be commented on and increase page interaction, there is no problem at all. It is good to hold a contest, but it has some conditions.
First of all, you have to advertise the contest you are going to hold so that everyone is informed and this contest is quoted by everyone. This way, you will have a whole lot of participants and the amount of interaction on your page will be very high.
The next step is to announce the necessary conditions to participate in the contest. That means you have to explain to your audience exactly what they need to do if they want to participate. Since we want to get more comments, definitely one of the main conditions for participating in the contest should be to leave a comment. To do this, you must publish a new post in which you announce the terms of the contest. For example, say that anyone who wants to participate in the contest should like the contest post or, for example, the last 3 posts of the page, and leave 3 to 5 comments under them and tag their friends. This way, both the new audience will get to know your page and you will receive more comments.
The next step is to determine the prize. This prize must be real. That is, do not come just to deceive the audience and say that you are going to give very expensive cars as a gift. Because you cannot do it, nor does the audience believe it.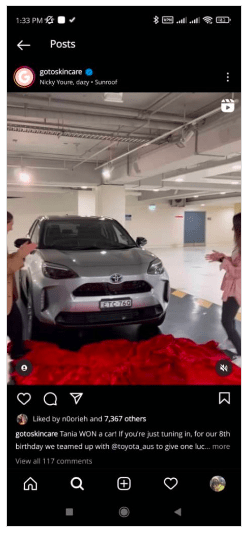 Finally, make the contest fair so that if you want to hold a contest again, others will be willing to participate. Remember not to make the contest a regular habit, because in the end, you will only have a series of followers and audience who are only interested in your prize and won't care about you and the purpose of your page.
2nd technique to increase comments: Organize a great Instagram takeover
One of the methods that can increase the number of comments and the overall interaction of your page is takeover. Many people consider "Instagram Takeover" to be funny and entertaining, and it's extremely useful both for the page that belongs to the takeover guest and for the page that is to be taken over in this process.
If I want to explain in simple words what a takeover is, I should say that, in this way, a person who can be your colleague, or one of the famous influencers or a person from a different brand and business, enters your account and from his point of view speaks about himself or his/her business and somehow introduces his/her page or business.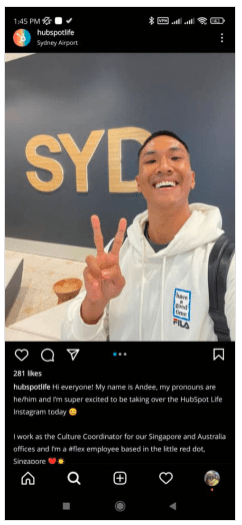 Let me explain this trick better with a simple example. Suppose the owner of a restaurant and the owner of a fitness club decide to do a takeover. At first glance, you may think that the two have nothing to do with each other, but this is a misconception. Here, the restaurant owner logs into a fitness club account, where he posts a story about the importance of healthy eating. The owner of the club also enters an account created for the restaurant, where he publishes a story about himself, promotes his club, and talks about the importance of exercising. Simply, both parties benefit from it and they get a whole new audience, which means they are going to get a whole lot of comments.
3rd technique to increase comments: If you want comments, ask your audience directly to leave a comment
Another way to get more comments on your Instagram posts is to ask your audience directly to comment on your posts. For example, in your captions, ask them to tag a few of their friends or to share their opinion on a particular topic in the comments. You can even ask them questions to give their answers in the comments, thus increasing the overall engagement on your page and getting more comments.
4th technique to increase comments: Publish interesting, funny and interactive posts
You may think that these things are not very important, but the topic you post about has a huge impact on the number of comments you receive. When you post about boring topics, what do you expect from your followers to comment on? Isn't it better to post about cool and funny topics or topics that promote the emotions of the audience in general? In this way, they will be willing to comment on the subject. Be sure to publish a post about trending and hot topics to get more comments and increase the engagement of your page.
It is interesting to know that it is always more attractive for the audience to watch a video than to sit and read long captions. What is your job at the moment when your follower enters your Instagram page and quickly skips the photos on your posts and does not even like them, let alone reading their captions and commenting on them? If you are smart enough, try to pause by posting an interesting and controversial video, so that the audience, instead of skipping the photos, stop and watch your video to the end, and make the video attractive enough for them to decide to leave a comment below that.
Who does not know how important and effective Instagram hashtags are? You probably know that hashtags can be searched to find what you want on Instagram. For example, if you are looking for a page that has good cosmetics, you can easily find it by searching for related hashtags. If you are the owner of a brand or business, it is better to put relevant hashtags under your posts so that your target audience will find you by searching for those hashtags. In other words, they will be directed to your page. In this case, you will find a whole new audience, and each of them can do a favor with a comment and increase the amount of interaction on your page. It is interesting to know that if you write only one relevant and suitable hashtag below your post, with that hashtag, the interaction rate on your page will increase by about 12%, and this is an exceptional opportunity for you to be seen and get more comments.
7th technique to increase comments: Find the best time to post on Instagram
It is not possible to specify a unique time to post on your Instagram page during the day, because the appropriate and suitable time to post on Instagram depends on several factors, such as the content you are about to publish, the type of business you are in, the age and gender of your target audience, and a whole host of other factors.
Our suggestion is to pay attention to the number of likes and comments you receive during the week when you post at different times and see which hours your posts have the most interaction. In this case, you can decide at what hours posting is most useful for you and will cause you to receive more comments. It does not matter which hour is best for your audience and they are more interactive, whether it is eight o'clock on Saturday morning or five o'clock on Wednesday evening, you should try to post at those times, not whenever you like. So, pay attention to the audience and post at the same time as they are most active on Instagram.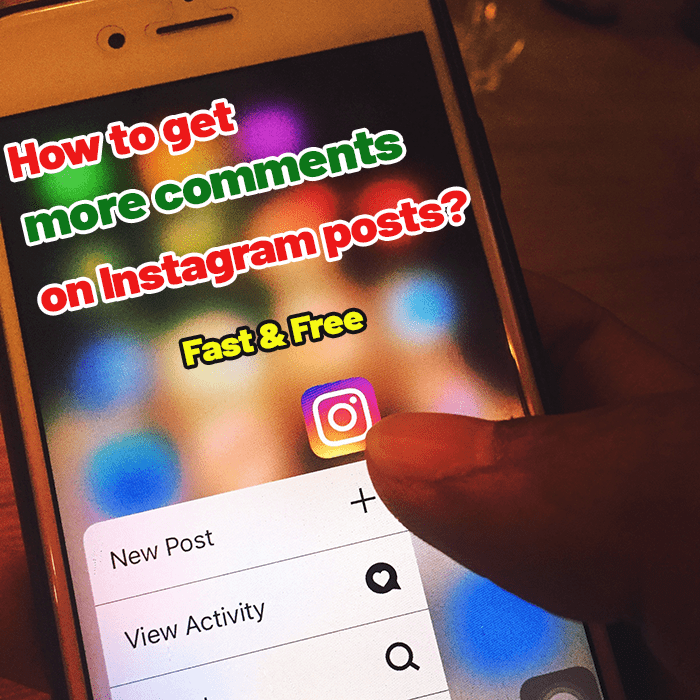 8th technique to increase comments: Reply to comments on your Instagram ASAP
When someone comments on one of your posts, they expect to receive a friendly response, even a simple emoji. This behavior shows that you value your audience and their opinions, and you welcome the comments they leave under your posts. In this way, they are persuaded to comment on your page again, because they have received warm and sincere feedback from you and a good feeling has been conveyed to them.
In addition, responding to comments can encourage even non-commenting audiences to comment and participate in discussions, which is great. In fact, with this move, you can kill two birds with one stone, and the total number of your received comments increases.
When you want to write a caption, try to use taste and use attractive emojis according to the text you type. Not everyone reads captions, so they should be encouraged to read captions in some way, and what could be better than attractive, eye-catching emojis? Isn't it better to use the emojis that are related to your content so that the eyes of your dear audience will relax a little and not get tired of reading?
Of course, be careful not to overdo it and do not use irrelevant emojis that have an inappropriate meaning. Because by over-using emojis, your audience loses interest in your posts, and if the emojis in the text do not have a nice meaning, your followers may even block you.
Well, now let's go back to the main point, which is to increase the number of comments. What does the use of emojis have to do with getting more comments? Well, imagine that a long caption is placed in front of you without even a single emoji, and they say read it to the end. How likely is it that you even begin to read this long text? But if, from the very beginning, your eyes fall on its beautiful emojis, is it not possible for you to be persuaded to read it to the end?
So, when we don't even want to read a caption, how is it possible to leave a comment? So, take this issue seriously and do not skip it, so you can increase the amount of interaction on your page.
In the end…
If you have a page on Instagram where you are active, you definitely need to increase the level of interaction with your audience in order for your page to be seen and promoted. But how? One of the factors that Instagram's smart algorithm cares about is the number of comments. Depending on the purpose of your Instagram page, which may be blogging or business development, you may be able to get more comments using various techniques. If you want to learn these techniques, be sure to read the above article carefully. What other ways do you know to increase the number of comments on your Instagram posts? Please give this article 5 stars if you wish. If you have any questions, ask us in the comments section.
Resources used in writing this article: