What to Do if My Instagram is Hacked?
How to Recover a Hacked Instagram Account?
Have you been notified by a friend that you requested money via Instagram DM, even though you didn't? Have you seen some users in your following list you've never followed? Or have you noticed inappropriate images on your account that you didn't upload? These may be signs that your Instagram account has been hacked. Unfortunately, cyber threats are common, and if someone has gained access to your phone or hacked it, they may have also accessed your account. Instagram plays a significant role in many people's lives, whether for marketing or networking. So, discovering that your account has been hacked can be upsetting. But don't get panic. We can make it together. Let's read What to Do if My Instagram is Hacked? and How to Recover a Hacked Instagram Account in this article from Twilinstok online magazine.
Can I get my Instagram Account back if it was Hacked?
The answer to the question, "Can I get my Instagram account back if it was hacked? " could be yes, but the time matters. There is a sort of sign of a hacked Instagram account we have been explained about in detail before in this article, Instagram account hacked signs.
Before talking about What to do if my Instagram is hacked, we are going to take a quick look at these signs:
If someone tries to access your Instagram account without your permission, you will receive a "suspicious login attempt" alert. This notification will continue until the unauthorized login attempts cease. In addition to checking your notifications, you can review the Login Activity log, which can be accessed by opening Settings and then Security. The log will display all login activity for your account, along with the location of each attempt. If you notice any suspicious activity, click the "This Wasn't Me" button on Instagram to report it immediately.
If you receive an email instructing you to reset your password when you did not request it, it is essential to verify if your Instagram account has been hacked. But before asking how to recover a hacked Instagram account and taking any action, make sure that email has been sent by Instagram. Because it is possible the hacker forwarded you the email and waited for you to do something hurriedly and frantically.
Instagram will inform you of any unusual login activity on your account, in addition to sending email notifications for password resets and suspicious login attempts. If you suspect that any of these activities were not initiated by you, it is important to update your password right away and report the incident to Instagram.
How to Recover a Hacked Instagram Account?
If your account has been hacked, but you still have access to it, change your password immediately. But if Instagram account hacked and email and phone number changed follow these steps:
Check your Mail
Request a login link
Request a security code
Confirm your identity
Now let's check these 4 easy steps.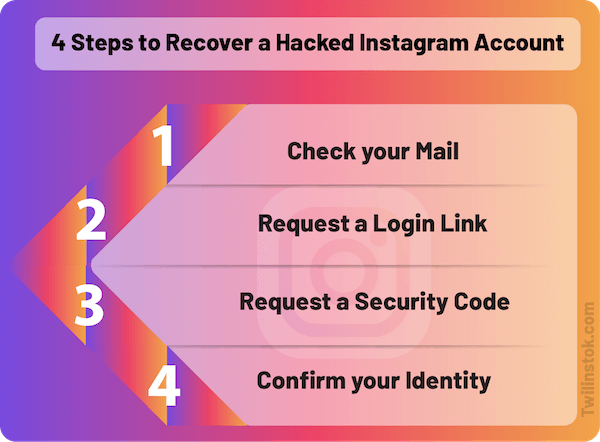 1. Check your Mail
Make sure to access the email account that you used to create your Instagram account a while ago. Check for any message from [email protected], which could notify you of any changes made to your login credentials. If you select "Revert This Change" from the message, it may reset your account to your original email and login.
Note: it is important to be aware of phishing and how to identify phishing emails before clicking on any links. Avoid falling prey to a fake email from Instagram that could potentially harm your computer with malware. If the security email is not originally from Instagram it is a trap.
2. Request a Login Link
If you cannot log in after trying the initial step, you can request Instagram to send you a login link via email or text message. To do this, choose "Forgot password".
To continue, provide the account username, as well as the email address and phone number associated with it. Afterward, select your preferred mode of contact and click "Send log-in link." Once you receive the link, then open it and follow the instructions provided. If you're uncertain about your account's email address and phone number, select "Need more help" and follow the instructions provided.
3. Request a Security Code
To proceed, you need to obtain a security code. Provide your account's associated username, email address, or phone number. In case you require additional support, select "Need more help?" and then enter your email or phone number. Next, select "Send security code" and adhere to the provided instructions.
4. Confirm your Identity
If you require additional assistance in what to do if my Instagram is hacked, you will need to provide more information. In the case where your account contains personal photos, you will be asked to take a video selfie as a means of confirming your identity as a real person.
The review process usually takes two business days to complete. Once you finish reviewing, you will receive a reset password link. Note that the video selfie will not be shared on your Instagram account and will be erased within 30 days.
How do I get my Instagram account back?
Sometimes, you may find yourself in a situation where you are unable to log into your Instagram account. This could be due to various reasons, such as forgetting your password, being hacked, having your account disabled for violating community guidelines or deleting it yourself. If this happens, How do I get my Instagram account back? We clarify three situations, and we are going to add one complicated situation.
You access your account, but you see suspicious signs
It could mean Instagram account hacked but the email and phone numbers were not changed. So Reset your password immediately and make a strong one. To access your Instagram account, use your account login, email, or phone number. Click "Next" or "Send Login Link". Recover your account with a code via email or SMS. Check your spam folder if needed. Choose the account to log in to if multiple accounts. Change the password in settings or create a new one in a browser.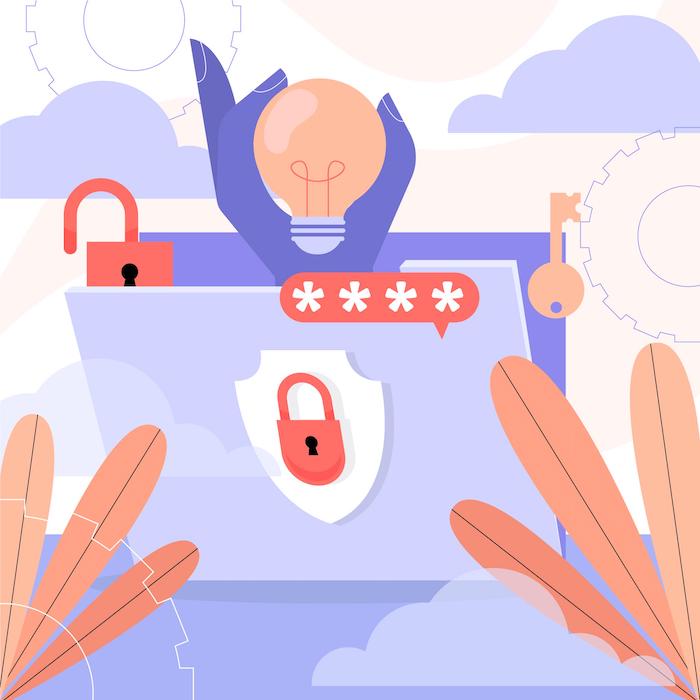 You do not have access to your account
It means Instagram account hacked and email and phone number changed. Getting your Instagram account back in this situation could be possible, too.
If your Instagram hacked and your email is changed, the hackers have already changed your main account details. In that case, you will receive a notification informing you of the changes. The process for recovering your account described earlier may not work, and you should instead contact the Instagram support team for assistance.
If you have not received a notification about changes to your phone number or email address, they have not been altered yet. You can recover your account by requesting an SMS using the method outlined earlier. If this does not work, contact the Instagram support team and explain your issue. Search the link "help.instagram.com" and then select "I think my Instagram account has been hacked" for detailed instructions.
The support team may request that you send a video to verify your identity or ask you to provide information about the email or phone number you used to sign up. If you have a business account, you may need to provide additional proof, such as documentation from your company. If you have a commercial or business account that has yet to be switched to a professional account, consider changing it back to a personal account to make the recovery process more manageable.
If your Instagram account has been hacked and deactivated, you can use this form for account recovery. Note that the support team may take a few days or even months to reply, or they may wait to reply. This depends on the workload of the staff and the state of your account, including any previous violations of community guidelines. You can submit multiple requests after waiting a few days. It's important to remember that real people are processing these requests so that some workers may respond more quickly than others.
Your Instagram account is banned
Sometimes based on suspicious signs, you think you are involved in a hacking problem, but your account is banned. If you're wondering how to recover after being banned on Instagram, the steps you take depend on the type of ban you've received. Instagram typically sends a notification when an account has been banned, whether it's a temporary block or a disabled account. Temporary bans are normally given for minor violations and come with less strict limitations, such as being unable to follow other profiles. These restrictions usually last for several hours to a few days. In this particular situation, it is advisable to remain patient and allow time to run its course.
Our only purpose in stating this point was so that you understand getting banned with being hacked. Being banned is like being punished by your parents, but being hacked is like being attacked by strangers. So before asking what to do to recover a hacked Instagram account? Make sure you don't confuse these two issues.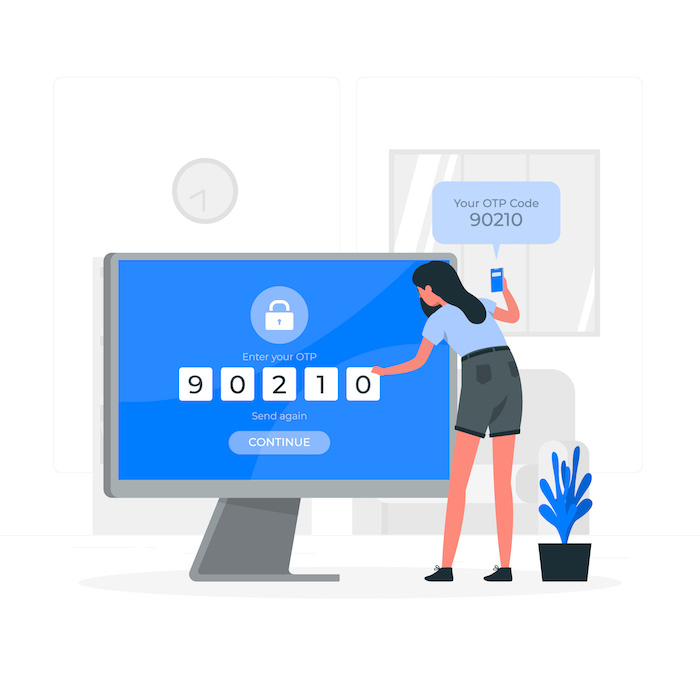 Frequently Asked Questions
How Long does it Take for Instagram to Verify a Hacked Account?
Recovery time varies from person to person, but typically it takes a few weeks, with a minimum of 5-10 business days.
Is it Necessary to Report Hacked Instagram Account to the Police?
If your Instagram account has been hacked, you can usually resolve the issue by reporting it to the online support department. However, if the hack involves a substantial sum of money or personal information, it's advisable to report it to the police. To file a report, you'll need to provide evidence of the hack to the authorities, such as screenshots and any other relevant information that can assist in identifying the hacker.
The Bottom Line
Getting back your instagram account is possible but not easy and could be time-consuming. We recommend you read the article How to prevent instagram hack? To learn make your Instagram account safe and secure.
For more information about Instagram and the features of this social network, we suggest that you click on Free Instagram Tutorial [+]. Also, if you have any questions about Instagram, you can ask them in our Instagram support center [+] in the form of a topic and wait for the answer of our experts.
Please share your comments and give us 5 stars. We can use your valuable suggestions and criticisms.