Instagram Account Hacked Signs – Comprehensive list item
How do you Know if Someone's Instagram is Hacked?
Previously, Instagram was a simple platform for scrolling through your feed, discovering new pages, and using filters for your pictures. However, now it's important to prioritize security measures to prevent hackers from accessing your account. Losing your Instagram account to hackers can have severe consequences beyond financial harm. It's important to be cautious with your business profile as hackers may attempt to use it for malicious purposes such as scamming others, planting phishing software, creating false engagements on paid PPC campaigns, or stealing your brand identity. Thankfully, there are ways to detect if your account has been hacked and steps you can take to recover it. You can also take preventative measures to protect your account from hackers. There is a sort of Instagram account hacked signs that we will discuss in this article from Twilinstok online magazine.
What are the Instagram Account Hacked Signs?
Many Instagram account hacked signs make you suspicious about your account security. Included:
Any updates or changes in your registered information
Trying to sign in from a device that you don't recognize
Some irregular activity
Being unable to access your account at the moment
Now let's check these signs.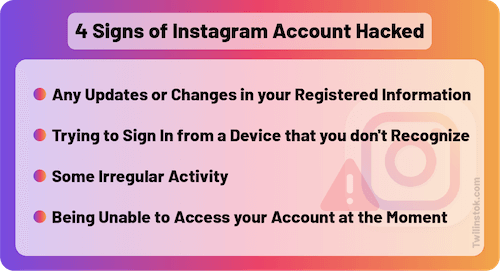 1. Any Updates or Changes in your Registered Information
If your Instagram account has been hacked, the first thing the hacker will try to do is change your account information. This is a problem because it can prevent you from being able to regain control of your account. To check if this has happened to you, check your email for any messages from Instagram support. If you see a message that warns you that your login information has been changed and includes a link to revert those changes, then it's likely that your account has been hacked.
2. Trying to Sign In from a Device that you don't Recognize
Did you know that Instagram keeps a log of your account's browser and internet device activity? If you suspect your account has been hacked, check the settings page to see if any unfamiliar devices are signed in. Even if the device appears to be your iPhone model but is signed in from a foreign location, it could be a sign of suspicious activity. Any report of another device connecting to your account can be one of the most dangerous Instagram account hacked signs. Stay vigilant and keep an eye on your account's activity to keep it secure.
3. Some Irregular Activity
Following accounts you didn't choose to follow is one of the Instagram account hacked signs. If Instagram accounts are targeted by hackers, it can result in unusual activity. You may receive direct messages from unfamiliar accounts or notifications about questionable connections. Finally, your account could be suspended for spamming other users. One way to tell if your Instagram account has been hacked is if you notice suspicious direct messages from unknown sources. Another sign could be finding photos on your page that you did not post. Hackers may avoid posting photos to prevent your followers from discovering the hack and alerting you through other platforms. Additionally, hackers may attempt to use your account to bait your Instagram connections through the hacked accounts page. It's important to stay vigilant and monitor your account for any unusual activity.
4. Being Unable to Access your Account at the Moment
This is often the last indication that you have been hacked on Instagram. If you have yet to notice the earlier signs, this one will surely grab your attention. When you are unable to access your account despite entering the correct username and password, your instagram account is hacked, and email and phone number are changed. It's also possible to encounter this issue if you accidentally mistype your password, so make sure to double-check your entries.
Hackers are lurking.
How Instagram Accounts Get Hacked?
To prevent getting hacked, it is important to know How Do Instagram Accounts get Hacked? Here are four common ways:
Phishing Links
Security Breaches on E-Commerce Sites
Using Public Wi-Fi
Third-Party Applications
Now let's check these 4 ways.
1. Phishing Links
Hackers often gain access to users' Instagram accounts through phishing links. These links are typically found in direct messages that appear to be from one of the user's followers whose account has been compromised. For instance, a user may receive a direct message from a friend or colleague asking them to take a survey, and when they click on the link, their device is infected with malware, which grants the hacker access to their account. See How Instagram was hacked and email changed easily by clicking on the wrong links.
In another type of hack, users may receive "suspicious activity alerts" that look like they come from Instagram, but are actually fake. These alerts include links that can compromise the user's account. Sometimes, the hacker may claim that the user has violated their copyright or offer them a verified badge.
2. Security Breaches on E-Commerce Sites
Picture this scenario: you purchase a shirt from a small business's website and later discover that the site has been hacked. This puts your Instagram account at risk, as hackers may attempt to use the password you used for that site on your other accounts. If they find a match, they can easily gain access to your Instagram account. This is why it's crucial to use strong, unique passwords for each of your accounts.
3. Using Public Wi-Fi
When you use public Wi-Fi, your data is at risk. Hackers may deceive you by creating an open hotspot with a name that resembles a common hotspot, such as one near your workplace. Once you attempt to connect, they can steal your data and infect your connected devices with malware. In a flash and before you feel Instagram account hacked signs, your data is gone.
4. Third-Party Applications
Be cautious when using third-party apps, as they may compromise your account security by tricking you into revealing your login credentials. For instance, certain apps that help you schedule your posts or track your Instagram followers may request your password. Avoid entering your password, as downloading the wrong app could result in your account being hacked.
How to Prevent Instagram Hack?
There are various things to do when you see an Instagram account hacked signs, such as finding posts that you didn't create or noticing suspicious activity in the Login Activity section. In the worst-case scenario, you may even lose access to your account due to the hacker changing your login credentials or deleting your profile altogether. Fortunately, Instagram offers several ways to prevent Instagram hacking, including:
Increase the security of your account by enabling Two-Factor Authentication
Monitor your login activity
Not to fall into the trap of phishers
Now let's check these 3 ways.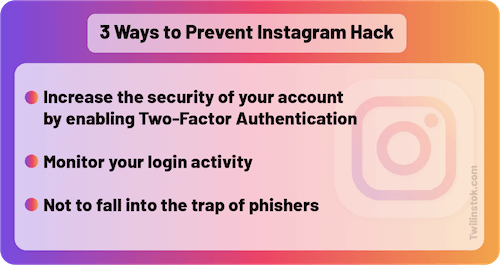 1. Increase the security of your account by enabling Two-Factor Authentication
To enhance the security of your Instagram account, you can activate two-factor authentication. This security feature prompts you to enter a security code from an app or sends the code to your mobile phone every time you log in from a new device. Even if a hacker gains access to your password and attempts to log in from another device, they would also need to access your phone's SMS inbox to obtain the code, making it highly unlikely that they will succeed. To prevent an instagram hack, simply head to your Instagram's "Security" page, select "Two-Factor Authentication," and follow the on-screen instructions to enable this feature.
2. Monitor your login activity
To view all the devices currently using your Instagram account, follow these simple steps:
Visit the "Settings" section of your Instagram account.
Click on "Security", then "Login Activity".
Check the list carefully for any unknown devices or unfamiliar locations. If you find any suspicious activity, click on it and choose "Log Out".
Once you've logged out of any suspicious devices, be sure to update your password for added security.
Check this section from time to time to make sure there are no Instagram account hacked signs.
3. Not to fall into the trap of phishers
To keep your Instagram account safe, make use of the "Emails from Instagram" feature. This feature enables you to view all the messages that Instagram sends to you. Whenever you receive an email from someone claiming to be Instagram and asking you to reset your password due to an attempted login, check whether the email is authentic. To do this, go to "Settings," then "Security," and finally "Emails from Instagram".
Under the "Security" tab, you'll find a list of all the emails that Instagram has sent you in the past two weeks. If the email you received is from Instagram, change your login details immediately to prevent unauthorized access. Remember to use this feature regularly to keep your account safe.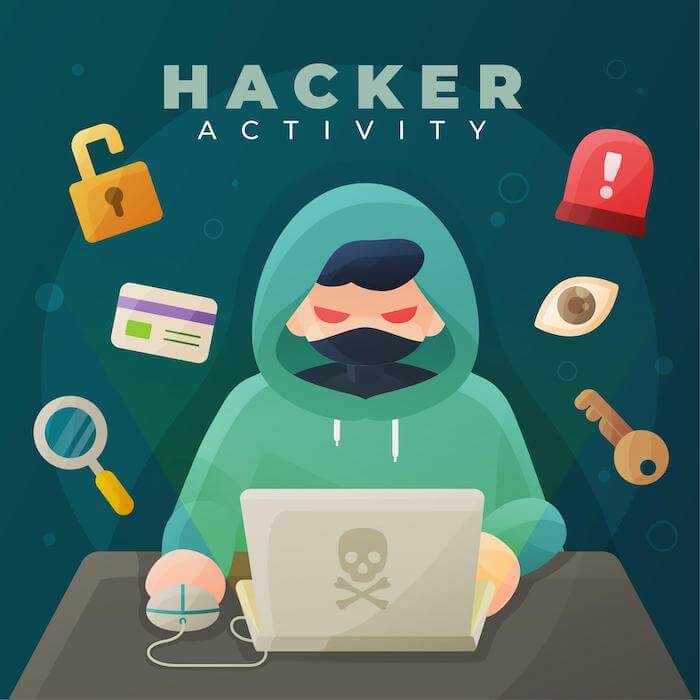 Suggested Articles to Read More:
The Bottom Line
In this article, we discussed How do You Know if Someone's Instagram is Hacked and How to Prevent this. For more information about Instagram and the features of this social network, we suggest that you click on Free Instagram Tutorial [+]. Also, if you have any questions about Instagram, you can ask them in our Instagram support center [+] in the form of a topic and wait for the answer from our experts.
Please share your comments and give us 5 stars. We can use your valuable suggestions and criticisms.
Frequently Asked Questions
What to do when I see Instagram Account Hacked Signs?
Here are some immediate actions you can take: change your password, remove access from third-party apps, and revoke access for anyone you don't recognize.
What to do when my Instagram Hacked and Email Changed?
If you are unable to reset your password, please check your email inbox for any messages from the person who accessed your account and changed your password. It is important to report Instagram account hacks even through a separate, secure account of yours.