10 best Twitter alternatives app
What can I replace Twitter with?
We all know that Twitter is one of the most popular social networks and has a lot of users, but it doesn't mean that everyone like this social network; many users are searching for a new and alternative app or social network to replace Twitter. In this article on Twilinstok, we want to introduce you 10 best Twitter Alternative app in 2023; stay with us.
What you'll read (Table of content):
hide
10 Best Twitter Alternatives Apps
As we know, there are many Social Networks apps that each of them has its benefits and restrictions. Also, many of these Social networks are similar, and users may get confused to choose between one of these Apps and Social Networks. Each of these social networks competes with each other and Twitter is also present in this competition, as we mentioned at the beginning of the article, we are going to introduce you to 10 of the best alternatives to Twitter and then check them; these alternative apps are:
Substack Notes
Post
Aether
Discord
Blog
Mastodon
Gab
GETTR
Cohost
Tumblr
Now let's check each of mentioned Apps and Social Networks.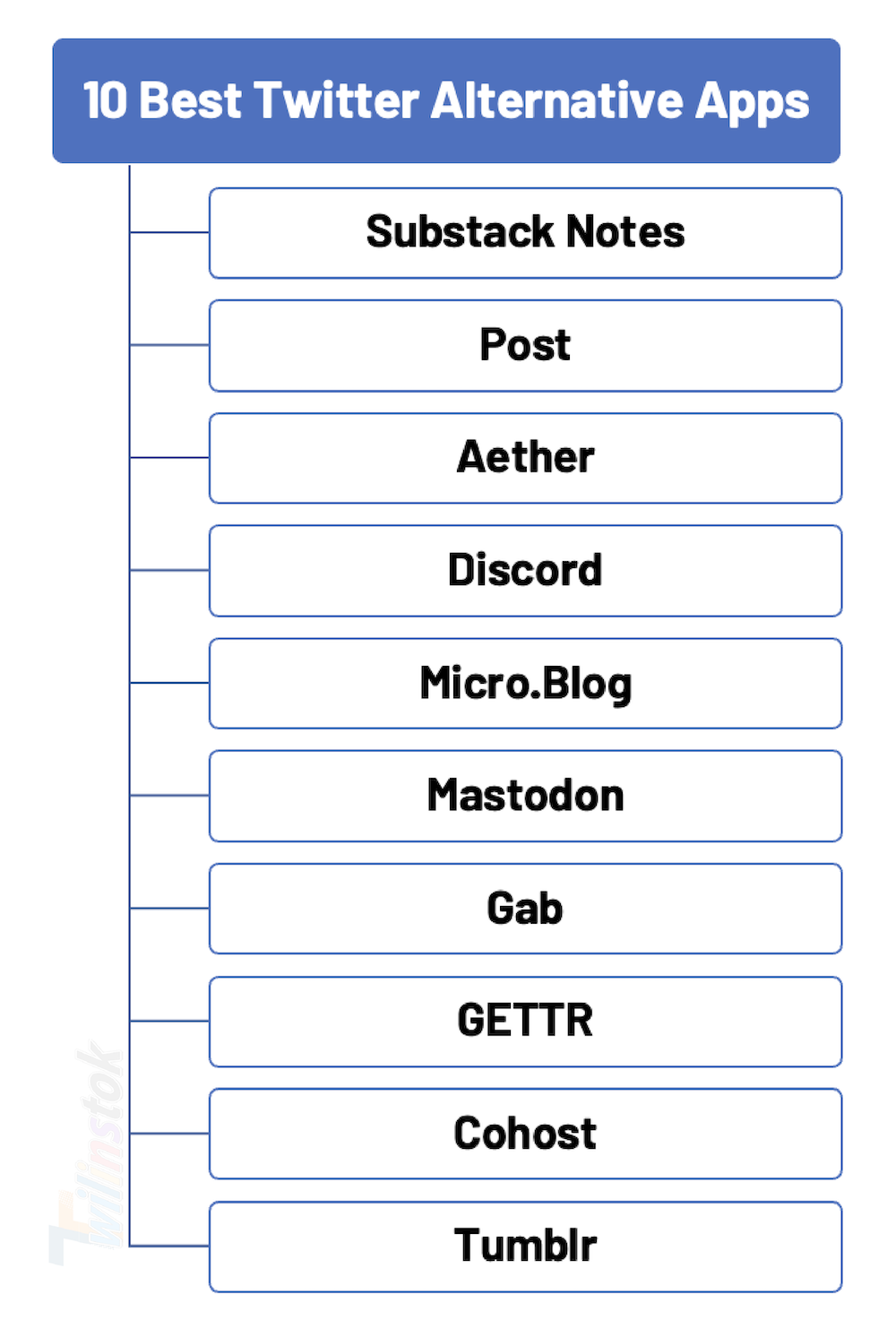 01 – Substack Notes
Our first and closest Twitter Alternative app is Substack Note. This Social Network launched on April 5th, 2023, and was warmly welcomed. Substack Notes has a similar UI and functionality to Twitter, but it has some differences too; first, Substack Notes is not Free to use, and Subscribers (users) should pay to read the other subscribers' content, but it is a good feature because, unlike Twitter, Substack Notes has no Ads on it. The second difference is that Subscribers don't see any sort of Trolls, Negativities, or Doom Scroll; in other words, Substack Notes has a more gentle and quiet environment and allows you to have an enjoyable experience. Substack Notes developed based on this slogan that Social Networks should be fun and enjoyable not frightening. If you are interested in Substack Notes, you can access it from Substack Notes Website and Mobile App (IOS & Android).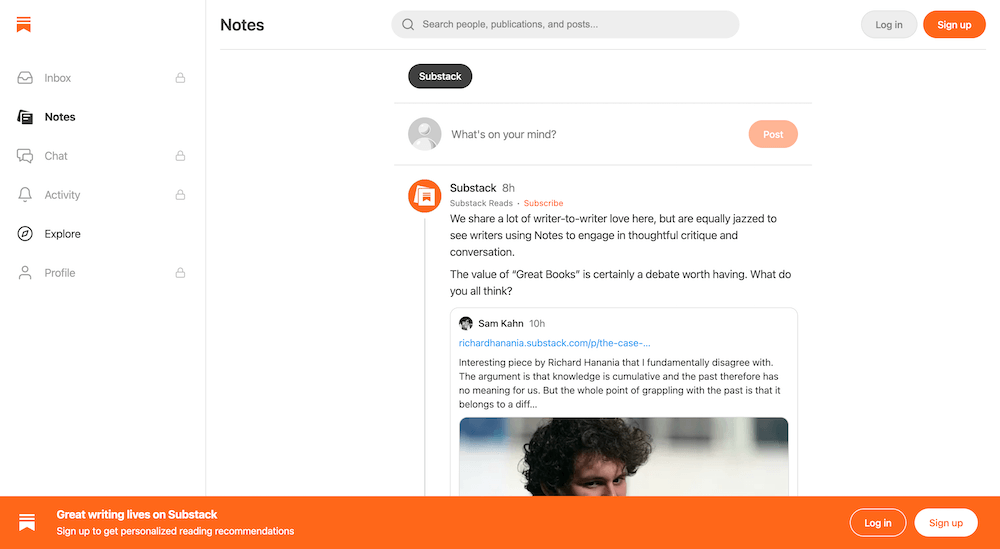 02 – Post
Post has a similar slogan to Substack Notes and wants to give you an enjoyable experience of using Social Networks. Post launched by Noam Bardin (former Waze CEO) in late 2022, and has a similar environment to Substack Notes, but it's Free to use. You can Sign-Up by your Google Account or Twitter Account, but unfortunately, it hasn't Mobile App, and IOS/Android users only can access this social network by their Browser. For more information, you can visit the Post website.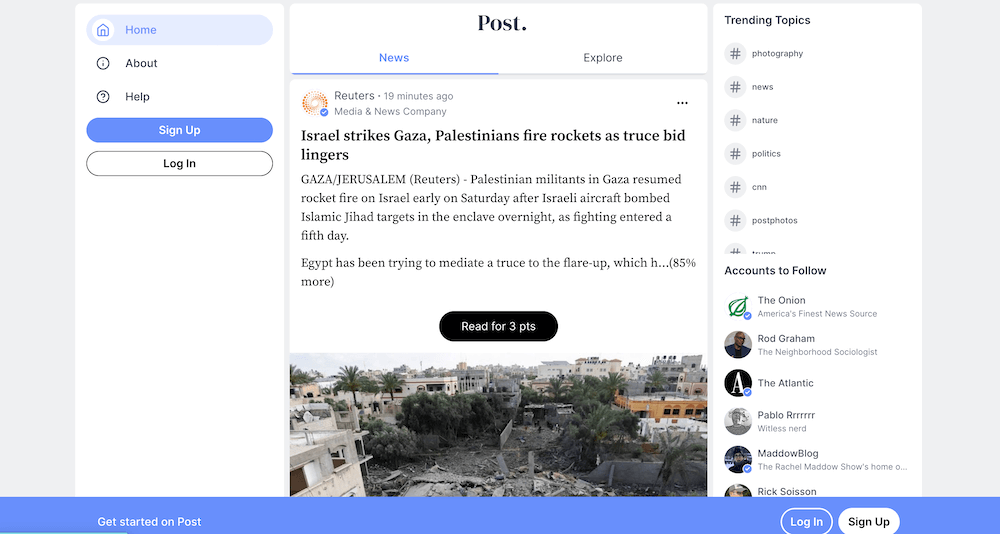 03 – Aether
Somehow, Aether is a mix of Discord and Mastodon (we will introduce both of them to you a little later), but it has some interesting features. These features are:
Peer-to-Peer
Transparent Moderation
Electing Moderators
Short-term storage of information
Now let's check these features.
Peer-to-Peer
Need to know that there is no main server in Aether and each user is a kind of server for itself; this means your data is more private on the internet, and also safer. Because of this feature, you can make sure that Aether CEOs can't sell your data to Big Companies.
Aether is only available on Windows, macOS, and Linux.
Transparent Moderation
Like any Social Network, Aether has some restrictions for publishing content, and if your content is harmful (based on Moderator's opinion), it will delete, and because of Transparent Moderation features, all the users can see the reasons for deleting that post.
Electing Moderators
As we mentioned earlier, Moderators can delete harmful content, and they must state their reasons for deleting the desired post; but what happens if users don't like the specific Moderator? They can elect another one! With this amazing feature, users can elect their Moderator; on the other side, Electing Moderators feature gives a free and enjoyable experience of using a Social Network to its users.
Short-Time storage of information
In the Aether, you have access to only the past 6 months' published posts; in other words, published posts will be deleted automatically after 6 months.
If you are interested in this amazing Social Network, you can have access to it on Windows, macOS, and Linux; check the Aether website.
04 – Discord
Discord is an amazing App and Social Network. Each user on Discord can make their own public or private community (Channel) and also can join any sort of community (channel). Discord has a lot of features that all the users can use; for example:
Private and Group chat
Online Private and Group voice cast
Video stream
Developing Bots
Using Bots
Syncing to other social platforms
Open-Source
Accessible across platforms
There are any categories and sorts of channels and communities on Discord, that you can join into them. If you want to use this Social App, you can have access to it on the Discord website, Discord Mobile app, and Desktop App (Windows, macOS).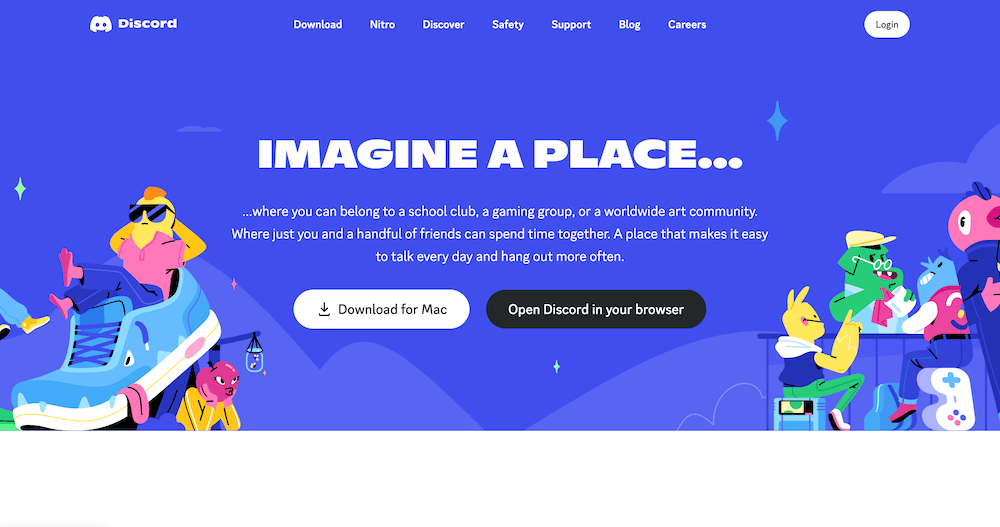 05 – Micro.Blog
Twitter was developed with a microblogging idea; microblogging means posting short text content without a title, basically a Tweet. Micro.Blog users can write longer text content on this Social Network and publish Rich Media (images, videos, and GIFs), and also can customize their page appearance and features; but, unlike Twitter and many competitors, Micro.Blog is only accessible by monthly subscription, but you can use it for 30 days Trial and if you like it, then pay its subscription. If you are interested in this Twitter alternative, check the Micro.Blog website.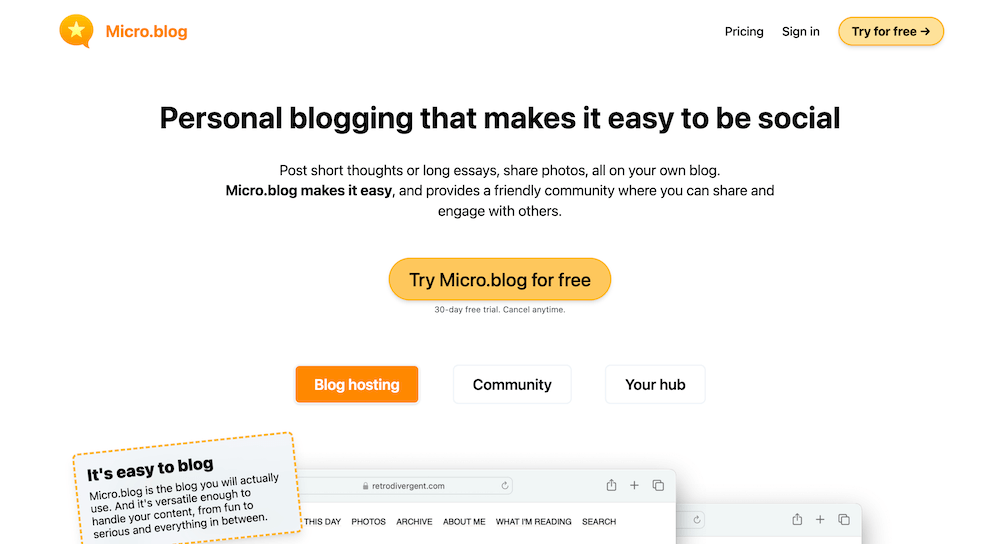 06 – Mastodon
Mastodon is an amazing and different Social Network; it's Open-Source and users can entirely customize it. In other words, each user can have their own Mastodon Social Network, which other users can use too. If you want to check this Twitter Alternative, you can have access to it through the Mastodon website and Mobile App (IOS & Android).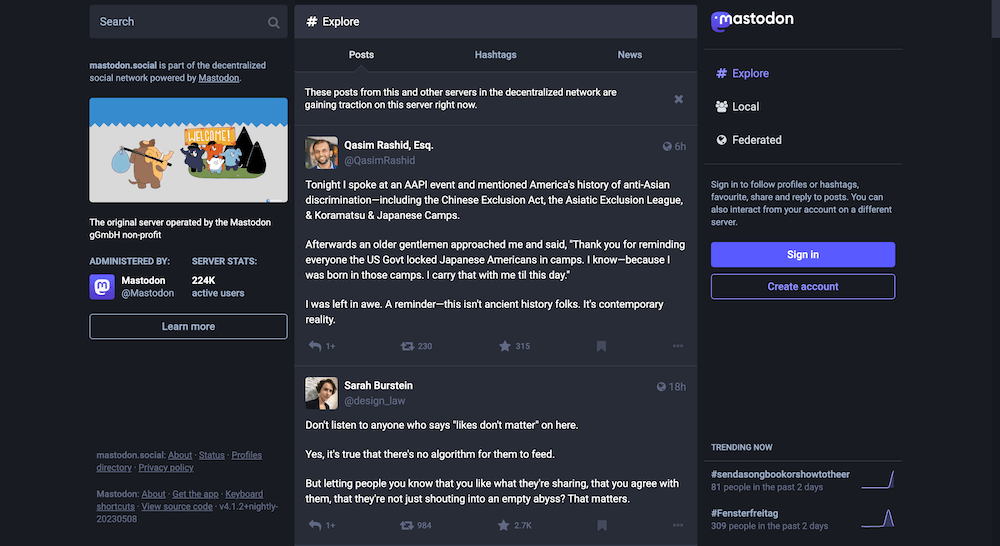 07 – Gab
One of the other Twitter Alternatives app is Gab; Gab has no censorship and users can publish anything on it, and because of this feature, Gab has been deleted from Apple AppStore and Google Play Store; but you can download it from Gab website. Its environment is like Twitter and users can right 300 characters post.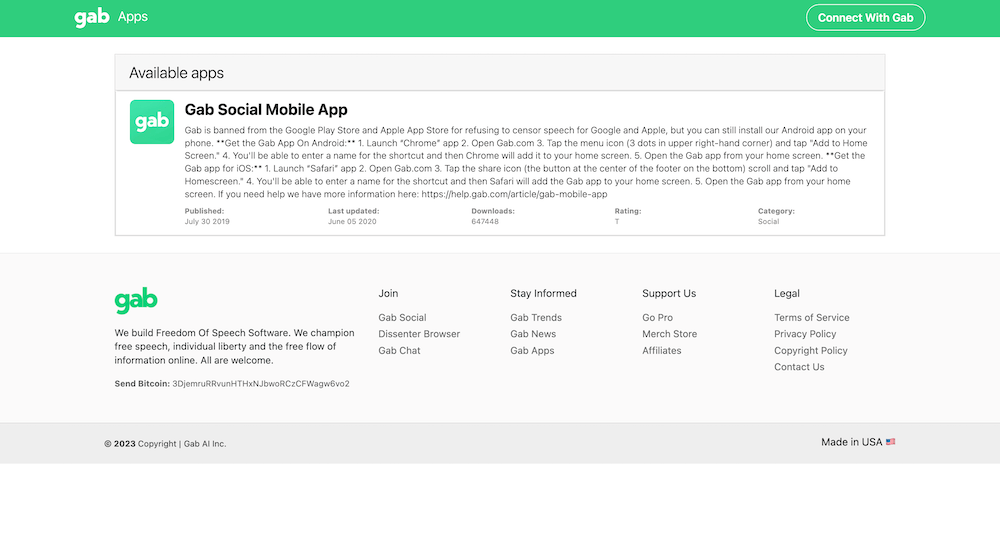 08 – GETTR
GETTR is a free social network, that hasn't any political censorship. GETTR claimed that is "A marketplace of ideas" and defines itself as a "brand new social media platform founded on the principles of free speech, independent thought and rejecting political censorship and cancel culture" where everyone can say their opinions freely. You can Sign-Up to GETTR by your phone number, email address, Google account, Twitter account, Twitch account, or LinkedIn account. Also, GETTR is available on IOS, Android, and Browsers. If you are interested in this Social Network, check the GETTR website.
09 – Cohost
One of the youngest Twitter Alternatives is Cohost; the Sign-Up process is a little slow and it takes a while for your account to get verified. By paying the monthly or annual subscription you can get some additional features, like more customization options, and uploading larger files. Cohost promised never to sell their users' data to big companies. It's a very simple social network and hasn't complicated Algorithms. For more information, you can check the Cohost website.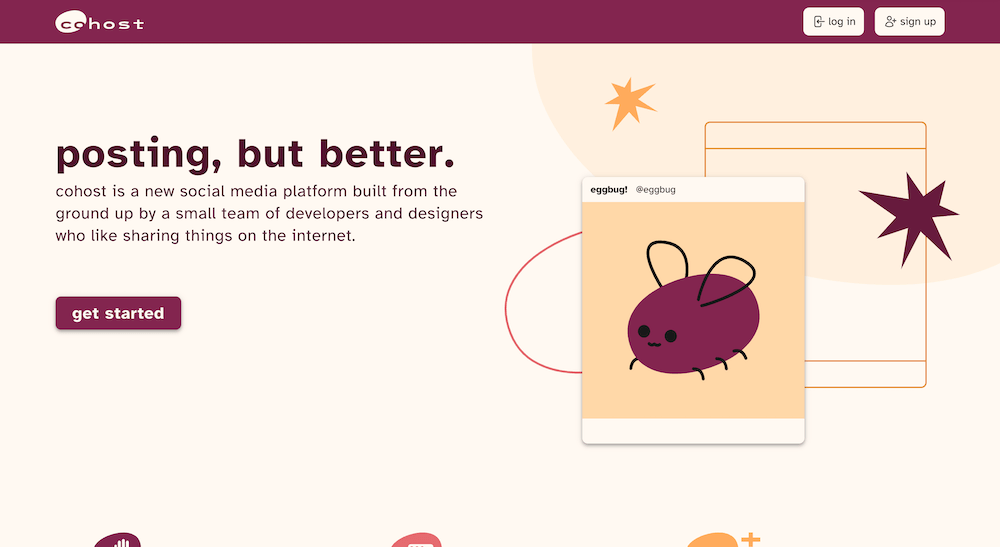 10 – Tumblr
One of the oldest Twitter Alternatives app is Tumblr. This Social Network was launched in 2007, and nowadays it's maybe not very popular but still is one of the biggest social networks. If you worked with Twitter, you can get used to Tumblr easily. Fortunately, Tumblr is available on IOS, Android, and Browser. If you want to see what Tumblr is and what it looks like, you can go to the Tumblr website.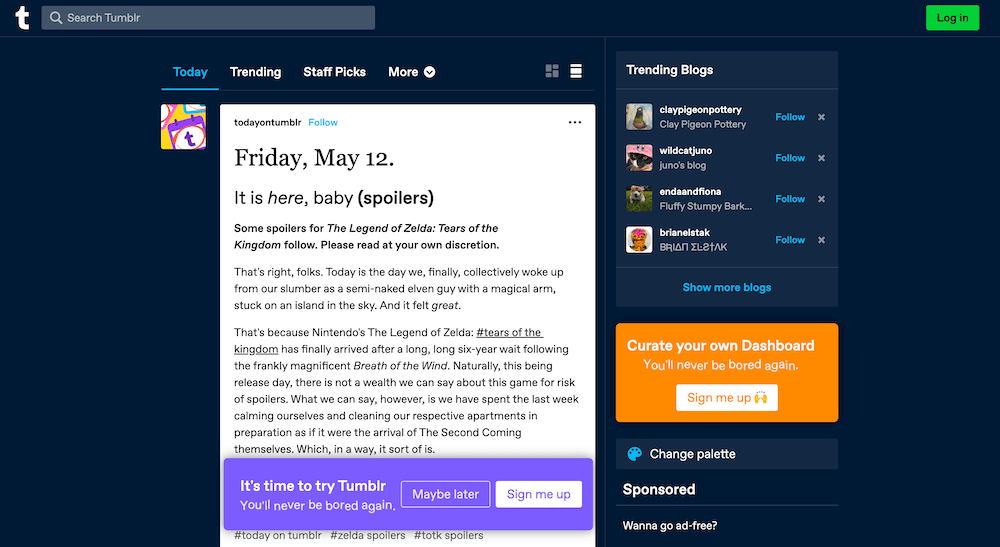 Suggested articles to read more
Final Words
There are more Twitter Alternatives app and social networks, but the mentioned Alternatives are the best and closest apps and social networks to Twitter. We hope you enjoyed reading this article and gained useful information. If there are any questions about Twitter's alternative app, or know a better Alternative, mention them in the Comments. In the end, if you like this article, don't forget to give us 5 Stars.
References used to write this article: