How to add work experience in LinkedIn?
How to add job experience in LinkedIn? [Step-by-Step Tutorial]
One of the most critical sections of your profile is your LinkedIn work experience, and you should know your work experience is the meat of your profile. You might have done much work in your past experience and gained significant achievements. And now, you want to make a list of them and, with these experiences, convince the recruiters of your activity's industry you are one of the best candidates to hire. Meanwhile, you might have raised this question: How to add work experience in LinkedIn?
It is worth noting that your work experience on LinkedIn has only one target: To show off your previous work results in your career. Hence, you can stand out from other users, and recruiters can find you quickly and faster than other job seekers. This privilege makes you appear at the top of search results to get more opportunities to increase your chance of grabbing a new challenge in your work. Please stay with us until the end of this article on the online magazine, Twilinstok.
Who benefits from the Experience section on LinkedIn?
Anyone who has an active LinkedIn user account tends to get more attention from others to showcase their skills, especially job seekers. In that case, LinkedIn has several sections to show off your proficiency in work. In addition, most recruiters read experience sections of users on LinkedIn. Because they want to know how much you are professional in your career and how much you have previous successful experiences. Except for recruiters that have benefited from this section, a second group needs this feature; those people have worked for several years in the same company and have a lot of experience and completed projects. They can use this feature to let others give more about their projects and work field or industry.
In short, three groups of people that use this feature can mention:
First: recruiters for finding the best candidates to hire.
Second: those people who have worked for a long time in the same company.
Third: job seekers for showing their proficiencies.
In this paragraph, we mentioned those who are looking for the answer to the question: How to add work experience in LinkedIn, and now you got familiar with them. After this, it is time to explain the approach.
How to add work experience in LinkedIn?
To add work experience to your LinkedIn page, you can follow two instructions, one for Desktop and the next for Mobile. Continuing, we demonstrate both.
Using Desktop
You should follow us if you have not yet used the work experience section on your LinkedIn page on the computer. Let's go to learn it.
Do these steps below:
To view your profile, click the Me icon at the top of your LinkedIn homepage. (Image-1)
Click Add Profile section button in your introduction section to add the Experience section.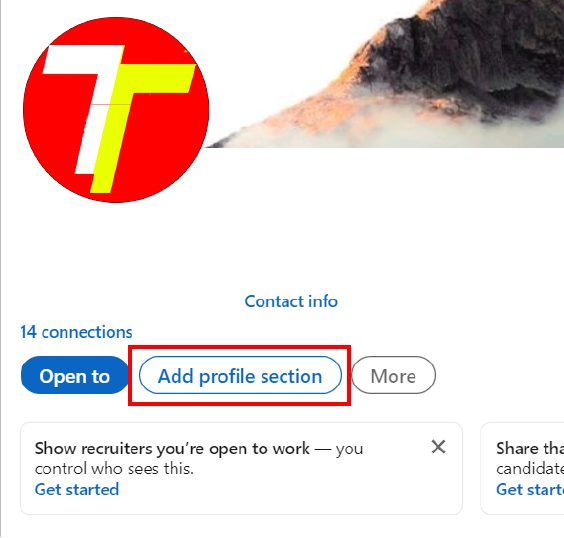 Click the Core dropdown, then Add (Image-3)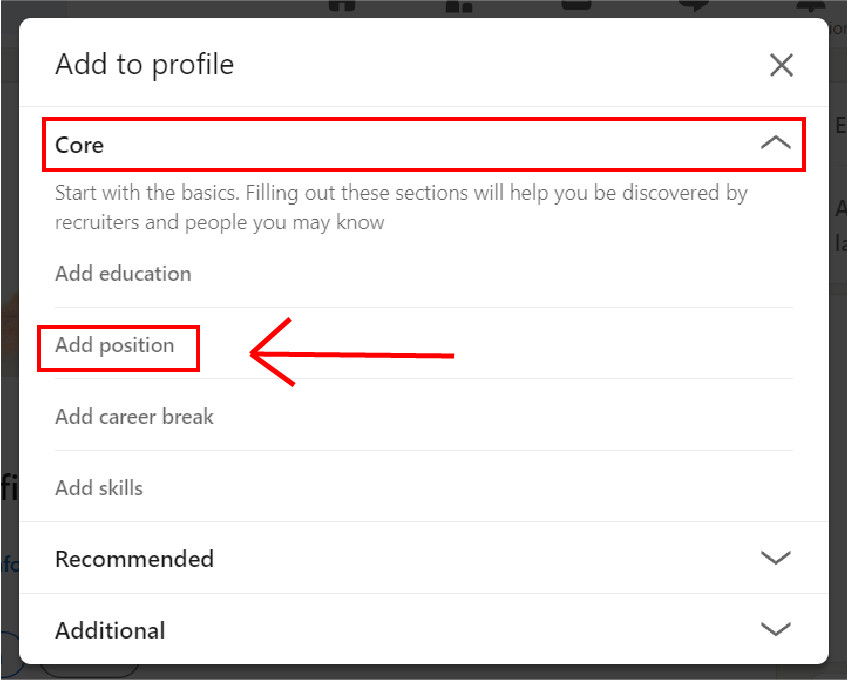 In the Add Experience pop-up window, enter your information into the fields provided, and you can attach your projects and links to show your former experiences. In that information you write, you can show your ex's experiences and convince visitors to send messages to you. In addition, You should precisely write these fields and hint at your attitude and achievements in any cooperation.
Click Save. (Image-4)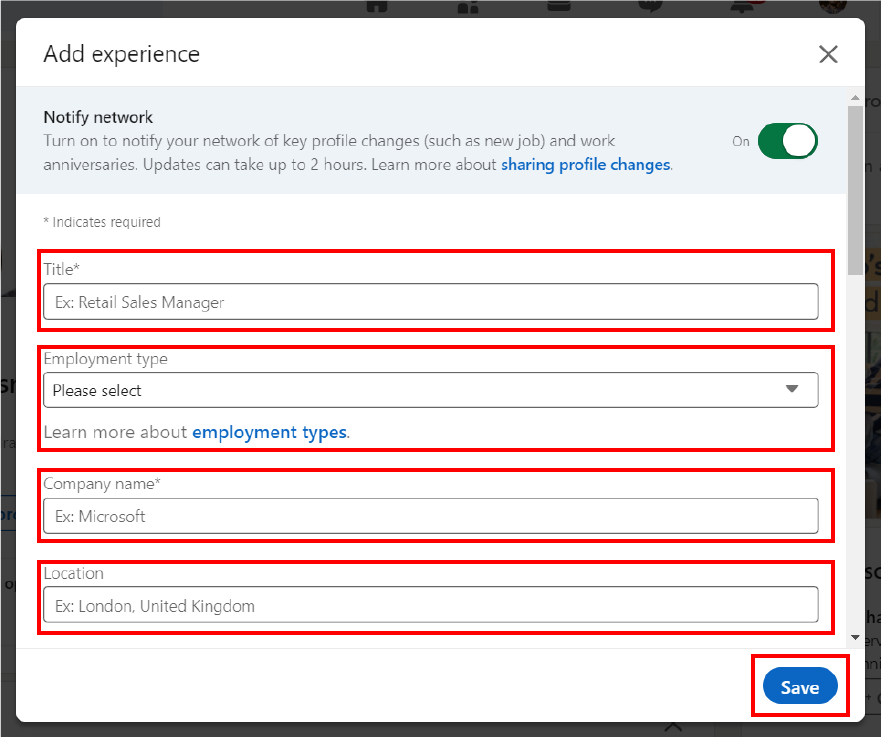 Tip: To get better results, you should set a label for any experience you want to show. By doing this, you can organize your work experiences, and when someone wants to see them, avoid becoming confused; also, it leads to saving visitors time.
Tip: If you would like to add more work experience, you will need to repeat the steps mentioned above.
Using Mobile
The following explains how to add work experience in LinkedIn on Mobile.
Tap on your profile photo, then tap View Profile.
Tap on to Add section.
Under Core, tap on Add
In the Add experience pop-up window, enter the information you want into the field provided. (Fill in all the requested information carefully)
Finally, tap on Save
Tip: If you would like to add more work experience, you will need to repeat the steps mentioned above.
Top 5 Best Practices lead to standing out
 Now you know how to add work experience in LinkedIn, it's time to mention 5 tips to help you stand out from other users in every search result. It is worth using these 5 points when you create work experiences in your page.
Write for your audience (use some words in your industry with their language, show that you are an expert)
consider key achievements with data and results
Use emojis and bullet points for better formatting and easy to understand
Use easy words to realize (uncomplicated terms)
Use summary sections or work experiences to show all details.
Suggested articles to read more
Final Words
In this article, we have done our best to describe how to add work experience in LinkedIn. This feature can help to find a better job or get better projects. Please remember the 5 points mentioned above and utilize them to boost your page and become attractive to recruiters. Also, you should update your page and attach new work, projects, and links; by using this strategy, you will always shine. We hope this essay will be useful and it can help your dreams come true. It is my pleasure to know your standpoints. Please, share it with your friends and give us 5 stars.
References used to write this article: