Fake Twitter Account Checker + 12 Unknown Tricks for Auditing
How to detect Fake Twitter Accounts?
Your Twitter analytics report should be used to match the demographics, age, and location of your followers with your audience persona. If it does not match, it may be time to revamp your follower acquisition strategy to attract the people who matter.
You should manually review your followers to ensure they align with your target audience persona. Additionally, your analytics report can indicate if your followers have grown or decreased over time, allowing you to gauge the impact of your marketing activities.
Auditing your Twitter followers involves identifying your most influential followers and engaging with them to turn them into brand advocates. In this article from Twilinstok online magazine, we are going to talk about 10 Unknown tricks for auditing. We don't want to overwhelm you with Fake Twitter Account Checker tools. Actually, you don't need to dive into data or any Twitter bot checker. You can perform your profile's audit manually.
What makes a Twitter Account Fake?
A meaningless follower or fake Twitter account is a user who does not align with your target audience persona. The reason for your presence on Twitter is to connect with your target audience. But if your followers do not match the target audience demographics, your Twitter efforts will be worth nothing. So you should learn How to spot a fake account on Twitter.
Brands often attract fake bot followers, but social media platforms crack down on accounts with an abundance of these. Before celebrating an increase in followers, perform a Twitter audit to weed out any fake Twitter account.
How to Detect Fake Twitter Accounts
Most customers use social media to research brands, and Twitter is the top platform for brand discovery. On average, a Twitter user follows six different companies. Twitter is the most popular platform for brand discovery, as most customers research brands on social media. An average Twitter user follows at least six different companies. Having a good image and credibility is one of the factors of your growth in the Twitter space, and having fake Twitter accounts in your followers jeopardize this credibility. Therefore, identifying and removing Twitter fake account is Necessary.
+10 Unknown Tricks for Auditing
It is important to be able to identify fake Twitter profiles. Luckily, there are fake Twitter account checker and obvious signs to look out for when following or being followed by others. When identify fake accounts, consider their tweet frequency, content, and engagement with other users. Genuine users often participate in conversations and interact with other users. Even without using a Twitter bot checker and using tools for identifying fake Twitter accounts, you can use the following more than ten tricks to audit your account and your followers. Here are 12 Unknown tricks for auditing:
Review your Account Profile
Find out How users were Verified
Conduct a Profile Search
Ensure that they do not Spam Links or offer Fake Giveaways
Take a look at the people they follow and those who follow them
Identify your objectives for Twitter Marketing
Check the Tweeting Activity
Determine Your Twitter Audit Objectives
Audit Your Twitter Profile
Revise your Twitter Biography
Make sure your Pinned Tweets are current with the present Trends
Audit Your Twitter Content
Now let's check all these tricks.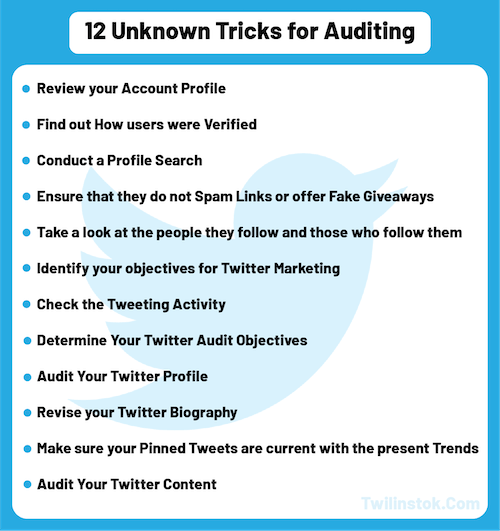 Review your Account Profile
A real user typically has a captivating bio, profile picture, and posts that are not just retweets. Although, there are exceptions to this rule when a famous user may have a basic profile. However, if the bio is a single sentence and contains stock phrases like "social media influencer" or they are promoting something that doesn't quite add up, then you should be suspicious.
Find out How users were Verified
Verifying a Twitter account has become more difficult with the recent introduction of Twitter Blue, which allows any user to obtain a verification badge. This makes it harder to distinguish between Twitter fake account and real ones. However, if the account has been verified by Twitter and not purchased, you can be confident it is genuine. To check, click on the blue checkmark and view the provided information.
Conduct a Profile Search
Twitter audit without login is simple. It is enough that when you find a suspicious tweet, search for the person or brand's name or username on Twitter to verify if the account is legitimate. If multiple verified accounts have the same name, look for the one with the highest activity and engagement.
Ensure that they do not Spam Links or offer Fake Giveaways
It's important to be careful when clicking on links from unfamiliar accounts. Scammers use fake accounts or hacked accounts to post links to fraudulent websites or viruses. Double-check links in search engines or ask for more information before clicking.
Take a look at the people they follow and those who follow them
If an account follows hundreds of other accounts but has very few followers, it could be a sign of being fake Twitter account. Additionally, if all the people who follow them seem like bots (i.e., names with random numbers), then this, too, could point toward a scammer or troll trying to gain attention through illegitimate means.
Identify your objectives for Twitter Marketing
Before conducting a Twitter Audit to evaluate your marketing goals, it's helpful to revisit the goals you set when you created your business's Twitter account.
Check the Tweeting Activity
When reviewing your Twitter account, it can be difficult to identify genuine accounts among those with the same name. To distinguish, check the frequency and content of tweets, as well as engagement with other users. Real users tend to engage in conversations, retweet, and respond to other users, while Twitter fake account usually have one-way communication with little or no engagement.
Determine Your Twitter Audit Objectives
Think about the purpose of conducting a Twitter audit after reminding yourself of the goals of your Twitter marketing.
Audit Your Twitter Profile
Your Twitter profile is your business's first impression on Twitter. It represents your brand online, so how it looks will shape how your audience perceives your brand. Ensure your graphics, imagery, and text reflect your brand's voice and personality. Keep up with graphic design trends to avoid looking outdated and neglected.
Revise your Twitter Biography
This statement summarizes your brand in one line, prime real estate to tell your audience what your brand is. Capitalize on the opportunity. Remember, you have limited characters, so be creative and develop a phrase that captures your brand's voice and explains your business to the audience.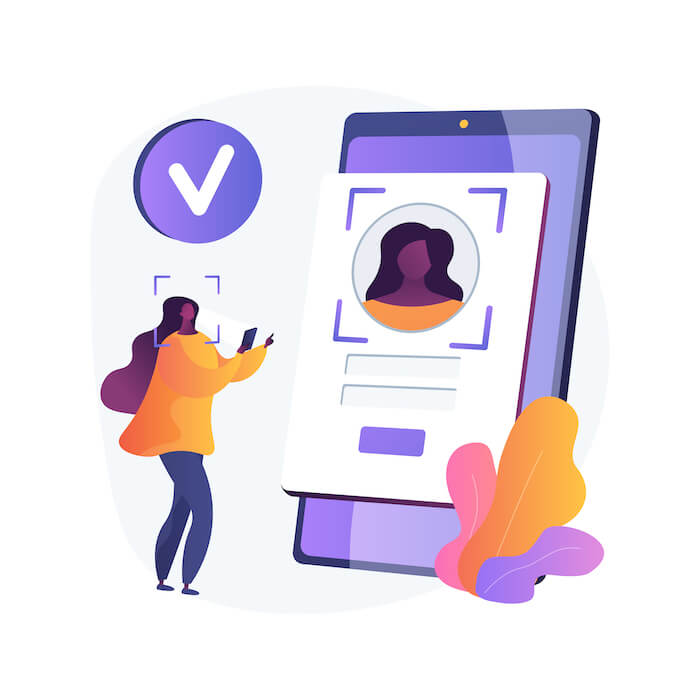 Make sure your Pinned Tweets are current with the present Trends
Twitter's pinned tweets are a good way to deliver important messages to your target audience. Make sure to keep them up-to-date with current trends. If you haven't started using pinned tweets yet, now is the time! If you want to increase your brand awareness, make sure your pinned tweet is focused on that. If you want to drive more traffic to your website through Twitter, ensure that your pinned tweet highlights one of your most captivating blog posts or deals.
Audit Your Twitter Content
Analyze the performance of your tweets by conducting a Twitter content audit. Review all tweets during the audit period and delete irrelevant or outdated tweets to maintain valuable and fresh content.
The Bottom line
A Twitter audit can have several outcomes, including uncovering strategy flaws, identifying areas for improvement, and guiding future campaigns. Your audit goal should align with your Twitter marketing objective. For example, if you want to drive brand awareness, you should find out which tweets generate the most engagement and reach during the audit.
For more information about Twitter and the features of this social network, we suggest that you click on Free Twitter Tutorial [+]. Also, if you have any questions about Twitter, you can ask them in our Twitter help forum [+] in the form of a topic and wait for the answer of our experts.
Don't forget to give us 5 stars, also if you have any questions about "Fake Twitter Account Checker" that couldn't find in this article, share them with us in the comments.
✅ Frequently Asked Questions
Can Fake Twitter Accounts be Traced?
Of course, fake Twitter accounts can be traced. Twitter prioritizes user privacy and only shares information with law enforcement, who provide a legal court notice. Tracing a fake account is a distinct process. What we mean is that users can distinguish whether they are facing a fake account or a real account based on the signs.
Can I have 2 Twitter Accounts?
You can have multiple Twitter accounts but only connect up to five. It's recommended to have two accounts: one for personal use and one for professional.
Do memes get more Retweets or Web Traffic?
Maximize your Twitter marketing objectives by focusing on content that resonates with your audience. Use infographics and memes for higher engagement and adjust tweet length, frequency, and timing based on analytics.
What makes a Twitter Account Fake?
The easiest way to determine if a user is interacting with others is by checking their recent tweets. If there are no @replies or retweets in the last 10 tweets, the account is likely fake.
Are Fake Twitter Accounts illegal?
No, it's okay to be anonymous on Twitter. This platform allows the use of pseudonymous accounts. These accounts don't require the use of the account owner's name or image in the profile. Accounts that mimic others are okay as long as they aren't being used to deceive or manipulate others.