Twitter yellow checkmark vs. blue tick + price
What is difference between Twitter gold tick & Twitter blue tick?
In the new version of Twitter, you can see colorful checkmarks that you may have heard about. In this article from twilinstok, we will check Twitter yellow checkmark and blue tick and compare their prices.
Twitter's new verification system has blue and yellow checkmarks. After a short hiatus, Twitter is rebooting its verification system with a brand new sign for business accounts. Stay with us if you want to know the uses and cost of these new signs.
What do Twitter's new ticks mean?
 The Twitter tick remains an essential symbol of authenticity on the platform. For public figures and brands, it can be a valuable tool for establishing credibility and building trust with the audience, and for users, it provides a way to quickly identify authentic accounts and avoid scams and impersonation.
If you have followed the recent updates of Twitter, you know that since April 20, 2023, the blue tick of many well-known users was removed. In other words, from this date onwards, people had to pay a fee to have a blue tick. Is it a good idea for everyone to have a Blue Tick for only eight dollars?
Twitter is rolling out a revamped version of its verification system that includes yellow badges for businesses and unique tags for official accounts.
Several security measures are in place to prevent people from misusing the blue sign to impersonate other accounts.
Twitter checkmark colors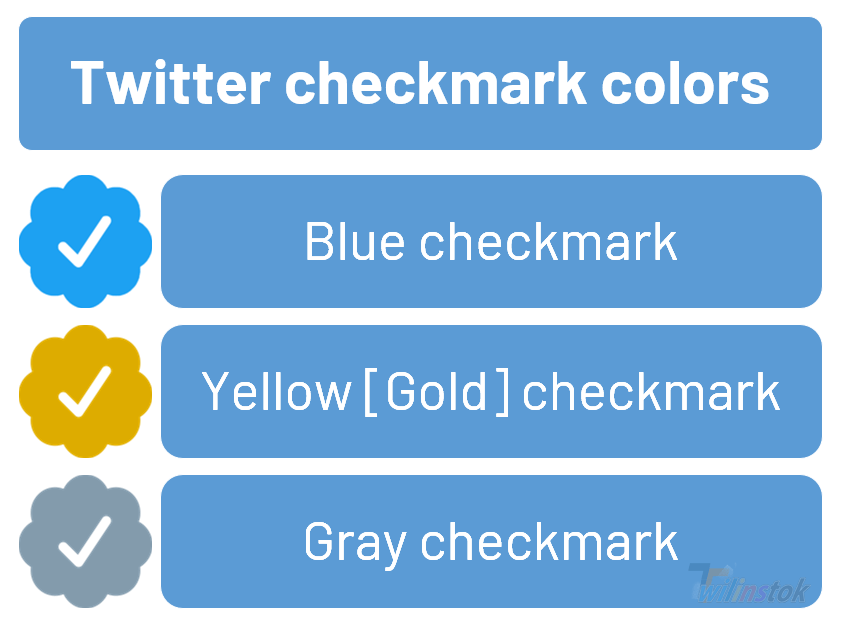 Twitter blue checkmark
A blue checkmark next to a username used to indicate a "verified" status, which meant the user was who they said they were. This way, you know that a tweet is from a famous actor or athlete, not a fake account!
But now the situation is different. An actor with a blue tick indicates that he is also subscribed to Twitter Blue. If you click on the blue tick next to the names of Twitter user accounts, you will see this message: "This account has been verified; Because he is a Twitter Blue subscriber.
Twitter yellow checkmark [Twitter gold checkmark]
The yellow tick, which Twitter calls a "gold tick", is reserved for official business accounts that have signed up with Twitter's Verified Organizations program.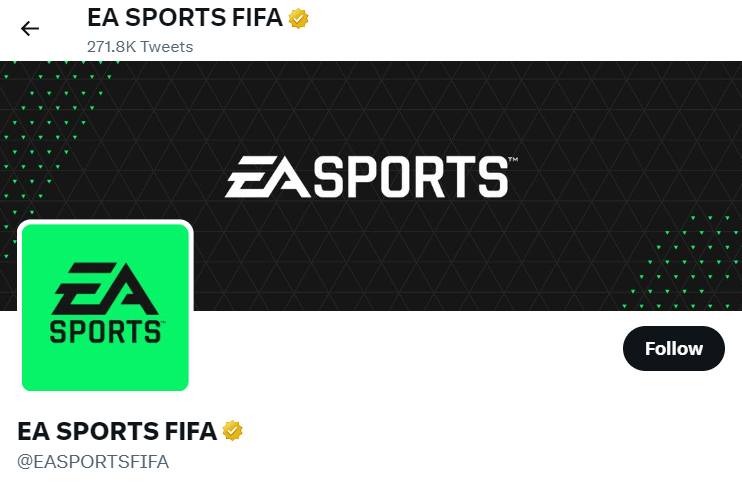 Twitter yellow checkmark price
Twitter-verified organizations pay a monthly subscription fee of $1,000 and receive the service with a check mark, a square avatar, Twitter Blue features, and the ability to add affiliate accounts.
Twitter gray checkmark
In the new Twitter update, the United Nations and other government and official organizations have gray ticks. Having a gray tick is very important. The gray tick primarily represents an organization or government authority. For example, US President Joe Biden's account has a gray tick. This symbol can also be applied to multinational and international organizations such as the United Nations and the World Health Organization, which span several countries.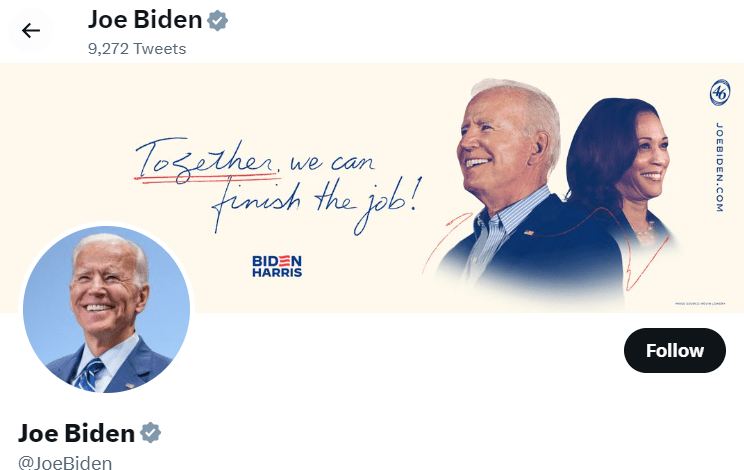 The main differences between yellow and blue Twitter accounts
A yellow mark indicates that an account is an official business account verified by Twitter. The yellow marks are specific to businesses, distinguishing them from professional and blue Twitter accounts.
Blue accounts are confusing because some of them are left over from the old version of Twitter, and some charge $8 a month.
The yellow ticks are brand new and have no confusing history.
Most Twitter profile pictures are circular, while official jobs on Twitter are awarded square profile pictures next to a gold symbol. This makes business accounts recognizable at a glance and is a valuable feature not shared by other social media platforms.
The most crucial difference between Twitter's blue tick and yellow tick is the method of getting it. We will explain more about this below.
How to get a Twitter yellow checkmark?
Big brands pay $1,000 a month to have a twitter yellow checkmark. You can connect your business with big brands that have received this mark.
1st step:
You must apply to receive a gold badge on Twitter. In the application form, you must register the organization's name, the Twitter handle of the organization, the organization's email address, the full name of the applicant, the organization's website, the country, and the type of your organization.
2nd step:
go to https://business.twitter.com and connect with more prominent brands.
3rd step:
You must wait a while to approve or disqualify your business for the yellow tick. If your business is eligible, it will be added to the waiting list to receive the golden badge.
How to get a Twitter blue checkmark?
Getting a Twitter blue checkmark is so easy.
You must be a Blue Twitter subscriber to get Twitter Blue; click the Twitter Blue button after logging in. You can then choose to pay annually or monthly.
Your profile must be complete with your name and profile picture. Next, you need to ensure your profile is eligible for Twitter verification even after joining Twitter Blue by having accurate and up-to-date account information.
Your account must be active. It means you have done things like tweeting, liking, and replying in the last 30 days.
Your account must be older than 90 days and have a verified phone number.
Note: To be approved, it is better to keep your profile picture the same so it does not look spam. After completing your request, you must wait for Twitter to review and approve your information.
The bottom line
This article talked about the different types of Twitter checkmarks and their uses. We also explained how you can get a yellow tick. If you are interested in such topics, follow us and share this article with your friends.
For more information about Twitter and the features of this social network, we suggest that you click on Free Twitter Tutorial [+]. Also, if you have any questions about Twitter, you can ask them in our Twitter help forum [+] in the form of a topic and wait for the answer of our experts.
References used to write this article: