How to Make my Tweets Retweetable?
Tips to make your tweets retweetable
Using the retweet feature on Twitter is an effective way to broaden your online presence and enhance your influence. You may be wondering to know "How to make my tweets retweetable?" Stay with us in this article from Twilinstok online magazine.
You have two ways to make tweets retweetable and promote them. In the first method, which is also mentioned in the Twitter Help Center section, you can promote your posts by paying $10 to $2,500. Promoting tweets has an influential role for brands and companies that want to grow faster in the Twitter space. But we want to tell you some tricks that will make your tweets worth retweeting in the eyes of your followers without having to pay for them.
How to Turn on Retweets on Twitter?
First of all, you need to make sure that your tweets are retweetable. Upon signing up for a Twitter account, it is set to "public" by default, which means that anyone on the Internet can access and retweet your tweets. However, switching the account's privacy setting to "protected" will restrict access to your tweets to only your followers. This also prevents others from retweeting your tweets. If you notice that users can no longer retweet your posts, it is likely that your account has been switched from "public" to "protected." Fortunately, you can remedy this issue by making a quick setting adjustment.
To access your Twitter account, simply log in and click the "gear" icon situated in the top right corner of the screen. This will activate a drop-down menu where you can choose the "Settings" option.
navigate to the "Tweet privacy" section and make sure to deselect the option that says "Protect my tweets."
click on the "Save" button.
enter your Twitter password when prompted to confirm any changes to your account settings.
How to Make my Tweets Retweetable for Free?
The best answer to the question "How to make my tweets retweetable?" and to achieve success on Twitter is to follow the platform's algorithms. We have already discussed this in detail in the article: How The Twitter Algorithm Affects Users And Advertisers? We have also mentioned some points like the ones in the image below.
How to Make everyone see my Tweets?
There are 6 Tips that help you to make your Tweets retweetable and make everyone see your Tweets:
Scheduled your tweets and post at right time.
Share some links on Twitter.
Regularly shares impactful quotes on Twitter.
Ask your audience to Retweet.
Enhance your tweets with the power of visuals – images and GIFs.
Share your thoughts on trending topics or current events.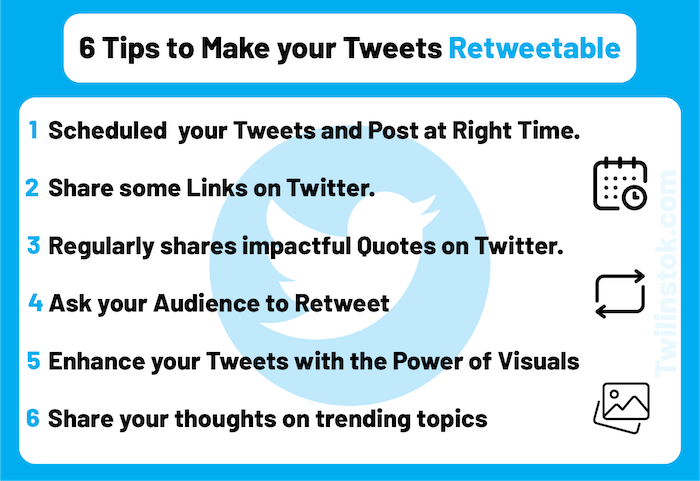 Now let's check these Tips.
Scheduled your Tweets and post at Right time.
To maximize your retweets, it's important to tweet at the right time. Typically, between 2 and 6 p.m. is when most people are likely to retweet. However, if your followers are located in different time zones or countries, the optimal tweet time may vary.
Twitter serves a multitude of purposes, including obtaining breaking news and seeking assistance for problems.
Numerous studies have found that informational tweets and postings are the most frequently retweeted types of content on the platform. To put it differently, Tweets containing links to news updates or online resources are more likely to be shared.
While some users may shy away from tweeting quotes due to their perceived simplicity, it's important to note that they can still garner great success. Quotes can be incredibly effective for retweets, particularly if they resonate with your audience. It's recommended that you tweet impactful and thought-provoking quotes on a daily basis. Your friends, acquaintances, and followers are likely to retweet or share your quotes, which can lead to even more shares and retweets. To improve your Twitter presence with quotes, consider searching for amazing ones on the web. There are plenty of websites and blogs that compile collections of quotes. You can easily find quotes using Google by typing "great quotes for [your topic]" into the search bar.
Ask your Audience to Retweet.
One of the easiest ways to get a retweet is to simply ask for it. Including the phrase "Please Retweet" in a tweet significantly increases the chances of it being shared by a significant amount.
Numerous brands and small businesses often partner with a charitable organization or cause, and requesting customers to share information related to it can create significant engagement and portray a positive image for the company. However, this approach should be used judiciously, as people are more likely to take action when there is a clear call to action. If this content is posted excessively, it may come across as spam, and users may ignore it.
Enhance your Tweets with the power of visuals – images and GIFs.
Compelling photos can inspire Retweets. Pictures are an effective way to convey a lot of information quickly, something that social media users value. Twitter users have found that incorporating vibrant visuals and infographics into their tweets boosts engagement and encourages more people to retweet their content.
Discussing current trending topics can be a valuable tactic to amplify your tweet's reach. When you engage with prevalent issues, your tweets can become part of a larger conversation, potentially increasing your visibility and impact. Some individuals regularly employ this strategy with great success, resulting in hundreds or even thousands of retweets and followers.
The Bottom line
For centuries, people have relied on recommendations from others when making purchasing decisions. When a product or service is praised and endorsed by fellow consumers, it increases the likelihood that someone will try it out.
To make a lasting impact on their followers, brands must create tweets that are both engaging and persuasive. Only when a message is enjoyable, informative, and share-worthy will a consumer be willing to distribute it to their own followers.
Interestingly, retweets are often seen as more valuable to brands than the original tweet itself. This is because each retweet acts as an endorsement from the company's present followers, helping to attract new customers and expand its audience.
For more information about Twitter and the features of this social network, we suggest that you click on Free Twitter Tutorial [+]. Also, if you have any questions about Twitter, you can ask them in our Twitter help forum [+] in the form of a topic and wait for the answer of our experts.
Don't forget to give us 5 stars, also if you have any questions about "How to Make my Tweets Retweetable?" that couldn't find in this article, share them with us in the comments.