What is TikTok lite? VS. Normal TikTok
What is the difference between normal TikTok and TikTok Lite?
Nowadays, you might see TikTok Lite in your app store, and this question comes to your mind: Are there two versions of TikTok? The answer is here, Yes, and we are going to describe TikTok Lite features. TikTok Lite is the new version of TikTok that has already been released by the Chinese company Baytdance. Also, TikTok Lite remains an unexplored place for someone over 25. Highly common among Generation Z, TikTok is a peek into how it feels to thrive in a modern, highly engaged environment. TikTok creators released a lightweight edition of the app in early August 2018. The title of TikTok Lite, the application was initially accessible to a few Southeast Asian countries. It is currently used by users in many countries in Asia and Africa and has been downloaded more than 7 million times over. With this introduction, what is the difference between normal TikTok and TikTok Lite? Please stay with us until the end of this article. We hope you will get valuable tips from this article on Twilinstok.
TikTok Lite
When you hear TikTok Lite or see it in the online markets, might the question arise in your mind: What is the use of TikTok Lite? And also: What is the difference between normal TikTok and TikTok Lite? Or you are, as parents seeking the response to this question: Is TikTok Lite for kids? In this part, we will explain the answer to these questions.
TikTok Lite, like other video content platforms, offers original 15-second videos. Users benefit from this area to tell all their amusing experiences in life. Additionally, users have access to international content. Also, the short video form lets the audience watch more stuff in short videos. Interestingly, TikTok Lite customizes your stream based on the videos you share and like. And in the subsequent search, you can find more matter you like. TikTok Lite includes all programs from humor to sports, dance to animals, and learning programs to travel to cuisine. One of the most significant advantages of TikTok Lite is that parents can control everything children watch and restrict their accessibility. Another benefit is that this app only needs a little space on phone storage.
The TikTok Lite features
TikTok Lite has 4 main differences compared with TikTok. In the following, we mention them.
Space and Battery usage
As usual, the Lite version of every app is not only reduced in file size and is also intended for people over slow 3G or 2G data networks. As you can see in Pic 1, the TikTok app occupies about 182MB of file size on download and gradually needs more storage based on your use. On the other side, TikTok Lite is less than 30MB. Adding app data and cache data increases the file capacity of the app to nearly 125MB. So the Lite edition is excellent if you have a phone with minimal internal capacity. The battery usage is about the same because both models allow video replay.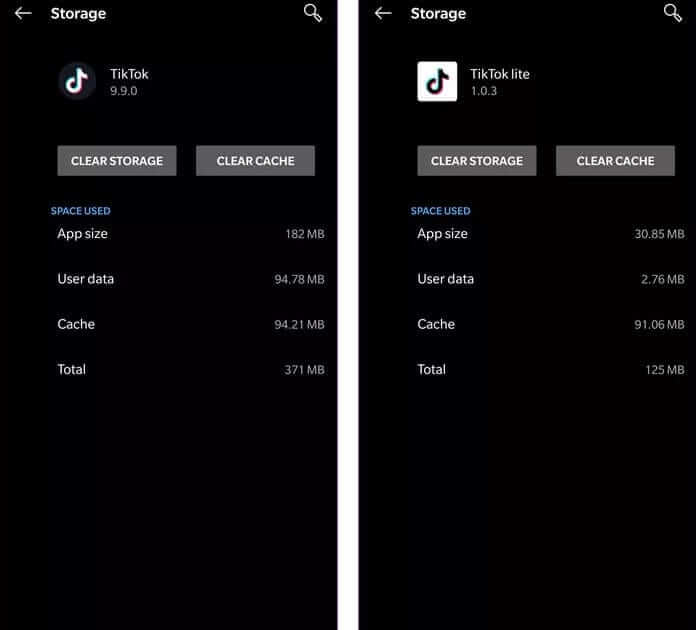 Settings
You can set up your own TikCode with TikTok. TikCode reduces the user's manual search phase. Instead, you can easily search for the code and follow it. Apart from TikCode, many privacy tools are open to select who can share and watch your content, stopping anyone from allowing excessive usage of your shared videos. You can block others, keep your profile private, and other simple notification options when it falls to privacy. And that is a lot of it. The privacy settings will not be handy if you do not post videos. In Pic 2, you can see TikTok privacy, and Pic 3 shows TikTok Lite privacy sitting.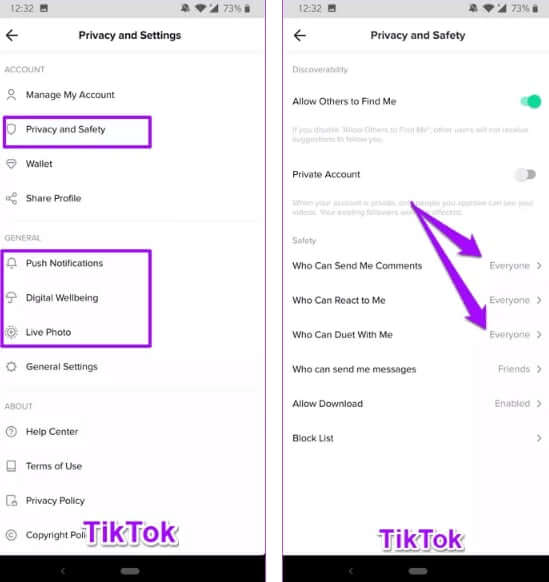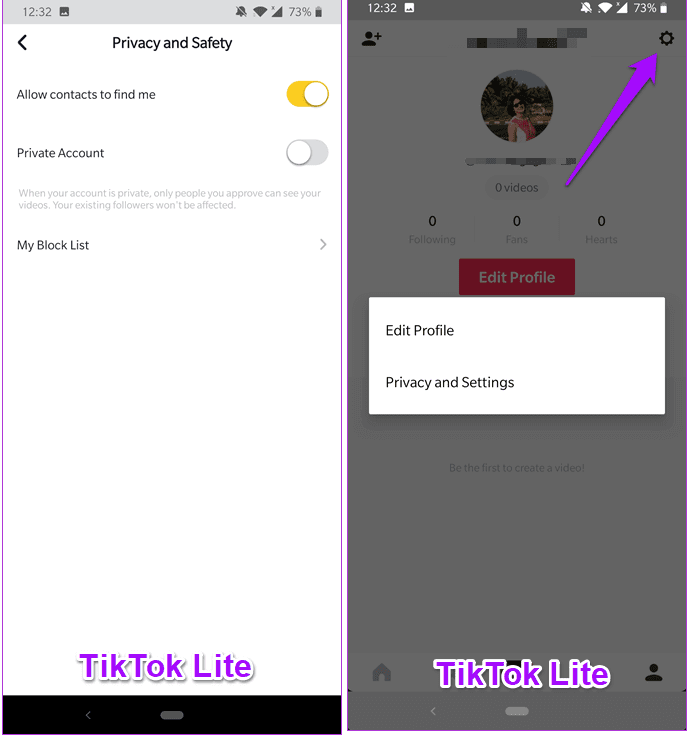 Overall interface and loading
At first glance, the interface of both apps looks similar. Therefore, you have access to the videos through the home button, and next to it are the four options — search, upload, notification, and profile. Everything we mentioned before, you can observe in Pic 4.
You can still cycle among the videos by swiping up and visiting the uploader's profile by swiping left. While cycling through the videos, take a second more to load. The delay is not too long but might get annoying in the long run, especially when scrolling through the feed to kill time or want to discover a fun clip.
Tip: The video platforms are known to preload content to seamlessly transition from one video to the other. Unfortunately, TikTok Lite needs to do that by design to save storage and, data, battery, which is the reason for lags and delays.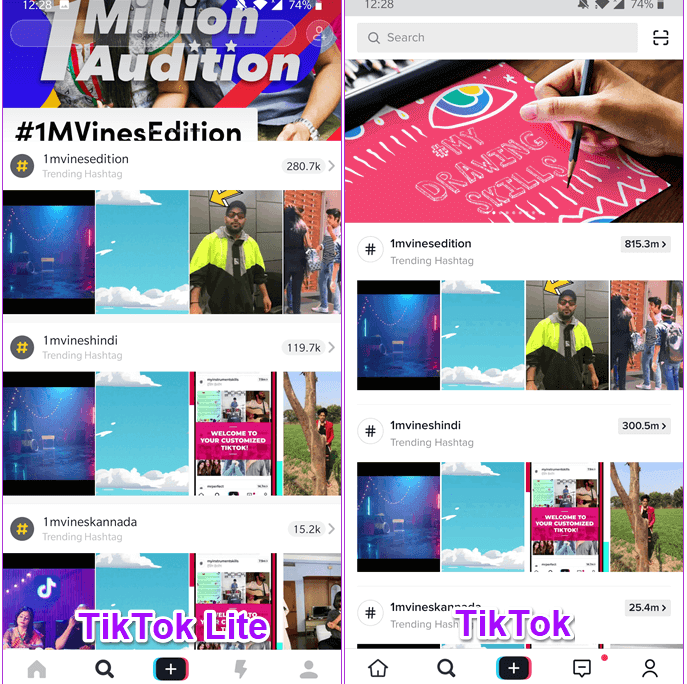 Upload way
Generally, the lite versions of apps remove the clutter and provide just the core functions. Although the parent company description for TikTok Lite promises a creative studio (and many more things), the process of uploading needs to be fixed. A tap on the Upload option in TikTok Lite displays a message that the upload function will be introduced in a later update.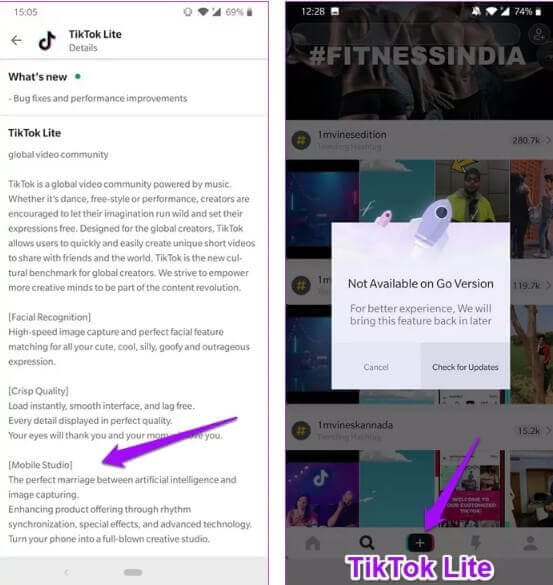 TikTok Lite Installation
Follow the below-instruction:
Open the app store for IOS and Play Store for Android.
Write TikTok Lite in the search bar.
Top on install.
Top on the TikTok Lite icon on your phone when the download is finished.
Create your account as guided. (go forward step by step based on what the app wants).
Final word
TikTok Lite is an application that helps you make amusing changes to current videos in your library. On top of that, the application includes hundreds of configurations and custom functions to change specific settings. Unfortunately, you cannot produce new videos with TikTok Lite. It is meant it is fit for viewers than content producers. We hope the current article has interested you and that you will find its helpful information and use it. The goal of the research team of the Twilinstok website is to produce original content for you, dear readers. We hope we can satisfy you. Please support us by sharing this article and our other articles. Give this article 5 stars if you find what you were looking for.
References used to write this article: