How to Make my Twitter Private? – Comprehensive Guide
How to make my tweets private?
If you value your privacy and prefer to keep your thoughts and content restricted to a select few, consider switching your public Twitter account to private. By setting your account to private, you can manage who can view your tweets, follow requests, and followers. This means that only the people you have approved as followers will be able to see your past and future tweets. Fortunately, converting your Twitter account to private is a straightforward process. You can easily follow the instructions in this article from Twilinstok if you are wondering How to Make my Twitter Private?
What does Privacy mean on Twitter?
On Twitter, you have the ability to manage your privacy settings and choose who can view your tweets, profile details, and other content. It's essential to know the following key privacy settings:
Profile privacy: You have the ability to control who can see specific details on your profile, such as your bio, location, website, and profile picture.
Personalization and data: On Twitter, your interests and activity are considered to make your experience more personalized. You have the power to manage the data collected by Twitter and its usage by adjusting your personalization and data settings.
Tweet privacy: When you make a tweet, you have the option to select who can view it. You can choose to make it public, visible only to your followers, or restrict it to a specific group of individuals.
Direct messages: On Twitter, you have the option to receive direct messages from everyone, only individuals you follow or none at all.
How to Make my Twitter Private?
Enabling the Private mode ensures that only your followers can view the posts and tweets you've shared and liked. If someone who isn't following you wishes to see your tweets and posts, they must first submit a follow request. Once you accept their request, they will be able to see your likes and tweets.
How to Make your Twitter Private on Mobile?
Follow these steps to switch to Private mode on Twitter:
1- To access your Twitter profile, simply login to your account.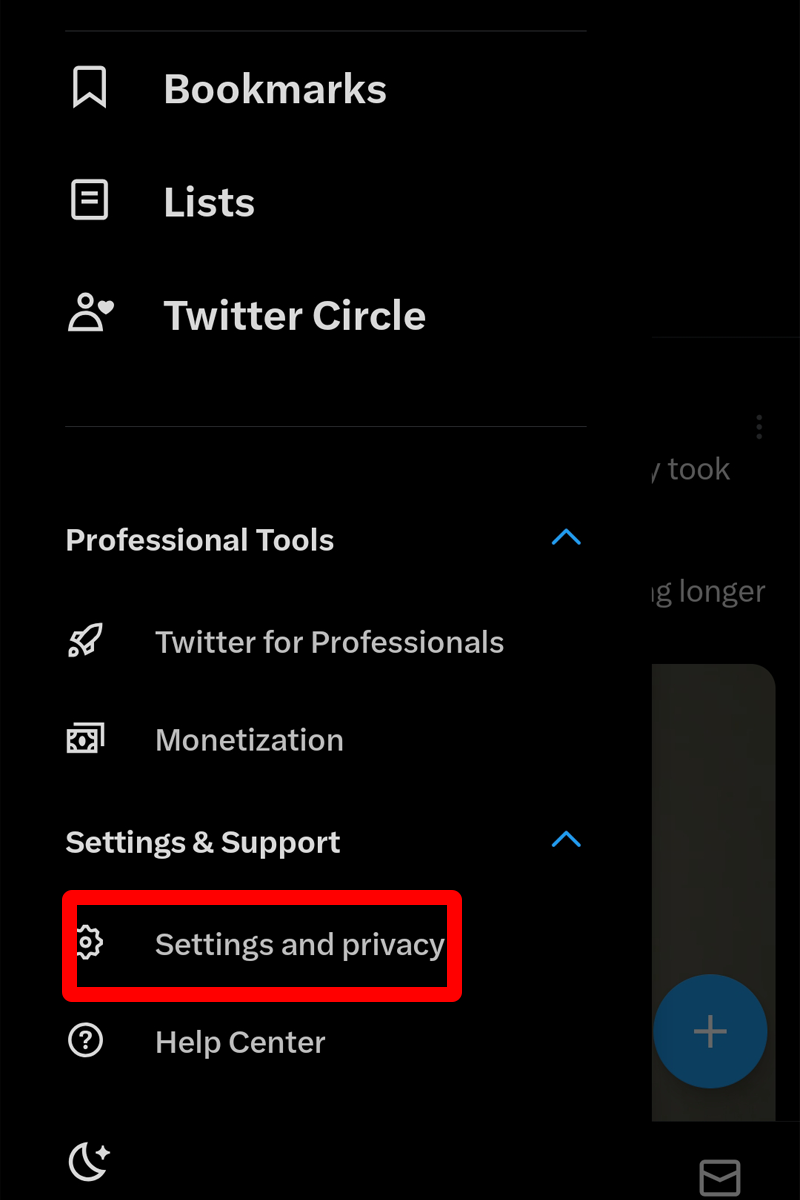 2- To access the necessary options, please find and select the 'Privacy and Safety' section within your Settings menu.
3- To access the audience and tagging options, click on the corresponding tab.
4- To ensure privacy, consider enabling the 'Protect your tweets' feature.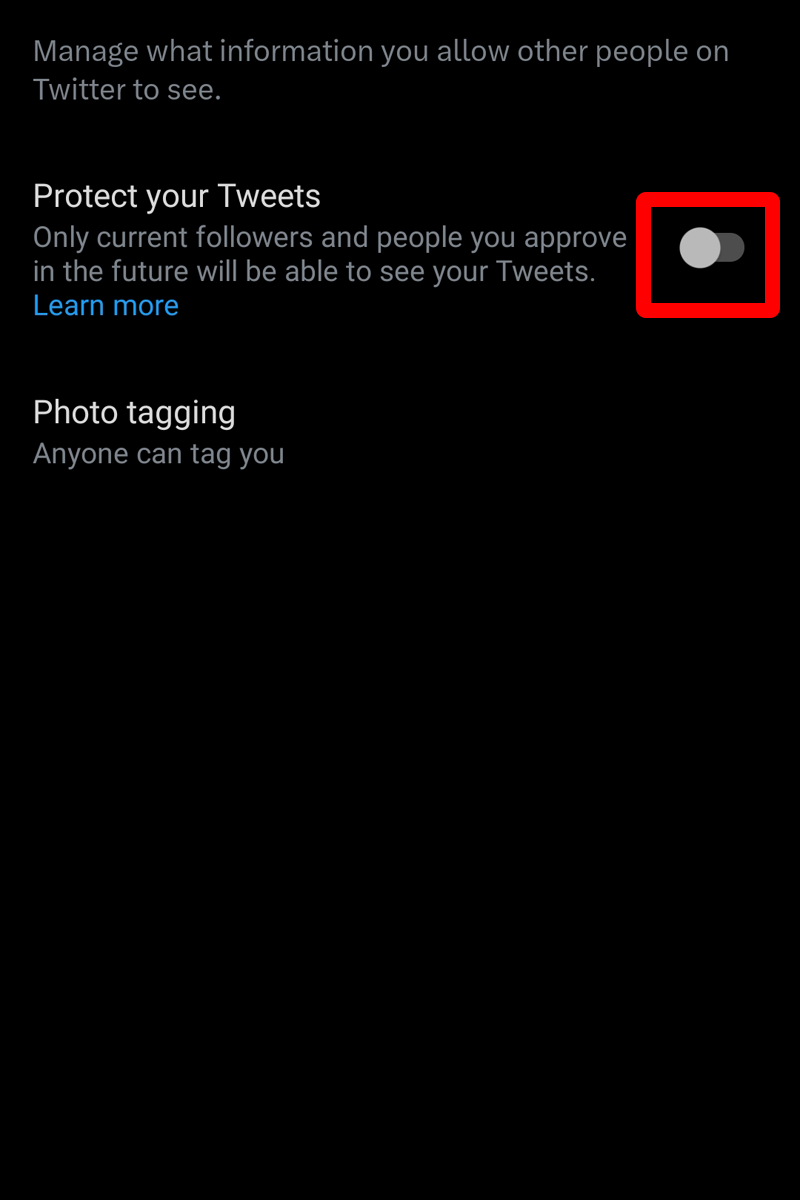 You can safeguard your Twitter preferences from unknown users through this feature.
Frequently Asked Questions (FAQs)
Now that we have answered how to make my Twitter private, it is time to answer some frequently asked questions that may arise in the future.
✅ What does a Private Twitter Account look like?
Creating a private Twitter account allows you to interact with other users who are not following you. However, your profile will only display your picture, name, and bio.
✅ What differences should I expect if I switch my Twitter Account to Private?
Before deciding to make your Twitter account and tweets private, it is essential to consider the implications. If you set your tweets to private, other users will need to ask for your permission to follow you. It's up to you to approve or deny their requests.
Your tweets are only visible to people who you have approved to follow you. Users who are not following you cannot retweet your tweets. Your tweets will only appear in searches done by your approved followers on Twitter and will not be visible in any Google searches.
On your Twitter profile, only your name, profile picture, and bio information will be visible. Any direct messages you send will only be visible to your approved followers. If you tweet at a celebrity, they will only be able to see it if they have been approved to follow you.
Any tweets made when your account was public will now be hidden and only visible to your approved followers. Before you can share permanent links to your tweets with your approved followers, you need to get your account approved by them.
✅ I have protected my Tweets, yet they still appear in Search Results. Why is this happening?
By protecting your Tweets, you can limit their visibility to only your followers. This means that only those who follow you can read your updates and see your Tweets when searching for them on Twitter.
Any Tweets that were previously visible to the general public will no longer be viewable by them or appear in public Twitter search results. If you choose to unprotect your Tweets, any previously protected Tweets will become public.
It's important to note that if your Tweets are shared on other platforms, they may still appear in search results. Unfortunately, Twitter does not have the ability to remove content from other websites.
✅ Should businesses and influencers have Private Twitter Accounts?
When businesses and influencers need to share confidential information with a specific group of people, a private Twitter account can provide the necessary privacy and security. By controlling the content shared on their timeline, businesses and influencers can avoid negative comments, spam, or other unwanted interactions. However, if their goal is to build a following and expand their online presence, having a private Twitter account can make it more difficult for new followers to find and connect with them. Consistently posting fresh and engaging content is crucial for building a following on Twitter.
The Bottom Line
It's important to note that setting your Twitter account to private only prevents new users from seeing your tweets. Existing followers, who were already following you before you made the account private, will still have access. If you want to limit specific followers from seeing your tweets, you must remove them.
For more information about Twitter and the features of this social network, we suggest that you click on Free Twitter Tutorial [+]. Also, if you have any questions about Twitter, you can ask them in our Twitter help forum [+] in the form of a topic and wait for the answer from our experts.
Don't forget to give us 5 stars, also if you have any questions about "How to Make my Twitter Private?" that couldn't find in this article, share them with us in the comments.