Best Music Hashtags on TikTok for Music Artists & Producers
Best Music Hashtags for TikTok
Hey there, fellow music artists and producers! Are you ready to take your music to the next level and make use best music hashtags on TikTok? Well, you've come to the right place! In this blog post from Twilinstok, we're diving into the exciting world of TikTok hashtags and how they can boost your music career in ways you never imagined. So, let's get this TikTok party started and uncover the best music hashtags on TikTok for all you talented folks out there!
We have seen firsthand the incredible impact hashtags can have on your music content. For those of you who might be new to TikTok, let us explain how these little wonders work their magic. Hashtags are like magic portals that connect your content to the broader TikTok community. When users search for or click on a hashtag, they're transported to a treasure trove of videos related to that topic.
Now, let's talk about why hashtags for TikTok music are an absolute game-changer for music artists and producers like you. Imagine being able to reach millions of music enthusiasts worldwide with just a few well-chosen hashtags. Sounds dreamy, right? Well, it's not only possible but also a reality for those who know how to play the TikTok hashtag game smartly.
So, stick around and get ready to level up your TikTok game with the ultimate guide to music hashtags on TikTok. Let's make some noise and groove to the rhythm of social media success!
Hey, TikTok maestros! Before we dive headfirst into the best music hashtags on TikTok, let's take a moment to understand how they work their magic on TikTok. Think of hashtags as the guiding stars of the TikTok galaxy. When you add a hashtag to your music video, you're essentially telling TikTok, "Hey, this content is related to this topic!" As a result, your video becomes part of a broader collection of videos tagged with the same hashtag. In the following, we will examine 4 tips for better use of hashtags in Tik Tok:
Use relevant and popular hashtags
Use trending hashtags
Measure the impact of the hashtag
Tell a story with your hashtags
Now let's check these 4 tips.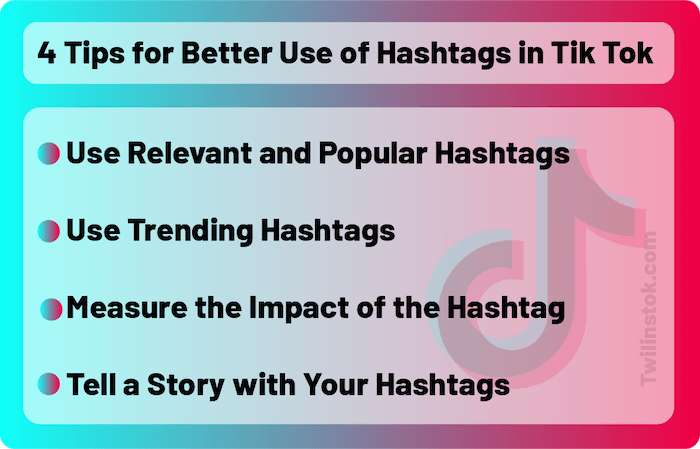 The key to success with TikTok hashtags is to use ones that are both relevant to your music and popular within the TikTok community. This way, your content has a higher chance of being discovered by people who are interested in what you have to offer. Aim for a mix of broad and niche hashtags to cast a wide net while still targeting your ideal audience.
TikTok is like a living, breathing entity with ever-changing trends and challenges. Keep an eye on the trending hashtags and hop on board when it aligns with your music style or content. Riding the wave of a popular trend can significantly boost your video's visibility and potentially lead to viral success.
3. Measure the Impact of the Hashtag
We can't stress enough the importance of tracking your hashtag performance. TikTok provides analytics that shows how many views your video received from each hashtag used. This data is pure gold! It helps you understand which hashtags are resonating with your audience and which ones might need a tune-up.
Don't just slap random hashtags on your videos; craft a compelling hashtag narrative that adds context to your music and connects with viewers emotionally. Storytelling through hashtags can turn a casual viewer into a loyal fan who eagerly awaits your next masterpiece.
Alright, my music-loving TikTokers, it's time to crank up the volume and explore the cream of the crop when it comes to the best music hashtags on TikTok. Whether you're a seasoned musician or just starting your journey, these hashtags will be your trusty sidekicks in getting your music the attention it truly deserves.
Let's kick things off with some all-time favorite music hashtags that resonate with audiences across various genres:
#Music: The classic, timeless hashtag that puts your content in the broader realm of all things musical. Great for reaching a diverse audience.
#MusicMatters: Showcase the significance of music in your life and captivate viewers with your passion.
#NewMusic: Got a fresh beat or a hot track? Use this hashtag to premiere your latest masterpiece and gather feedback.
#FeelTheBeat: Inject energy and rhythm into your videos with this vibrant hashtag that encourages viewers to dance along.
#MusicIsLife: Share your love for music and let your audience connect with your soulful expressions.
#MusicMagic: Let your music work its magic on viewers and leave them spellbound with your talent.
#SongwriterSaturdays: Share your original compositions every Saturday and connect with other songwriters.
#MusicLovers: Find your tribe of music enthusiasts and build a community that celebrates melodies and harmonies.
#AcousticVibes: If your music has an acoustic touch, this hashtag will help you resonate with acoustic-loving souls.
#FeelTheMusic: Encourage viewers to immerse themselves in your music and experience the emotions you convey.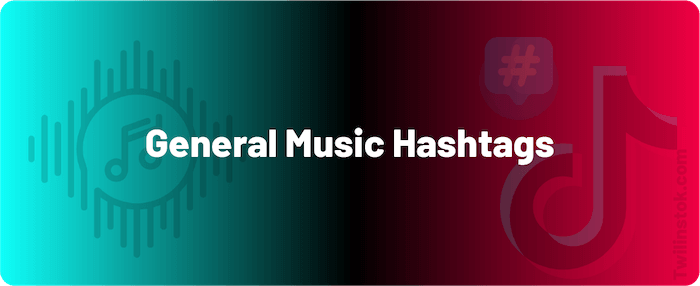 Calling all talented vocalists, instrumentalists, and performers! These hashtags are the best hashtags for music artists on TikTok:
#SingingSensation: Highlight your vocal prowess and leave viewers mesmerized with your melodic talent.
#GuitarGod: Showcase your guitar skills and inspire fellow musicians and fans with your captivating melodies.
#PianoMaestro: If you're a pianist with a knack for the ivories, this hashtag will help you find your audience.
#RapStar: Calling all rappers and lyricists! Unleash your lyrical flow and take the TikTok rap scene by storm.
#DrumBeats: Keep the rhythm alive with this hashtag, perfect for drummers looking to make a thunderous impact.
#VocalFreak: Flaunt your exceptional vocal range and leave everyone in awe of your singing talent.
#InstrumentalMagic: Let your instrumental performances create enchanting spells on TikTok.
#MusicCover: Showcase your unique take on popular songs with impressive covers that'll blow viewers away.
#StagePresence: Show off your charisma and captivating stage presence as you perform for your virtual audience.
#MusicJourney: Take viewers on a musical journey, from your humble beginnings to where you are now.
Attention all music producers and beatmakers! Best hashtags for music producers on TikTok are your secret sauce for showcasing your sonic wizardry:
#BeatsByMe: Slap this hashtag on your content to claim ownership of your fantastic musical creations.
#MusicProducerLife: Take viewers behind the scenes of your music production journey and provide a glimpse into your creative process.
#BeatMaking: Give a sneak peek of your beat-making skills and captivate other music enthusiasts.
#ProducerVibes: Share the vibes of your music studio and let viewers immerse themselves in your artistic world.
#RemixMaster: If you're a remix aficionado, this hashtag will attract like-minded individuals looking for unique musical blends.
#BeatsOnFleek: Proclaim your beats are on point and ready to conquer TikTok's music landscape.
#StudioLife: Provide a glimpse into your studio world and give viewers a taste of the music production process.
#SampleMaster: If you're a pro at sampling and creating unique sounds, this hashtag will attract fellow producers.
#ProducerCommunity: Join the thriving producer community on TikTok and collaborate with other talented creators.
#BeatChallenge: Challenge other producers to create beats using a specific theme or sample and foster healthy competition.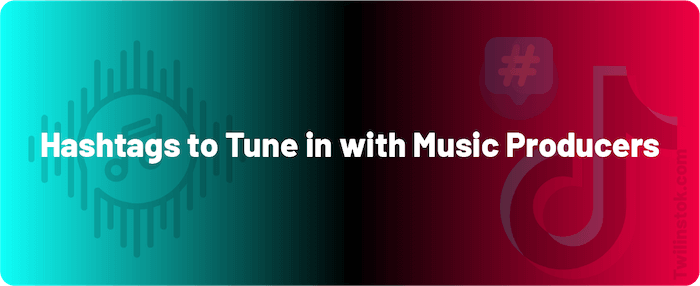 #IndieVibes: For indie music artists and producers, this hashtag is your gateway to a community that celebrates independent and alternative sounds.
#EDMFamily: Dive into the vibrant world of Electronic Dance Music (EDM) enthusiasts and share your electrifying beats.
#CountryCrooner: Are you a country music aficionado? Use this hashtag to find fellow country lovers and showcase your twangy tunes.
#HipHopHeads: Join the hip-hop community on TikTok and share your rap verses and beats with like-minded enthusiasts.
#ClassicalGenius: If your heart beats to the rhythm of classical music, this hashtag will connect you with classical aficionados worldwide.
#JazzJam: Swing into the jazz scene and captivate viewers with your soulful jazz performances.
#RockOn: Unleash your inner rockstar and connect with rock music fans who share your passion for powerful guitar riffs and roaring drums.
#AcousticCovers: For those who love covering popular songs with an acoustic touch, this hashtag is where you'll find kindred spirits.
#RnBRhythms: Dive into the world of smooth R&B and soulful melodies, creating magic with your velvety vocals.
#LatinBeats: Celebrate the lively spirit of Latin music and share your vibrant rhythms with a community that loves to dance.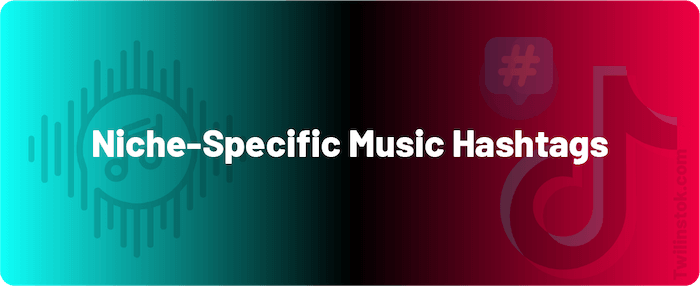 Now that you're armed with the best music hashtags on TikTok, it's time to unleash your musical prowess and captivate the TikTok community. Remember, experimenting with different hashtags and staying updated with trending ones can give your content an extra boost.
#MusicTikTok: Embrace the essence of TikTok's music community and connect with fellow music creators.
#InstaMusic: Share short and snappy music clips that'll keep viewers engaged and wanting more.
#TikTokTunes: Make your music the soundtrack to the TikTok universe and trend in the musical galaxy.
#ViralMusic: Aspire to create content that goes viral, spreading your musical talents far and wide.
#MusicInfluencer: Aim to become a TikTok music influencer who inspires others with your creativity and artistry.
#MusicDiscovery: Introduce your audience to new and undiscovered music gems from various artists.
#InstaCover: Deliver impressive cover performances in a flash and catch viewers' attention instantly.
#MusicCollab: Collaborate with other musicians or producers on TikTok to create stunning musical collaborations.
#DuetWithMe: Invite fellow TikTokers to duet with your music and create exciting mashups.
#MusicMotivation: Inspire your followers with motivational messages embedded in your musical creations.
With this extensive list of hashtags for TikTok music at your fingertips, you have everything you need to orchestrate a TikTok symphony that'll captivate the hearts of your audience. Remember, consistency and creativity are key to building a strong TikTok presence. Experiment with different hashtags, create engaging content and engage with your viewers to grow your TikTok music empire.
Ready to explore the rich tapestry of niche-specific hashtags that'll help you find your unique corner in the vast TikTok music universe? Embrace your musical style and let these tailored hashtags be your guiding light to connect with the right audience and carve your niche on TikTok.
We all know the incredible impact niche hashtags can have on your music journey. Using these specific hashtags enables you to target a dedicated audience that resonates with your musical style. By diving deep into your chosen niche, you'll build an engaged following that appreciates your authenticity and creative expression.
While niche hashtags are essential for finding your dedicated audience, don't forget to sprinkle in some broader popular TikTok hashtags for music. This combination ensures your content reaches a wider pool of potential fans while maintaining your niche identity.
Whether you're all about indie tunes, electronic beats, or soul-stirring classical melodies, these niche-specific music hashtags will take your TikTok game to the next level. Embrace your musical niche, create captivating content, and let the best music hashtags on TikTok lead you to the hearts of your target audience.
Creating Your Own Branded Hashtag Challenge
Are you ready to ignite a viral sensation on TikTok and put your music at center stage? It's time to step into the spotlight by crafting your very own branded hashtag challenge. Get ready to captivate the TikTok community and watch your music reach new heights of popularity!
Branded hashtag challenges are the rocket fuel that can propel your music to the forefront of TikTok trends. By creating a unique and engaging challenge, you invite users to participate and create content inspired by your music or creative concept. The ripple effect of this challenge can lead to an avalanche of user-generated content, creating a buzz around your music like never before. How to Create Your Branded Hashtag Challenge? Follow these 7 tips:
Define Your Theme
Craft a Catchy Hashtag
Showcase Your Music
Engage with Participants
Collaborate with Influencers
Promote Your Challenge
Monitor and Celebrate
Now let's check these 7 tips.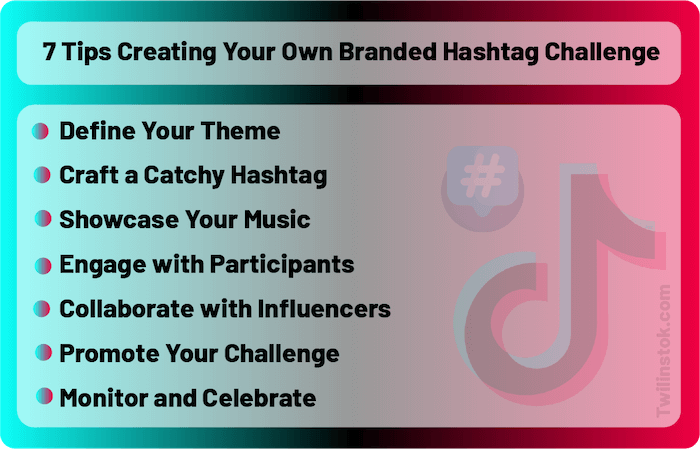 Define Your Theme: Choose a theme that aligns with your music and resonates with your audience. It could be a dance challenge, lip-syncing to your song, or even creating original content inspired by your music.
Craft a Catchy Hashtag: Your hashtag should be short, memorable, and related to your challenge theme. Make it catchy, so it sticks in the minds of participants.
Showcase Your Music: The heart of the challenge is your music, so feature it prominently in the challenge video. If it's a dance challenge, choreograph some moves to accompany your song.
Engage with Participants: Interact with users who take part in your challenge. Like, comment, and duet their videos to foster a sense of community and encouragement.
Collaborate with Influencers: Reach out to TikTok influencers and music creators to join your challenge. Their participation can amplify its reach and impact.
Promote Your Challenge: Share your challenge across your social media platforms, website, and other online channels. Encourage your fans to spread the word and invite their friends to participate.
Monitor and Celebrate: Keep a close eye on the challenge's progress, track hashtag views, and celebrate the fantastic content created by participants.
Make sure your branded hashtag challenge aligns with your music's style and brand identity. Authenticity is key to creating a meaningful connection with your audience.
Many music artists and producers have catapulted their careers through successful branded hashtag challenges on TikTok. One such example is "The Groovy Moves Challenge" by singer-songwriter Emily, where users grooved to her latest funky single. The challenge went viral, garnering millions of views and catapulting Emily's song to the top of the TikTok charts.
Don't forget Cross-Promotion with Influencers and Brands
Like the best music hashtags on TikTok, Cross-promotion is the key to unlocking new opportunities and reaching a broader audience for your music. Let's dive into the world of influencer collaborations and brand partnerships to take your TikTok game to the next level!
Collaborating with TikTok influencers and brands can open doors to a vast and engaged audience that might not have discovered your music otherwise. These partnerships expose your music to new circles, increasing your followers, video views, and engagement. It's a win-win situation as you gain exposure, and the influencers or brands benefit from your unique talent.
When choosing influencers or brands to collaborate with, authenticity is crucial. Ensure that the partnership feels genuine and resonates with your music and brand values.
Cross-promotion with influencers and brands can be a game-changer for your TikTok music journey. Engage in meaningful partnerships that amplify your music's reach and foster authentic connections with new audiences. Embrace the power of collaboration, and watch as your TikTok presence soars to new heights of popularity.
The Bottom Line
Bravo, music artists, and producers! You've completed an epic journey through the dynamic world of best music hashtags on TikTok, exploring niche treasures, crafting your branded challenge, and embracing the power of influencer collaborations. Now, armed with these invaluable insights, it's time to set your musical dreams into motion and conquer the TikTok stage like never before.
With the creation of your own branded hashtag challenge, you've set the stage for a viral sensation. Inviting users to partake in your challenge will not only amplify your music's reach but also foster a community of dedicated fans who eagerly await your next musical masterpiece.
As you continue your TikTok music journey, remember to stay true to your unique voice and musical identity. Authenticity is the key that unlocks hearts and minds, forming a bond with your audience that goes beyond the screen.
Now, it's time to unleash the full potential of your music on TikTok. Combine the popular TikTok hashtags for music, showcase your talent through your branded challenge, and embrace the opportunities that cross-promotion offers. Your TikTok anthem awaits, and the world is eager to groove to your tunes!
For more information about TikTok and the features of this social network, we suggest that you click on Free TikTok Tutorial [+]. Also, if you have any questions about TikTok, you can ask them in our TikTok support forum [+] in the form of a topic and wait for the answer from our experts.
Please share your comments and give us 5 stars. We can use your valuable suggestions and criticisms.
FAQ
What are hashtags and why are they important for music promotion on TikTok?
Hashtags are words or phrases that start with a # symbol and are used to categorize and organize content on social media platforms. They help users find and join conversations about topics that interest them, as well as discover new content and creators.
How do I find the best music hashtags for my TikTok posts?
There are several ways to find the best music hashtags for your TikTok posts, depending on your goals, genre, style, and audience.
How many hashtags should I use on my TikTok posts?
There is no definitive answer to how many hashtags you should use on your TikTok posts, as different factors may affect the optimal number of hashtags for your content.
How do I create my own music hashtags for TikTok?
Creating your own music hashtags for TikTok can be a creative and effective way to brand yourself, showcase your personality, and build a community around your music.
How do I optimize my music hashtags for TikTok?
Optimizing your music hashtags for TikTok means using them strategically and effectively to achieve your desired results.