+300 Best Gaming Hashtags for TikTok Every Gamer MUST Know
Best Gaming Hashtags for TikTok
Hey there, fellow TikTok gaming enthusiasts! Are you ready to level up your TikTok game and reach a wider audience with your epic gaming content? If you're a passionate gamer, you already know that TikTok is the place to be for sharing your gaming adventures, jaw-dropping plays, and hilarious gaming moments with the world. But here's the secret sauce to make your gaming videos stand out from the crowd and go viral: the right hashtags!
In this article from Twilinstok, We'll find the ultimate treasure trove of +300 Best Gaming hashtags for TikTok Every Gamer must Know in the current year! From trending hashtags that set the gaming community ablaze to niche-specific gems that will captivate your target audience, we've got it all covered. So, buckle up, grab your controller (or keyboard and mouse), and get ready to level up your TikTok presence like never before!
Some might ask, "What's the big deal with hashtags on TikTok anyway?" Well, hashtags are like magical keys that unlock the hidden treasure of your gaming content! When you add the right hashtags to your videos, it's like shouting from the highest tower of the gaming kingdom, inviting fellow gamers from all corners of TikTok to join the fun. It's the ultimate shortcut to getting your content noticed by thousands, if not millions, of fellow gamers and potential fans. And who doesn't want that?
However, it's not just about throwing random hashtags on your videos and hoping for the best. No, no! We're here to play the game smartly and strategically.
Fellow gaming TikTokers! Now that we know the incredible power of hashtags, it's time to learn how to use them like true gaming gurus. To make your gaming content shine and stand out from the sea of videos on TikTok, it's essential to wield hashtags with precision and finesse. Let's sharpen our hashtag skills together!
Know Your Audience
First things first, understand the gaming community you want to target. Are you into first-person shooters, RPGs, or maybe the latest battle royale sensation? Knowing your audience's interests and preferences will help you find hashtags that resonate with them.
Balance is the key! While it's tempting to use only the most popular hashtags, don't forget to sprinkle in some niche-specific ones too. This will help you reach a more targeted audience of like-minded gamers who share your passion for a particular game or gaming genre.
Stay Relevant
As the gaming landscape evolves, so do the trending topics and hashtags. Keep your finger on the pulse of the gaming community and jump on the latest gaming trends to stay relevant and boost your video's visibility.
Be Specific and Creative
Don't shy away from crafting your own unique gaming hashtags. Get creative, be witty, and infuse your videos with hashtags that represent your gaming persona. Stand out from the crowd by being true to yourself and your gaming style.
Size Matters
Yep, size matters when it comes to hashtags! While TikTok allows up to 100 characters per caption, it's generally better to keep your hashtags concise and impactful. Aim for a mix of short and long hashtags to cover a range of popular and more focused searches.
Once you've found a powerful gaming hashtag, explore the related hashtags that often accompany it. These hashtags are your companions on this epic hashtag journey and can lead you to discover new trends and like-minded gamers.
Test and Analyze
Don't be afraid to experiment with different combinations of hashtags. Test them out on various gaming videos and track their performance using TikTok's analytics. This will help you identify which hashtags are bringing in the most engagement and reach.
Time It Right
Timing is crucial on TikTok. Keep an eye on when your target audience is most active and post your gaming content during those peak hours. Timing your videos strategically can maximize their exposure and potential to go viral.
Remember, TikTok is like a vast gaming universe waiting to be explored, and hashtags are the maps that guide fellow gamers to your content. So, get ready to embark on a quest to conquer TikTok with your amazing gaming videos and the right set of hashtags!
Are you ready to unlock the power of the top 10 trending gaming hashtags that are dominating the TikTok realm? These hashtags are like rare loot drops that will boost your gaming content's visibility and draw the attention of gamers worldwide. Let's dive right into the heart of the gaming action! Here are top 10 TikTok hashtags for gaming:
#GameOnPoint
#GamingCommunity
#GamerLife
#GamingGurus
#GamingFails
#GamingMemories
#GamingCosplay
#GamingReactions
#GamingChallenges
#GamingReviews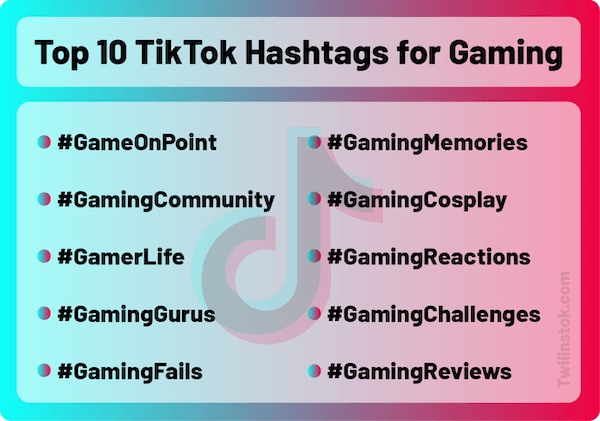 #GameOnPoint
This hashtag is the ultimate symbol of gaming excellence! Use it to showcase your top-notch gaming skills, jaw-dropping plays, and epic victories. Gamers from every corner of TikTok will rally around this hashtag to witness your gaming prowess.
#GamingCommunity
What's a game without a community? Unite with fellow gamers under this hashtag to share your gaming experiences, make new gaming buddies, and celebrate the camaraderie that only gaming can bring.
#GamerLife
Embrace the gaming lifestyle with this hashtag! Show off your gaming setup, share your gaming routines, and reveal the behind-the-scenes of what it's like to be a dedicated gamer.
#GamingGurus
Calling all gaming experts and mentors! Showcase your in-depth knowledge, provide gaming tips, and be a guiding light for gamers who seek to improve their skills.
#GamingFails
Let's be honest; gaming isn't always about winning. Embrace the laughter and learn from your gaming failures. Share your hilarious, "Oops! I didn't mean to do that" moments with this hashtag.
#GamingMemories
Take a trip down memory lane with this heartwarming hashtag. Share nostalgic gaming moments, talk about your favorite classic games, and reminisce about the good ol' days of gaming.
#GamingCosplay
Level up your gaming experience by adding a touch of cosplay to it! Show off your gaming-themed cosplays, channel your favorite characters, and inspire others to join the cosplay frenzy.
#GamingReactions
Some gaming moments leave us in awe or stitches! Use this hashtag to share your authentic reactions to epic gaming plot twists, unexpected wins, and funny in-game situations.
#GamingChallenges
Challenge accepted! Jump on the latest gaming challenges and invite others to join the fun. Whether it's speed runs, no-hit runs, or creative gaming dares, this hashtag is the key to challenge glory.
#GamingReviews
Your opinion matters! Share your honest reviews of the latest games, gaming gear, and in-game updates. Help your fellow gamers make informed decisions with your insights.
Now that you have the top 10 gaming hashtags in your inventory, wield them wisely and watch as your gaming content scales the heights of TikTok greatness! Don't forget to mix in some niche-specific hashtags and your own creative ones to add that personalized touch. Let's conquer the TikTok gaming realm together, one hashtag at a time!
Now, it's time to infuse your gaming content with laughter and bring smiles to the faces of gamers all around TikTok. You see, gaming is not only about epic battles and intense gameplay; it's also about sharing hilarious moments that leave us in stitches. Get ready to add a dash of comedy to your gaming adventures with these side-splittingly funny gaming hashtags:
#GamingLaughs
#GamerFailsFunny
#GamingHumor
#GamingComedy
#GamerBloopers
#GamingGiggles
#GamerLOL
#GamingPranks
#GamingMemes
#GamerWit
Now let's check them.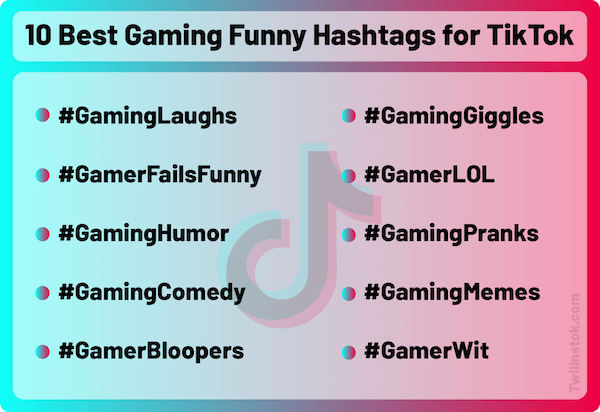 #GamingLaughs
Embrace the joy of laughter with this all-encompassing hashtag! Use it to share your funniest gaming moments, from unexpected glitches to goofy character shenanigans.
#GamerFailsFunny
We all love to watch epic fails, especially when they happen to us! Share your most amusing gaming mishaps and invite others to join the laughter parade.
#GamingHumor
Dive into the realm of gaming humor with this hashtag. Post your clever gaming jokes, witty memes, and funny commentary that tickles the funny bones of fellow gamers.
#GamingComedy
Roll out the red carpet for gaming comedy! Create comedic sketches, humorous parodies, and quirky gaming skits that leave your audience ROFL-ing.
#GamerBloopers
Lights, camera, bloopers! Compile your gaming outtakes and bloopers, revealing the hilarious moments behind the polished gameplay.
#GamingGiggles
It's contagious! Use this hashtag to spread the joy of gaming giggles. From in-game mishaps to relatable gaming scenarios, this hashtag brings smiles everywhere.
#GamerLOL
Laugh out loud like there's no tomorrow! Share your most hilarious reactions and moments that make you burst into uncontrollable laughter.
#GamingPranks
Game on, pranksters! Capture the fun of gaming pranks and share the reactions of your friends or in-game characters when you pull off your mischievous stunts.
#GamingMemes
Memes are the universal language of the internet! Share your favorite gaming memes, or better yet, create your own to entertain and connect with other gamers.
#GamerWit
Channel your inner wordsmith and drop some gaming wit on TikTok! Whether it's clever one-liners or humorous captions, this hashtag celebrates your comedic genius.
Secrets for your Gaming Account in TikTok!
The time has come to unlock the mysteries of making your gaming content go viral on TikTok! Before we get into the +300 best gaming hashtags for TikTok every gamer must know in the current year, we will take a look at some secrets! Here are 1o Tips to making your Gaming Content go Viral on TikTok:
Strike While the Iron is Hot
Trending Hashtags are Your Allies
Embrace Challenges and Duets
Create Captivating Intros
Engage with Your Audience
Harness the Power of Visuals
Use Trending Music
Quality over Quantity
Timing is Everything
Share Behind-the-Scenes
Now let's check these tips.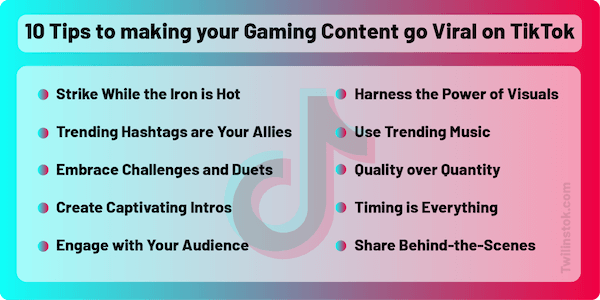 Strike While the Iron is Hot
TikTok trends can change like the tides, so keep an eye on what's trending in the gaming community. Be quick to adapt and create content that aligns with the latest crazes to ride the wave of popularity.
Assemble a collection of trending hashtags and incorporate them into your content. Trending hashtags attract a vast audience and increase the chances of your videos being discovered.
Embrace Challenges and Duets
Participate in gaming challenges and encourage others to duet with your content. Collaborative videos often go viral, spreading your gaming prowess across the TikTok realm.
Create Captivating Intros
The first few seconds are critical! Hook your audience with an attention-grabbing intro that entices them to watch your entire gaming masterpiece.
Engage with Your Audience
Respond to comments, answer questions, and show appreciation for your viewers' support. Building a strong connection with your audience encourages them to engage and share your content.
Harness the Power of Visuals
Visuals are the heart of TikTok! Invest time in creating visually appealing gaming content that keeps viewers glued to their screens.
Use Trending Music
Music can elevate your gaming content to new heights. Choose popular tracks or trending sounds that match the mood of your video, adding an extra layer of entertainment.
Quality over Quantity
While consistency is essential, prioritize quality over churning out videos. High-quality content will leave a lasting impression and encourage viewers to follow and share your gaming adventures.
Timing is Everything
Post your gaming content during peak hours when your target audience is most active on TikTok. Timing your videos strategically increases the chances of reaching a larger audience.
Let viewers peek behind the curtain! Share behind-the-scenes footage of your gaming setup, recording process, or funny bloopers that show the human side of your gaming journey.
Remember, going viral on TikTok is not just about luck; it's a skill honed through creativity, engagement, and understanding your audience. Combine the power of trending hashtags with your unique gaming style, and you'll ascend to TikTok gaming stardom!
Ah, fellow gamers, the time has come to unveil the grand treasure trove of +300 best gaming hashtags for TikTok! These hashtags are your secret keys to unlocking the vast gaming community on TikTok and showcasing your gaming prowess to the world. From the most popular hashtags to the hidden gems, we've got them all categorized for your ease. Let's embark on this epic journey and equip ourselves with this invaluable arsenal of hashtags!
#Gaming
#Gamer
#GamingCommunity
#GameOn
#GamersUnite
#GamingLife
#GamingMemories
#GamingAddict
#GamingGoals
#GamingVibes
Popular Game Titles
#Fortnite
#Minecraft
#AmongUs
#CallOfDuty
#ApexLegends
#Valorant
#LeagueOfLegends
#GenshinImpact
#AnimalCrossing
#FIFA
Gaming Genres
#FPSGames
#RPGGaming
#ActionGames
#AdventureGames
#SimulationGames
#SportsGames
#HorrorGames
#IndieGames
#MobileGames
#VRGaming
Gaming Challenges
#GamingChallenge
#GamingDares
#GamingTrends
#GamingTrickshots
#GamingCombo
#GamingWins
#GamingFails
#GamingPranks
#GamingReactions
#GamingSkills
Gaming Cosplay
#GamingCosplay
#GameCharacterCosplay
#GamerCosplay
#CosplayGaming
#GamingCosplayer
#GamingCostume
#CosplayingGamers
#GamingCosplayCommunity
#GamingCrossoverCosplay
#GamingCosplayInspiration
Esports and Competitive Gaming
#Esports
#EsportsChamps
#CompetitiveGaming
#GamingTournaments
#ProGamer
#GamingClan
#EsportsCommunity
#GamingChampionship
#GamingLeague
#EsportsTeam
Gaming Humor and Memes
#GamingHumor
#GamerMemes
#GamingJokes
#GamingFunny
#GamingLaughs
#GamerLOLs
#GamingComedy
#GamerWit
#GamingMemes
#GamingBloopers
Retro and Classic Gaming
#RetroGaming
#ClassicGames
#OldSchoolGaming
#VintageGaming
#RetroGamer
#ThrowbackGaming
#ClassicConsole
#RetroGameplay
#NostalgicGaming
#RetroGamingRevival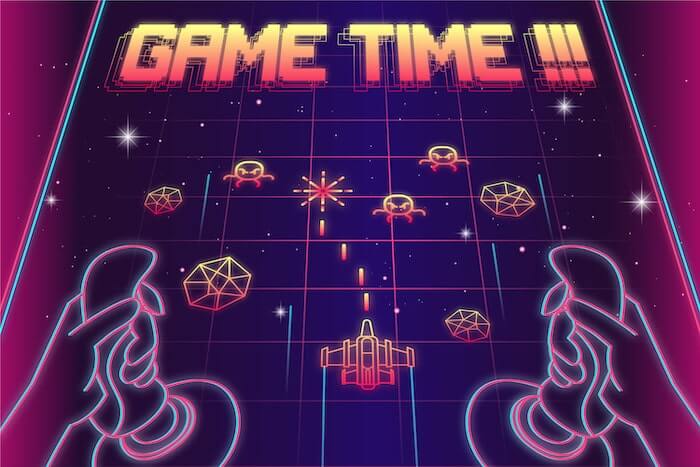 Gaming Reviews and Recommendations
#GamingReviews
#GameRecommendations
#GamingOpinions
#GamingRatings
#GamingImpressions
#GamingFeedback
#GamingReviewers
#GamerThoughts
#GamingAnalysis
#GamingReviewChannel
Gaming Setup and Gear
#GamingSetup
#GamingGear
#GamingRoom
#GamingPC
#GamingKeyboard
#GamingMouse
#GamingHeadset
#GamingController
#GamingMonitor
#GamingStreamerSetup
Gaming Quotes and Sayings
#GamingQuotes
#GamingSayings
#GamingMotivation
#GamingInspiration
#GamingWisdom
#GamerQuotes
#GamerSayings
#GamingPhilosophy
#GamingMotto
#GamingMantra
Gaming Music and Soundtracks
#GamingMusic
#GamingSoundtrack
#GamingPlaylist
#GamingBeats
#GamingThemes
#GamingOST
#GamingAmbience
#GamingSongs
#GamingMelodies
#GamingSoundEffects
Gaming Art and Fan Creations
#GamingArt
#GamingFanArt
#GamingFanCreations
#GamingIllustrations
#GamingConceptArt
#GamingFanmade
#GamingArtists
#GamingArtGallery
#GamingArtCommunity
#GamingArtInspiration
Gaming Community Spotlights
#GamingCommunitySpotlight
#GamingCommunityLove
#GamingCommunitySupport
#GamingCommunityHeroes
#GamingCommunityAppreciation
#GamingCommunityShowcase
#GamingCommunityShoutout
#GamingCommunityConnections
#GamingCommunityEngagement
#GamingCommunityUnity
Gaming Fitness and Health
#GamingFitness
#GamerHealth
#GamingWellness
#GamingWorkout
#GamerNutrition
#GamingExercise
#GamingWellbeing
#GamingMindfulness
#GamerFitnessJourney
#GamingBodyAndMind
Gaming Education and Tips
#GamingTips
#GamingTricks
#GamingHacks
#GamingGuides
#GamingTutorials
#GamingAdvice
#GamingLessons
#GamingStrategies
#GamingProTips
#GamingLearnings
Gaming ASMR
#GamingASMR
#ASMRGaming
#GamingSounds
#GamingASMRCommunity
#GamingASMRTriggers
#GamingASMRRelaxation
#GamingASMRWhispers
#GamingASMRVoice
#GamingASMRtist
#GamingASMRMagic
Gaming Food and Snacks
#GamingSnacks
#GamerFood
#GamingFoodie
#GamingMunchies
#GamingEats
#GamingRecipes
#GamingCooking
#GamingFoodHacks
#GamingGourmet
#GamingFoodFiesta
Gaming Pets and Animals
#GamingPets
#GamerAnimals
#GamingCat
#GamingDog
#GamingPetsofTikTok
#GamingFurryFriends
#GamingPetAdventures
#GamingPetLove
#GamingPetBonding
#GamingPetCuteness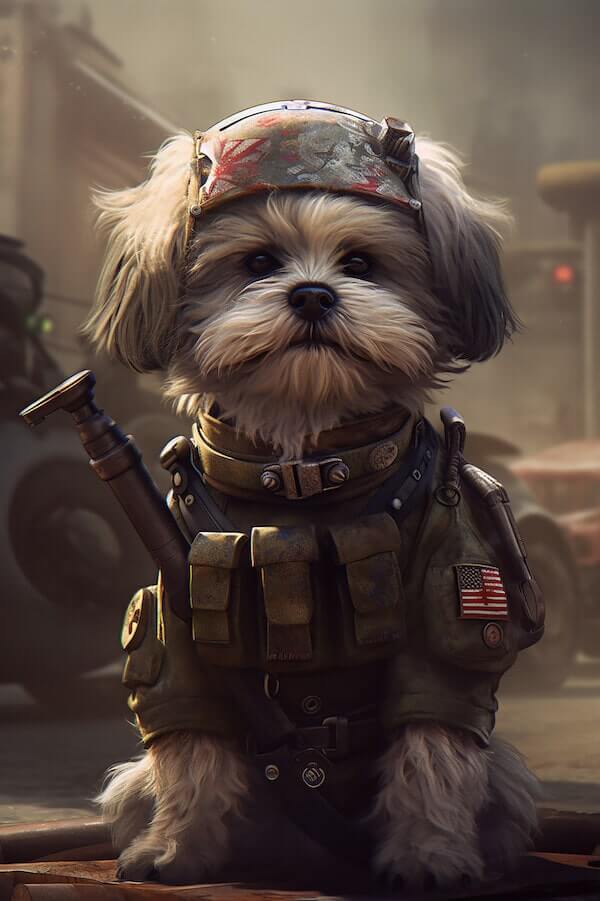 Gaming and Mental Health
#GamingMentalHealth
#GamingMindfulness
#GamerWellness
#GamingStressRelief
#GamingTherapy
#GamingRelaxation
#GamingMentalWellbeing
#GamingSelfCare
#GamingMentalBalance
#GamingMentalFitness
Gaming Travel and Exploration
#GamingTravel
#GamingWanderlust
#GamingAdventures
#GamingExploration
#GamingRoadTrip
#GamerVacation
#GamingNature
#GamingLandscapes
#GamingExploreWorld
#GamingAdventureSeeker
Gaming Fashion and Merch
#GamingFashion
#GamingMerch
#GamerApparel
#GamingSwag
#GamingStreetwear
#GamingStyle
#GamingFashionista
#GamingMerchandise
#GamingMerchMonday
#GamingFashionStatement
Gaming Charity and Giving Back
#GamingCharity
#GamingGivingBack
#GamingForGood
#GamerDonations
#GamingCommunitySupport
#GamingCharityEvent
#GamingCharityDrive
#GamingSupportCause
#GamingGiveBackInitiative
#GamingHelpingHands
Gaming Celebrations and Milestones
#GamingCelebration
#GamingMilestone
#GamingAnniversary
#GamerAchievement
#GamingAccomplishment
#GamingVictory
#GamingSuccess
#GamingRecognition
#GamingRewards
#GamingTriumph
Gaming Environment and Conservation
#GamingEnvironment
#GamingConservation
#GamingEcoFriendly
#GamingSustainability
#GamingGreenGamer
#GamingEcoWarrior
#GamingEarth
#GamingEcoConscious
#GamingNatureLover
#GamingConservingWorlds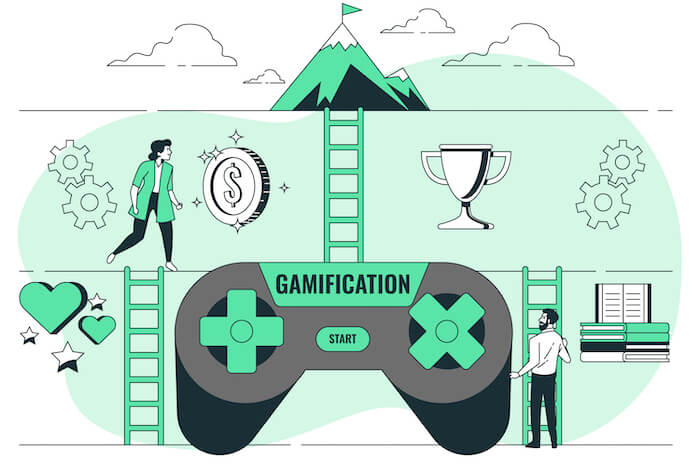 Gaming Inspirational Stories
#GamingInspiration
#GamingSuccessStories
#GamingOvercomingChallenges
#GamingMotivationalTales
#GamingAchiever
#GamingTriumphTales
#GamingInspiringJourneys
#GamingLifeChangingMoments
#GamingCourage
#GamingRisingAbove
Gaming and Education
#GamingEducation
#GamingEdutainment
#GamingLearning
#GamingKnowledge
#GamingEducationalContent
#GamingSchool
#GamingLearningExperience
#GamingEducateAndPlay
#GamingLearningCommunity
#GamingEduGuru
Gaming Tech and Innovations
#GamingTech
#GamingInnovations
#GamingFutureTech
#GamingTechTrends
#GamingCuttingEdge
#GamingTechUpdates
#GamingTechReview
#GamingTechGeek
#GamingTechInsider
#GamingTechWonders
Gaming and Mental Skills
#GamingMentalSkills
#GamingCognitiveEnhancement
#GamingFocus
#GamingMemory
#GamingProblemSolving
#GamingStrategicThinking
#GamingDecisionMaking
#GamingReactionSpeed
#GamingMentalAgility
#GamingMindGames
#GamingSocialImpact
#GamingChangeMakers
#GamingInfluence
#GamingAdvocacy
#GamingCommunityService
#GamingSocialResponsibility
#GamingEmpowerment
#GamingInspireChange
#GamingMakingADifference
#GamingPositiveImpact
Now that you have this magnificent collection of +300 gaming hashtags at your disposal, use them wisely and creatively. Combine the power of trending, niche-specific, and funny gaming hashtags to make your content shine like the brightest star in the TikTok galaxy. It's time to embark on your epic TikTok gaming adventure, conquer the gaming community, and become a true gaming legend!
The Bottom line
Congratulations, valiant gamers, you've reached the end of this epic blog article! Armed with the +300 best gaming hashtags for TikTok and the knowledge of how to use them strategically, you're now equipped to conquer the TikTok gaming realm like never before. Embrace the power of hashtags and let your gaming adventures shine bright for the world to see!
As you venture forth into the world of TikTok, always keep an eye out for emerging gaming trends, explore new hashtags, and evolve with the ever-changing gaming landscape. Remember, the power to go viral lies in your hands, and with the right hashtags and engaging content, you have the potential to reach millions of gamers worldwide.
Happy gaming, TikTokers! Until next time, may your gaming videos go viral, and your passion for gaming shine bright!
For more information about TikTok and the features of this social network, we suggest that you click on Free TikTok Tutorial [+]. Also, if you have any questions about TikTok, you can ask them in our TikTok support forum [+] in the form of a topic and wait for the answer of our experts.
Please share your comments and give us 5 stars. We can use your valuable suggestions and criticisms.
FAQ:
Gaming hashtags on TikTok are keywords or phrases related to gaming that help categorize and discover content. They benefit gamers by increasing visibility, allowing them to connect with other gamers, and reaching a broader gaming community on the platform.
A: Finding the best gaming hashtags involves researching trending and relevant tags. You can explore popular gaming content, analyze competitors' hashtags, and use tools to identify trending topics on TikTok.
Yes, using gaming-specific hashtags like #GamingCommunity, #GamersUnite, or #GamingClips can attract a target audience interested in gaming content. These hashtags help you connect with fellow gamers and enthusiasts.
A: Yes, there are hashtags specific to various gaming genres like #FPSGames, #RPGGaming, #MobileGaming, #IndieGames, etc. Utilizing genre-specific hashtags can help you reach gamers interested in a particular type of game.
A: You can use a mix of 3-5 gaming hashtags per TikTok video in the video caption or comments section. Placing them in the caption ensures they're visible from the start, while comments help avoid clutter.