7 advantages of using LinkedIn for workers & businessmen
7 reasons you should use LinkedIn
Whether you are a student or a job seeker or an employee or an employer or a business manager, in any case, using LinkedIn will have many benefits for you. In this article from Twilinstok, we point out 7 advantages of using LinkedIn and explain each one.
It is worth mentioning that these advantages are mostly for employees and business managers, but students can also benefit from them. So stay with us until the end to understand the importance of using LinkedIn well.
What you'll read (Table of content):
hide
7 advantages of using LinkedIn
As we briefly mentioned above, LinkedIn has many advantages that by entering its platform, you will see a suitable platform for your career development. But here we want to examine more specifically the reasons and benefits of using LinkedIn together. These reasons and benefits are as follow:
Sharing work experience
Advertising your company and brand
Getting more connections and growing your network
Presenting your credentials, skills or knowledge
The possibility of concluding a large number of work contracts
The possibility of getting work advice
Quick access to top related news and events
In the following, we will explain all the above cases.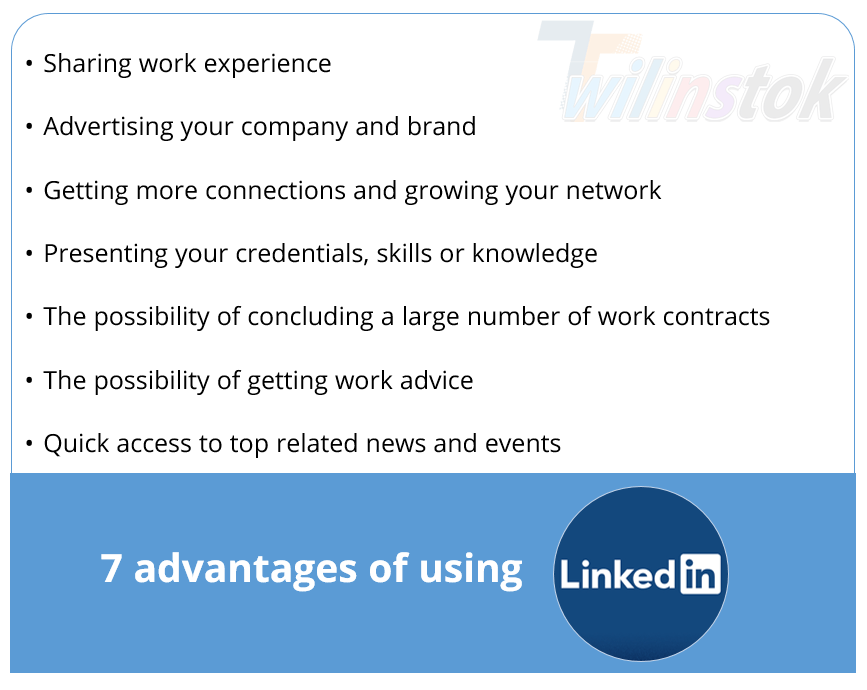 The profile you create on LinkedIn acts like your online resume; This profile includes work information, skills, interests, personality traits, and other such information that helps others get to know you better. With the help of this online resume, people who are really suitable for you will connect with you and you can use their experiences, or share what you have experienced at work with them to improve yourself and help each other in a safe and respectful atmosphere. You can read some work experience linkedin examples to give you some insights. You can also try to learn about how to add experience in linkedin profile to create a professional profile for yourself.
Advertise your company and brand on LinkedIn
Almost all famous companies and big brands have accounts on LinkedIn. They strive for the growth of their company and brand by publishing advertising content, advertising slogans, job opportunities and informative messages. Also, in this way, they will attract professional workforce and won't have the trouble of long interviews. By reading the tips in this article you can learn about how to promote your business on linkedin for free.
Getting more connections and growing your network on LinkedIn
The most important feature of LinkedIn is to create connections between people who have the same or similar field of work. The more you increase your connections, the more knowledge and experience you will get, and the more likely you will find a job with better conditions and career advancement. The first thing you need to do is to learn how to get connections on linkedin fast.
Presenting your credentials, skills or knowledge on LinkedIn
You can go into as much detail as you want about your knowledge and skills. Your connections with different people and companies can prove your abilities to employers. The more reliable documents you record in your resume and the more users you communicate with, the more professional you will appear to employers. In other words, like the rest of the virtual networks, the more followers you have on LinkedIn, the more important and popular you are.
The possibility of concluding a large number of work contracts on LinkedIn
Many large and small companies post job opportunities, which require manpower in those positions, on their LinkedIn page. In this regard, just listen to the bell and if you see a suitable job opportunity, send your resume to these companies easily and quickly with just one click. Every year, a large number of work contracts are closed through LinkedIn. So, it is recommended that you start working on your LinkedIn account.
The possibility of getting work advice on LinkedIn
There are many specialized, academic, and public groups on LinkedIn where people with similar skills, fields of study, and similar occupations can discuss and communicate. By entering any of these groups, you can get useful business advice that will help you to improve and advance your career.
One of the other important features of LinkedIn is a section called LinkedIn Pulse, where updated news from the business world is published every minute of the day and night. Using this feature, you can always get new information and news about the field in which you are active.
💡 A Valuable Recommendation About Entrepreneurial Advantage and Business Growth 💡

For entrepreneurs and businessmen, LinkedIn is an invaluable tool for networking and business expansion. But what if you're looking for a distinctive edge that sets your brand apart? This is where platforms like Squadhelp step in, amplifying your entrepreneurial journey even further.

Elevating Your Brand with Squadhelp

As you navigate the landscape of business growth, Squadhelp offers a unique approach that complements your LinkedIn efforts. It's a crowdsourcing platform that helps you find the perfect name, slogan, or logo for your business. In a world where a strong brand identity is crucial, Squadhelp stands out as a creative haven. In order to do so, just click on the link: "free trademark tool" and start your journey to register a brand that is worthy of you and your business.

Unlocking Creative Genius

Squadhelp harnesses the power of a diverse community of creatives, each with their unique perspectives and ideas. By launching a naming contest on Squadhelp, you tap into a wealth of creative potential that extends far beyond your own vision. Imagine the advantage of having a pool of innovative minds actively contributing to your brand's identity.

Efficiency and Expertise

Collaborating with Squadhelp doesn't just stop at brainstorming. The platform streamlines the process by providing you with a range of name suggestions, slogans, and logo designs tailored to your business. This saves you time and effort, allowing you to focus on other aspects of your entrepreneurial journey.

Seamless Integration with LinkedIn

What's impressive is how Squadhelp seamlessly integrates with LinkedIn's entrepreneurial advantages. You can incorporate your Squadhelp-generated brand identity into your LinkedIn profile, elevating your personal brand to new heights. This integration ensures that your professional presence is consistent and impactful across platforms.
Final Word
We hope that in this article you have understood the benefits of using LinkedIn and their importance, and based on what you have learned, you will be able to achieve your goals on the job search platform. For more information about LinkedIn and the features of this social network, we suggest that you click on Free LinkedIn Tutorial [+]. Also, if you have any questions about LinkedIn, you can ask them in our LinkedIn help center [+] in the form of a topic and wait for the answer of our experts
If you like this article, please rate it 5 stars and share it with your friends on social media.