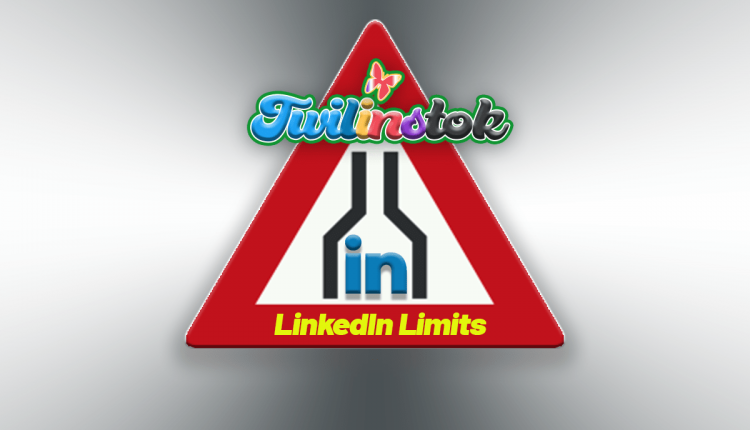 linkedin limits 2023: daily invitation | connection request | messaging | profile view
LinkedIn limits 2023
Many people, after starting to work on LinkedIn, want to enlarge and expand their network, but they are in a hurry to do so, and in the very first days, they start sending a lot of requests to other professionals on this social network or they send out invitations and messages to other people over and over again.
After doing this, these people find that they are restricted by LinkedIn. Because LinkedIn, like other social networks, has its own restrictions on sending "connection requests" and other features. This is because if "the LinkedIn platform" detects that you have behaved like a robot, it will restrict your acitivity to protect itself.
So far, you have realized that the number of requested connections on LinkedIn is limited for each person. But how many is this limited number? In this article from "Twilinstok" you will learn briefly about LinkedIn limits 2023. Stay with us until the end.
In this article, we have reviewed five very important characteristics for working on LinkedIn. Be sure to take a look at it, because it can be very useful for you.
LinkedIn daily invitation limit 2023
Now that you are familiar with the limitations of LinkedIn for self-protection, the first question that may come to your mind is: how many LinkedIn invitations can I safely send?
The answer is 100.
According to zopto's report:
Technically, you could send all 100 invites in a 24-hour period, but this is more than likely going to get your account flagged. If you send out a maximum of 100 invites within a week, you'll get an automated message along the lines of: "You've reached your weekly limit of invitation."
LinkedIn daily follow limit 2023
According to LinkedIn help center' report:
While there is a limit to the number of 1st-degree connections you can have, the number of people who can follow you (and who you can follow) is unlimited. People who follow you can view, like, or comment on what you share publicly.

If you have reached 30,000 connections, Follow will become the default option on your profile. You will not be able to accept or send new connection invitations unless you remove connections to keep the network size under the limit.
However, if you are new to LinkedIn, we recommend that you limit yourself to 100 followers per day.
LinkedIn daily connection request limit 2023
According to Swordfish's report:
The LinkedIn maximum connections per day is 80 to 100. It is therefore important to target the people you want to see on your network and who will therefore be counted in your 1st degree relationships, knowing that you can have up to 30,000 1st level relationships on this social network.
LinkedIn daily messaging limit 2023
According to kennected's report:
It is best practice to not do more than 250 actions per day on LinkedIn.

LinkedIn has a monitoring system in place that works very well, and it is designed to ensure that users are not "overusing" the platform. This means users should generally try to stay under 250 actions per day, or else LinkedIn might detect some unusual activity.

Excessive activity might lead to your account getting flagged by LinkedIn's monitoring system and eventually being blocked.

The 250 actions by and large include sending connection requests and sending messages. For example, if you have already sent out 100 messages today, you can still send either 150 connection requests, or 150 more messages.

It is also worth noting that you can safely view up to 500 profiles a day. Messaging on LinkedIn should be about quality and not quantity.
LinkedIn profile view limit 2023
According to LinkedIn help center's report:
We are not able to display the exact number of searches or views you've left, and we also cannot lift the limit upon request. You can always upgrade to one of LinkedIn's Premium account plans to increase the number of profile searches and views you have available: Premium Business. Recruiter.
At the end
In this article, we tried to explain all LinkedIn limits 2023 from reputable references. We hope that the information in this article has been helpful to you dear ones. If you like this article, please rate it 5 stars and share it with your friends on social media.
For more information about LinkedIn and the features of this social network, we suggest that you click on Free LinkedIn Tutorial [+]. Also, if you have any questions about LinkedIn, you can ask them in our LinkedIn help center [+] in the form of a topic and wait for the answer of our experts.
Finally, which LinkedIn limits 2023 do you really like? Please, comment for us!